More and more music lovers like to choose Apple Music as streaming music service so that they will be able to listen to over 45 million songs from Apple Music in the car as they can stream ad-free on-demand Apple Music and burn them as CDs for playing in the car stereo system.
There is no gainsaying that it's a recommended solution to listen to pleasure and existing music tunes when the long-distance driving, which can drive away fatigue and make drivers refreshed. Apple Music can bring a sparkle to the road trip.
More fortunate, there are so many ways to play Apple Music in the car with ease. In this post, we will divide into two parts to guide you the detailed ways on how to enjoy Apple Music in the car via iPhone or without a phone.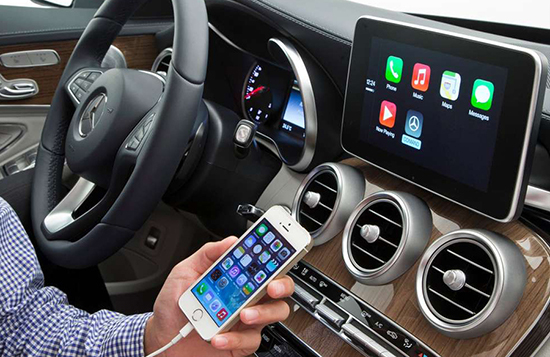 Method 1. How to Get Apple Music to Work in the Car with an iPhone
To access to Apple Music, everyone just needs to subscribe this the hottest U.S. streaming music service for $9.99 per month. And then Apple Music users can stream music library via iTunes or Apple Music app on authorized devices by Apple, such as HomePod, iPod Touch, iPhone, Android devices, etc. Although there is no Music app working on car stereo directly, there are still several workarounds to play Apple Music tracks in the car from your iPhone. Let's see the detailed ways as below.
CarPlay
In general, the latest aftermarket car stereo always supports Apple CarPlay, which allows users to sync music, audio books and other tracks from iPhone to car stereo for playback. If your car supports CarPlay, this is the most recommended way on using Apple Music in the car since it's the safer way. You just need to plug your phone into the USB port in your car, open the Music app on your iPhone, go to the 'Settings' > 'General' > 'CarPlay' > 'Available Cars' to select your car and then Apple Music app will show up in the stereo display. You can start to play Apple Music in the car via CarPlay.
Note: Only iPhone 5 and later supports CarPlay.
Bluetooth
If your iPhone or car stereo doesn't have CarPlay feature, what should you do? No worries. Bluetooth is an excellent feature that can't be missed. Almost all phones support Bluetooth functionality and you don't need to be under internet network. Just read the user manual of your car stereo to see how to pair your phone with the car via Bluetooth. Once paired successfully, please open the Apple Music app on your iPhone to play your favorite music tracks and then you can listen to songs when driving.
Auxiliary Input/USB Port
If you have a lightning cable or Aux audio cable nearby, you can also try to get Apple Music available in the car via Auxiliary input or USB port. You just need to connect your iPhone to the car audio system with an Aux cable. And then you can play a song from Apple Music app on your phone, you will see playing Apple Music songs will be streamed to your car and play via car audio player automatically.
Method 2. How to Play Apple Music in a Car without iPhone
With an iPhone, you can easily transfer Apple Music to your car for listening. What if you don't have an iPhone or your device is not compatible with Apple Music app? Take it easy. Don't miss two alternative ways to play Apple Music in the car audio system, respectively transferring Apple Music from USB flash drive or burning Apple Music to CD.
However, it's important to note that to avoid unauthorized sharing, Apple applied FairPlay DRM technology to protect its digital audio files, which leads that Apple Music streams can be playable via Music app on selected devices. To sync Apple Music to USB flash drive or burn them to CD, you are required to convert Apple Music files to common audio tracks with the assistance of a professional third-party Apple Music software.
AudFree Apple Music Converter for Mac/Windows is such a commercial software. With easy-to-use design and high performance, it can backup Apple Music audios to local files, like MP3, FLAC, WAV, AAC, etc. And the you can freely make full use of converted Apple Music and play them on any device even without Apple Music app.
Convert Apple Music to MP3 Files for Playback in Car
Step 1

Add Apple Music tracks to AudFree software

Just click the first 'Add Files' button to upload Apple Music tracks that you'd like to play in the car to the conversion window of AudFree from iTunes library. Please make sure you have downloaded those music files in iTunes before adding them.
Step 2

Set output format and other audio parameters

In fact, MP3 is the default output format of AudFree Apple Music Converter. If you'd like to set output format as others, please click the 'audio' icon to open the setting window and then you can customize output format and output audio quality. As MP3 can be supported by almost all car stereo system, you'd better to keep MP3 as the target one.
Step 3

Convert and export Apple Music

Congratulations. Now, all Apple Music tracks are not protected and you can transfer them to any device for playback offline. You can click the 'file' icon to locate all local Apple Music tracks in the destination folder on your computer.
Transfer Apple Music to USB/Burn Apple Music to CD for Playing in Car
Congratulations. Now, all Apple Music tracks are not protected and you can transfer them to any device for playback offline. You can click the 'file' icon to locate all local Apple Music tracks in the destination folder on your computer.
To import converted Apple Music to USB drive, you can connect your computer to USB flash drive via USB cable and sync audio files via copying&pasting action. For the detailed tutorial, you can refer to this source page: How to Transfer Apple Music to USB.
As for I have written a detailed tutorial on burning Apple Music to CD, here, I won't take more words on it. If you didn't read that page and don't know how to burn a CD from Apple Music, you can find that helpful guide by clicking How to Burn Apple Music Playlists to CD.
After that, you can plug USB to the USB interface of your car stereo for playing Apple Music files in the car or use CD player to play CD included converted Apple Music in your car with ease.
Do you have other effective way to get Apple Music working in your car when driving? If yes, please feel free to supplement this list in the comment area.