As the best-known seller and producer of spoken audio entertainment, Audible sells digital audiobooks and other audio items to worldwide users through its online store. However, Audible's audiobooks can only be played on selected mobile devices due to digital rights management, which is used to protect the copyright of audiobook publishers. Because of this, Audible audiobooks are saved in encrypted AA and AAX formats, and a title is only accessible with Audible account authorization.
It would be nice to listen to these Audible books on any device, in this case, we urgently need a professional Audible AAX to MP3 converter. People often wonder which MP3 converter we can choose to convert AAX to MP3? After searching and testing on the Internet, we made a collection of the top 5 best AAX to MP3 converters, including free or paid, and online or offline solutions.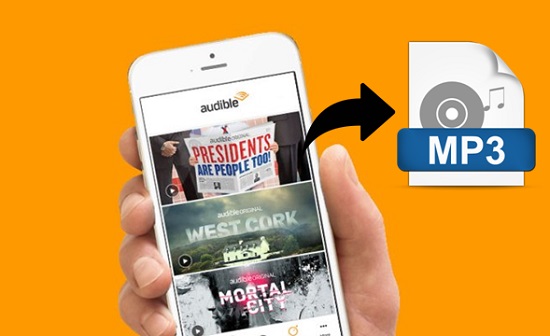 1. AudFree Auditior - Best AAX to MP3 Converter for Windows/Mac
When it comes to the best Audible audiobook converter, AudFree AAX to MP3 Converter is probably the first priority because of its amazing performance in converting Audible AA/AAX files to MP3. It is recognized as the most comprehensive audio toolbox for Audible audiobooks, thanks to its ability to convert AAX to MP3, AAC, WAV and other formats, maintaining 100% original quality. That's to say, you won't feel any difference in quality when playing the converted Audible audiobooks on other devices or players.
This best AAX to MP3 converter has a concise user interface that allows you to drag and drop any file for conversion with just one click. Moreover, it is able to auto fix the ID3 tags such as cover, author, year, genre and chapter information of Audible AAX while removing the restrictions of digital copyright protection. You can freely customize the audio quality by changing the audio codec, channel, bit rate, sample rate, etc.
Better still, the built-in splitter lets you flexibly cut large audiobooks into smaller segments by chapter, so you can enjoy Audible AAX more easily. In addition to a great MP3 converter, AudFree AAX Converter to MP3 also works well with other protected audio, including Apple Music, iTunes songs and audiobooks as well as unprotected audio tracks.
Price: $14.95/Month
Pros:
* Support all types of audio, Audible AAX books, Apple Music, iTunes songs, audiobooks and common audio tracks
* Convert AAX to MP3 100% losslessly with up to 30X speed
* A simple to use AAX to MP3 converter for anyone
* Retain and edit ID3 tags of output AAX files, including title, album, artist, genre, etc.
* Split large Audible audiobooks into small parts by chapter or fixed time period
* Perfect support for batch conversion
Cons:
* Need to install iTunes together
How Does AudFree AAX to MP3 Converter Work?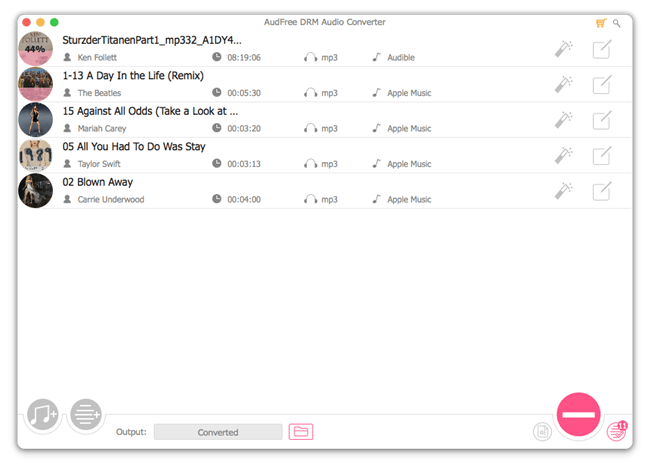 Step 1. Download and launch AudFree Auditior on Windows or Mac computer. Click on the Menu bar > Register to upgrade to the full version.
Step 2. Click the first "Add" button in the bottom left corner to import AAX audio. As a hint, the second button is for adding regular audio.
Step 3. Just click the Format panel , select AAX file output format as MP3. If necessary, check the option of "Keep lossless quality" to save the audio as lossless quality.
Step 4. Now click the "Convert" button at the bottom right corner, then AudFree Auditior will start converting Audible AAX to MP3. After that, you are free to transfer Audible audiobooks on your computer locally to any device for offline playback.
Top 2. AudKit Audible AA/AAX to MP3 Converter
As a dedicated converting tool for Audible AAX audiobook, AudKit AAX Converter is highly recommended if you are looking for an easy-to-handle AAX to MP3 converter. Unlike traditional Audible audiobook converters, this program doesn't require you to install iTunes or authorize an Audible account.
In other words, it can remove the playback restrictions from your Audible audiobooks themselves straightforward, even if you forget your Audible account or password. As a result, it is also the fastest and best Audible to MP3 converter with conversion speed up to 100X faster.
The other advantage of AudKit Audible AAX Converter to MP3 is its ability to keep the lossless audiobook quality while converting AAX to MP3, WAV, FLAC, AAC, M4A, etc. Besides, it also supports retaining ID3 tags and splitting Audible audiobooks into chapters.
To meet more personalized tastes, it is able to specifically change output audio parameters as well as allow users to choose the most appropriate playback volume, speed and pitch. It's definitely a great helper for unlimited playback of Audible MP3 books on the device you want.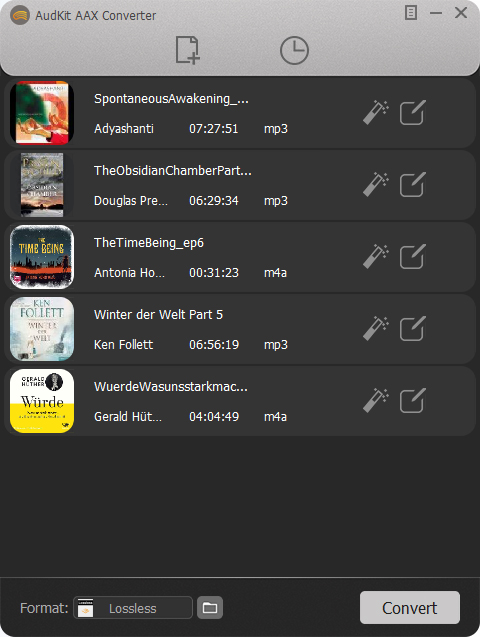 Price: $14.95/Month
Pros:
* AAX Convert to MP3 at up to 100X speed
* Keep lossless quality and ID3 tags
* Download Audible MP3 books without Audible license and iTunes installation
* Customize Audible audiobook output settings
* Play Audible books offline on all devices and players
Cons:
* Output profile should be updated
Top 3. Audials - AAX to MP3 Converter for Windows
In reality, Audials Tunebite Platinum is using audio recording technology to help you to record and convert protected streaming music and audiobooks. In turn, you can download and convert Audible AAX to MP3 with freedom for use anywhere.
This all-in-one AAX to MP3 Converter makes it easier to record the protected audiobook streams from Audible and save the recordings as MP3 files with all ID3 tags without commercials. Once the recording is complete, you are able to enjoy all Audible MP3 books on popular MP3 players with no limit.
Aside from recording Audible AAX audiobooks and other audio, Audials Tunebite Platinum can also be used to record video streams online like iTunes, YouTube, etc. in high quality. Moreover, it has an attractive interface and good configuration options that make using the program very convenient.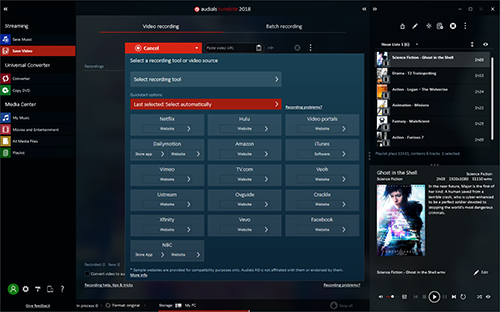 Price: $39.90
Pros:
* Record and convert AAX to MP3
* Record streaming music, audio as well as video
* A list of import and export formats for PC, smartphones, tablets and game consoles to choose from
Cons:
* Mac version is unavailable
* Too complicated for beginners
* Need to install iTunes together
Top 4. InAudible - Best Free AAX to MP3 Converter
If you are looking for a free AAX to MP3 converter, you are recommended to test InAudible, a freeware which can easily remove DRM from Audible audiobooks while converting Audible AAX to MP3, WAV, FLAC or other formats. Moreover, it can also copy all the ID tags and metadata of Audible AAX audiobooks, including chapters, covers, titles, etc.
What's more surprising is that it can split audiobook into small segments by chapter according to your needs. By the way, if you want to convert AAX to MP3 for free, you are required to install two additional applications, including InAudible-NG's tables and FFmpeg, since InAudible is only a beta version now, not an official program, and doesn't have its own website yet.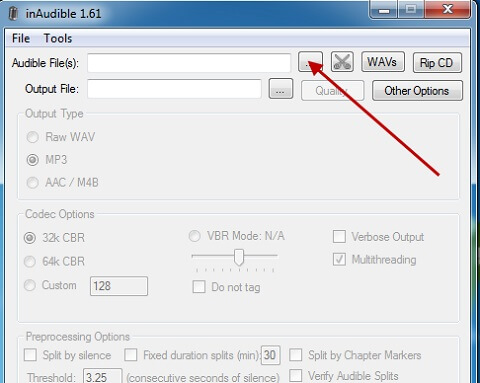 Pros:
* It's free of charge
* Separate Audible AAX audiobook tracks by chapter
* Convert AAX to MP3 with incredible speed
Cons:
* No Mac version yet
* Not user friendly for non-tech-savvy users
* No tech support available
Top 5. Convertio - AAX to MP3 Converter Online
To tell you the truth, if you want to convert AAX to MP3 online and don't need an extra third-party software on your computer, here we will walk you through the best AAX to MP3 converter online, called Convertio, which has the ability to convert Audible to MP3 free online with a stable internet connection.
No need to install any software on your computer, but navigate to the website of Convertio, and upload your Audible AAX files to this site. By clicking the "Convert" button, and then it will extract MP3 files from added Audible files online. Incidentally, Convertio limits your file uploads to 100 MB or less, so it's better suited for smaller Audible audiobook files.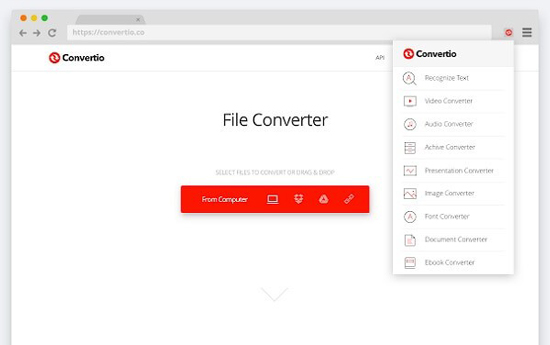 Pros:
* It's free of charge
* No need to install extra app
* Simple and intuitive interface
Cons:
* Output audio files could be not ideal
* Output format is limited
FAQs on Converting AAX to MP3
Q: What is an AAX file?
A: In general, AAX files are digital multimedia audiobooks that may include particular features such as graphics, video, bookmarks, and video timelines. Such a format is more useful and appropriate for children's picture books and picture novels. In addition, AAX files are considered to be an enhanced version of AA files.
Q: Why convert AAX to MP3?
A: As we all know, Audible AAX files are only licensed for playback on official device, which is a major inconvenience. However, MP3 is one of the most common file types available today and can be used on many devices or players. If you want to enjoy Audible audiobooks more freely, converting AAX to MP3 is definitely the best option.
Q: Can I convert AAX to MP3 for free?
A: This article introduces free and paid AAX to MP3 converters for your reference. The free tools are InAudible and Convertio, both of which have their pros and cons. Just choose an application that best suits your needs according to your situation.
In Conclusion
In this article, there are the top 5 best AAX to MP3 converters for your consideration. So, which tool is the best one you can choose to convert AAX to MP3? Is it hard to decide? You can test them one by one. Here, we will give a simple yet effective suggestion for you.
If you'd like to convert Audible AAX audios only, AudKit Audible AAX Converter is your option. But if you want to convert not only Audible files, but also iTunes audiobooks, Apple Music and other common audio files, AudFree AAX to MP3 Converter seems to be optimal. If you need a free Audible to MP3 converter, please choose InAudible, while choosing Convertio to convert AAX to MP3 online.
In short, no matter which one you choose, you can get high quality MP3 files from Audible AAX audiobooks.