"I noticed from some news that Google Home now reads audiobooks for us. But when I was trying to stream books from my Audible account to Google Home, it didn't respond correctly. Why? Can anybody advise how to play Audible audiobooks through Google Home? Thanks."
At the very beginning of 2018, Google started selling audiobooks in Google Play, making it possible for us to listen to audiobooks directly within Google Home. However, to start playing an audiobook on Google Home 2019, you must purchase a title from Google Play. It doesn't work properly if your audiobooks are downloaded from other sources, such as Amazon Audible.
Don't worry, though. Although Google Home doesn't support Audible audiobooks natively, you still get chances to cast Audible to Google Home on PC or mobile devices with some alternative solutions introduced in the following article.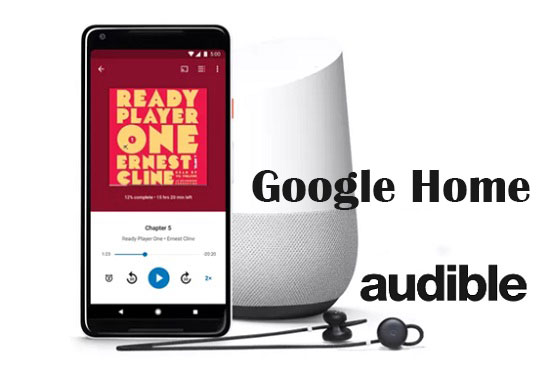 Part 1. Play Audible Books on Google Home via Google Play Music
First of all, we will introduce the ultimate workaround to cast Audible to Google Home for you easily on Mac/PC. By using this method, you'll need a third-party Audible audiobook converter which will help you convert Audible files so that you can then upload the converted Audible books to Google Play Music account and then listen to the audios on Google Home via the built-in app by using voice commands only.
The software that could assist you converting Audible audiobooks to other formats is AudFree Audible Audiobook Converter. As you should know, all Audible books are encrypted with DRM and saved in AA or AAX format. Due to which, only selected devices can play the Audible audiobooks well. Google Home is not included in the authorized devices yet.
Therefore, in order to play Audible books on Google Home, the most important thing is removing DRM from Audible books completely. And that's what AudFree Audible Audiobook Converter will do. It can not only unlock DRM from Audible books, but can also convert Audible AA/AAX audiobooks to MP3 or other popular formats supported by Google Home.
AudFree Audible Audiobook Converter
Steps to Convert Audible Audiobooks for Google Home
The following guide will show you how to use AudFree DRM Audio Converter to convert Audible books to DRM-free formats before you can stream them to Google Home.
Step 1

Add Audible audiobooks to AudFree

There are two methods to import your Audible books to AudFree DRM Audio Converter, including using 'Add' button or dragging the audiobooks directly. Choose the one you desire to load the Audible files to the converter.
Note: To make the conversion proceed properly, please make sure you already imported Audible books to iTunes 'My Audiobooks' section and your iTunes was already authorized with Amazon account to play those Audible audiobooks.
Step 2

Set output format and audio parameters

Click the 'audio' icon near 'Convert' button to select output format from the popup window. In order to make the audios recognizable by Google Play Music, you are suggested to set the format as MP3. Under each format, you are also allowed to customize the codec, channel, sample rate, bit rate, etc. to make the output quality better. Or you can simply check the option of 'Keep lossless quality' and it will then keep the output audio quality exactly the same as original files.
Before converting the files, you can split the large audios into small clips by chapters or fixed time interval. Simply click the 'edit' icon of each audiobook and you'll be directed to the target window. There you can also edit the ID3 tags, including book cover, author, title, date, etc.
Step 3

Convert Audible books to DRM-free formats

Now, click on the 'Convert' button at bottom right to start removing DRM from Audible audiobooks and converting them to MP3 format for Google Home. Once done, click the 'converted' folder to locate the DRM-free audiobooks. Then refer to the following steps to move books from Audible to Google Home for playback.
Upload Audible Books to Google Play Music to Play from Google Home
Step 1. Open Google Music Manager on your computer and then log into your Google Play account.
Step 2. Select the 'Music Manager' icon at the bottom right of computer screen on Windows or the menu bar in the upper right corner on Mac.
Step 3. Click 'Preferences' -> 'Upload' -> 'Add Folder'. Select the converted Audible audiobooks from the computer hard drive and click 'Upload'.
Step 4. Once imported, you can begin to play the Audible books on Google Home by voice, like you do with other Google audiobooks.
Part 2. Top 2 Ways to Listen to Audible on Google Home through Mobile Devices
Method 1. Cast Audible Books with the Google Home App on Android
If you are using Android devices, the most popular way to play Audible audiobooks on Google Home is using Google Home app. With this method, you are required to firstly download and install the Google Home app from Google Play store on your Android OS. Then follow the instructions below: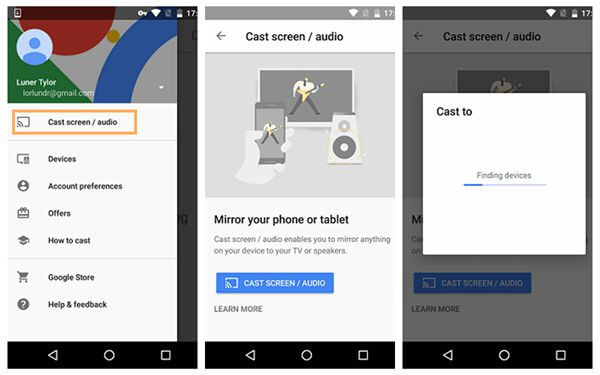 Step 1. Open Google Home on your phone. Make sure your Android device and Google Home speaker are connected to the same Wi-Fi network.
Step 2. Click the burger button on main screen of Google Home app and then choose 'cast screen/audio'.
Step 3. Once the name of your device appears, tap it and click 'OK' to stream audio books to Google Home.
Step 4. Open Audible app on your phone and begin playing the audiobooks. Then they will be automatically cast to the Google Home speaker as expected.
Method 2. Connect Audible to Google Home via Bluetooth on iPhone/Android
For people who are using iPhone or other iOS devices, you are highly recommended to stream Audible audiobooks to Google Home via Bluetooth. There are two ways for you to pair your devices to Google Home with Bluetooth, including using Google Home app or voice commands.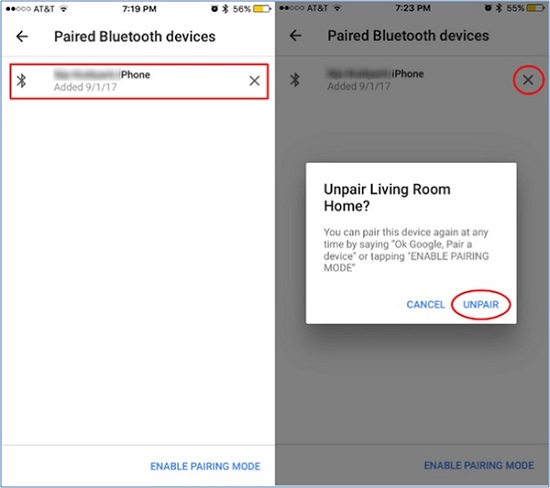 Pair Bluetooth via Google Home App
Step 1. First of all, install Google Home app on your iPhone or Android device.
Step 2. Open Google Home on your phone and tap on the device icon on the right top corner of the app. Then press the three-dot menu on Google Home to get into Settings menu.
Step 3. Tap 'Paired Bluetooth Devices' > 'Enable Pairing Mode' at the bottom. Then open the Bluetooth on your phone and connect it to Google Home device.
Step 4. Once paired, open Audible on iPhone/Android to play the audiobooks. Then the audio will be mirrored to Google Home without lag.
Pair Bluetooth via Voice
Thanks to Google Assistant, a built-in intelligent personal assistant of Google Home, you can even pair the Google Home to iOS/Android with voices only.
Step 1. Turn on Google Home speaker and the Bluetooth on your iOS/Android device.
Step 2. Say "OK, Google, Bluetooth pairing". Then it will automatically search the nearby devices. You should manually choose the right one and connect it to Google Home.
Step 3. When the connection is done, go ahead to play Audible audiobooks to mirror the audio to Google Home from your device.
Part 3. Play Audible Books on Google Home Mini/Max/Hub
No matter you are owning Google Home Mini, Mac or Hub, there is an effective way allowing you to make audiobooks from Audible workable with Google Home in the article. Just determine which device you will use, and then follow the corresponding step-by-step tutorial to listen to Audible books on Google Home.
It's worth mentioning that with the assistance of AudFree DRM Audio Converter, Audible files can be converted to plain audio formats, like MP3. As consequence, you will be not able to use Audible books on Google Home, but also other smart speakers, like Apple HomePod, etc.
If you have any issue when playing Audible books on Google Home by using the above ways, please leave them on the comment area. We will give the further assistance for you as soon as possible.