Deezer is a music streaming service that offers a vast catalogue of songs, albums, and playlists for users to listen to online in over 180 countries. However, you can only hold your downloaded hits on the subscription. They instantly get out of hand when you cancel your subscription. This falls back to DRM protection put on Deezer. If you don't want to lose them, the quick way out is to engage a Deezer DRM removal tool to make it. Here in this post, let's roll down the best way to remove DRM from Deezer for free access and playback.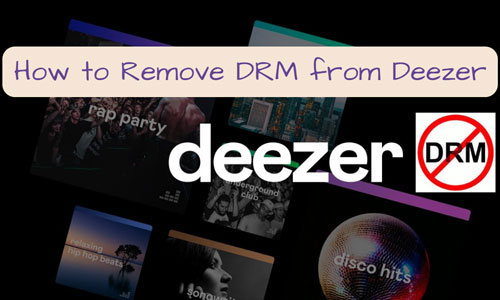 Part 1. What Is Deezer DRM and How It Affects Us
"Does Deezer have DRM?" Yes. DRM (Digital Rights Management) refers to mechanisms used by streaming services to protect digital content from unauthorized copying, sharing, and distribution. Deezer DRM protects the music in its catalogue and ensures that it is used in compliance with licensing agreements and copyright laws. On the other hand, this also affects users in a great way.
As much as Deezer Premium and HiFi subscribers can download songs for offline listening, users can only enjoy the tracks within the Deezer app. The tracks are encrypted and cannot be easily copied or shared with others.
In some cases, the DRM protection mechanism is used to control audio quality for free users while encouraging subscriptions for better audio quality. More so, DRM protection affects accessibility as per geographical regions. It can be used to enforce geographical restrictions by checking the user's location and limiting access to certain content based on their location.
Part 2. How to Remove DRM from Deezer - Best Tool
The best way to enjoy Deezer music is to remove the limitations of DRM. AudFree Deezer Music Converter is a dedicated tool to remove Deezer DRM and has no restriction on the downloaded tracks. It will convert Deezer songs and playlists to common output formats including WAV, FLAC, MP3, AAC, M4B and M4A among others.
AudFree also adopts ID3 tag detection technology that automatically retains up to 100% of the original ID3 tags and other metadata information during the download process. These include the genre, album name, track number, etc. More so, you can configure other parameters like sample rate, channel, bit rate, etc.
The app is also spiced up with a faster conversion speed rate. It runs at a 5X rate, enabling downloading of your Deezer music files in batches. When all is set, you can download Deezer tacks and listen to the converted DRM-free tracks offline on any device or media player.
Main Features of AudFree Deezer Music Converter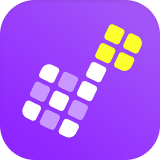 Manage Deezer music library easier and better
Listen to Deezer music downloads offline without limits
Download music from Deezer and rip DRM from Deezer at a X5 rate
Download Deezer to common audio formats like FLAC, WAV, etc.
How to Use AudFree Deezer Music Converter to Download Music and Remove DRM from Deezer
This DRM removal tool for Deezer lets you brreak DRM from Deezer in just a few steps. Now, let's learn how this smart program work on Windows and Mac computer.
Step 1

Download and Install AudFree Deezer Converter

Visit the AudFree official website and hit the 'Download' tab from the top on the screen. Then find, download and install the Deezer music converter app on your Windows or Mac computer. Next, open the AudFree Deezer Music Converter and the Deezer music app will automatically be launched. Then log in to your Deezer account using your email address and password. Also, it's noble to buy the AudFree tool and register the full version to remove the conversion limitation of one-third content. Otherwise, you can't convert a whole Deezer track with AudFree free trial version. Once bought, just hit on the 'Register' tab, then enter your email address and registration code to activate it.
Step 2

Reset Deezer Music Output Parameters

Now, set the output format and parameters for Deezer music from the menu > 'Preferences' > 'Convert' option to adjust the format as AAC, FLAC, MP3, M4B, etc. Also, go on to set the audio parameters such as the audio channel, sample rate, speed, etc. You can also classify your Deezer music tracks by album or artist from the 'Archive output tracks by' option section.
Step 3

Add Deezer Music to AudFree Deezer Music Converter

Go to choose the music you wish to add from the Deezer music app. Once found, click on the 'three-dots' icon on the playlist or track's art cover and choose the 'Share' option. Next, click on the 'Copy' button to copy and then paste the URL of the track to the main screen's search bar of the AudFree Deezer Converter. Now, hit on the '+' icon to load the Deezer playlist or single track to the AudFree converter for conversion.
Step 4

Download Deezer Music and Remove DRM from Deezer

Finally, click on the 'Convert' tab to let AudFree Deezer Music Converter begin the conversion process. It will download and convert Deezer to MP3, or other set preferences while keeping all the ID3 tags and original quality. During the conversion, the tool will remove Deezer DRM. Once the process is completed, click on the 'Converted' icon at the bottom bar of the AudFree tool to find the converted Deezer playlist or music. Likewise, you can use the 'Search' icon to quickly locate any music file in the target folder on your computer.
Part 3. Other Deezer DRM Removals
Besides AudFree Deezer Music Converter, there are other DRM removal tool for Deezer are available, which includes a free tool. Now, check these out in this part.
1. Audacity
Audacity is a popular open-source audio editing and recording software application. It's known for its versatility and user-friendly interface, used for various audio-related tasks. It enables you to record audio directly from a microphone, line-in, or other sources. You can also capture streaming audio or digitize analogue recordings.
When it comes to format support, Audacity supports a wide range of audio file formats, including WAV, MP3, FLAC, OGG, and more. You can import and export audio in these formats. Audacity is available for Windows, macOS, and Linux, making it accessible to users on various operating systems. Here are the steps to remove DRM from Deezer via Audacity for free.
Step 1. Launch the Audacity app on your computer, then set the recording parameters. To do this, click on the 'Edit' > 'Preferences' tab, then set the Host as 'Windows WASAPI' and choose your playback and recording device.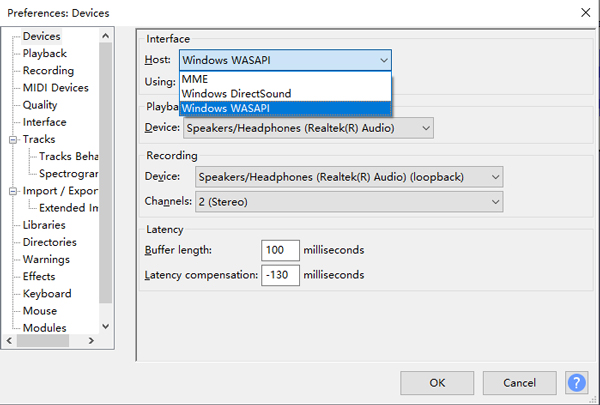 Step 2. Next, open your Deezer desktop app to choose the music you want to download. Go to Audacity and tap on the 'Record' button. Then switch to Deezer music player to play the songs.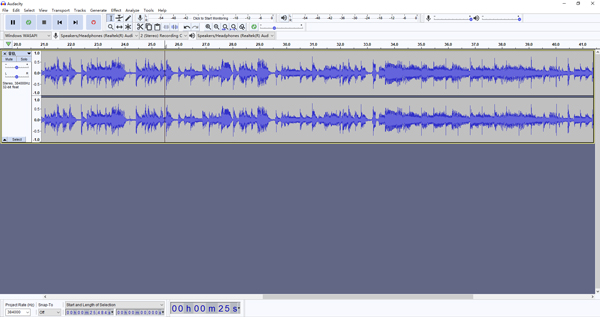 Step 3. Hit on the 'Stop' button once you have finished the recording process. Likewise, you can export the recorded DRM-free Deezer playlist to your computer and onto other devices.
2. AudFree Audio Capture
The other means to break DRM from Deezer is via AudFree Audio Capture. This is a software application designed for capturing and recording audio from various sources on your computer, including web browsers, music streaming services, and more. In other words, it can help record and download music from Deezer and rip Deezer DRM with ease.
Likewise, AudFree Audio Capture allows you to record multiple audio tracks simultaneously, which is useful for capturing audio from different sources or applications running on your computer. When it comes to editing, it comes with an ID3 tag editor that allows you to edit and add metadata such as song title, artist, album, and genre. You can also choose from various audio formats like MP3, FLAC, WAV, AAC, and more to save your recorded audio files. This flexibility ensures compatibility with a wide range of devices and players.
How to Use AudFree Audio Capture to Remove DRM from Deezer
Step 1. Launch AudFree Audio Capture. Once you download and install the app on your computer, launch it and choose the Deezer program to record audio tracks from. If Deezer is not among the options, then click on the '+' tab to add it directly.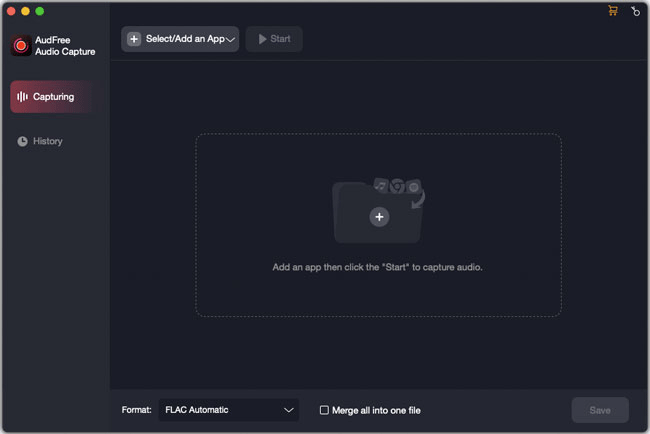 Step 2. Customize the Output Settings. Define the output format of choice such as FLAC, WAV, AAC, MP3, M4A, and M4B by clicking the 'Format' button in the AudFree interface. Likewise, you can personalize other output parameters for Deezer audio tracks like bit rate, channel, and codec. Then click on the 'OK' button.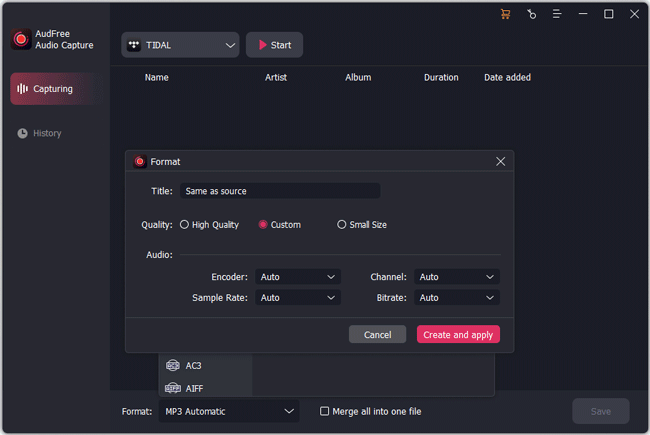 Step 3. Begin Playing and Capture Deezer Music. Touch the Deezer program and play any music from Deezer and AudFree will pop up a new recording window immediately. Now, the recording process begins immediately.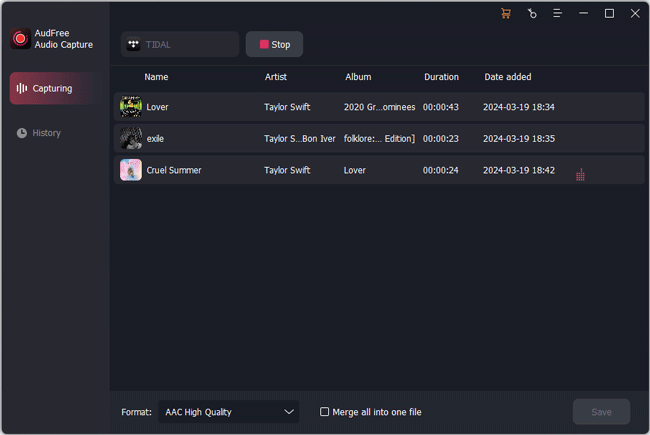 Step 4. Save and Edit the Recordings. Once you have finished recording, close the playing audio tracks. Then, go to the 'Edit' icon at every recorded Deezer track to edit, such as split, merge, or do any editing on it. Once the settings are okay, touch the 'Save' tab to store your DRM-free Deezer recordings in the destination folder on your computer.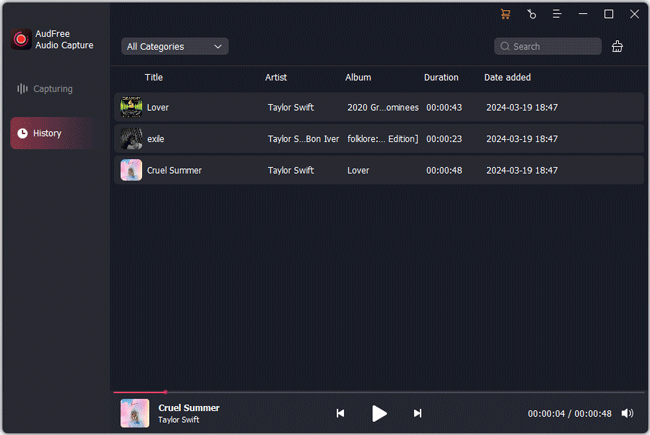 Part 4. Comparison Table between Three Deezer DRM Removals
Here you can learn the differences between three tools to remove DRM from Deezer. The differences include price, output audio quality, additional features and more.
| | AudFree Deezable | Audacity | AudFree Audio Capture |
| --- | --- | --- | --- |
| Price | $29.95/quarterly $14.95/monthly $69.95/lifetime | Free | $14.95/monthly $29.95/quarterly $69.95/lifetime |
| Source Compatibility | Deezer music | System sound, microphone, and audio files | Wide range of streaming services and system sound |
| Audio Quality | Lossless | Low | High |
| Speed | X5 rate | X1 rate | X1 rate |
| Editing Features | Unlimited editing capabilities | Extensive audio editing and manipulation tools | Basic trimming, splitting, and ID3 tagging |
| Output Formats | MP3, FLAC, M4A, M4B, WAV, and AAC | Multiple audio formats | MP3, FLAC, WAV, AAC, M4B, M4A |
| User Interface and Usuage | User-friendly but focused on Deezer conversion | Functional but with a steeper learning curve | User-friendly, designed for capturing audio |
| OS Compatibility | Windows and MacOS | Windows, macOS, and Linux | Windows and MacOS |
Part 5. Conclusion
After learning this post, you don't have to be locked with DRM restrictions when it comes to playing Deezer music. You can use these three apps to remove DRM from Deezer at your convenience for quality playback. More so, they'll convert your Deezer music files to enable playing on other devices. By the way, you should give AudFree Deezer Music Converter a try. It is professional and output lossless quality of Deezer music tracks. You can then listen to high-quality Deezer music offline on any device you want.