Amazon Music is one of the most popular streaming music services and there are 2 types of service for choice: Amazon Prime Music and Amazon Music Unlimited. The Prime Music is related to Amazon Prime membership with no extra cost, while the Amazon Music Unlimited costs Prime users USD $7.99 per month and non-Prime users USD $9.99 every month.
Apple Watch, a smart wearable device, is often used to track fitness data, monitor heart rate, receive a message from iPhone, manage music playback and so forth. Many people love to listen to the music via Apple Watch while working out, for example, running with a workout music playlist on Apple Music. So, can you play Amazon music on Apple Watch? However, the answer is no. Amazon Music is not compatible with Apple Watch.
But don't worry. In this article, we will show you how to import Amazon Music to Apple Watch, plus a good way to stream Amazon Music to Apple Watch and play it without Amazon membership. Continue reading to get what you need.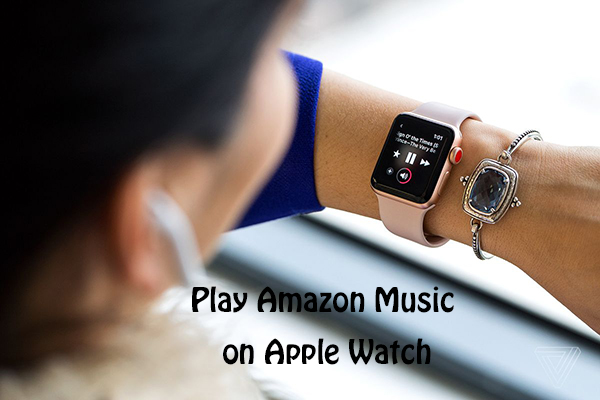 Part 1. How to Listen to Amazon Music on Apple Watch
There is 2GB local music storage in Apple Watch for users to import audio files from their iTunes Library. That is to say, you need to upload Amazon tracks to iTunes before we sync them to Apple Watch. Make sure you have a membership of Amazon Music or have purchased songs from the Amazon Music store. Since you are supported to download Amazon Music tracks locally, here we directly introduce how to add local audio files to iTunes:
Method 1: Directly drag and drop the local Amazon audio file or folder to the iTunes window.
Method 2: Simply hit on "menu bar" > "Files" > "Add File to Library"/ "Add Folder to Library".
Next, let's start to learn how to upload tracks or albums from the iTunes Library to Apple Watch by the following steps:
Step 1. Put the Apple Watch on its charger and make certain that your device is charging.
Step 2. Click to "Settings" > "Bluetooth" on your iPhone. Confirm that Bluetooth is turned on.
Step 3. Launch the Apple Watch app on your iPhone, then select "My Watch" option.
Step 4. Hit "Tap Music" > "Add Music" to choose which Amazon song or playlist or album you want to transfer.
Now you have successfully imported Amazon tracks into Apple Watch. It should be noted that you have to carry the iPhone with you for Amazon songs playback on Apple Watch. Every time you want to play your Amazon tracks, you are required to start it from iTunes on your iPhone.
Part 2. How to Use Amazon Music to Apple Watch Without Subscription or Purchase
As we mentioned above, to listen to Amazon Music to Apple Watch, you need a subscription to Amazon Music or purchase tracks from it. However, the songs you downloaded will disappear immediately once your subscription expired, and it costs a lot to buy a pile of songs.
In order to solve this problem, we need a third-party tool, which has a perpetual validity to download Amazon Music without being its member or buying tracks one by one. Here, AudFree Amazon Music Downloader is the best choice for you, which can record all types of Amazon streams and save them locally into multiple common formats such as MP3, FALC, WAV, AAC, M4A, M4B, etc. With the most advanced technology, this smart tool can automatically split the track when a new song begins or replies. Also, it is allowed to trim and merge manually after recording. Furthermore, the ID3 tags will be automatically identified during the recording. With the support of this powerful tool, you are free to enjoy Amazon Music songs on Apple Watch at any time with ease.
If you are interested in the detailed steps, please click to see how to capture and download Amazon Music. After the downloads are successful, you are suggested to import Amazon Music to Apple Watch by following Part 1.
Tips: Everything We Know about Amazon Music
Amazon Prime Music vs. Amazon Music Unlimited
There is something strikingly difference between Amazon Prime and Amazon Music Unlimited: music library and the mode of offline playback. Amazon Music Unlimited members own over 50 million tracks, which is 25 times as many as Amazon Prime users' possession. However, Amazon Prime subscriber is available to download music to mobile devices for offline playing, but for the users of the Amazon Music Unlimited Single-Device Plan, it is invalid.
What's the Advantage of Amazon Music
The obvious advantage of Amazon Music other than else streaming music services like Apple Music, Spotify, Tidal, etc. is the format of audio files, which is not protected by digital right management. To some extent, the mode of Amazon Music is similar to iTunes, where tracks can be download as local files when you become a subscriber or purchased in the form of one song/one album. In this way, you are available to save your favorite track locally all along through purchasing it or keep subscribing to the music service.