As one of the most popular digital music platforms focused on streaming music service, Spotify allows free and premium subscribers to access to over 35 million songs. In addition to internal large music library, Spotify can automatically search for local stored music with Spotify desktop app by default, such as iTunes library and Windows Media Player library.
However, if there are some special music folders on your hard drive or on external storage, Spotify won't search them directly. What if you would like to listen to other tracks that don't include in Spotify source list? Fortunately, Spotify offers an option for users to import local files to Spotify library on your computer. As result, you can freely play not only Spotify tracks but also your own music files on Spotify desktop and mobile app. Now, let's see the detailed tutorial to upload music to Spotify for playback.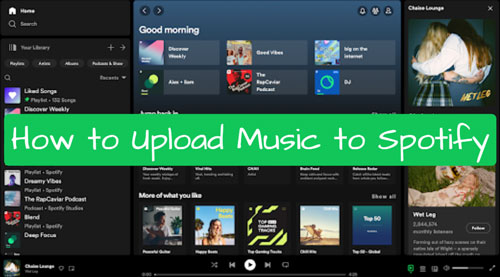 Part 1. How to Upload Local Files to Spotify Desktop Client
Although Spotify has the ability of adding songs to Spotify local files, you should keep in mind that not all audio formats are compatible with Spotify, which applied Ogg Vorbis format in its songs and playlists. Spotify can support the following file types, MP3, M4P (unless it contains video) as well as MP4 if you have installed QuickTime on your computer.
If your own files are one of the audio formats supported by Spotify, you can refer to the following detailed guide to add and play local music with Spotify desktop client.
Add Local Music to the Desktop Client
Step 1. Fire up your Spotify app on your PC or Mac computer and login in your personal Spotify account detailed.
Step 2. For Mac computers, please click the Spotify menu tab to choose Preferences. For Windows users, you can find it under Edit option.
Step 3. In the new window, please scroll down to the Local Files and simply touch the Add A SOURCE to browse and select target music folder including the music files you'd like to import.
Step 4. You can locate uploaded own music files in the Local Files option at the left-side bar of Spotify main interface.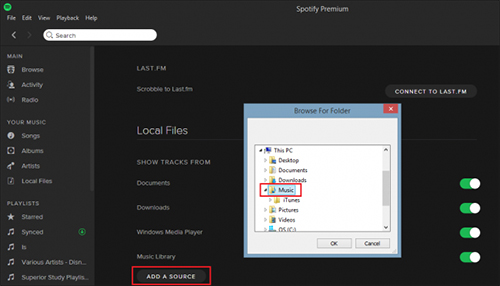 Create a New Playlist on Spotify
Step 1. Now, you can start to create a new playlist to put your local files by clicking the New Playlist button in the bottom-left corner of Spotify desktop client.
Step 2. It's time for you to customize the settings of new playlist by defining the name, image as well as description as you like. When all settings are ok, you can click Save to confirm it.
Step 3. After customization to the new playlist, you can get back to the Local Files tab and add favorite music tracks you'd like to sync to the playlist. Now, you can listen to local music files on Spotify.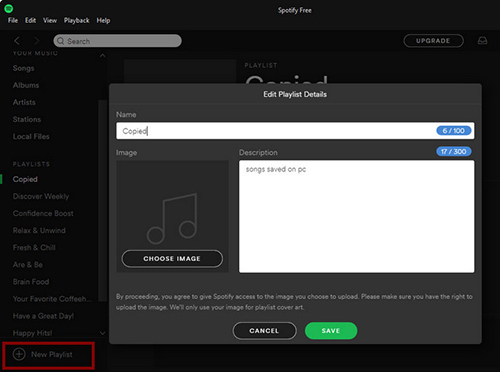 Part 2.How to Import Local Files to Spotify Mobile App
If you still would like to upload music to Spotify app on mobile devices, you should follow the above guide firstly. Put it another, you need to import your own files to Spotify desktop app firstly and then sync added music files to your mobile devices. Let's see how.
Step 1. Open your Spotify app on your mobile devices and login the same Spotify account you used before.
Step 2. Enter to the new playlist and you will see there is a 'Play Offline' switch in the top right-hand corner, please activate the toggle to start the syncing process.
Step 3. Once the process finishes, you will be able to access to your local files on any mobile devices which are registered to your account through Spotify app.
Note: When you turn 'Play Offline' on, please make sure your desktop and the device you want to sync to are on the same local WiFi network.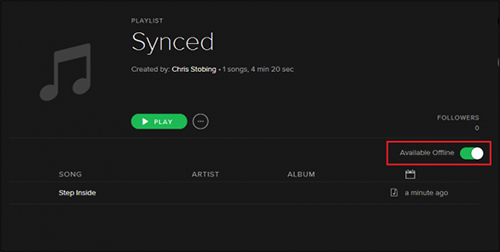 Part 3. Spotify Troubleshooting
#1. Some local files can't be imported to Spotify?
From what we mentioned above, please be well noted that although Spotify can support MP3, M4P and MP4 files, M4P files should contain video and QuickTime are required when you import MP4 files. Besides, DRM protected audio files can't be recognized by Spotify. If you want to import DRM-ed files to Spotify, such as Apple Music, you need to use AudFree DRM Audio Converter to bypass DRM lock and convert them to common MP3 for Spotify.
#2. Can't Sync Local Files to Mobile Spotify App?
You need to check whether both your desktop and the device you wish to sync to are both on the local WiFi network. If not, please modify it, since the system won't let you sync anything unless both are tied to the same wireless MAC address.
#3. Can I upload iTunes library to Spotify?
The answer could be yes. But before you start to import iTunes music files to Spotify, please navigate to iTunes-> Preferences -> Advanced and choose 'Share iTunes Library XML with other applications' option firstly. And then you can add the music files to Spotify without limitation.
#4. How to transfer Spotify music to iTunes library?
When it comes to this point, you should know that Spotify music files are protected by DRM technology, which prevents users from moving Spotify songs to iTunes library. If you are eager to import Spotify tracks to iTunes library, you should use some third-party Spotify converting tools, such as AudFree Spotify Music Converter to remove DRM protection and convert Spotify Ogg Vorbis to iTunes compatible formats, like MP3, M4A, etc. To avoid unnecessary hassle, you can refer to this source page: How to Transfer Spotify Music to iTunes Library.