Apart from using the downloading or converting way to get local Spotify music files, Spotify recording software is also a recommended method. We get to listen to Spotify music and podcasts offline on all devices with the assistance of a Spotify recorder.
Today, we will focus on introducing the top 5 best Spotify recorder Mac and Windows on the market, with which you can record from Spotify and save them to local files at ease.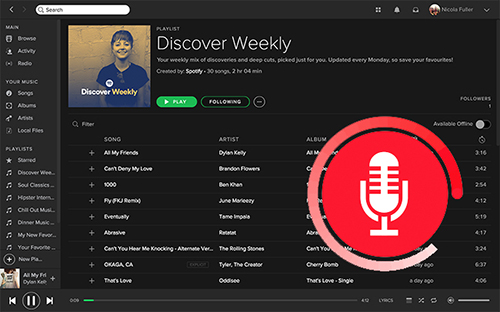 #1. AudFree Spotify Music Downloader (Windows/Mac)
When it comes to the best Spotify recorder software to record Spotify songs, playlists, or albums, we highly recommend AudFree Spotify Music Downloader, which is not only a professional Spotify music recorder, but also a full-featured Spotify converter and downloader.
Different from other common Spotify recorder free online with real-time recording technology, AudFree Spotify Music Downloader has the ability to download Spotify music without Premium at 5X faster speed by adopting innovative downloading technology.
No matter you are using a Spotify free or Premium account, you can use this excellent software to record Spotify to MP3, FLAC, WAV, AAC, M4A, and M4B files without zero quality loss. By doing so, you can enjoy Spotify music offline playback without ads on all devices, such as iPod, Sony Walkman, Apple Watch, PSP, MP3 player, etc.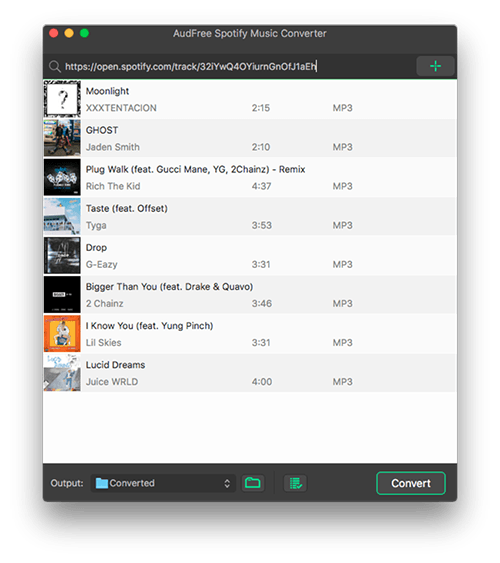 How to Record Spotify with AudFree Spotify Music Downloader
Step 1. Launch AudFree Spotify Music Downloader and then you can drag & drop Spotify music from the Spotify app to the AudFree interface to load the Spotify songs you'd like to record.
Step 2. Click the top-right menu icon to select 'Preferences' > 'Convert' to adjust output format, audio quality, converting speed, etc.
Step 3. Tap the 'Convert' button to start to record songs from Spotify and save them to local files for free playback.
Pros:
* Download any content from Spotify losslessly at 5X faster speed
* Convert and save Spotify records as MP3, FLAC, AAC, etc.
* Detect and keep all metadata of Spotify music in music files.
* Classify output Spotify tracks by artist or album automatically
Cons:
* Cost at $29.95 for the full version
* Record 1 minute of each Spotify song for free trial version
#2. AudFree Spotify Recorder (Windows/Mac)
Here I will introduce to you another Spotify recorder from AudFree named AudFree Audio Capture which is different from the AudFree Spotify Music Downloader recommended above but both do a great job in recording Spotify music. As the name suggests, AudFree Audio Capture is a professional recording app not just for Spotify but also other streaming music services. To put it another way, you can use it to record music from Spotify and from Apple Music, Deezer, Tidal, Amazon Music, Qobuz, etc.
Besides recording from Spotify music with nearly zero quality loss, this AudFree Spotify Recorder for Mac and Windows can record any sound from any source on your computer, such as online radios, in-game sound, background music from videos and any other audio playing on computer soundcard. Similarly, it supports 6 output formats as well.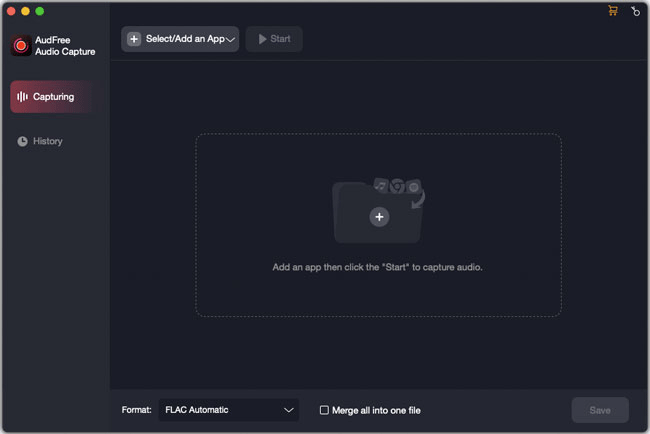 How Record Music from Spotify vis AudFree Spotify Recorder
Step 1. Open AudFree Spotify recorder on your computer and then press the big '+' button to add the Spotify app to it.
Step 2. Click the 'Spotify' icon to open the Spotify app and play the Spotify music. Then this tool will start to record Spotify music in real-time.
Step 3. When the recording finishes, please click the 'Stop' > 'Save' to get your Spotify recordings on your computer.
Pros:
* Record any sound playing on computer
* Support multi-track recording simultaneously
* Built-in editor to trim, split, or merge audio files
Cons:
* Not free.
* Need some time to record music from Spotify
#3. Audacity - Free Spotify Recorder (Windows/Mac/Linux)
If you are looking for a Spotify recorder freeware for Linux, then this is it. Audacity is a free, professional, and open-source audio editor and recording software with advanced recording and editing technology.
Audacity can record live audio through a microphone or mixer, or digitize recordings from other media. When you use Audacity to record Spotify, it will record them from the internal speaker of your computer.quick guide on how to record Spotify music with Audacity on Windows. Without further ado, let's take a quick look at how to record Spotify with Audacity.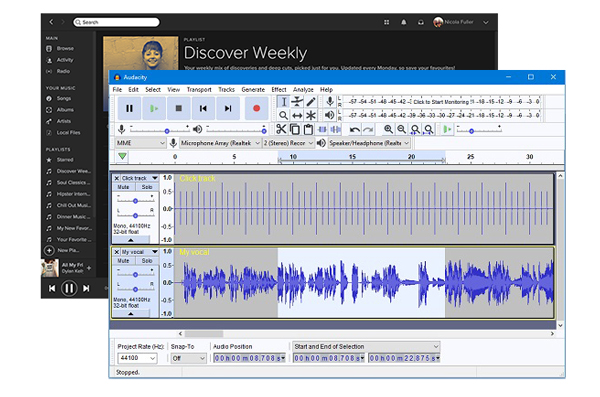 How to Use Audacity to Record Spotify Audio
Step 1. Launch Audacity and then hit the 'Edit' button from the top-left toolbar. Click the 'Preferences' > 'Audio Host Box' > 'Windows WASAPI' button.
Step 2. Select 'Transport' > 'Transport Options' > 'Software Playthrough' to turn off the Software Playthrough when recording computer playback. Or you can do it by tabbing the 'Recording' under the 'Audacity Preferences'.
Step 3. Press the red 'Record' button in Audacity. After that, please play Spotify music that you'd like to record. It will automatically record Spotify music in real-time. When the recording is done, simply click the 'Stop' icon to save Spotify recordings to your computer.
Pros:
* Record music from Spotify, microphone, or other audio sources
* Available for Linux operating system
Cons:
* The UI is a bit complicated for most users
* Real-time recording can be time-consuming
#4. AllToMP3– Spotify Web Recorder (Windows/Mac/Linux)
AllToMP3 is a Spotify web recorder, which is available for Mac, Windows, and Linux. AllToMP3 is capable of recording music from 4 online streaming services, including Spotify, SoundCloud, Deezer, and YouTube. With the easy-to-use interface, you are able to record and save Spotify music files in 256kb/s MP3 with ID3 tags retained, such as album art, title, artist, etc.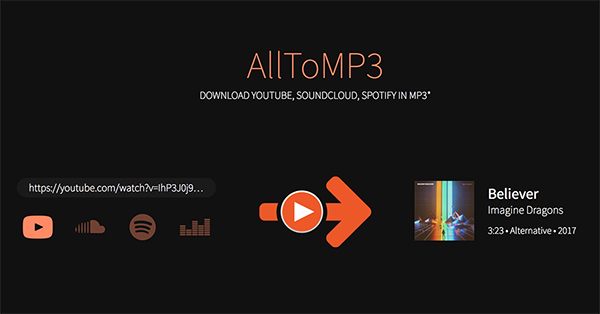 How AllToMP3 Spotify Web Recorder Works
Step 1. Find your favorite Spotify tracks, copy the link of the song, playlist, or album, and paste it to search box at the top area of AllToMP3.
Step 2. Hit the 'Enter' key to start the recording process.
Step 3. When the recording process finishes, you can locate recorded Spotify MP3 songs in the destination folder.
Pros:
* Easy to use and totally free
* ID3 tags can be kept in recorded audios
Cons:
* Audio quality loss during the recording process
* Unstable, rely heavily on the Internet connection
#5. Free Sound Recorder – Free Spotify Recorder (Windows/Mac)
If you are looking for a free Spotify ripper to capture Spotify songs or playlists, Free Sound Recorder is a good option. It ranks the best Sound recorder for 10 years. This recording software only offers the Windows version for many years, but good news is that it nows supports Mac OS. As a totally free Spotify recorder, it is designed to capture any sound passing through your computer soundcard, like streaming audio broadcasts and online conference.
Free Sound Recorder supports exporting recorded Spotify music as MP3, WMA, WAV, or OGG files in high quality. Additionally, it is an excellent digital audio editor for free, with which you can customize your audio recordings through editing functions like Cut, Copy, Paste, Crop, Delete, and cool audio effects, like Echo, Fade in/out, Amplify, Chorus and so on.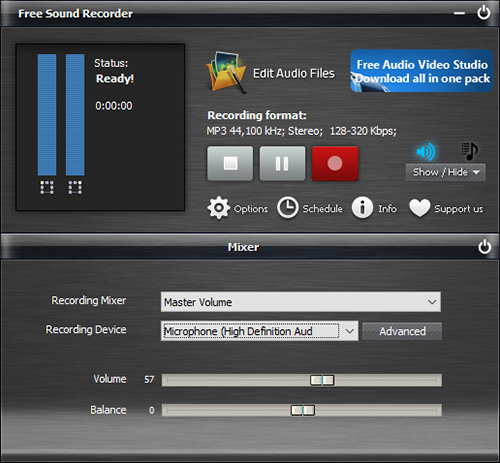 Pros:
* Free Spotify recorder for Windows operating system
* Support various editing functions and audio effects
* Record music from Spotify and other sources
Cons:
* Only available on Windows (Update in 2020: Available on Mac now)
* Support 4 output formats only: MP3, WMA, WAV, or OGG.
* No built-in ID3 tag editor.
Why We Need Spotify Recorder
As one of the most popular streaming music sites, Spotify offers two tiers for music lovers, which are Spotify Free and Premium respectively. Premium subscribers can download and play Spotify music offline with $9.99 per month, and Spotify allows them to do it on up to 3 devices that are compatible with the Spotify app.
Even so, Spotify is still unavailable on many devices such as iPod, MP3 players, considering that users cannot transfer the encoded OGG Vorbis Spotify files to other devices easily. As for Spotify free plan, though users can access to all music in the Spotify library with over 60 million songs, there is no such option as 'Offline Playback' for them.
If you get yourself a Spotify recorder, it would be a piece of cake to extract Spotify music to MP3 with high-quality. Then you are able to play Spotify music offline on all devices even without paying for a Spotify Premium account.
Final Words: Which Is the Best Spotify Recorder
There is no doubt that AudFree Spotify Music Downloader wins the competition. It could be your best choice to record Spotify tracks as it is specialized in downloading and recording Spotify music with 100% original quality at high speed. With more user-friendly options, it can make your Spotify listening experience more enjoyable.
But of course, if you are looking for tools that can record music from Spotify as well as other music streaming services, you can choose Audacity, AudFree Audio Capture, or Free Sound Recorder according to your needs. As for the Spotify web recorder, AllToMP3 is a good option.
No matter which Spotify recorder you choose, you can now listen to Spotify music offline without ads on any device or media player besides the Spotify app. Do you have other suggestions for Spotify recorder that you want to share with us?