To burn a CD is to copy and paste content to a writable disc on the computer. Although listening to streaming music online is an increasingly popular approach, playing the CD on a CD-player or computer is still a great way to relax or recharge with music. Particularly, most computers are pre-installed a CD burner or a built-in software that can burn a CD directly.
Tidal is famous for its Hi-Fi sound, which is the synonym of CD-quality audio. So why not try to burn Tidal music to CD to create a mix of songs on your own? It is not only a good way to back up your favorite tracks but also a practical method to transfer your streaming music to any CD devices and players.
In this article, I am willing to show you how to burn music from Tidal in 4 simple steps. If you are searching for "Can I burn a CD from Tidal" such kind of questions, this tutorial will help you solve the urgency completely.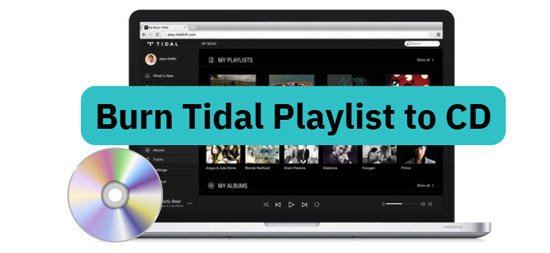 Part 1. What Do I Need to Burn Tidal Music to CD?
Since there is not an in-built feature to burn a playlist to CD in Tidal app, it is important to ask for help from a powerful third-party tool. Here, AudFree Tidal Playlist Converter is the best assistance for you, which is the master of cracking DRM-ed Tidal tracks and playlists, converting Tidal streaming audios to MP3, FLAC, WAV, M4A, M4B AAC, etc with 100% Hi-Fi quality saved. All metadata is encapsulated in the converted files, where you can find the title, artist, album, and so on.
As a product of the very frontiers, this intelligent software is able to convert up to 100 songs at one time with a 5X faster speed. By using this all-in-one conversion tool, you can freely download Tidal streams onto the computer as local music files. And then it couldn't be easier to burn a CD from Tidal music with a free CD burner.
Part 2. Transfer Tidal to AAC: Protected AAC to Local AAC
Before you start the conversion, there are two preparations needed to be done.
One is to download the Tidal desktop app from the official website. If you have a pre-installed Tidal app on your Windows desktop, please uninstall it and the related components by using a powerful uninstaller. Then re-download the one which is not from Windows Store.
The other is to download AudFree Tidal Playlist Converter for a free trial. Every time you are allowed to convert 1 min of each song. To download the whole Tidal songs, it is better to purchase the full version to unlock this limitation. Then let's follow the detailed steps to download Tidal music and burn it to a CD.
Step 1

Copy and paste Tidal playlists or album to AudFree

Open AudFree Tidal Playlist Converter and the Tidal app will pop up automatically. Next, please find the playlists you would like to burn to CD from the Tidal app. Then copy and paste the link of playlist or album to the blank search bar in AudFree. After that, tap on the '+' icon to stream it to AudFree.
Step 2

Rechange Tidal output settings for CD playback in AudFree

If you are a Windows user, just hit the hamburger icon on the upper margin of AudFree. Then tap on the "Preferences" > "Convert" to turn on a setting page. If you are a Mac user, please discover the "AudFree Tidal Music Converter" from the menu on the top left corner of the Mac. Then you are available to redefine the output settings such as format, sample rate, bit depth, channel, etc. If you want to get the best CD-quality, you are supposed to alter the bit rate to 32 bit and sample rate to 48000Hz. Besides, don't forget to check the box of the "Conversion speed" to obtain a stable converting process.
Step 3

Convert and download Tidal for CD burning

Now, just press on the obvious "Convert" button to start the transformation. The tool will run at a 5X faster speed (It will work at 1X speed if you choose "Conversion speed" before) to rip DRM from Tidal tracks, convert them to the local music files according to the output settings. When the conversion is over, a red spot with numbers of converted songs will mark on the "Converted" icon. Please click it to locate the local music folder where all converted Tidal tracks saved.
Step 4

Burn Tidal music to CDs with CD burner/iTunes

Now you can use the CD burner to burn Tidal playlist to CD. Or if you have iTunes installed on your desktop, it is also possible to add Tidal playlist to iTunes for CD burning.
Step 1. Import Tidal music to iTunes library from the local music folder.
Step 2. Insert the blank CD into the CD-ROM of the computer.
Step 3. Select the streamed Tidal playlist and choose "Burn Playlist to Disc" in iTunes.