Q: Do Tidal and Foobar2000 have a cooperative relationship? Put it another way, whether it's possible to stream Tidal to Foobar2000 so that I can play Tidal through Foobar2000? It's my favorite music player installed on my iOS and Android devices to explore the digital world.
It's well-known that everyone has to resort to the Tidal app to play music, albums, playlists, and other content you can discover on Tidal. When you are planning to enjoy Tidal songs on your devices, the premise is that the equipment is compatible with the Tidal app.
Foobar2000 music player is a class-platform and free audio player, which can be found on devices running Windows OS, iOS, and Android OS. Based on this, Foobar2000 is a perfect substitution to the Tidal app and you can assess HiFi-quality Tidal tracks through Foobar2000 on all devices.
If you have tried to locate Tidal music and transfer them to Foobar music player, you will meet some obstacles. But take it easy. Where there is a will, there is a way. I figured out a solution to play Tidal via Foobar2000. Just share my successful experience with you in the following post.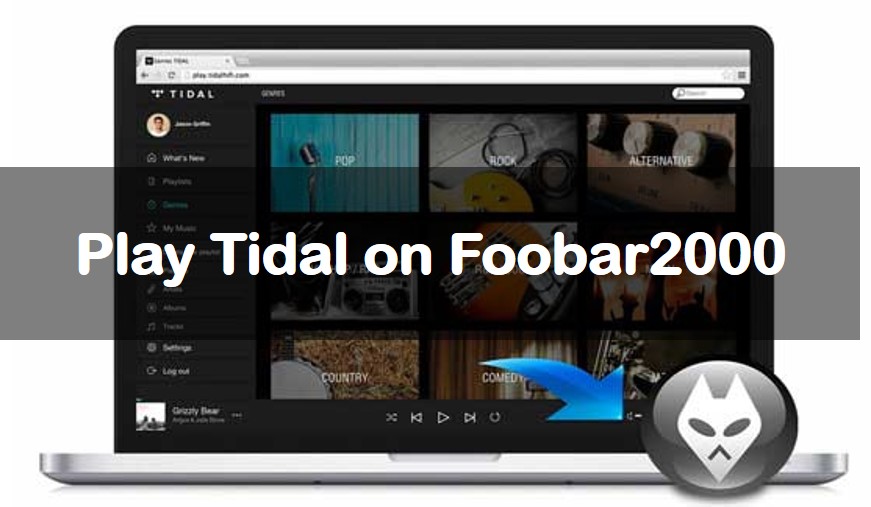 Part 1. Best Tidal to Foobar2000 Converter: Tool Required
On the one hand, there is no integration between Tidal and Foobar2000. And Tidal music can be playable with the Tidal app but no way for other music players. Why? All music downloaded from Tidal is protected by digital copyright protection.
On the other hand, Foobar2000 supports a wide variety of audio formats, including AAC, MP3, FLAC, Ogg Vorbis, ALAC, etc. If you have used a Tidal recorder to record Tidal music as local files, the other thing you should do is to use a professional audio converter to convert Tidal music to Foobar2000 compatible audio files, like MP3.
Through two conversions, the Tidal quality could be not ideal as it must be lossy. To avoid this situation, an extraordinary Tidal to Foobar2000 converter is needed. AudFree Tidal Music Converter is a such a program. It's specialized in downloading songs from the Tidal app and converting Tidal downloads to MP3, FLAC, WAV, AAC, M4A, and M4B at the same time.
No need to use another tool to convert Tidal songs but get Tidal files that can be played through Foobar2000 with the help of AudFree Tidal Music Converter. Besides, it can keep a 100% lossless audio quality at 5X conversion speed.
Part 2. How to Steam Tidal to Foobar2000 Audio Player
The following tutorial is to guide you on how to use Foobar2000 with Tidal. Please download the Tidal desktop app and the AudFree Tidal Music Converter on your computer. And then, you can convert Tidal playlists to Foobar2000 supported audio files.
Notes: The free trial version of AudFree Tidal Music Converter can convert a one-minute file of each song. To unlock this limitation, please purchase the full version.
Step 1

Add Tidal songs to AudFree Tidal converter

AudFree Tidal Music Converter needs to work well with the Tidal desktop app. When you open the AudFree software, you will see the Tidal app will be launched automatically. If you don't download this app on your computer, you will get an error message saying 'Tidal isn't installed'.
To upload Tidal songs to the AudFree software, please copy the URL of the Tidal songs, playlists, or albums on the Tidal app. Now copy the Tidal link to the search bar of AudFree Tidal Music Converter and click the '+' button to load them to the main interface.
Step 2

Adjust Tidal output parameters for Foobar2000

Foobar2000 is compatible with a range of audio formats. You can click the top-right menu to choose 'Preferences' > 'Convert' option on Windows, or click the 'AudFree Tidal Music Converter for Mac' from the Apple's menu bar to choose 'Perferences' > 'Convert' to open the setting window. There are six output formats, audio channel, sample rate, bit rate, or depth rate for your customization.
Step 3

Download Tidal music for Fitbit Versa

Just hit on the big 'Convert' button at the main screen of AudFree Tidal to Foobar2000 converter, and then this tool will download the playlists you added to AudFree tool and convert them to target audio files you set before. You can stream all converted Tidal songs to Foobar2000 easily now.
Step 4

Play Tidal on Foobar2000 Music Player

To use Foobar2000 with Tidal, please open the Foobar2000 audio player on your computer. There is a direct way to stream Tidal to Foobar2000. Just tab the 'File' > 'Add Folder', it will navigate to the local file folders on your computer. Please choose the music folder containing your Tidal tracks and click 'Select Folder' to upload Tidal playlists to foobar2000.
Have you referred to the above steps? If yes, you can successfully play Tidal through Foobar2000 now. By the way, you can also transfer Tidal music to any audio player for playback. If you have some trouble in streaming Tidal to Foobar2000, please clarify the issues you met in the comment area.