Tidal is the first music streaming service to present the world's best quality sound. And like the giants in the music streaming industry, Tidal presents a music catalog of over 60 million tracks, HD music video, and curated editorial depending on the subscription type. A further ability to download your favorite tracks with its offline feature makes this app an after-sought streaming service. You'll get a personalized mix of songs that are geared towards your listening history.
But one thing makes it different: The audio quality. When it comes to delivering quality audio, Tidal is non-compromising. They deliver unbroken quality, pure, and infinitely better than HiFi sound resolution, just as the artist intended. But what really is Tidal Premium vs HiFi vs Master got to do with the difference in streaming audio quality? This is our next mission.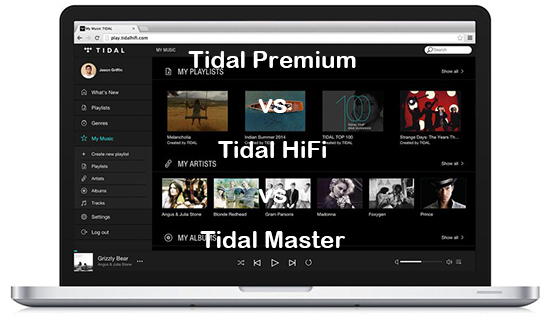 What's Tidal Premium, Tidal HiFi and Tidal Masters
Tidal Premium
Tidal has no free plan, but each tier has a 30-days free trial. Tidal Premium presents standard streaming sound quality, at a bit rate of 320kbps. Besides, you can stream HD music videos, excellently-curated playlists, and a huge song library that your ears could hear, all for $9.99 a month.
Tidal HiFi
Tidal HiFi is the heart of Tidal services and the unique feature that differentiate Tidal in the market. The tier presents all the service in the Tidal Premium plus lossless, high fidelity sound, with superior quality with the resolution of 44.1 kHz/16 bit. The tier goes for $ 19.99 a month.
Tidal Masters
Tidal Master isn't a tier on Tidal, but an additional utility for HiFi subscribers to enhance the listening experience. Tidal partners with Master Quality Authenticated (MQA) to present guaranteed master-quality recordings, directly from the master source—the audio quality the artist intended.
You can only access master-quality audio on the desktop app. To access master-quality audio, head over to the home button on the left side of the screen on the desktop app, and scroll down to "Master Quality Audio Album."
See Also: How to Download Tidal MAQ Music
The Price—Tidal Premium vs Tidal HiFi
Both Tidal Premium and Tidal HiFi have 30 days trial for users to get Tidal for free.
Tidal premium goes for $9.99 a month. But it has a discount program of 50% discount for students and the USA military, and another 50% special discount family plan, for each additional family member for up to the 5th member.
The HiFi tier goes for $19.99 and also has got a 50% discount for students, USA military and family members for up to the 5th member, as in the Premium tier.
On HiFi plan, you can access Tidal Masters at no extra cost. The HiFi plan unlocks access to thousands of master quality videos.
Audio Quality - Premium vs HiFi vs MQA
Tidal premium streams at a standard audio quality of 320kbps. However, this is ramped up from 160 kbps. The premium tier also has various categories like the family premium, student premium and military premium with each different levels of quality. This can be the high definition music videos or simply a standard quality and expertly curated editorial.
HiFi tier comes with lossless high-fidelity sound quality and high definition music videos that are expertly curated. HiFi audio is a superior sound of the high resolution of 44.1 kHz/16 bits, which is apt for sound enthusiasts. Remember, there are the inclusions of family HiFi for up to 5 additional members and student HiFi to suit different users.
Master edition comes with infinitely better quality than HiFi sound. The authentic and unbroken audio version with highest-possible resolution—as seamless as it sounds in the mastering suite of a bit rate of 96 kHz/24 bits.
Prefect Features
Tidal Premium features standard sound quality, unlimited music across multiple devices and access to exclusive Tidal X event, HD music video, and music-download for offline listening, and expertly curated editorial.
Tidal HiFi has all the features included in Tidal Premium, plus lossless high-fidelity sound quality, CD and Master Quality Authenticated audios. HiFi member can stream Master quality music, the unbroken audio version, and highest possible audio quality, which means that you can hear every instrument and every note as the artist intends.
Tips: If you'd like to explore Tidal high-quality music with any limitation, you are highly recommended to use AudFree Tidal Music Downloader to download and convert Tidal Music to FLAC, WAV, M4A without DRM protection. After that you will be able to listen to Tidal music on any device, including MP3 players, smart speakers, etc. and keep Tidal music forever even without Tidal Hi-Fi or Premium subscription.
Listening Experience
Tidal Premium offers access to standard audio quality at a bitrate of 320kbps listening experience.
With tidal HiFi, you unlock lossless audio experience, an option that gives you the real sound experience you can enjoy maximally. HiFi sound is non-compromising. Just pure sound like you've never listened to before. And Tidal doesn't stop there.
It goes ahead to get you the infinitely better quality than HiFi, at no additional cost on the HiFi tier. Tidal partners with Master Quality Authenticated to present master quality audio, directly from the master source - you won't miss even a note from your artist. You'll listen to the sound the way the artist planned.
Performance
Looking at Tidal HiFi vs Premium in terms of performance, streaming FLAC files from your Tidal HiFi service will eventually lead to consumption of more bandwidth when compared to streaming the Tidal Premium option at a standard bitrate of 320 kbps.
On Tidal HiFi vs Master perception, Master is basically hi-re streaming as compared to Tidal HiFi. But remember, the MQA partnership has brought an absolute ultimate audio experience. Simply use your Tidal HiFi membership to listen to numerous thousands of master-quality songs on your devices and desktop apps.
Tidal Premium vs HiFi: Which One to Choose
If you're a music lover, who's got a passion for lossless, hi-res, and unbroken version audio the HiFi tier will unleash your music desire. It presents the highest possible audio quality you'll ever stream. Besides, you've huge music alternative form the library of over 60 million tracks.
But everybody listens to music differently. You might not be seeking HiFi or Master audio quality, only seeking standard music, Tidal understands that too, that's why it presents and Tidal Premium.
So between Tidal Premium or Tidal HiFi, which one is the best? Your music preference and needs can answer that better. But if you were wondering about Tidal Master vs HiFi, now you know with the HiFi tier, you can access Master Quality Music as well.