Can't open AudFree on your macOS Catalina/Big Sur/Monterey and latest, the current major release of macOS? Why? It could be the new security measure on macOS 10.15/11/12 and above.
When you double click the AudFree to install it on your computer, you will get a warning saying 'AudFree software' can't be opened because Apple cannot check it for malicious software. - See the image below.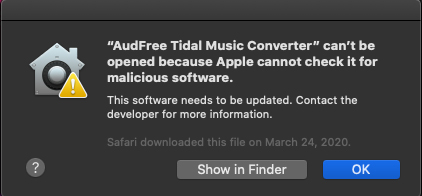 Do not worry about the security of the AudFree software. This does not necessarily mean that there is a problem with the app. You will get the same warning message unless your app comes from the App Store directly. Or the app's developer got the app authorized by Apple already.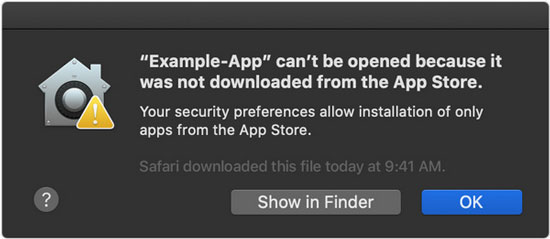 Although you know that an app comes from a developer you trust, you will also get a similar warning. If only the app is from an unidentified developer notarized by Apple.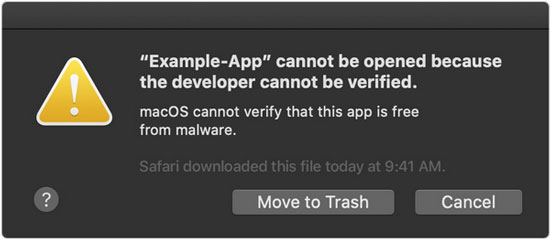 AudFree tools are safe. Although you can't directly tell Mac Catalina or above that you trust our software, there are still 4 ways to make it possible. Let's check them out.
Method 1.
When you download the AudFree program on your macOS 10.15/11/12 or above, please navigate to the installation directory. And then right-click to select "Open". It may pop up the same dialog, you just need to choose the 'Open the file anyway' option.
Method 2.
Step 1. Please exit System Preferences on your Mac. On Finder on your macOS 10.15/11/12 and above version to click 'Go' to choose 'Utilities'. Please double-click the 'Terminal' to open it.

Step 2. Enter the following command syntax: 'sudo spctl --master-disable' in the dialog box of the Terminal tool.
Step 3. Click the Return and authenticate with an admin password.
Step 4. Turn the Terminal off and open AudFree software again to see whether it works well.
Method 3.
Step 1. Follow the above steps to open the 'Terminal' on the macOS Catalina/Big Sur/Monterey and latest version.
Step 2. Enter the code 'sudo xattr -rd com.apple.quarantine' in the Terminal program.
Step 3. Drag the installed AudFree tool into it and click the 'Enter' to confirm it.
Step 4. Type the administrator password and launch the AudFree tool again. It could run well.
Method 4.
Step 1. Navigate to the System Preferences > Security & Privacy option on your macOS Catalina and above.
Step 2. Please press the 'lock' and enter your password to unlock it.
Step 3. Select the 'Anywhere' under the 'Allow apps downloaded from'.
Step 4. Keep the change by tapping the unlocked lock.
In Conclusion
We offer 4 solutions for users to fix the issue of 'Can't open AudFree on macOS Catalina/Big Sur/Monterey or above'. If there is still something wrong happened, please contact our support team by email to [email protected]. They will try their best to fix your issue as soon as possible.
Feb 17, 2022 6:30 PM
Updated by Alex Wilson to Solutions