Listening to music on Apple TV has become a common method of entertainment. There is a music app on Apple TV for you to access millions of Apple Music tracks. What about Deezer Music - can Deezer songs be played on Apple TV in the same way? The answer will disappoint you, as the integration of Deezer and Apple Music has not yet been achieved.
Despite the absence of an official Deezer Apple TV app, people are still looking for a way to play Deezer Music on their Apple TV. To meet the urgent needs of users, this article summarizes two effective ways to stream Deezer to Apple TV.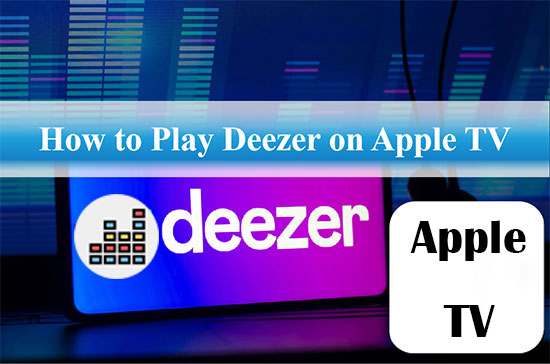 Part 1. How to Download and Stream Deezer on Apple TV Offline
First of all, we will present a perfect way to play Apple Music on Apple TV or any other streaming boxes. You can download Deezer songs locally and then transfer them to Apple Music for playback on your Apple TV. To achieve the above process, AudFree Deezer Music Converter comes in handy.
In fact, it is dedicated to downloading all Deezer songs, playlists, albums or podcasts to your computer locally. What's more, it will convert Deezer to FLAC, MP3, AAC, WAV at up to 5X faster speed without losing the original quality. In addition, you can set bit rate, sample rate, audio parameters and more to enjoy high-quality Deezer songs on your Apple TV.
AudFree Deezer Music Downloader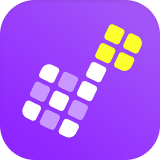 Convert Deezer music to FLAC, MP3, WAV, etc. for Apple TV
Download Deezer songs, albums and playlists without premium
Play Deezer Music on Apple TV, Chromecast, Roku, and other streaming sticks
Listen to Deezer on Apple TV for free forever
How to Listen to Deezer on Apple TV Offline
Step 1

Select Deezer Music to AudFree Deezable

Launch AudFree Deezer Music Converter and start navigating to your Deezer music library. Identify the songs you want to play on Apple TV and drag and drop them onto the tool's main screen directly. Alternatively, paste the song link into the search box at the top and press the Add button next to it to load the Deezer song.
Step 2

Set Output Parameters for Deezer Music

Click on the Menu bar > Preferences and go to the Convert bar in the settings window. At this point, you can select the output format of your Deezer song as MP3, FLAC, AAC, WAV. To improve the quality of Deezer audio, you can continue to adjust other parameters such as bit depth, sample rate, channels, etc.
To download Deezer music, you just need to click on the Convert button. It will take a little while, depending on the number of songs and playlists that need to be converted. Once this is done, select the Converted icon in the bottom right hand corner to browse all your Deezer tracks.
Step 4

Transfer Deezer Music to Apple TV

1. Open iTunes and click on File > Add Folder to Library to upload your downloaded Deezer songs to iTunes.

2. Click on "File" again and enable Home Sharing feature.

3. Go back to the main page of Apple TV, enter your Apple ID credentials and you can stream Deezer music to Apple TV without restriction.
Part 2. How to Play Deezer on Apple TV via Airplay
Do you know about AirPlay? It is an option in all Apple devices that enables users to transfer data from one Apple device to other Apple devices, such as Apple TV and speakers that support Airplay. Because the Deezer app is available for iPhone, iPad and Mac computers, you can use the AirPlay feature to stream Deezer to Apple TV 4K.
How to Stream Deezer to Apple TV from iPhone or iPad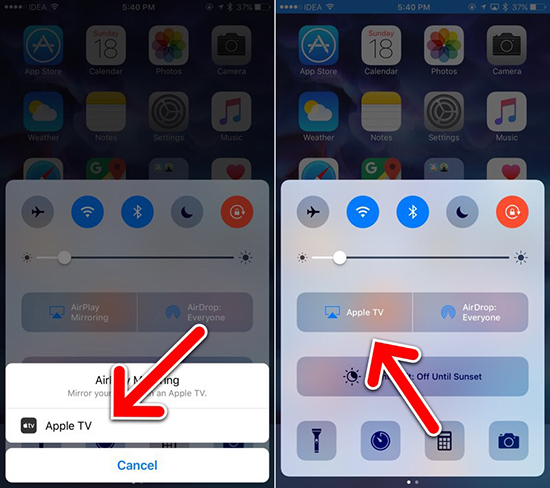 Step 1: Make sure your Apple TV and iPhone or iPad are connected to the same WiFi network.
Step 2: Navigate to the App Store on your phone to install the Deezer app.
Step 3: Log in to your Deezer account and play a favorite song.
Step 4: Tap Audio Settings in the bottom left corner. Under Device categories, select AirPlay & Bluetooth.
Step 5: Select your Apple TV in the list of devices. Afterwards, you can freely listen to Deezer music on Apple TV.
How to Airplay Deezer to Apple TV from Mac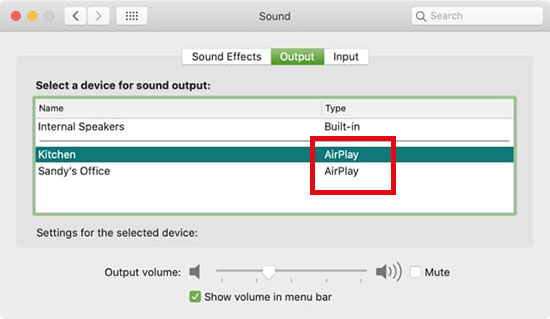 Step 1: Connect your Mac and Apple TV to the same Wi-Fi network.
Step 2: Click the AirPlay icon at the top of your Mac's home screen.
Step 3: Select your Apple TV from the AirPlay To list.
Step 4: Enter the AirPlay code displayed on Apple TV to your Mac.
Step 5: Navigate to the Safari browser on Mac to visit Deezer's official website.
Step 6: Sign in to your Deezer account and play any songs, then it will automatically stream to your Apple TV.
Part 3. More about Deezer on Apple TV
Is There a Deezer Apple TV App?
Nowadays, Deezer app is not available on Apple TV. Apple TV only has the Apple Music app built in.
Does Deezer Work with Airplay?
Of course. Because the Deezer app works on iOS devices as well as Mac computers. You can play Deezer on Apple TV from iPhone, iPad and Mac via Airplay.
What Streaming Device Is Deezer Compatible With?
You can listen to your entire Deezer music collection on several streaming boxes, such as Chromecast, Roku TV and Amazon Fire TV.
Part 4. In Conclusion
Even though there is no Apple TV Deezer app, you can use the two methods in this article to listen to Deezer on Apple TV. By the way, you can use AudFree Deezer Music Converter to download and convert Deezer Music, then it couldn't be easier to stream Deezer to any streaming sticks and devices you want. Just take action and fill your home with Deezer sound.