A few months ago, I have written a tutorial on how to record audio on Chrome. By collecting feedback in the comment area of this article, most readers still would like to get recommendations on more Chrome audio captures and their pros and cons.
To satisfy readers needs, today, we will introduce the top 5 best Chrome audio recorder and their advantages and disadvantages after making the detailed test of lots of intelligent Chrome audio capture tools.
Top 1. AudFree Audio Capture
Speaking of Google Chrome audio recorder, it couldn't be denied that AudFree Audio Capture is the champion, which is an excellent audio capturing tool that enables you to capture audio from Chrome with the original audio quality preserved. Because of advanced capturing technology, this smart Chrome audio capture allows users to extract any sound from any source playing in Chrome, like streaming music, online chat, online radio, in-game sound, in-video background music, etc.
In addition to grabbing audio tracks from Chrome, it also supports for ripping audios from other web browsers and music players, like Safari, Firefox, iTunes, QuickTime. With the purpose to provide a maximum listening pleasure on all devices, AudFree Chrome Audio Capture is able to export recorded audio files to MP3, FLAC, WAV, AAC, M4A and M4B in high quality. More than that, this all-in-one smart audio program has the ability of splitting audio tracks into small segments, customize output audio parameters as well as ID3 tags info.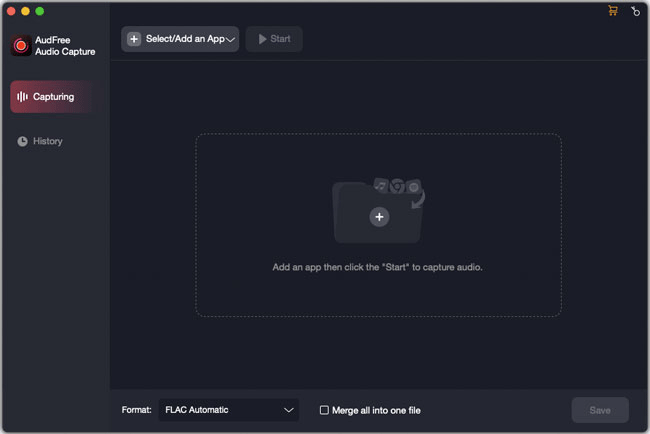 Pros:
* Support lots of output formats and input sources.
* Have many special functions and features, like editing, splitting, etc.
* Grab multi-track audios from Chrome
Cons:
* It costs $19.95.
Top 2. Online Voice Recorder
Online Voice Recorder is a trusted Chrome extension audio recorder. It's easy to operate it as you just need to find it in Google Chrome and add this extension to your browser. Besides, there is no charges fee that you need to pay for. It's worth noting that this smart Online Voice Recorder record audios from Microphone, the default audio source. If you'd like to grab audios from other source, an extra virtual sound card needs to install.
The quite lightweight feature of this tool is that it can perfectly detect silence between two songs intelligently. Meanwhile, it can save audio files as MP3 tracks, crop them into small section as you need, etc. With the easy-to-use interface with only two icons, you just need to click the green icon to play sound that you'd like to record and the red icon to take a full control of the recording process.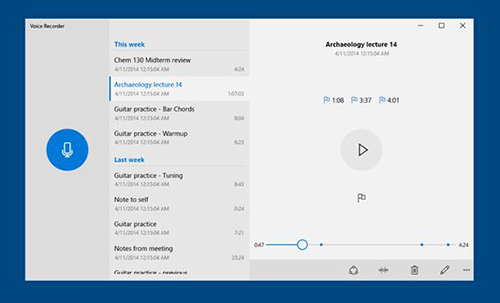 Pros:
* No need to install extra software but only an extension.
* No limit on audio recording time.
* Auto-detect the silent fragments between two songs.
Cons:
* It can only output audio tracks as MP3. No other audio formats are provided.
* Users are unable to pause the process during recording.
Top 3. Apowersoft Free Audio Recorder Online
Apowersoft Free Online Audio Recorder is a totally free audio recorder for Google Chrome. It also doesn't need you to make a completive installment, but only download a launcher. With the assistance of this tool, you can start to record all audios playing in the Chrome web browser on your Mac and Windows computer straightly. What's more, it enables users to grab audio tracks from various audio inputs, including System Sound, Microphone or both.
It's able to record streaming music, online radio, in-game sound, voice chat, etc. and save them as a wide variety of output formats, like MP3, WMA, AAC, LFAC, WAV, M4A, and OGG. All recorded audio files can be playable on all devices and music players, like MP3 players, smart speakers, etc. and can be shared onto YouTube, SouldCloud, Google Plus, Twitter with ease. With the built-in ID3 tags editor, it endows you the ability to customize ID3 tags, like title, cover, year, artist, album and genre.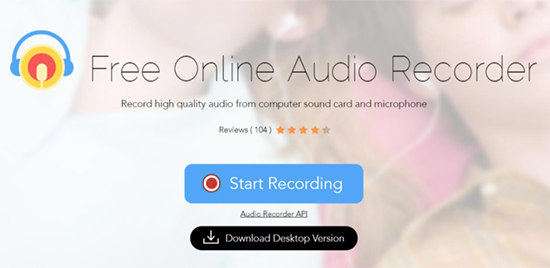 Pros:
* It has more unique features than other free Chrome audio recorders.
* It's available for both Mac and Windows OS to record audio from Chrome.
Cons:
* The output audio quality could be lower than the paid audio recorders.
Top 4. Chrome Audio Capture
As the name suggests, there is another recommended Chrome extension for audio recorder. Chrome Audio Capture delivers a one-stop recording program to record audios from multiple tabs simultaneously. And there are two plain audio formats, MP3 or WAV allowing you to define as output format.
To capture audios from Chrome, you just need to simply click the 'Red' button in the upper-right corner and select 'Start Capture' icon to capture audios playing from Google Chrome. After recording, just touch the 'Save Capture' and all files will be save in the destination folder on your computer directly and you can transfer them to other devices for offline playback.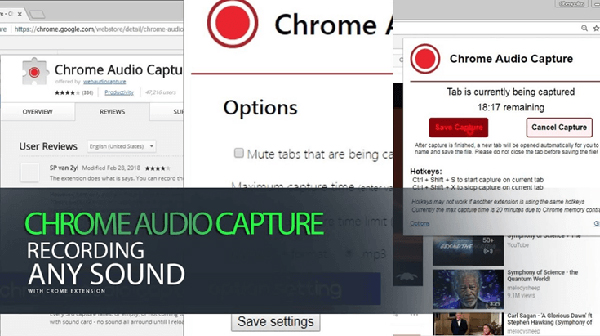 Pros:
* It's easy to use.
* No need to install extra program on computer.
Cons:
* It's limited to record audio clips without longer than 20 minutes.
* The output audio quality is not ideal sometimes.
Top 5. Free Sound Recorder
The last one we'd like to recommend is Free Sound Recorder with the free version and paid version. With the very simple interface, it can work well in handling audio recording process. Besides, it can record and save all audio recorded files into MP3, WMA or WAV tracks.
After you have downloaded this Chrome audio recorder on your computer, you can open your Chrome browser and play favorite music. At the same time, just click the 'Start' button to activate the recording process. You can finish the process by touching the 'Stop' icon and it will save audio recordings into your computer.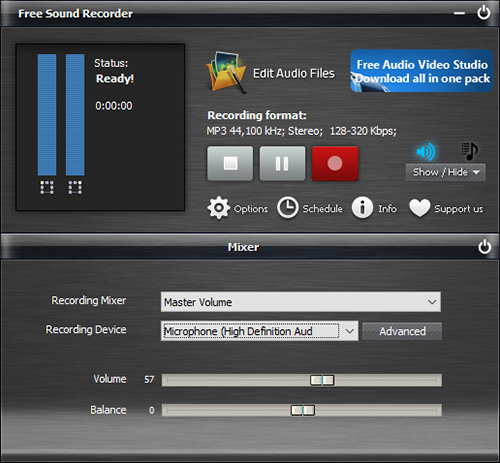 Pros:
* It records audios stably.
* It provides free and paid version.
Cons:
* It doesn't support Windows 10.
* Free users can't use the schedule recording feature.