YouTube is known for being one of the most prolific video sharing platforms on the internet. Since its inception in 2005, it has grown to become the second largest search engine in the world with over one billion unique users. YouTube always caters to the tastes of a diverse audience, especially for music fans, as they are able to search and find the most famous music videos for free.
It's a good idea to convert YouTube to MP3 when you want to enjoy music on devices such as a music player or mobile phone. Therefore, this article will present six effective ways to get YouTube to MP3 downloads for Mac, PC, iPhone, Android, free and online for your reference.

Part 1. Convert YouTube to MP3 on Mac/PC - AudFree Audio Capture
AudFree Audio Capture is dedicated to helping users download from YouTube to MP3. It works primarily by recording any audio playing on the computer, including streaming music and online radio, webcasts, game sound and online music videos, etc. By using innovative audio recording technology, it is considered to be the all-in-one YouTube recording software.
In addition, it can convert all audio formats including MP3, AAC, FLAC and WAV. It will automatically capture the audio in lossless quality and split it into different tracks while retaining the ID3 tags. Being a 100% clean program, AudFree Audio Capture is free of viruses and adware and will not harm your computer or privacy.
AudFree Audio Capture for YouTube to MP3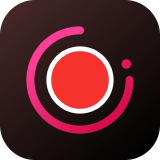 Preserve the original quality of the audio track
Record and convert any audio to MP3 with ID3 tags kept
Download and convert YouTube to MP3 at a 5X faster speed
Tag the recording with the song title, artist name, etc.
Extract music tracks from Spotify without a premium subscription
How to Record from YouTube to MP3 via AudFree Audio Capture
Step 1

Launch and Set up AudFree Audio Capture

Download and install AudFree Audio Capture on your PC or Mac. Launch it and select the target program from the available options. If you don't see YouTube in the list, click the "+" button to add the application.
Step 2

Set YouTube Format to MP3

Click on the "Format" button at the bottom of the interface window to set the audio parameters. If you want to make YouTube convert to MP3, you should select MP3 as the output format. In addition, you can also personalize the codec, channel, sample rate and bit rate.
Step 3

Download and Record Audio from YouTube

Go to YouTube and find a song that you want to download as MP3. Then, play the music and the tool will pop up a recording window to automatically download and record the audio from YouTube.
Step 4

Edit and Save YouTube Video to MP3

End the download process by exiting your browser or closing the video on YouTube. Now click on the 'Edit' button to remove unwanted clips from the recording by selecting the start and end times. Use the "Merge" function to combine the different clips into a single file. Once you have finished setting up, click on the "Save" button to convert YouTube to MP3 format.
Part 2. Convert YouTube Video to MP3 on PC - TunesKit Screen Recorder
When it comes to converting protected audio files into easy-to-use MP3s, TunesKit Screen Recorder cannot be missed. It's actually a one-stop solution to download and change YouTube video to MP3, including audio and live content from various video platforms such as Netflix, Hulu, Vimeo, BBC and more.
It also has powerful features such as advanced audio recording technology, multi-channel lossless conversion and high quality output files. With innovative editing tool, you are able to cut and edit YouTube audio tracks and retain their original quality and ID3 tags. If you want to convert YouTube to other formats such as M4A, AAC, FLAC, etc., it is fully capable of doing so.
Main Features of TunesKit Screen Recorder
Record any online video from YouTube, Facebook, Vimeo, Daily Motion, etc. without loss of quality
Capture any desktop activity, including music from Pandora, Spotify, iTunes, etc.
Record both system and microphone sound in high quality
Save recordings to MP3 or other popular audio formats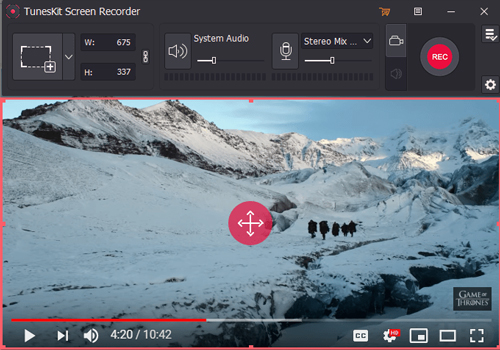 How to Download and Convert YouTube Video to MP3 with TunesKit
Step 1. After completing the installation, launch the program and see the above interface. TunesKit selects the video recording mode by default. You can switch it to audio mode to capture audio from YouTube. After that you can choose either system audio or microphone audio.
Step 2. Select the recording area and audio. You can choose from the presets or use a custom size to position the recording area.
Step 3. Click on the "Settings" icon to customize the recording parameters in the interface window. Here, you can change the output folder, format, personalize shortcuts, schedule recordings by setting start and stop times, and modify cursor effects.
Step 4. Hit on the Record button to start capturing video and audio. Click the Stop button to stop the recording. Afterwards, preview the recorded audio and save YouTube to MP3 file.
Part 3. Download YouTube to MP3 on iPhone - iDownloader
Looking for a way to convert YouTube video to MP3 on your iPhone? iDownloader will suffice. iDownloader is an all-in-one application that allows you to download and manage files on the iPhone or iPad. For example, you can use it to convert YouTube videos to audio tracks and save them as MP3 files on your device. The YouTube to MP3 converter is available for download from the App Store, and you can complete the installation in a few seconds.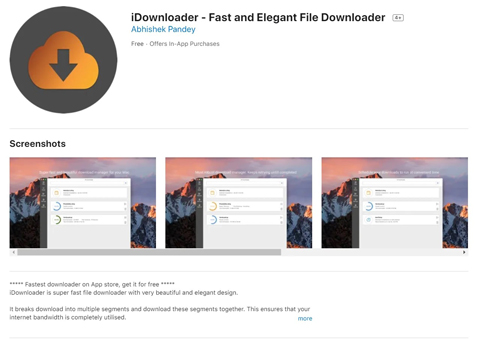 How to Get YouTube to MP3 downloads Using iDownloader
Step 1. Download and launch iDownloader on your iPhone and go to the Downloads tab.
Step 2. Click the Add button in the top right corner and enter the URL of the YouTube file you want to download.
Step 3. Tap to the Download button and select the folder directory where you want to download the file or create a new folder.
Step 4. Wait a few seconds and you will get the YouTube downloads in the target folder without any problems.
Part 4. Change YouTube Video to MP3 on Android - YTD Video Downloader
Let's say you want to download YouTube to MP3 and save them on your Android device for offline playback. In this instance, you need a suitable YouTube to MP3 converter for Android. The recommended app is YTD Video Downloader for Android, as it is the easiest way to download YouTube videos to MP3 on Android. YTD Video Downloader is straightforward to use on Android devices and gets the job done perfectly.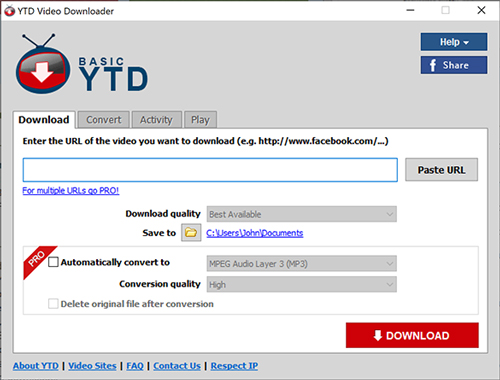 How to Convert YouTube Video to MP3 via YTD
Step 1. Install YTD Video Downloader from the Google Play Store. Open the app and select the "Download" button at the bottom of the screen.
Step 2. Next, select one of the options (for example, Copy URL). Open YouTube and search for your favorite video, then copy its URL.
Step 3. Go back to the YTD Video Downloader and click on the 'Paste link' section to paste the URL you copied earlier.
Step 4. Select the output format as the MP3 and hit on the 'Download' icon to get the YouTube to MP3 downloads smoothly.
Part 5. Convert YouTube to MP3 Free - MediaHuman YouTube to MP3 Converter
Eager to convert YouTube playlists to MP3 for free? We recommend you to use the most convenient and reliable tool called MediaHuman YouTube to MP3 Converter. Since it is completely free and works on both Windows and Mac computers. It allows you to convert YouTube videos and SoundCloud tracks to MP3 files for offline enjoyment on a portable player. Besides, it is very easy to use and can be used to extract high quality audio from favorite videos and music clips.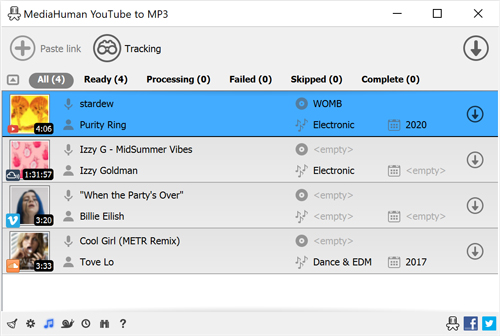 How to Convert YouTube to MP3 for Free with MediaHuman
Step 1. Download and install MediaHuman YouTube to MP3 Converter on your Windows or Mac computer.
Step 2. Find the video you want to convert on YouTube.com and copy its URL, which you will find in the address bar of your browser.
Step 3. Open MediaHuman YouTube to MP3 Converter, click the "Paste URL" button to paste the YouTube link and select one of the available quality options from the pop-up menu (320 kbps is recommended for best audio quality).
Step 4. Finally, click "OK" to start downloading the audio file. You will see a prompt to save the file, select a local location and click the "OK" button.
Part 6. Download YouTube to MP3 Online - ListenToYouTube Converter
Although YouTube does not allow you to download any audio files from the site, with ListenToYouTube, you can easily convert YouTube to MP3 online in just a few clicks. The tool recognizes all audio formats such as MP3, MP4, AAC, M4V, as well as videos in 3GP or WEBM. Furthermore, there is no registration requirement and you can immediately start extracting audio with the assistance of ListenToYouTube MP3 converter.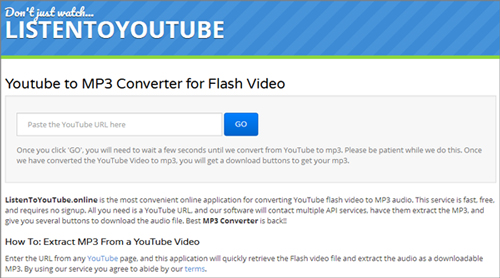 How to Make YouTube Videos into MP3 Using ListenToYouTube
Step 1. Search for the video you want to convert and download as MP3 on YouTube. After that copy the URL of the video from the bar of your browser.
Step 2. Now, paste the copied YouTube video link into the URL bar of ListenToYouTube and click on the "GO" button.
Step 3. Finally, click on the "Download MP3" button. Wait for a while to finish downloading the YouTube MP3.
Part 7. Comparison of 6 Ways to Convert YouTube to MP3
Below is a comparative table of the six methods discussed here. It will help you to understand the significant differences between them, which further eases your choice. Please pick the right YouTube to MP3 converter in the easiest way to download YouTube video to MP3
Category
Platforms
Supported Websites
Desktop
(or) Online
Price
AudFree Audio Capture
Audio recorder, capture audio, and edit audio
Windows and Mac
YouTube, Twitter, Facebook, DailyMotion, SoundCloud, Vimeo, Metacafe and so on
Desktop
$14.95
TunesKit Screen Recorder
Screen recorder, capture audio on screen, and extract audio from video
Windows and Mac
YouTube, Facebook, Instagram, SoundCloud, Vimeo, DailyMotion, and more
Desktop
$14.95
iDownloader
Download manager for iOS devices
iOS only
Multi-functional and supports all video and audio hosting sites
iOS app
Free
YTD Video Downloader
Converts video into MP3 and MP4
Android
Supports all video hosting websites
Android app
Basic: Free;
Premium: $0.49/month
MediaHuman YouTube
to MP3 Converter
Audio conversion utility
Windows and Mac
YouTube, SoundCloud, DailyMotion, Facebook, Instagram, and all other video and audio hosting websites
Desktop
Free
ListenToYouTube
Extracting audio from video
Windows, Mac, iOS, and Android
YouTube
Online
Free
Part 8. FAQs of YouTube to MP3
Q1: What Audio Format Does YouTube Music Use?
The audio you hear in a YouTube video is usually 126 kbps AAC in an MP4 container, or 50-165 kbps Opus in a WebM container.
Q2: Why Convert YouTube to MP3?
Generally speaking, video files take up a lot of space in your storage memory. And by converting YouTube video to MP3, you can save space and get the same audio as the video files. Afterwards, you can also transfer YouTube MP3 files to other media players for offline use.
Q3: Is It Illegal to Download Music from YouTube to MP3?
In most cases, it is reasonable and legal to convert YouTube to MP3 as long as you are doing so for personal use. Remember, it is not legal to use YouTube MP3 content for commercial purposes.
Q4: Does Converting YouTube to MP3 Affect Quality?
When you convert a YouTube video to MP3, the audio will be compressed, resulting in some loss of sound quality. However, the loss should be relatively small once you have a good quality original video.
Q5: What Is the Safest YouTube to MP3 Converter?
AudFree Audio Capture is one of the most secure audio converters dedicated to downloading YouTube videos and other audio to MP3. Whether you are on a Mac or a PC, you can use it without worrying about privacy leaks.
Part 9. In Conclusion
Here are 6 best ways to download and convert YouTube to MP3 for you to choose from. When you're away from home or in an area with poor internet reception, you can download your favorite YouTube videos to MP3 for offline enjoyment whenever and wherever you want. It's time to take the plunge and listen to YouTube music in a more liberal way.