Many people are fond of some classic lines or music running in their favorite movies. They start searching for ways to extract audio from MP4. Because listening to the audio is more convenient rather than watching the video, even if you have a busy routine, you can still listen to them.
There are many video streaming platforms such as Dailymotion, YouTube, or Vimeo from where you can watch your desired videos. You can rewind it, forward it, or make it your on-repeat video. Still, with the high-technology, some platforms do not offer offline videos.
You have plenty of ways to extract audio from MP4, but you have to choose the one which offers you the extraction maintaining its original quality. In this article, we have got you covered with all the features and guides of the top best app to rip the audio and listen to it in your way.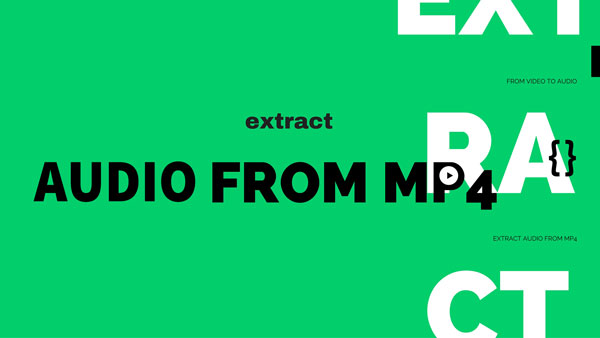 Part 1. Extract Audio from MP4 - Tool Recommended
In the world of full competition of high-end software, it can be a daunting task for the users to select the one. There are hundreds or thousands of audio recording software, out of which some are offering the top-notch features with the paid version, and some are offering only basic features with the free version. It is impossible to try out all audio recording software, so now it is up to you have to choose wisely.
Finally, after all of our research, we would like to say that AudFree Audio Capture is the best and high-demand audio recorder. From where you will be able to rip audio from MP4 with high output audio quality.
This lossless audio recorder allows you to extract MP3 from MP4 with the following features:
High-Sound Quality:
AudFree Audio Capture will let its users record any sound with no quality loss. It does not matter which platform you use for video streaming, which means you can play online radio or music on Chrome, Firefox, Safari, and even other music apps like Spotify, BBC, or Lastfm. AudFree Audio Capture will easily record all the audio files while maintaining its output quality.
Record from Many Sources:
It is the best feature of this audio recorder, which allows you to get audio from MP4. You can record the background music, favorite movie dialogue, local songs, or game music from any video streaming site. Even you can record audios from online radios and podcasts. Likewise, you can also capture the audio from Apple Music or Spotify.
Edit Output Settings:
While recording your audio files, AudFree Audio Capture allows you to edit the output settings. You can choose the output format of your own choices such as MP3, AAC, WAV, or M4A, etc. It also offers to edit the prime audio parameters like bit rate, sample rate, codec, etc.
Flexible Features:
You can extract audio from MP4 by AudFree Audio Capture with flexible trim and mix options, which means you can split or cut the recordings, mix the multiple soundtracks into one file, and divide the whole recording into independent tracks.
Part 2. How to Extract Audio from MP4 - Detailed Steps
AudFree Audio Capture is available for both Windows or Mac users. This smart app for extracting audio from MP4 gives you wide access to its features. You can record audio from any of the video streaming platforms like YouTube, Vimeo, or Facebook. Here we will show you how to rip audio from MP4 with an example of Youtube.
Step 1

Download and register AudFree Audio Capture

First of all, download the software on your PC no matter you are Mac or a Windows user. You will get into the free trial version to check its features first.
For Windows users, if you have already purchased it, then go to 'Preferences' from the top menu and select 'Register' and fill in to register.
For Mac users, choose 'Help' from the top Apple menu and register it.
Step 2

Set the output audio parameters

After you have installed it on your device, its main window will appear in which all installed applications are listed, such as Chrome, Spotify, or Internet Explorer. If the app you used for video streaming, then you can add it to the main interface by clicking the '+' icon. Just drag and drop the desired app from your computer desktop to the app's main interface.
Step 3

Edit the output format and audio parameters

To start the recording, you have to customize the output settings first. Click on the 'Audio' button. The setting window will appear where you can set the format from the drop-down menu as MP3, AAC, or FLAC. Also, you can change audio parameters to enhance the audio quality, such as bit rate, sample rate, audio channel, and codec.
Step 4

Start to play and extract

Now, choose the target program from the starting window, and a new recording window will pop up at once. You can notice the new recording task is created in the recording window.
Also, you can play multiple songs from different programs, and AudFree Audio Capture will record the audios intelligently. It will detect gaps between the track and split them into independent files correctly.
Step 5

Save and edit the extractings

If you want to stop the recording process, then close the playing audio tracks, or you can quit the browser directly. To split the unwanted segments, choose the 'Edit' option at each recorded audio, and set the start and end times. You can also merge your favorite parts of your audio into a new file by checking the mark next to the 'Merge all into one file' option.
When you have done with everything, click the 'Save' button. The extracted will be saved in high quality on your device. You can also preview the output files by choosing the 'History' icon.
Conclusion: In the above parts, we have explained to you how to extract the audio from MP4 using AudFree Audio Capture, which makes it easy for its users to extract audio from MP4 or rip audio from video. You can choose any of the output formats and record the music, podcasts, or radio and enjoy them for a long time.