Gone are the years when people would have to go to music studios to produce their songs. Today, as a result of advancement in technology, you can easily produce the track you want through your digital phone or personal computer. However, this is not automatic as you will first need to download one of the best music creation software on your gadget.
As a result of their popularity in the market, it is understandable if you cannot decide on, which is the perfect music producing software. This is why we went out of our way to compile and review of the top 5 music making software for you in the industry today.
Top 1. Abelton Live 10 SuiteMultitrack Recording Software
If you are looking for fast music making software, then, Ableton lives ten suite multitrack recording software is what you need to consider. Other than getting the work done as soon as yesterday here are a number of the features it contains that will blow your mind. The software has an outstanding session view.
With this, you can easily improvise your music track with ease and comes in handy during nonlinear composition. Also, it has a warping feature which enables you to alter any temp or timing whenever you want. It also has cool editing features, and the best part of this software is that it is fluid. Hence you do not have to keep stopping the music every now and then.
With the presence of a live performance, you should blame yourself for not having this software on your computer, especially if you are an artist interested in the live performance.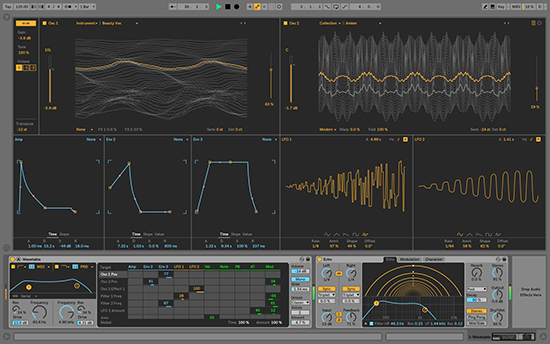 Pros:
• Awesome for DJing and live performances
• Supports a multitude of effects, sounds, and instruments
• Perfect for sound design and music production
• Can capture the MIDI notes after you have played the, on the software
Cons:
• It is pretty much expensive
Top 2. Propellerhead Reason 10 Multitrack Recording Software
In case you were not pleased with the Abelton Live 10 multitrack recording software, here is Propellerhead reason ten multitrack recording software. It is one of the best music creation software as of 2019.
Among the top attributes that driver artists to launch this software on their devices include its creative feature. The creature feature of this software ensures that you can not only create juicy tracks using multiple effects but numerous instruments as well.
You need not worry about expansion while you have this producing music software. The reason is that it comes fitted with a VST and Rack Extension plugins for easy expansion once the need arises. Further, if you are new in the industry, this software will play the trick for you. The reason is that it has a very simple to use interface; hence, you will not struggle with the operations.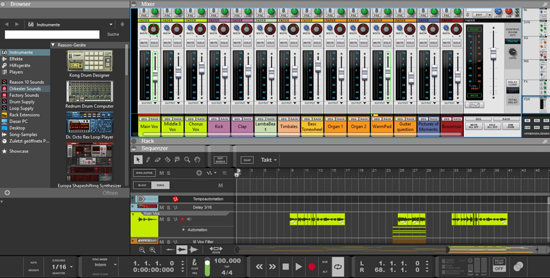 Pros:
• Multiple effects and instruments for quality sound
• Has plugins for system extension
• Relatively easy to use interface
• Supports studio-grade console
Cons:
• You will have to keep updating the visuals as well as the workflow for easy operation and production of quality sound music
Top 3. Image-Line FL Studio Producer Edition
It is true that image line FL studio producer edition has been in the industry for the longest time. However, it still ranks among the best production software. Championing this is the fact that the software comes with a reworked user interface with fabulous features which makes it better as the years go by.
If you think this is the reason you need to download this software, well, this is just the beginning. Image-Line FL Studio 12 Producer Edition is a plus because it is pretty much affordable. Moreover, with this software, you can comfortably record both the internal and external audio without having to drop sweat, and yes full audio recording and post-production are supported by this gear. Also has editing, mixing, recording, music composition and arrangements which you will love so much.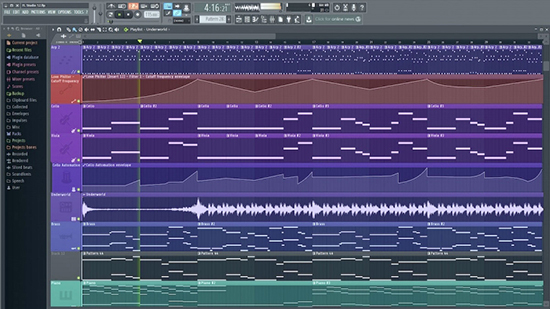 Pros:
• Handles an unlimited number of record tracks
• Easy and great editing and rearrangement of audio music
• Has lifelong updates
• Simultaneously captures a variety of inputs
Cons:
• A beginner might find it challenging to use the software as it is rather complex
Top 4. Tracktion TZ
Of late, the economy has been on the rise. Therefore, if you want a music creation software that will serve your needs without having to pay extra, then Tracktion TZ is what you should install.
Apart from being free, the software enables the user to engage in vocal compiling, pitch warping, step sequencing, MIDI learning, and track freezing. It is also not selective as it works well in both Windows, Mac, and Linux. Creativity and production of quality sound is at its best with the great editing features of the Tracktion TZ.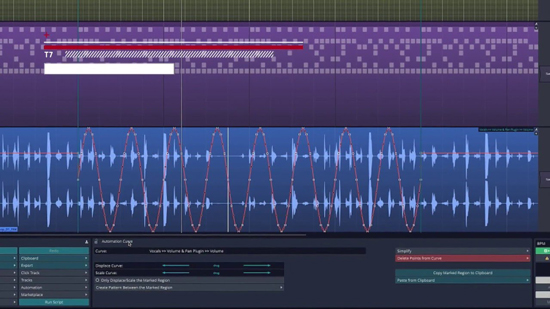 Pros:
• Cross-platform
• Supports VST plugin
• Unlimited audio and MIDI tracks
• Fabulous modulations and automation
Cons:
• Lack of traditional mixer view
• Need training before you can operate on its interface
Top 5. AudFree Audio Capture
If none of the software still excites you, you can bet with your last coin that AudFree Audio Capture is what you need. It has been ranked among the best music making software, and after this review, you will not agree less. The software not only supports audio record from your device but from any work station including the online work stations.
Also, you do not have to worry about the audio format as it supports a variety of audio formats. With the awesome conversion and editing tools, you cannot doubt the quality sound of this great software.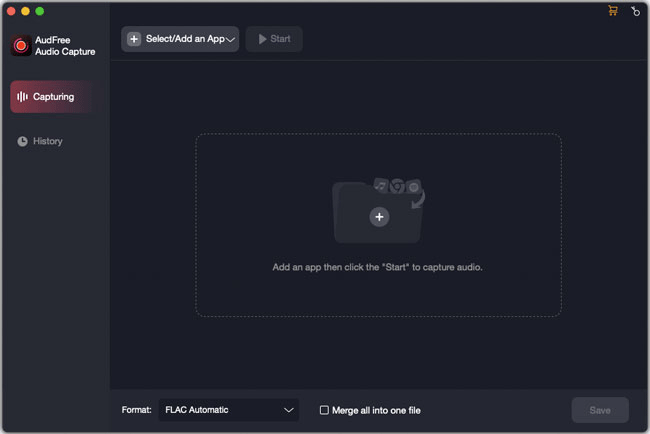 Pros:
• Affordable
• Easy to use
• Great editing and conversion features
• Supports multiple formats and audios from online work stations
Cons:
• Not entirely free
Final Thought: Best Music Creation Software
When it comes to selecting the best music creation software, you have to make the decision based on a number of factors that resonate with you. For instance, you have to factor in your level of experience, your budget, whether your using Mac or Windows, and if you are live performance artists. Influencing, this is the fact that different software's have different working factors, and it is useless to select good software that needs experience or that which is expensive, and you cannot meet its demands.