Among the popular platforms that users throng to download and share videos is Vimeo. Like the after-sought YouTube, Spotify, and Tidal, Vimeo has also attracted millions of users that visit it every month. With Vimeo, you can stream and download videos in high definition bits. But remember that HD videos take up too much storage space, not to mention the battery power of your device.
Want to know the next move? There is a better option to get the same video quality in other formats. You can use any Vimeo mp3 downloader to get your videos in other formats. Tons of software let you convert Vimeo videos to MP3 format which is rather condensed, compressed and suitable for all mobile devices.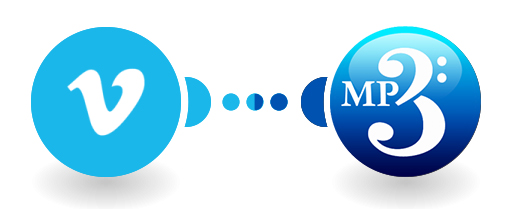 Top 1. AudFree Audio Capture
Finding itself at the top position of Vimeo audio downloader Apps is AudFree Audio Capture. This software is keenly knitted with the latest art-of-technology to record videos from a wide array of music streaming services. And Vimeo platform is one of them.
Once downloaded, you can easily convert your downloadable to other formats such as MP3, MP4, FLAC, WAV, and many more formats. It also encompasses a multi-functional audio grabber for your Windows OS devices; these include ID3 Tag Editor and an intelligent multi-track audio capture.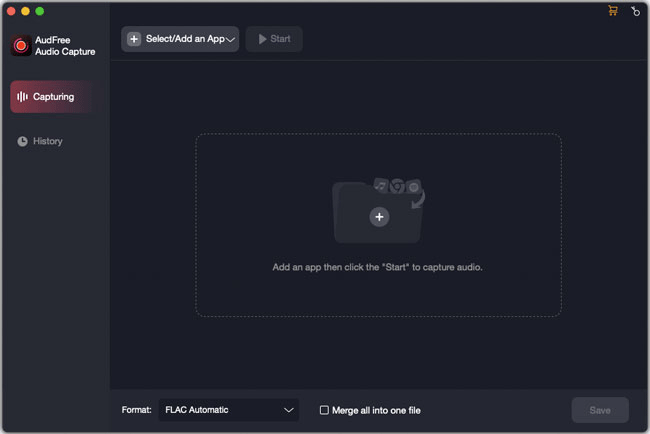 Key Features
• It included editing features that let you trim, merge, and crop your videos, among other functionalities.
• It allows you to set our preferences like the bitrate and speed during conversion.
• Use it to download videos and tracks from a wide array of music platforms like Spotify, Tidal, YouTube, MySpace and much more.
• There is a multi-track software add-on that lets you have a mix of various tracks from different sources. These can then be grouped into independent tracks.
• You can also edit MP3 tags to include genre, album name, and other tags.
Top 2. Apowersoft Free Video to MP3
Apowersoft is another Vimeo to mp3 online converter that allows conversion to various other formats. Be it HD or HQ quality videos, Apowersoft Free Video to MP3 knows how best to work it out.
Furthermore, it's easy to use; a simple copy and paste of the Vimeo video link to the program directly gives you your desired format. You also have the liberty to edit your ID3 tags with album covers along the way.
Even though it takes time to convert larger videos and converts only one video at a time, this software supports many video sharing sites. Besides, it's compatible with numerous web browsers such as Opara, Safari, FireFox, and many others.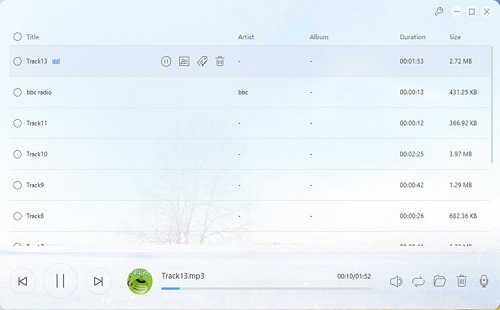 Key Features
• It integrates both Vimeo downloader and converter into a single powerful tool.
• It can convert your videos to over different formats like MP3, MP4, VLAC, among other formats.
• Setting preferences are available for trimming, merging and other editing options.
• It is compatible with most operating systems.
• It also supports various sites apart from Vimeo.
Top 3. Video Grabber
This software works on several browsers to aid you in downloading and converting videos from various sites. When it comes to efficiency this Vimeo mp3 downloader works faster than most of its peers. It does both the download and conversion of files concurrently.
Video Grabber has a user-friendly interface that makes it a preferred choice even for beginners. In addition, it produced videos in HD format, maintaining high quality even after converting them.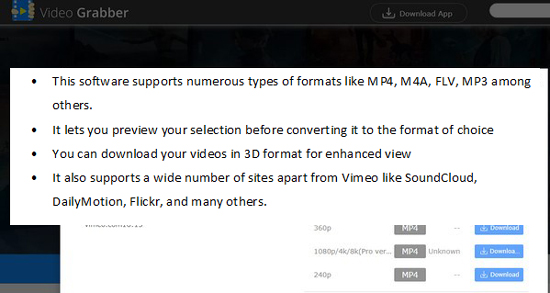 Key Features
• Apart from converting your videos to MP3, Video Grabber will convert your videos in various other formats like MOV, MP4, WEBM, VOB, and much more.
• This software supports various sites apart from Vimeo such as YouTube, Spotify, and many others.
• It provides a preview option before converting your videos.
Top 4. Cisdem Video Converter
Cisdem comes with loads of features to make Vimeo download and conversion of files easy and efficient. The interface is pretty straightforward with a quality layout. Use this software to download and convert any type of video format. You will regain your space by compressing huger video files.
Besides, get all you need by personalizing your videos with any editing feature like trimming, adding watermarks or loading subtitles. You can also adjust video effects and make 3D video effects.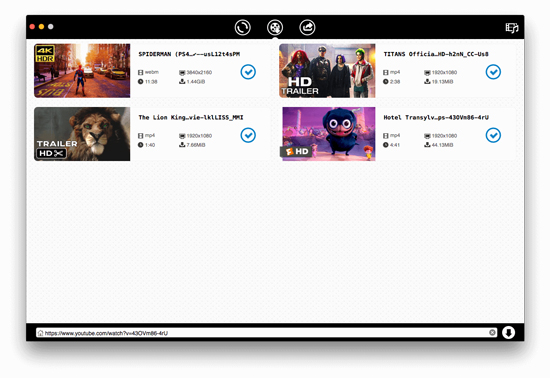 Key Features
• Use Cisdem to do basic video editing like rotating, cropping or adding subtitles to your files.
• It contains an advanced synch technology to easily sync your audio and video files into one blended piece.
• It also supports downloads from other sites like YouTube, Tidal, Spotify, and much more.
• It supports numerous formats like MP4, MP3, MOV, and much more.
• Get excellent output quality of both HD and UHD videos.
• You can also share your videos with other devices.
Top 5. 4K Video Downloader
This is another common Vimeo to mp3 converter that shouldn't go unmentioned. It comes with an easy-to-follow user-interface. To convert your videos, simply paste the URL of the selected video, paste it on the browser and select which format for output.
Whether you want it in M4A, MP4, MP3, 3GP, that's what you get. There is a smart mode feature that you can activate and apply to all other further downloads.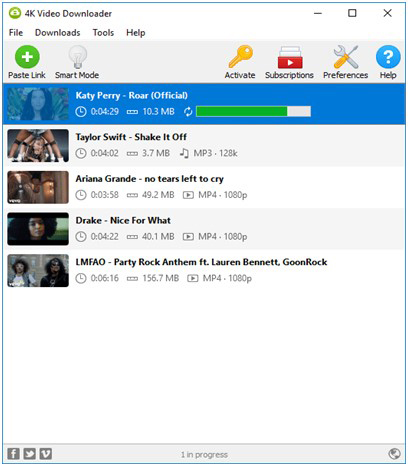 Key Features
• This software supports numerous types of formats like MP4, M4A, FLV, MP3 among others.
• It lets you preview your selection before converting it to the format of choice.
• You can download your videos in 3D format for enhanced view.
• It also supports a wide number of sites apart from Vimeo like SoundCloud, DailyMotion, Flickr, and many others.
Final Thought
The aforementioned Vimeo audio downloaders are meant to make your life easy. Packed with unique features, these Vimeo to MP3 converter apps will not only enable you to get high-density videos in a compressed format, but they will also let you play your videos in any other mobile device at your convenience. Chose what suits your needs as per the key features.