Deezer is one of the best places to listen to music online. As the one of the most excellent alternatives to Spotify, the world's most famous music streaming service, it has a database of millions of songs. You can find almost any song you want to listen to in Deezer.
Freezer Deezer APK is a well-designed Deezer downloader to stream and play Deezer music without interruption or commercials and download music from Deezer for free. It supports downloading Deezer music to MP3, FLAC, etc. Want to have a comprehensive understanding of Deezer Freezer? You can read on this article of Freezer Deezer full review. You can find other noteworthy features of Deezer Freezer APK and its best alternative as well.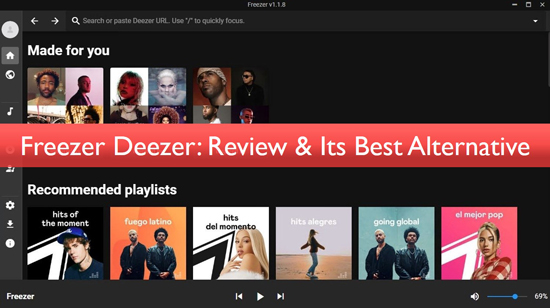 Part 1. What Is Freezer APK Pro
Freezer Deezer is compatible with a wide variety of operating systems, including Windows, macOS, Android, and Linux. You can get and download it from Play Store and its official website for easy use. And, it supports over 20 languages. The best version of Freezer APK is called Freezer APK Pro. The highlight feature of this Freezer Deezer downloader is to download more than 90 million music tracks in Deezer library for free. Now, let's see the key features of Freezer Deezer APK.
1. Download HQ Deezer Music for Free
Using Freezer eliminates switching from a free to paid Deezer membership. You can directly use Deezer Premium features with your free Deezer account with the help of Freezer Deezer downloader. All Deezer music downloads will be kept on your smartphone so you can play Deezer offline whenever you want. Every single original track is included in the album's download.
2. Enter Quick Access in a Second's Time
Quick Access section in the search menu lets you touch the 'Flow' button, automatically playing some of the best music and ensuring that your playlist is well balanced. It can help you discover more songs according to your taste.
3. Get Deezer Music Lyrics in Real-Time
Every Deezer song has lyrics available in the app. You can read the lyrics or sing along as you listen to Deezer music. All of the poems have a high degree of accuracy and relevancy.
4. Shuffle Favorite Music via Flow Feature
After all, is said and done, we no longer have a clue about what we want or need to hear. When life's flow becomes sluggish, we turn to something outside ourselves for inspiration. The "Flow" function in Freezer APK's search menu is set to play songs one after the other randomly, but this is done according to your liking.
Part 2. How to Download and Install Freezer APK Pro APK on Android
After getting a full knowledge of Freezer Deezer APK, it's time to install and download Freezer Deezer on your device for using. First of all, let's check how to download the Freezer Deezer downloader MOD APK on your Android smartphone in no time. If you want to get the most out of your Android device, it's time for you to update your apps. Freezer APK can be installed by following these simple steps:
Step 1: This link: https://www.freezerapk.pro/ will take you to the most recent Freezer APK version.
Step 2: Open the APK file after it has been downloaded.
Step 3: When it asks to enable "unknown sources", go to the settings -> security -> unknown sources menu.
Step 4: After that, all you have to do is enable "unknown sources".
Step 5: Afterward, press the "Install" button. Await the installation to be completed.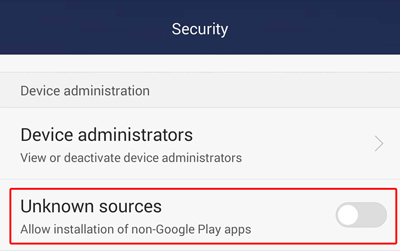 Now that your Freezer Deezer APK has been installed, you can open and use it.
Part 3. How to Download Freezer for PC/Mac/Linux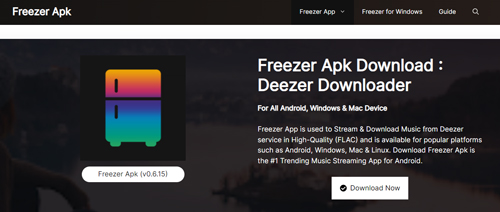 How to Download Freezer Deezer PC Downloader
Users of all operating systems can download free PC programs from the Microsoft APP Store. Unfortunately, Freezer for Windows isn't included in the shop. Unlike many other comparable apps, Freezer Deezer Windows Downloader & Streamer for PC does not initially require an Android emulator's installation. It is as simple as using your smartphone to use the latest version of the desktop Freezer Deezer PC app. You can download it from its official website directly.
How to Download Freezer APK for Linux
Linux has been a popular choice for millions of computer users worldwide because of its dependability. Android is such a sophisticated computing environment that it even powers the Android operating system. Linux users can stream and download Deezer music after installing Mozilla's Freezer Deezer Linux application from its website.
How to Download Freezer for Mac
The Freezer Deezer APK app has been released for macOS devices. Want to play and download Deezer playlist to MP3 on your MacBooks for offline listening? Just draw support from Freezer Deezer APK for Mac that can be downloaded from its official homepage.
Note: If you can't find the Download icon, it means that the Freezer has been taken down. You can skip to next part to find the best Freezer Deezer alternative to download Deezer music with ease.
Part 4. Best Freezer Deezer Alternative You Can't Miss
This excellent Freezer Deezer alternative could be AudFree Deezer Music Downloader. It's well-designed to assist all Deezer users, including those with Deezer Free, Deezer Premium, and Deezer HiFi, in converting and downloading their Deezer music to various popular audio formats. It's able to convert Deezer music, playlists, albums to MP3, FLAC, WAV, AAC, M4A, and M4B at a 5X faster speed.
No need to worry about the listening experience of Deezer music, AudFree Deezable could keep 100% original audio quality, including all ID3 tags. With so many wonderful features, AudFree Deezable could be one of the best Freezer Deezer alternative tools. Then, let's see how to use AudFree Deezer Music Downloader for Windows and Mac to download Deezer music.
Step 1

Download, install and activate AudFree Deezable

Enter the webpage of the AudFree Deezer Music Downloader. Press the 'Download' button to download and install the free trial version of AudFree Deezable on your computer. Once installed, open the AudFree Deezable program from your computer. It will then start the Deezer music app, and you are asked to log in to your Deezer account by providing your email address and password.
Step 2

Reset Deezer music output format and other parameters

Click the menu icon once more to return to the 'Preferences' menu. The Preferences window will pop up, in which you can hit on the 'Convert' option to start to adjust the output format of Deezer music as MP3, M4A, M4B, FLAC, AAC, and WAV. Besides, you can alter other Deezer audio parameters like sample rate, audio channel, etc., as you like.
Step 3

Add Deezer music to AudFree Deezable

Head to the pop-up Deezer music app and find the music or playlist you want to download and convert. To add a track or playlist from Deezer, click the 'three-dots' icon on the artwork. Afterward, select the "Share" option, and then click on the "Copy" button to copy the track's or playlist's URL. You can type in the spoofed link address in the search bar at the very top of the main screen. When you're ready to convert your Deezer music, click the '+' icon to add Deezer songs to AudFree Deezable.
Step 4

Download and convert Deezer music/playlist/album

At last, click on the 'Convert' button to start the Deezer music conversion and downloading process. AudFree Deezer Music Downloader will begin saving Deezer to FLAC, MP3, AAC, or other audio formats you preset. And it will keep all the ID3 tags and original audio quality of Deezer music after converting.
Part 5. Final Words
A Deezer downloader is your only option if you're a free Deezer user or want to use your music or playlists from Deezer on other devices and players. Freezer Deezer Music Downloader would be an ideal option to make it possible.
But sometimes, the Freezer Deezer crashes or is not working for no reason. At that time, you can use Freezer Deezer alterantive, AudFree Deezer Music Downloader to download music from Deezer without any hassle. In fact, it could be better than Freezer Deezer considering the output music quality of Deezer songs.