Deezer is undoubtedly at the top of the list of music streaming platforms for many music lovers with best-in-class features. Users have access to a rich music library that contains millions of high-quality streaming music, podcasts, and live radios. Deezer is nothing short of a musical paradise for you.
But what makes it frustrating is that you can only play Deezer Music on specific devices via its own Deezer app. To break this dilemma, converting Deezer to MP3 via an excellent Deezer to MP3 converter may be an effective solution. It helps you listen to Deezer MP3 Music on your ideal device and player whenever and wherever you want.
You may find it hard to choose from the various Deezer MP3 converters available in the market. No worries, this article lists the top 6 best Deezer to MP3 converters online free and third-party software for Android, iOS, Mac, and Windows for your reference. After that, you could listen to Deezer Music as you like.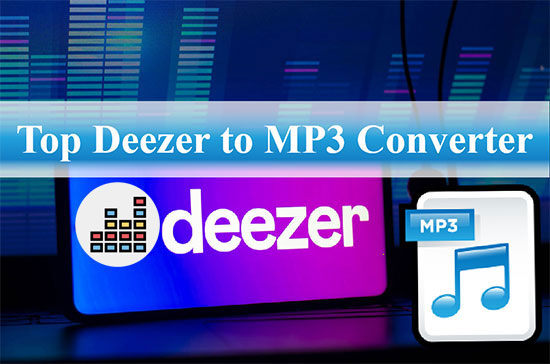 Part 1. Best Deezer to MP3 Converter for Mac and PC
When you search for the best Deezer to MP3 converter on the Internet, AudFree Deezable will frequently come to your attention. In fact, it serves as a comprehensive Deezer Music converter dedicated to converting Deezer music, playlists, albums to MP3 (320 kbps) for offline playback. No matter what plan of Deezer you subscribe to, Deezer Free, Deezer Premium, or Deezer HiFi, you will be able to convert Deezer download to MP3 without any limitations.
In addition, this easy-to-use Deezer to MP3 Converter is capable of converting an individual song or the whole playlist on Deezer at 5X faster speed on Windows and Mac computers. In terms of converting Deezer songs, it helps you to get offline lossless Deezer MP3 downloads without any quantity limit. After that, you can fully control and play Deezer Music on MP3 players, smart watches, smart speakers, etc. according to your preference.
AudFree Deezer Music Converter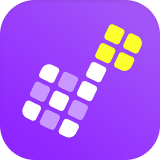 Download and convert Deezer Music, podcasts, playlists to MP3
Download Deezer songs with Deezer Free/Premium/HiFi account
Deezer conversion at 5X faster speed on Mac and Windows computers
Listen to Deezer MP3 songs offline on any device and player
Preserve 100% original ID3 tags and metadata information of Deezer Music
Configure various audio parameters for Deezer Music such as sample rate, bit rate
How to Convert Deezer to MP3 with AudFree Deezable
Step 1

Reset Deezer Music Output Format to MP3

Click on the menu icon in order to select the "Preferences" option. In the Preferences window click on the "Convert" option, at this point you can start adjusting the output format to MP3. Besides, other audio parameters such as sample rate, audio channels, etc. can be set if desired. As for sorting Deezer by album or artist, just click on the "Archive Output Tracks" section.
Step 2

Import Deezer Music to AudFree Deezable

In the Deezer Music app, find the music you want to convert. Click on the 'three dots' icon on the art cover of the track, then select the Share > Copy button to copy the URL of the track. Paste the copied link into the search bar at the top of AudFree Deezable and click on the '+' icon to load Deezer Music.
Step 3

Download and Convert Deezer Music to MP3

Click the "Convert" button at the bottom right corner, AudFree Deezer Music Converter will start downloading and converting Deezer Music to MP3 according to your settings. After the conversion process is finished, click the "Converted" icon at the bottom bar to view all the converted Deezer MP3 songs.
Video Tutorial

How AudFree Deezer Music Converter Works
Part 2. Deezer to MP3 Converter for Android and iOS
Deezer also provides an easy-to-navigate mobile app with users to explore music trip on iPhone and Android devices. Therefore, many users might wonder a Deezer to MP3 converter on mobile to obtain MP3 Deezer files.
Telegram Bot
Whether you are using an Android or iOS device, Telegram bot can both implement converting and downloading music from Deezer as MP3. As far as I know, this Deezer robot is so powerful that while other music hunter bots may be down for maintenance, it has never been down. By the way, if you want to download music from Spotify, this bot surprisingly does that too.
Key Features of Telegram Bot
▪ Download Deezer as ideal MP3 format
▪ Telegram messenger covers Android and iOS devices
▪ Instant response to user queries
▪ Messages are sent in encrypted form across the platform
▪ Simplifies conversations between users and bots, allowing users and bots to perform tasks seamlessly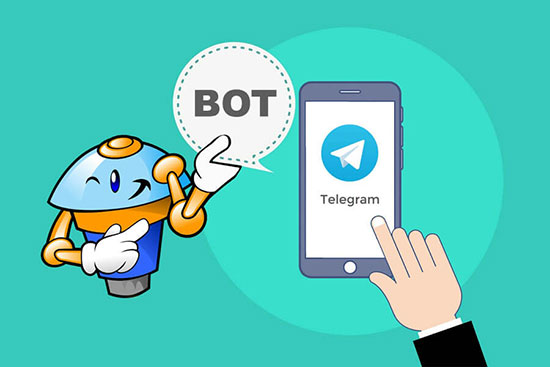 Relatively speaking, as long as you have Telegram on your Android or iOS phone, you can start with the following simple steps.
Step 1. Start by searching to find @DeezerMusicBot, then type "/Start" into the bot dialogue to get started.
Step 2. Search for any Deezer track or type in the Deezer URL to start the download process.
Step 3. It is worth mentioning that this Deezer MP3 downloader for iOS and Android will download music from Deezer in the desired MP3 format on the target folder of your phone.
Freezer APK Pro could serve as the best Deezer MP3 downloader APK for Android with over 20 languages support. You can install it from the Google Play Store or its official website and then use it to stream and download over 90 million songs in high quality (FLAC or MP3) on your Android devices for free.
Its Quick Access feature allows you to discover new songs according to your listening habits. What's more, all Deezer songs have lyrics, which could be a better Deezer listening experience.
Key Features of Freezer Deezer APK
▪ It supports cross-platform devices, like Android, Windows, macOS, and Linux OS.
▪ Download high-quality Deezer songs even using a free account.
▪ Support Deezer Music Lyrics and Quick Access features.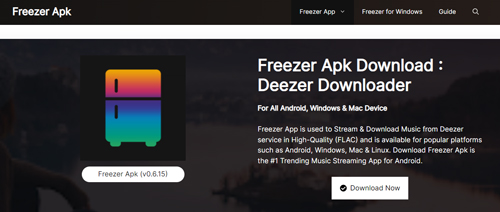 Step 1. Step 1. Find Freezer Deezer APK on Play Store or its official website: [https://www.freezerapk.pro/].
Step 2. Download its Deezer MP3 downloader AKP file on your Android device. Please turn on 'unknown sources' under the setting > security sections.
Step 3. Now, please hit on the 'Install' button to install Freezer Deezer APK successfully. After that, you can search and download Deezer music without Premium offline.
Part 3. Professional Deezer MP3 Downloader and Recorder
Have you ever been in a situation where you hear a mesmerizing Deezer music and you desperately want to record it in time? In fact, AudFree Audio Capture is the perfect solution to record, download and edit Deezer music played on your PC and save recorded Deezer tracks to MP3, WAV, FLAC and other popular formats.
Using innovative and advanced audio recording and editing technology, it is indisputable that this smart Deezer MP3 downloader and recorder will be a great helper for you. With the smart ID3 tag editor, it allows you to add artwork covers, titles, albums to better organize the recorded Deezer Music. What's even more pleasing is that you can rename music files to manage them in a more efficient way in local folder.
Previously, Deezer Music encoded in a specific format could only be played on authorized devices, but now, with AudFree Audio Capture, you can easily get Deezer MP3 local files as well as play all Deezer Music on any portable device.
Key Features of AudFree Audio Capture
▪ Capture any music track played on your Windows/Mac computer, including Deezer Music
▪ Record Deezer Music as MP3, AAC, WAV, FLAC, etc.
▪ Customize recorded audio quality, including audio channels, codecs, etc.
▪ Support real-time preview function
▪ Split, trim, merge and edit Deezer music recordings
▪ ID3 tag editing capabilities and multi-track audio capture technology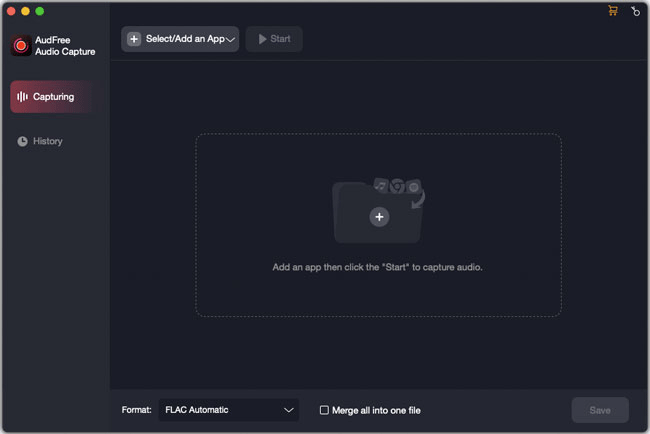 Step 1. Launch AudFree Audio Capture and select the Deezer Music icon in the list of downloaded programs to record.
Step 2. Click the "Format" button in the bottom right corner of AudFree Audio Capture to define the output format as MP3. If you need to personalize other output parameters, just make the relevant settings in this window.
Step 3. Please touch the target program from the start window and it will pop up a new recording window at the same time. Play the Deezer audio you want to capture and it will start the Deezer MP3 recording process automatically.
Step 4. To stop the recording process, just close the music that is playing. Finally, please touch the "Save" button to save the Deezer MP3 file on your computer locally.
Part 4. Deezer to MP3 Converter Online Free
The above Deezer MP3 converters can perfectly extract MP3 from Deezer playlists, albums, and tracks. But all of them require you to install extra software on your device. Fortunately, there are many Deezer to MP3 converters online free allowing you to achieve this goal also. So, here, we have collected the top 3 best tools. It's also worth mentioning that the audio quality of online freeware could be lossy and the conversion process could be unstable.
Apowersoft Free Audio Recorder Online
As a comprehensive online audio recorder, Apowersoft helps you record Deezer Music as MP3 online with one click without installing plug-ins or subscribing to any services. Moreover, it is able to play the recorded Deezer audio in real time with the built-in player. Actually, besides Deezer Music, you can also spare no effort to record online meeting chats, voice-overs, interesting conversations and so on.
No matter which device you are using, you can use this Deezer to MP3 converter online free to record and download Deezer tracks. But the only supported output audio format is MP3. And there are no editing functions like traditional audio recorders enabling you to cut unwanted Deezer audio clips.
Key Features of Apowersoft
▪ Convert Deezer music to MP3 online for free with one click
▪ Sound sources: streaming music sites such as Deezer, radio stations, voice chat, etc.
▪ Audio output formats: MP3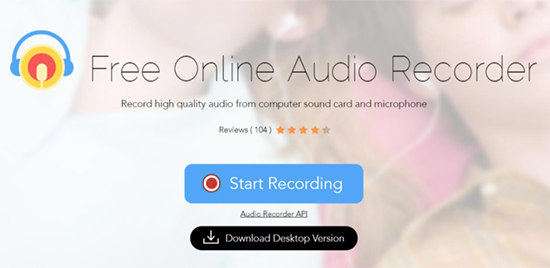 Step 1. Enter the Apowersoft homepage, and then click the 'Start Recording' button to select the audio source as 'System Audio'.
Step 2. Hit on the 'Start Recording' button again to adjust the Deezer MP3 recording settings. Select the 'Entire Screen' > 'Share system audio' > 'Share' to download Deezer tracks from the sound card of your computer.
Step 3. Open Deezer Web Player or the Deezer desktop app to search and listen to your favorite music, it will start to record Deezer to MP3 locally. All Deezer MP3 downloads will be located by clicking the 'Show in Folder' option.
Deezloader Remix
Deezloader Remix is a free application for downloading songs from the famous website Deezer. You may have heard of DeezLoader before, it's actually an advanced version of DeezLoader, adding some advanced features to the previous one. With this outstanding free Deezer to MP3 converter online, users can get MP3 files from Deezer's web server with ease. Instead of downloading each Deezer song one by one, you are allowed to download the artist's entire library with one click. What excites users is that Deezloader Remix is 100% free to use, without any hidden fees or subscriptions.
Key Features of Deezloader Remix
▪ Download Deezer playlist to MP3 online directly
▪ Download multiple Deezer songs with one click
▪ 100% free to use

Step 1. Just search for a Deezer song or artist directly in the application and it will show all the available results according to that search term.
Step 2. Confirm the right version and then click the 'Download' button to download and convert Deezer songs to MP3 quickly.
Part 5. FAQs about Choosing Deezer MP3 Converter
Q: Why You Need a Deezer to MP3 Converter?
All Deezer users are limited from playing Deezer music on authorized devices via its mobile and desktop app only. Besides, free Deezer users should be interrupted by ads and couldn't enjoy the 'Offline Mode' feature.
But with the assistance of Deezer to MP3 converter, all restrictions could be unlocked well. No matter which subscription you are using, you can transfer, sync, and listen to ad-free Deezer songs and playlists anywhere offline.
Q: Which Is the Best Deezer MP3 Converter?
There is the top 6 best Deezer MP3 converter software introduced in this article. Compared to the conversion speed and output audio quality, AudFree Deezable could be put in the first place. It can export music from Deezer without touching the original audio files at a 5X faster conversion speed.
Q: How to Download All Songs from Deezer?
To download music from Deezer, the official way is to subscribe to a Deezer Premium or Deezer HiFi plan. Users can then listen offline on mobile devices and computers. If you are on a free plan, you can download Deezer playlists with the help of one of the above 6 best Deezer to MP3 converter tools.
Q: How to Get Deezer on MP3 Player?
After you have gotten Deezer MP3 files, you can plug your MP3 player into your computer via the USB cable. And then, it couldn't be easier to put Deezer music on an MP3 player via the dragging and dropping action.
Part 6. In Conclusion
Now that you know about the top 6 Deezer to MP3 converters above, with which you can convert Deezer to MP3 effortlessly. No matter which device you are using, there is always one that can meet your needs to convert Deezer music to MP3 online for free on computers and mobile devices. Also, if you have found another effective Deezer MP3 converter, please don't hesitate to leave a comment below.