With the emerging trend of music streaming services, consuming media has become everyone's daily activity. Besides, the digital media continues to boom, leaving everyone scrambling to get a catch of that latest video on the blog. But what happens when your device limits video play due to limited storage space or unsupported mechanism?
Here's the deal, a video to MP3 converter can stand in the gap. Such software automatically lets you input your media data as well as converts them to desired formats. You can then listen to your music offline or better, turn that favorite channel into a podcast that you can enjoy at your desired time. And there are tons of MP3 converters in the market. We have made it easier by our list of top 5 converters.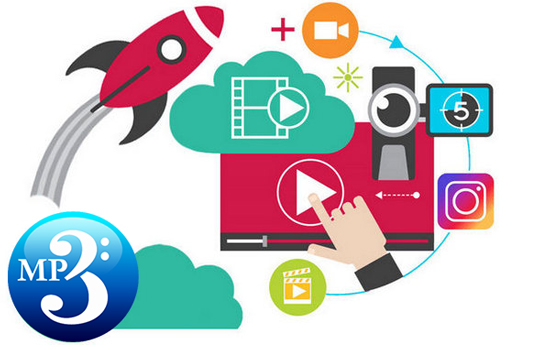 Top 1. AudFree Audio Capture - Best Video to MP3 Converter
The top best video to MP3 converter on our list is AudFree Audio Capture. This App has no limits as it can capture any sound that's playing on your computer. Be it online radios, background audio or your popular streaming music, let this expert converter take care of it.
And since it has adopted both innovative and advanced recording technology, AudFree Audio Capture will give you an easy time. It has a user-friendly interface, putting it in the best position to grab your video clips and turn them to any desired file format. Furthermore, this App allows you to save your downloaded soundtracks in your desired formats.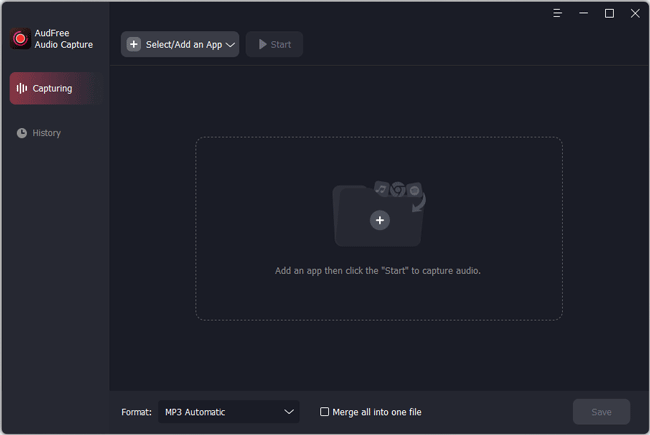 Notable Features
• AudFree Audio capture can record audios and videos from popular streaming services like MySpace, Spotify, Tidal, Apple Music, among other services. It can then save the recorded tracks as MP3 or any other popular format.
• It lets you trim, edit, and merge your music recordings, unfolding it to a whole new piece.
• This App is an intelligent multi-track software that can grab various audio tracks from separate sources then locks them into independent tracks.
• It also works perfectly when you want to balance speed and quality as it can take your pick from different bitrates.
Top 2. Wondershare UniConverter
This is another after-sought online video converter to MP3 that you can access for free with limited features. However, an upgrade opens its wider doors to advanced features. Among which is its 5 sub-tools that undertake worthwhile operations.
From being a video downloader, editor, to a converter, Wondershare UniConverter aim is efficiency with a high-quality outcome. And when it comes to efficiency, this App beats the odd by its 30x faster speed. Besides using it for the conversion of videos to MP3, you can also use it to convert your videos to over 1000 other formats.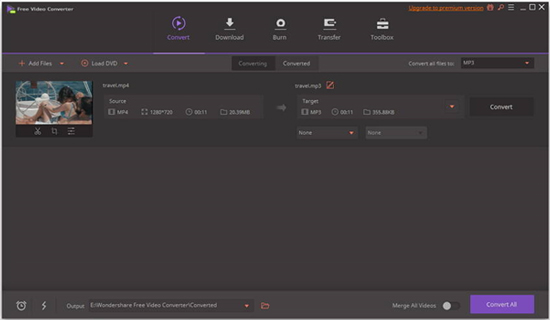 Notable Features
• It encompasses an additional toolbox for video compression, GIF maker, DVD copying, among other functions
• The software allows for editing such as trimming, rotating, and cropping of any video section.
• It allows for download of videos from over 10,000 sites
• It is also smart enough to transfer videos to other devices like Apple devices, Android devices and other external drives like USB flash drive.
Top 3. iSkysoft Video Converter
This is another guru App as far as video conversion to MP3 is concerned. Besides supporting over 150 audio and video formats, iSkysoft Video Converter presents you with pre-defined presets enabling you to directly convert and save your videos to any device.
Its compatibility nature with various operating system devices and ease of use are what earn this video converter additional likes. Go ahead and use it on your Android, iPhone, Mac or Windows operating system devices.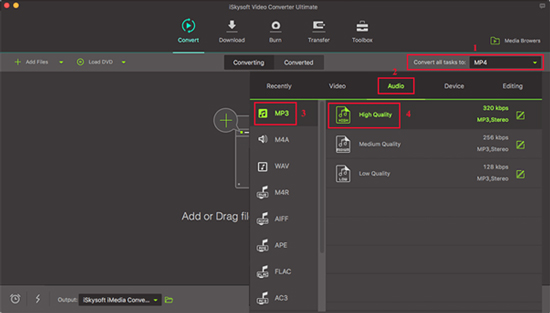 Notable Features
• It is compatible with Windows, Android and MacOS devices
• It comes with an in-built downloader, a DVD kit, and preview functionality
• This video converter to MP3 lets you create your customized presets
• The editing ability is a plus as it lets you change various video settings like volume, bit rate, and much more.
Top 4. WinX Video Converter
If you find pleasure in video games then this video converter to MP3 should be your take. One major feature of WinX Video Converter is that it gives leeway for any incompatible videos to be easily accessible on game consoles and other portable players.
Furthermore, you can go ahead and share your converted videos on other platforms like YouTube. Besides, there is no limitation to enjoying your output on other devices like tablets, smartphones or laptops.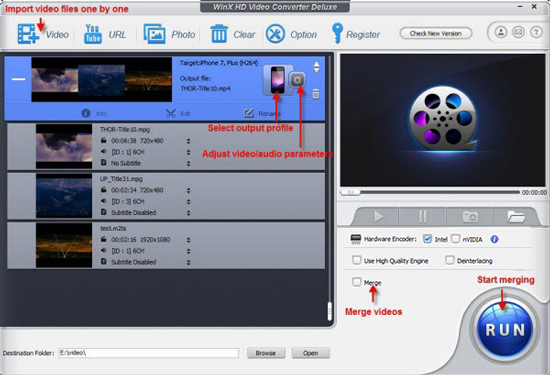 Notable Features
• It parades video editing tools for cropping, cutting and adding watermark to your video
• Use it to download videos from numerous websites like SoundCloud, YouTube as well as other music streaming services.
• It comprises of over 400 profiles for Windows, Android, and iPhone OS devices.
Top 5. Any Video Converter Free (AVC)
Popularly regarded as a free video to MP3 converter online, Any Video Converter Free certainly performs beyond imagination. Besides handling online conversions, this software will have you covered for your offline file streaming as well.
Whether your videos are from Vimeo, Facebook, YouTube, or whatever platform, this video converter lets you download and convert them to the desired format of your choice.
You don't need to be tech-savvy to use this software. A simple pasting of the URL of your desired video and waiting for download is all you need to do. A further one click at the 'Convert Now' button gives your desired MP3 format.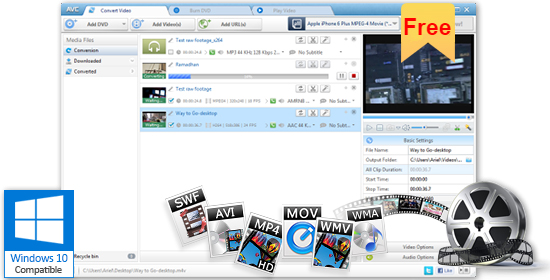 Notable Features
• It lets you rip audio or videos from other devices like DVDs and CDs
• It can download and convert videos from various online platforms and the web
• It also encompasses editing effects that you can use for a unique output look
• This software also comes with ready-made device profiles.
In Conclusion
Settling for the best video converter to MP3 does not come by chance. Consider taking note of a few factors like inbuilt features, conversion choices, and other customization tools. With these in mind, you are guaranteed a perfect user experience with your choice of video converter.