"Can you record music from Spotify?" Yes. There are lots of ways that can help you to make it in the market. As you may know, there are some limitations for Spotify free users to enjoy Spotify music. One of the biggest drawbacks is the inability to download your favorite Spotify music. Even if you get Spotify free trial to enjoy free Spotify premium features, you can't access the downloaded Spotify music once the trial period expires.
In this case, it is essential to find a way to download music from Spotify as offline files for playback. So, in this article, we will introduce top ways for you to record Spotify on Mac, Windows, Android, iPhone, free and online. Now, follow the detailed tutorial below and learn how to do that.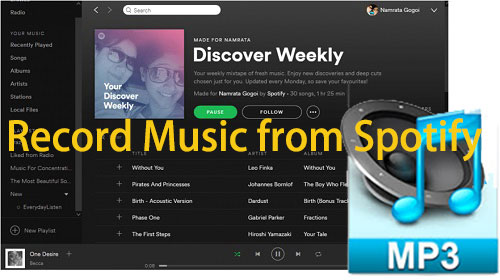 Part 1. How to Record Music from Spotify on Mac/Windows by AudFree Spotify Downloader
In general, streaming audio recording tools are the smart choice to capture Spotify songs and playlists. But one thing you should pay attention is that audio recorders are adopting real-time recording technology to grab audio playing on your computer's sound card. It will take a long time to get all Spotify records.
To save you time, we've found a Spotify music downloading tool, called AudFree Spotify Music Downloader. It is specifically designed to download various types of Spotify content such as audiobooks, podcasts, playlists, albums, songs, radio and more to MP3 (320kbps). In addition, it also records audio from Spotify to FLAC (1,411kbps), WAV, AAC, M4A and M4B. And it can run the recording and downloading process at 5X faster speed. Afterwards, it will preserve the lossless audio quality and ID3 tags of Spotify music, whether you use a Spotify free or premium account.
AudFree Spotify Music Downloader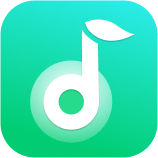 Record Spotify songs, albums and playlists losslessly
Download Spotify to MP3, WAV, FLAC, etc.
Keep original ID3 tags in downloaded Spotify music
Work at 5X faster speed, edit music quality and parameters
How to Record Spotify on Mac/Windows with AudFree Spotify Downloader
The following step-by-step tutorial will show you how to use AudFree Spotify Music Downloader to record and download Spotify songs as local files losslessly.
Step 1

Import Spotify Songs to AudFree Spotify Music Downloader

There are two ways for you to add Spotify songs to AudFree SpoDable. You can directly drag and drop the single song or whole playlist from the Spotify app to the AudFree conversion window. Or right-click the item of Spotify content, choose the 'Share' option to copy the link of Spotify tracks. Then paste it into the search box of AudFree software and touch the '+' button to upload them.
Step 2

Adjust Spotify Output Format and Other Settings

Now, you can go to the Menu bar in the top-right corner and choose Preference option, it will pop up a new window. In the 'Convert' bar, you can define output format as MP3, FLAC, WAV, AAC, M4A and M4B. Again, it is possible to customize the output audio quality by adjusting parameters such as audio channel, sample rate, bit rate, etc.
Step 3

Record Spotify Songs and Download as Local Audio Files

Please click the 'Convert' button at the bottom-right corner of the main interface. This professional software will start to record music from Spotify as MP3 at 5X faster speed. When the converting process is done, you can locate downloaded lossless Spotify songs in the history folder. At last, you can check and move them to any device or media player for offline playing.
When it comes to the smart Spotify music recorder, we highly recommend AudFree Audio Capture. It is an intelligent multi-track audio grabber for Spotify and other music services. Available for Windows and Mac operating system, it not only can capture any content from Spotify, like songs, playlists and albums, but also save recorded Spotify music to MP3, FLAC, WAV, AAC, M4A and M4B.
With built-in leading-edge recording technology, this powerful tool can capture audio from Spotify with high quality and keep ID3 tag information intact. You can split and trim the recorded Spotify audio file into smaller segments to remove unwanted parts. After recording, you can listen to Spotify songs offline without Premium on all devices and music players.
Apart from getting Spotify streaming records, AudFree Audio Capture also supports for capturing other streaming music, including Apple Music, Tidal, Deezer, Pandora, MySpace and more with ease. Also, it supports recording in multiple browser windows, thus saving time. Therefore, it deserves to be the best and all-round audio capture.
How to Record a Song from Spotify with AudFree Spotify Capture
Once installed AudFree Audio Capture on your computer successfully, you can refer to the following tutorial to rip Spotify music and save Spotify records as MP3 or other popular audio formats you like for playback offline.
Step 1

Set Up AudFree Spotify Recorder

Double click the shortcut of AudFree Spotify Recorder from the computer desktop and you will see the main interface. You can see that there are a series of downloaded programs, like Safari, iTunes, QuickTime. If the Spotify app doesn't appear in this list, you can touch the big '+' button to add it directly.
Step 2

Define Output Format and Other Audio Parameters for Spotify

Before capturing audio from Spotify, you can customize output format and other output audio quality by clicking the 'Format' icon. AudFree Spotify Recorder supports MP3, WAV, FLAC, M4A, AAC and M4B. You can choose one of them you like as the output format. In the same window, you can personalize other audio output settings, like audio codec, channel, sample rate and bit rate according to your special needs.
Step 3

Play and Record Songs from Spotify

Please touch the Spotify app in the starting window and the recording window will be launched automatically. Now, you can discover and play favorite Spotify track, and you will see that this tool is capturing audio tracks playing on Spotify app simultaneously. Besides, you can also use Safari or other web browsers to play other Spotify music tracks, the recorder can also capture all of them and divide them to into independent music successfully.
Step 4

Edit and Record Spotify to MP3

There is an 'Edit' icon at each recorded track, please touch it to cut and split unwanted audio segments and change ID3 tags, like year, artwork cover, title, album, artist, etc. Once all settings are OK, you can stop the recording process by quitting the browser or Spotify app directly. All Spotify streaming records will be saved to destination folder.
Part 3. How to Record Spotify on Android by Syncios Audio Recorder
Looking for a way to capture Spotify on your Android phone, SynciOS Audio Recorder will suffice. It effectively captures any sound playing on your Android phone and tablet, including Spotify music. This Spotify capture has a clean and efficient design and is very easy to use. What's more, it allows you to record from Spotify Android continuously and split Spotify tracks in the desired way.
How to Record Music from Spotify on Android via Syncios Audio Recorder
Step 1. Download the Syncios Audio Recorder software on your Android phone. Later, click on its icon to launch the application.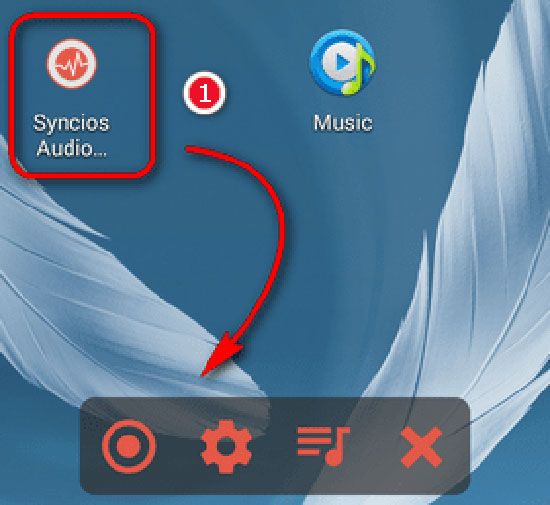 Step 2. Launch the Spotify music app and play a favorite song. Then tap the 'Play' icon to start detecting and recording Spotify song.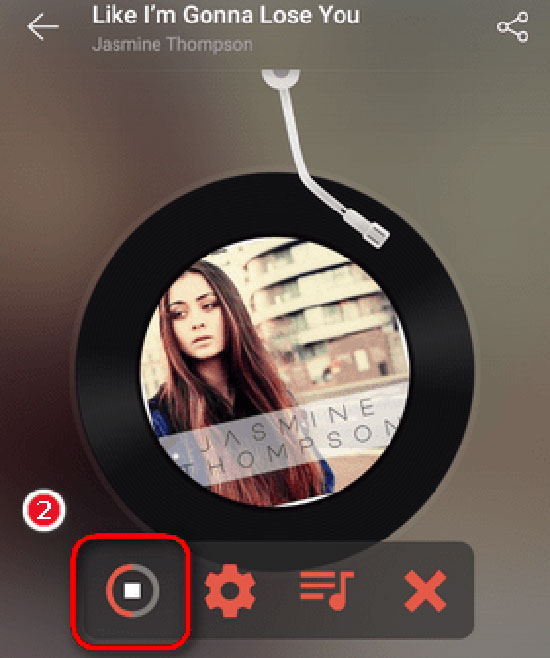 Step 3. When the recording is finished, you can simply hit on the 'Playlist' icon to browse through the Spotify streaming records.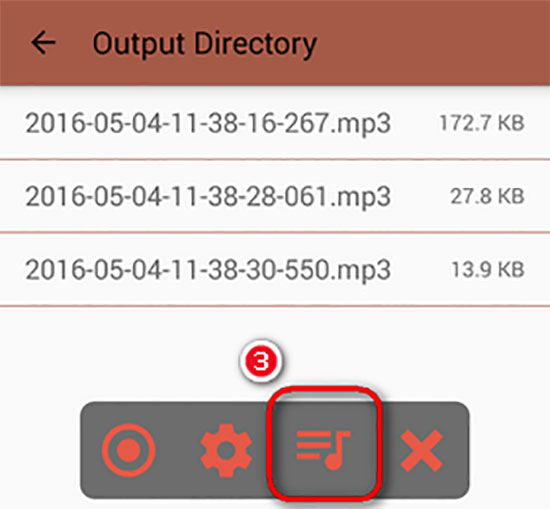 Part 4. How to Record from Spotify on iPhone by Garageband
As for Spotify recording tools for iOS, you can't go wrong with GarageBand. It can be used not only to record from Spotify and other audio sources, but also to create playlists, beats and instruments. It's quite easy to get started, you just need to record your Spotify music, instruments or any other sound with the microphone on your iPhone.
How to Record Music on iPhone from Spotify
Step 1. Open GarageBand on your iOS device and launch the Spotify app, then play a song you want to capture.
Step 2. Tap the 'Record' button at the top of GarageBand's control bar. Once recorded, hit on the 'Stop' button to stop recording song from Spotify.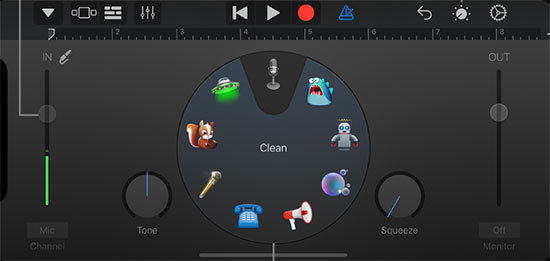 Part 5. How to Record Music from Spotify Free by Audacity
If you prefer to record song from Spotify for free, Audacity seems to be the best choice. It is a completely free streaming audio recorder that is fully compatible with Windows, Mac and Linux computers. In addition, it supports capturing Spotify music to MP3, FLAC, OGG and other formats.
Before choosing this tool to record from Spotify, there are two things we need to mention in advance. It requires you to install a plugin if you'd like to record songs on Spotify. Besides, the output quality could be lossy. Anyway, it's time for us to see a tutorial on how to use it.
How to Record Off Spotify with Audacity
Step 1. Download and install Audacity on your computer and launch it. Tap the 'Edit' > 'Preferences' > 'Audio Host Box' > 'Windows WASAPI' section in the top left toolbar.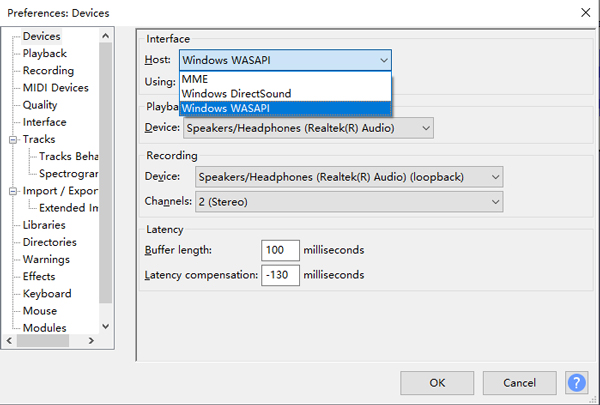 Step 2. Click on 'Transfer' > 'Transfer Options' > 'Software Playthrough' to turn Software Playthrough off when recording Spotify audio in Audacity.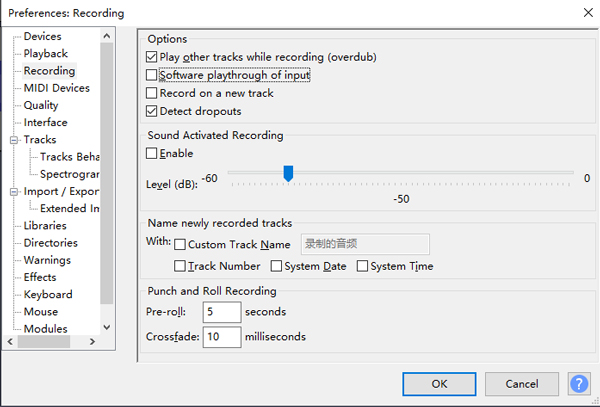 Step 3. Press the red 'Record' button and play the Spotify track that needs to be recorded. It will then automatically start the live Spotify recording and you can simply tap the 'Stop' button to stop the recording process.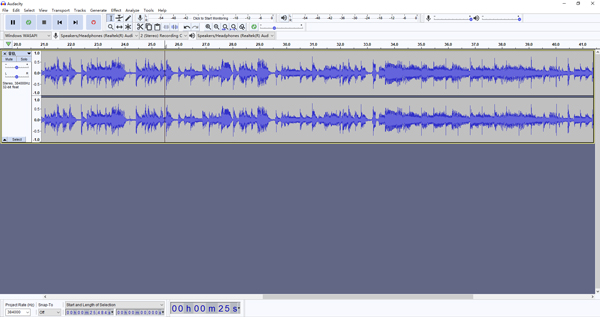 Part 6. How to Record Spotify Songs and Playlists Online by Apowersoft
As the name suggests, Apowersoft Online Audio Recorder is a free online audio recorder that can record Spotify music to MP3, FLAC, WMA and more. If you use Apowersoft online free instead of installing the software, you will only be able to choose MP3 as the Spotify output format. It works by capturing streaming audio from your computer and microphone. All you have to do is play your favorite Spotify song on your computer and then click the record button, then it will start recording automatically.
Also, it only allows users to choose the quality preset for the recording from 3 options, i.e. High, Medium and Low. You can only save recorded Spotify audio at 128kbps. There is no batch conversion and you can't set Spotify music output parameters directly.
How to Record Songs on Spotify Online with Apowersoft
Step 1. Navigate to the official ApowerSoft website and click the 'Start Recording' button.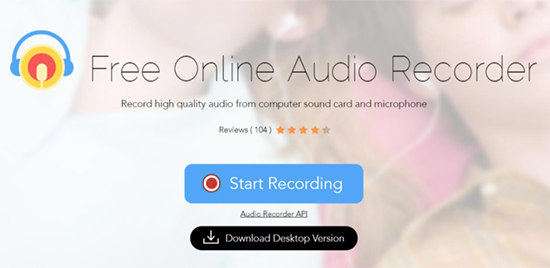 Step 2. Download and install a launcher on your computer and select the System Sound as the target source. Then click the 'Start Recording' button again.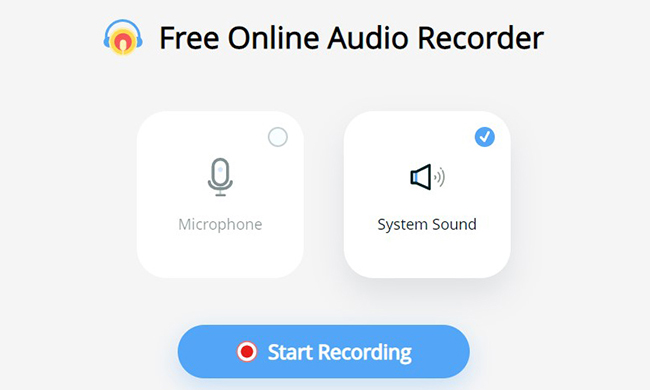 Step 3. In the pop-up window, click on the 'Entire Screen' > 'Share system audio' section so that you can record Spotify music from your computer's sound card, then tap the 'Share' button.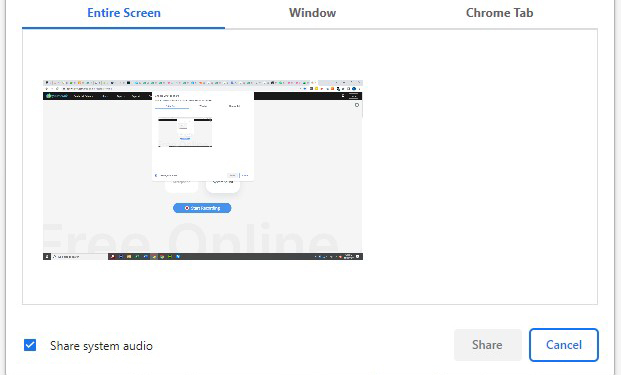 Step 4. Play a Spotify song or playlist you like and it will automatically rip Spotify music online. You can tap the 'Pause' and 'Stop' icons at any time to control the recording process. Once you've finished recording, touch the 'Folder' icon to get the Spotify records.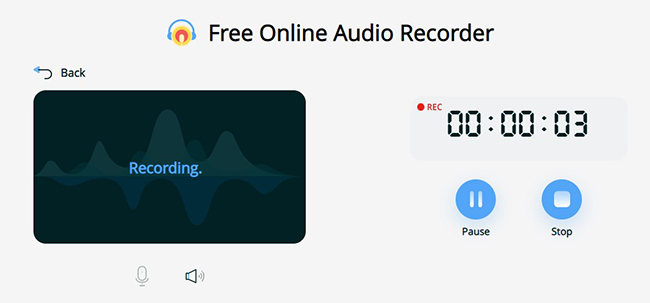 Part 7. Which Is the Best Way to Record from Spotify
If you're still not sure which Spotify capture to choose, you can have a quick glance at the detailed comparison of 6 professional Spotify recorders to make the best choice.
AudFree Spotify Downloader
AudFree Spotify Recorder
Audacity
Apowersoft
Syncios Audio Recorder
Garageband
Price
$14.95/Month
$14.95/Month
Free
Free
Free
Free
Compatible OS
Mac/Windows
Mac/Windows
Mac/Windows/
Linux
Mac/Windows
Android
iOS
Support Input Format
Spotify content
Any sound
Any sound
Any sound
Spotify content
Any music
Supported Output Format
MP3/FLAC/AAC/
WAV/M4A/M4B
MP3/FLAC/AAC/
WAV/M4A/M4B
MP3/WAV/AIFF/
AU/FLAC/Ogg Vorbis
MP3/WMA/WAV/
AAC/AAC/M4A/M4R
MP3
AAC/MP3/
AIFF/WAVE
Conversion Speed
5X Faster Speed
Real time
Real time
Real time
Real time
Real time
Customize Output Quality
Yes
Yes
No
No
No
No
Cut/Merge Function
No
Yes
Yes
Yes
Yes
Yes
Recommends
⭐️⭐️⭐️⭐️
⭐️⭐️⭐️⭐️
⭐️⭐️
⭐️⭐️
⭐️⭐️⭐️
⭐️⭐️⭐️
If you're looking for a faster Spotify recording solution to save time, AudFree Spotify Music Downloader wins hands down as it records music from Spotify at 5X faster speed with high-quality output tracks. If you don't care about conversion speed and output quality, several other Spotify recorders are available for your needs to capture Spotify music for offline listening.
Now, you can choose the best Spotify audio recording tool according to your personal requirements to record from Spotify. If you have used some other full-featured Spotify music recording software to record Spotify songs? Just feel free to share with us in the following comment area.