Music is one of the most common and loved hobbies in the industry these days. Music has been liked and loved by almost everyone throughout the world, and the best part is that more and more artists have been doing their best to contribute to this purpose. Not all the time, music is available in the same file types that can be used. For instance, Spotify lets you download the songs. However, the extension is still present. This is where a music converter comes in.
A music converter is one of the best things one can use to get any file converted into an MP3 file. There are various kinds of music converters that are present in the market. In this article, we will go through some of the best ones for Spotify, Tidal, Apple Music, YouTube Music, Amazon Music, etc. in the market, so let's get started.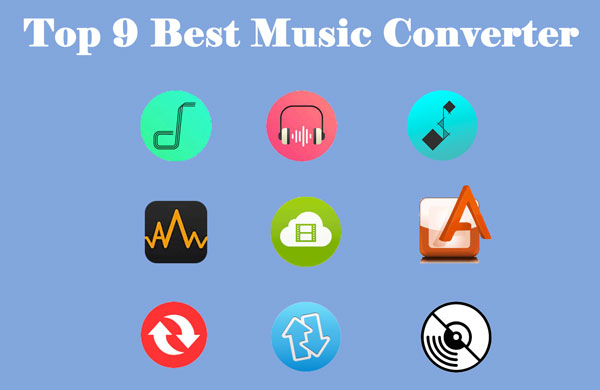 Part 1. Best Spotify Music Converter - AudFree SpoDable
The best music is mostly available on Spotify, and it is widely owned by almost everyone all around the world. Downloading Spotify music has become quite a hassle, as it requires long working processes and owning a paid account so you can have access to heavy songs. The AudFree Spotify Music Converter is the top-notch Spotify Music Converter that can convert Spotify music in the simplest ways.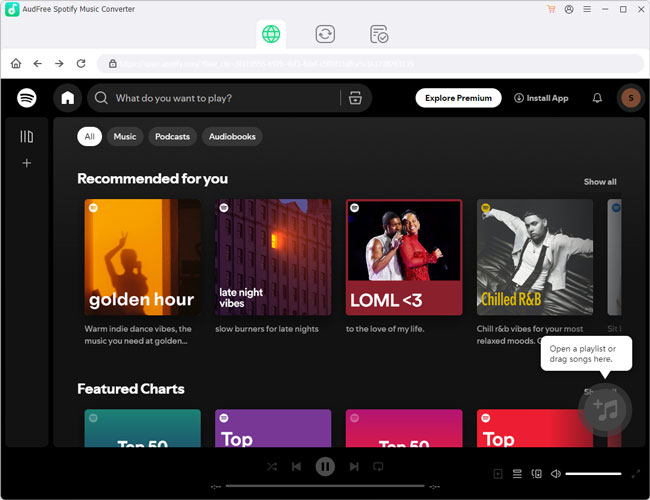 Key Features
1. The AudFree Spotify Music Converter quickly converts and downloads complex audio files. It's able to convert Spotify Music to MP3, FLAC, WAV, AAC at 5X faster speed.
2. This app alerts regular updates to keep the software up to date with the developing technology.
3. The working environment of this great Spotify Music Converter is simple, and you can easily add files in no time. This tool enables you to add multiple audio files from Spotify for batch processing.
4. This Spotify Music Converter tool arranges the downloaded Spotify files optimally. Access the audio files quickly and transfer them to any device or storage space for future use.
Pros
Very easy to use
Support multiple output formats
Automatic tagging
Cons
It costs $14.99 per month
Part 2. Best Apple Music Converter - AudFree Auditior
If you are an Apple Music user, you can easily use this Apple Music Converter and easily convert your files without any issue. The AudFree Apple Music Converter lets you get the music changed easily and gets all the files into the type of file you want. It is something that you have been looking for.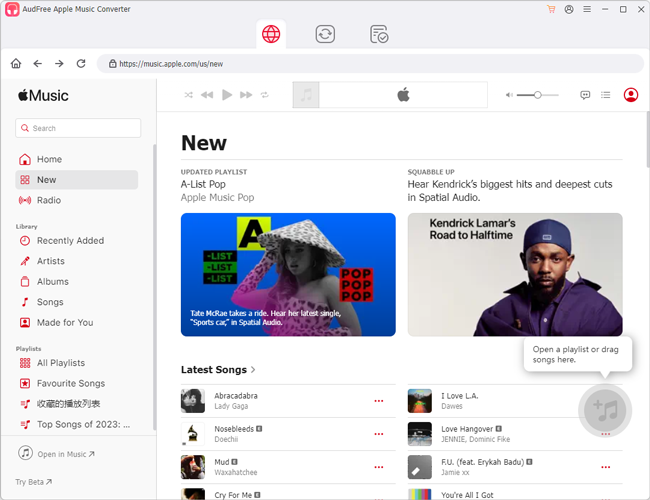 Key Features
1. Recognizes Apple Music audio format and converts it into your preferred format such as AAC, MP3, WAV, M4B, M4V, and FLAC.
2. Coverts Apple Music files at a 30X faster than other tools.
3. Play your favorite Apple Music streams on several popular devices offline.
4. Supports batch conversion to convert Apple Music to MP3.
5. Allows changing the settings such as bitrate, sample rate to get a more personalized result.
6. Supports multiple platforms such as iTunes songs, Apple Music, iTunes audiobooks, Audible books, etc.
Pros
Has a built-in editor
Supports Audible books and iTunes audiobooks
It enables you to maintain 100% quality
Cons
It needs iTunes to be installed
It cost a little bit more
Part 3. Best Amazon Music Converter - AudFree Amable
If you are one of the Amazon Music users, you might be stuck, but don't worry about such things as we bring to you the AudFree Amazon Music Converter. This music Converter is one hell of a thing as it provides you a various number of options to convert Amazon-based music files into MP3-based files with real ease and in almost no time.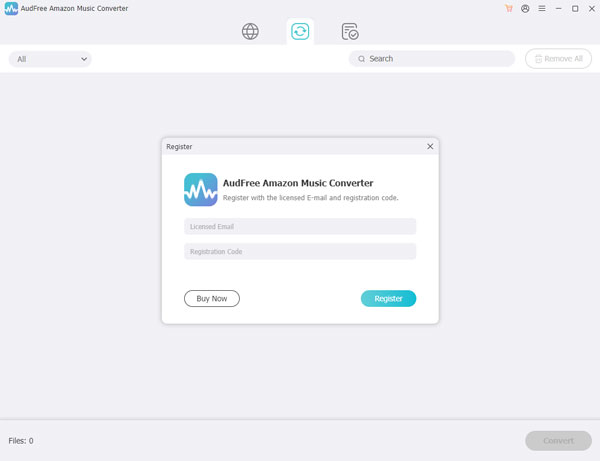 Key Features
1. It can be used on Windows and Mac devices.
2. Let's download files on an authorized device from the Prime account.
3. Keep lossless music quality for having a better listening experience.
4. Let's have an unlimited number of downloads with ease.
5. Download Amazon Music as WAV, MP3, and universal formats without app.
Pros
Easy to use, intuitive interface
Keep ID3 tags for converted Amazon songs
No need to install Amazon Music app
Cons
The free trial version has a 1-minute limitation
Part 4. Best Tidal Music Converter - AudFree Tidable
If you are a regular PC or Mac user, you could get worried about the Tidal music play. Because there is no official way to download songs from Tidal onto computer for offline playback. But don't worry about such things as we bring to you the AudFree Tidal Music Converter to save the day. This music converter for Tidal is a real great tool as it lets you have all the music changes you want with ease and enables you to download music from Tidal to computer in whatever format you want.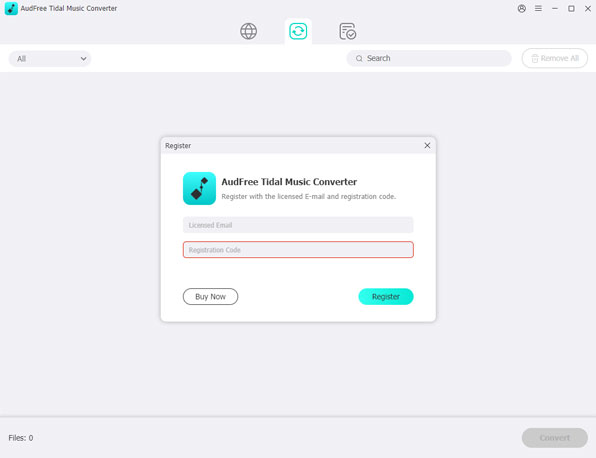 Key Features
1. Download Tidal songs without losing quality for offline use.
2. Convert Tidal music to AAC, M4A, MP3, M4B, etc. at 5X speed.
3. Unconventional tag recognition technology to keep the original ID 3tags.
4. Adjust music parameters and output quality with flexibility.
5. Some well-known music streaming services and apps, including Tidal, enable their users to enjoy music as playback on registered devices.
Pros
Sort out songs based on album/artist
Free updates and great technical support
No need to install Tidal music app
Cons
Support 4 languages only
No additional audio tools
Part 5. Best YouTube Music Converter
Whenever we talk about music, no one can forget YouTube as this is one of the best things that can be used. YouTube is a platform that where music videos are present and can be seen. Watching videos is okay, but it can also become quite a hassle when you only want to listen to music. For that one reason, there are free music converters. 4K Video Downloader is the best YouTube Music Converter one can use for downloading MP3 files from the Internet.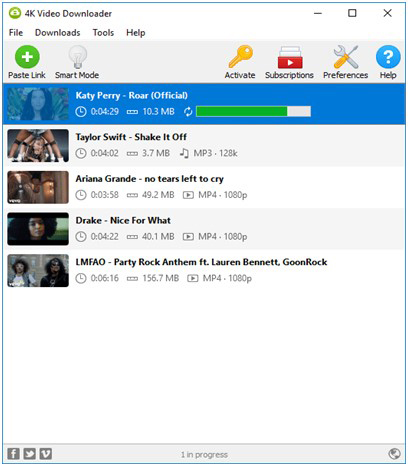 Key Features
1. This software enables you to get audio from video clips.
2. It offers support for 360-degree and 3D video.
3. Offer faster video downloading and conversion.
4. Use this tool to download YouTube videos, edit them, and create amazing slideshows.
5. You can get the video on your device by copy-pasting the YouTube video link.
Pros
Offer money-back guarantee
Compatible with Linux, Mac, Windows
Enable you to save full playlists and channels from YouTube
Batch download songs
Cons
You'll have to install an external app for the paid and free versions
Part 6. Top 2 Best Free Music Converter
Having music converters is great; however, what if the best free music converter. The first thing that can cross your mind is the best free music converters that can be used anytime with ease. Let's dive in and have a look at the top 2 best tools.
Freemake Audio Converter
The Freemake Audio Converter converts all the music files between 50+ audio formats. You can convert MP3, WAV, M4A, WMA, AAC, FLAC files easily. Moreover, you can extract audio from video.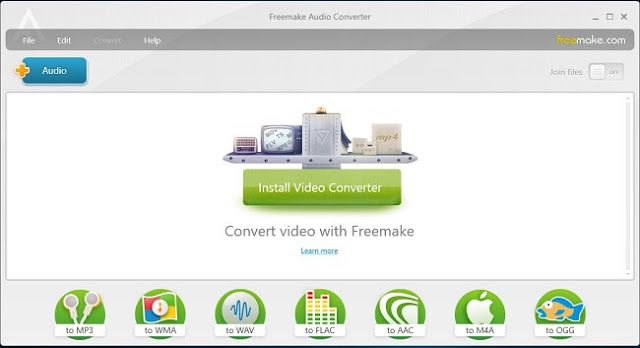 Key Features
1. Change channels, sample rate, and bitrate of the audio file.
2. Carry out the batch conversion of several audio files to the same format.
3. Merge audio recordings of any format into one single audio file.
4. It has 50 input file format support that can be converted into eight different output formats.
Pros
Convert more than one audio file consecutively
Supports common audio file formats
Multiple audio files can be merged into one and converted to a new file format after that
Adjust the quality of the converted file
Cons
It won't convert audio files longer than 3 minutes
Media Human Audio Converter
Media Human Audio Converter is a freeware application that can be used for both macOS and Windows. It can help you change music free and a bunch of others.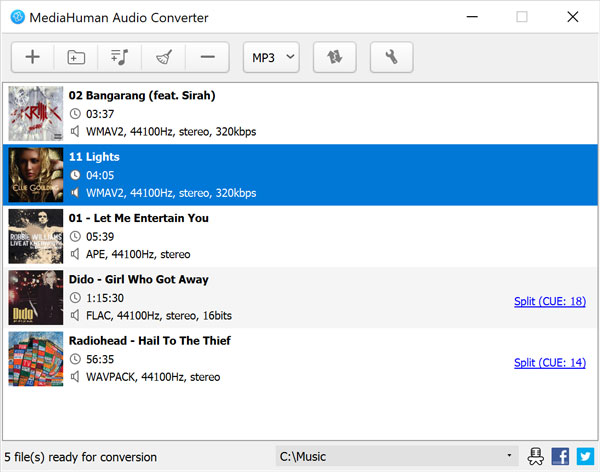 Key Features
1. Converts between all the main audio formats.
2. Converts multiple files at the same time.
3. Splits lossless tracks by CUE sheet.
4. Extracts audio track from video.
5. Keeps folder structure.
6. One more advantage is that Media Human Free Music Converter supports multi-languages.
Pros
Simple and easy-to-use user interface
Convert to and from an extensive range of formats
Convert music files and songs from iTunes playlists
Optionally auto-import songs into iTunes after conversion
Cons
Part 7. Top 2 Best Online Music Converter
The best music is mostly available on the Internet, and it is widely heard by almost everyone all around the world. Downloading the music has become quite a hassle, as it requires long working processes and owning a paid account to have access to heavy songs.
Convertio
Convertio is a great free online music converter that converts any audio file within seconds. It offers several amazing features. Let's dive in and look at some of the great features it has to offer to the users.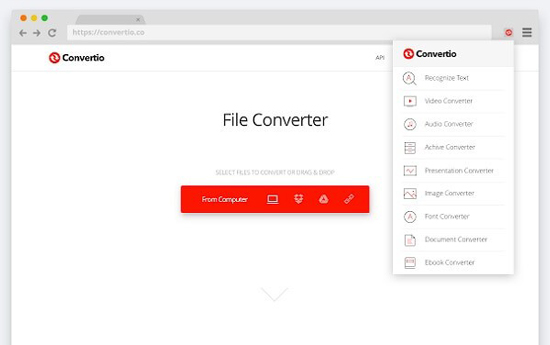 Key Features
1. Enable you to add audio from direct URLs or integrated cloud services.
2. It offers a batch processing option that saves a lot of effort and time by converting several files at the same time.
3. The interface is very simple and doesn't need any extra actions.
4. The online music converter supports all the common and mostly used audio file formats such as OGG, WAV, MP3, WMA, and others.
5. You can use Convertio in any browser and on any device.
Pros
Works on all platforms
Integrates popular cloud services
Security and privacy are guaranteed
Fast with batch processing and easy to use
Cons
The free version limits to 100 MB per file
Online Audio Converter
The Online Audio Converter is the best online music converter tool for individuals working with a song or music collection. The conversion procedure enables you to change a file's metadata, such as artist name, album title, track name, genre, and release year.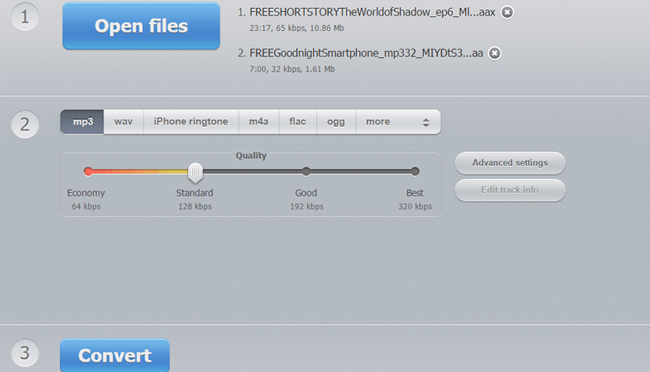 Key Features
1. It supports seven different file-formats including, WAV, MP3, M4A, FLAC, MP2, OGG, and AMR.
2. Select multiple audio files at once.
3. Edit audio file info.
4. Change sample rate, bitrate, and channels (stereo/ mono).
5. Upload from the computer, Google Drive, Dropbox, or URL.
Pros
Easy to use
Convert into a number of different formats
It can be used on different browsers
Cons
Limited file editing options
In Conclusion
Having a music converter is great but having a free music converter is great and awesome when you can easily manage and get the music files. There are top 9 best music converters for streaming music, online and free for your references. Just pick out the one that suits you the most and get the music party started.