AirPlay is Apple's casting feature, which allows you to cast videos straight from your iPhone to the TV. AirPlay sets you free from the hassle of connecting your device through wires. Not just iPhone, AirPlay allows you to stream videos and audios from different Apple devices, such as your Mac, iPod Touch, and even iPads. Since your device will have multiple apps, and most probably, Spotify is one app you may have, you may wonder if you can play Spotify through AirPlay. So, if you want to know whether you can connect Spotify to AirPlay, the answer is yes, and this post will help you understand how.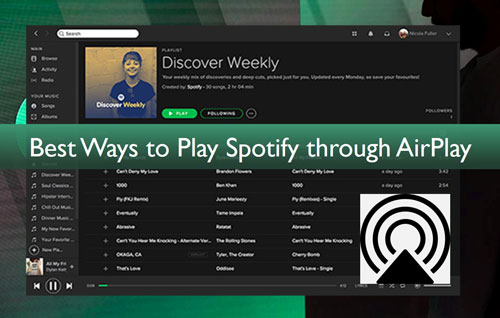 Part 1. How to Stream Spotify from iOS to Mac through AirPlay
With the help of the iPhone Spotify AirPlay, you can now easily stream Spotify songs from an iOS device to Mac. However, there is one thing that you will have to keep in mind, which is using AirPlay to stream Spotify songs from iOS to Mac will consume a lot of space. Moreover, your iPhone or iDevice must have enough phone memory to be able to use this feature.
If you are ready to use the phone's space and have a stable Wi-Fi connection, follow these steps to conveniently play Spotify music on your Mac through an iDevice. AirPlay will keep playing in the background, which means you can use your device normally as well. Here are the steps to follow.
Step 1. Connect your iPhone and Mac using the same Wi-Fi service. Ensure that the Wi-Fi network is the same.
Step 2. Now, on the computer, you need to hold the Alt key along with that press the Volume menu bar icon.
Step 3. After that, you need to open the Menu bar. Once opened, you need to select the speaker icon. Under the AirPlay devices, please choose your iOS device (your iPhone).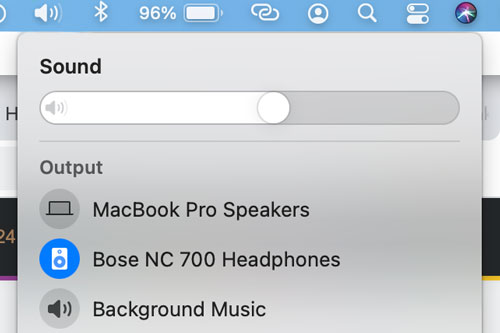 By following these three easy steps, you should be able to play Spotify songs via your iPhone to your Macbook. So, this way, you will connect Spotify via AirPlay and be able to play Spotify Mac AirPlay.
Part 2. How to Play Spotify through AirPlay on Apple TV
Another benefit of using AirPlay is that it will let you connect Spotify on Apple TV too. This way, you can directly stream all your favorite Spotify tracks on Apple TV and enjoy your music whenever you want to. Just ensure that you have an active Spotify plan and then follow these steps to get things started.
Step 1. Turn on your Apple TV and ensure that your iOS device and Apple TV are connected to the same Wi-Fi connection.
Step 2. Launch your iOS device and open the Spotify application. To mark the control center, just swipe up from the bottom of your iPhone.
Step 3. You will have to enable Bluetooth, so ensure it's on. Now, click on the AirPlay option, and from the devices, please select Apple TV to stream Spotify to the AirPlay device.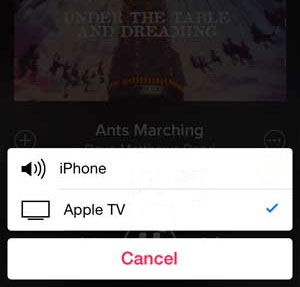 Step 4. After your iPhone is synced with the Apple TV, just browse through the Spotify songs that you want to listen to and click on the song.
So, that's it. This is how you can connect your iPhone to your Apple TV and connect them via AirPlay to play Spotify songs without any hassle.
Part 3. How to Play Spotify through AirPlay on HomePod
If you have a HomePod and want to listen to Spotify songs via your iPhone, AirPlay will let that happen too. All you need to do is connect HomePod and AirPlay to start streaming Spotify songs because if you don't, your HomePod will begin playing songs from Apple Music. And does Spotify support AirPlay HomePod? The answer is yes, it does.
Step 1. Launch your iPhone and the Spotify application.
Step 2. Browse through the songs you have and select a song to start playing it.
Step 3. Once done, look at the bottom of the screen, and you will see the Speakers icon. Please tap on that.
Step 4. Under select a device, you need to click on AirPlay or Bluetooth.
Step 5. AirPlay will show you the active devices. From the list, you need to choose the HomePod.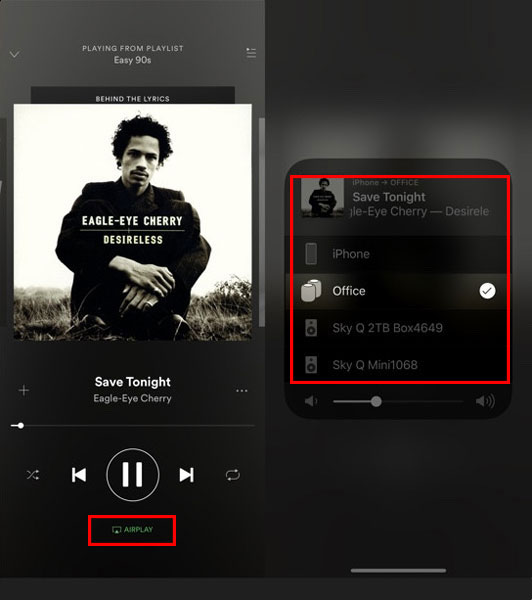 Step 6. If your HomePod is already playing music, you need to click on the Replace option to play the chosen Spotify song.
Just make sure that your HomePod is connected to your iPhone and you have set it up. If it is, playing the Spotify songs on HomePod will become easy.
Part 4. How to Play Spotify Music Anywhere without AirPlay
Although using AirPlay to connect two devices shouldn't give you any trouble, sometimes two devices may not connect for some reason. And when something like this happens, it is better to keep the Spotify songs ready to play them offline without the need for an active internet connection. Then, you can download the songs and play them on any iDevice you want without worrying about connecting two devices.
And the best tool to go for to download Spotify songs is AudFree Spotify Music Converter. This professional Spotify song converter and downloader can download unlimited Spotify songs. Not just songs, it can also download MP3 from podcasts, an entire album, and even whole podcasts. The downloaded Spotify tracks are playable through AirPlay on any device you want. So, download AudFree Spotify Music Converter, let it get installed on your Mac or Windows computer, and start using it.
How to Use AudFree Spotify Music Converter
Step 1

Launch AudFree Spotify Music Converter

First, you need to launch AudFree Spotify Music Converter on your computer and import the Spotify songs you want to convert and download. Then, you can copy the URL of the song, else, drag and drop the song.
Step 2

Customize the audio parameters of Spotify songs

Go to the Preferences tab and choose an audio format. Then, select the channel, sample rate, and bit rate. Along with that, you can select an output folder as well where you will want the songs to get downloaded.
Step 3

Convert and download Spotify songs

Click on the Convert option and allow AudFree Spotify Music Converter to start converting your songs at 5X speed. The songs will be downloaded in the folder that you have chosen. Alternatively, you can find them in the Converted tab as well.
Step 4

Play songs through AirPlay on any Apple device

Launch iTunes on your computer and upload all the converted and downloaded songs. Once done, you can start playing the songs directly from iTunes.
Conclusion
You finally have the answer to your question: Can Spotify use AirPlay and stream Spotify to AirPlay. AirPlay is a helpful screencasting feature of Apple, and it lets you stream Spotify songs too. But if you fail to do so, download AudFree Spotify Music Converter, download your favorite Spotify songs, and start listening to them on multiple Apple devices.