Q: "Can you play Spotify on multiple devices simultaneously? Every time when I begin to listen to Spotify playlists on another device, it will be paused to playing music tracks on the current device automatically. As I known, Spotify offers users to use Spotify on three devices with Spotify Premium subscription. Is that right? If you have successful experience with this, could you share with me?"
In general, Spotify premium subscribers can listen to Spotify songs on more than one device, but the premise is that you have downloaded music offline on your computer. If not, you can only use Spotify on one device at a time and the music will cut off on the previous device.
While, please don't worry! In this article, we will show you top 5 workarounds on how to make Spotify play music on multiple devices at the same time, and one way for Spotify free users to succeed with the same task.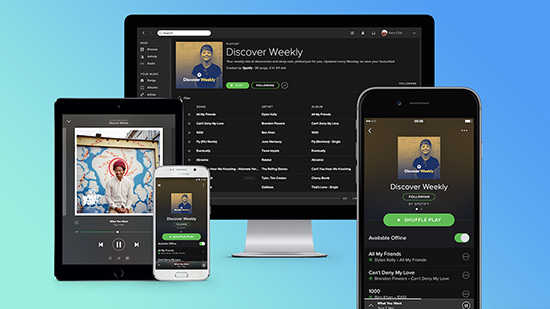 Part 1. How to Play Spotify on Multiple Devices in Spotify Offline Mode
As what we mentioned above, Spotify offers the offline playback feature for subscribers to listen to Spotify songs, playlists, podcasts and other tracks on up to three devices. By using the official way, you need to download Spotify content offline in advance. Just upgraded to Spotify Premium, and then please refer to the following complete guide.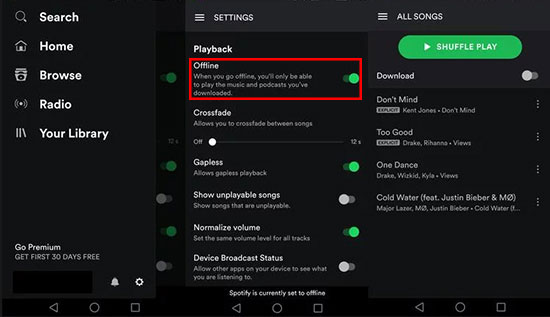 Step 1. Open Spotify app on your devices, like computer, mobile phone, iPad, etc. and login your Spotify Premium account details;
Step 2. Discover a favorite Spotify playlist that you'd like to play on multiple devices, open the target playlist, and then you can see the "Download" option. Please click it to start downloading music to your device;
Step 3. Now, enable offline mode. On PC, click a three-dot icon on the top left > choose "File" > "Offline Mode"; On Mac: go to "Spotify" on the top menu bar > select "Offlie Mode" from the pull-down list; On mobiles: please navigate to the settings window, choose the "Playback" button to switch on "Offline" feature;
Step 4. Go to your other devices and login the same Spotify Premium account on Spotify app. You can play offline music on up to three devices simultaneously without limits.
Part 2. How to Listen to Spotify on Multiple Devices with Family Plan
Spotify Premium for Spotify is designed for five people who reside at the same address. So if you'd like to play Spotify music on other devices, it's also an alternative way to make it possible.
It costs $14.99 per month, which is only more $5 than Spotify Premium's price. But you can listen to different Spotify songs on different devices as you like. Also, you can share this plan with others who live at your same address, as everyone has the individual accounts to play their own music on their devices.
You can directly subscribe Spotify family premium plan or upgrade your Spotify Premium account, all saved songs and recommendations on Spotify will come with you. After that, you can play songs and playlists on up to five devices offline or online as you like.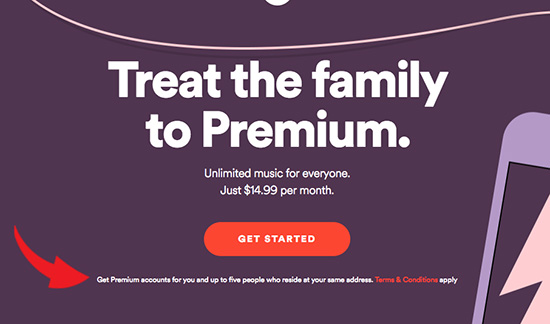 Part 3. How to Stream Spotify on Multiple Devices by Spotify Connect
Spotify Premium plan also comes with the Spotify Connect feature, with which you can stream Spotify music to multiple smart speakers, like Sonos, Amazon Echo, Google Home, etc.
When Spotify app is available for smart speakers, you can directly connect Spotify to the target speaker and define Spotify music as the default streaming music service. Here, we will take Sonos as example to show how it works.
Step 1. Download Sonos app on your computer and launch it to navigate to "Music" bar and hit on "Add Music Service" button to select "Spotify" option. Next, you will be required to Spotify account for Premium;
Step 2. Open Spotify app on your device and play one Spotify playlist. Then tap the "Devices Available" option, where you can choose Sonos speaker as the target device. Now, Sonos speaker will play Spotify songs.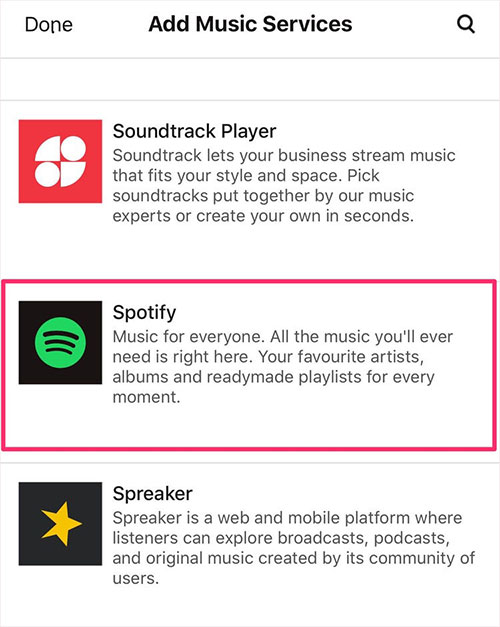 Note: Please make sure your Sonos speaker and device are connected to the same Wi-Fi network. As for the detailed tutorial on playing Spotify on Sonos speaker, please visit this page: How to play Spotify music on Sonos.
Part 4. How to Use Spotify on Multiple Devices via SoundHound
In addition to methods above, SoundHound is introduced as another proven trick for those who have subscribed to Spotify premium service to play Spotify music on multiple devices. It works by accessing your Spotify account and streaming Spotify playlists on one device without pausing Spotify on another device.
Though, this app is a mobile app for Android and iOS devices, not available on laptops and computers. Also note that you fail to play an individual Spotify song on SoundHound. If you want to do this, you have to add the single song to a playlist to play on SoundHound. By the way, there is no access on SoundHound for you to search Spotify tracks. Thus, it is better for you to prepare all songs that you follow to a new playlist in advance.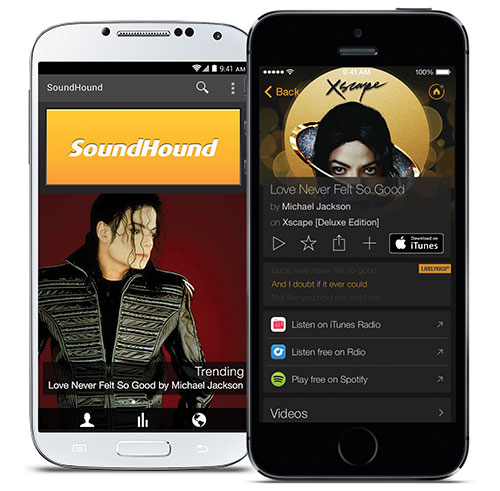 Step 1. Download and install SoundHound on your mobile phone;
Step 2. After opening it, hit on the "Play" button at the lower right corner and followed by "Connect with Spotify";
Step 3. Connect SoundHound to Spotify premium account once you create a SoundHound account;
Step 4. When SoundHound gets into Spotify account, choose any Spotify playlist to start playing;
Step 5. The playlist playing on SoundHound doesn't affect Spotify on your other devices. In this way, you can listen to Spotify music on 2 mobile devices at the same time without difficulty.
Part 5. How to Enjoy Spotify on Multiple Devices Using AmpMe
Just like SoundHound, AmpMe is also developed as a third-party app for iOS and Android users to sync music for playback on multiple devices in the meantime. If you have a Spotify premium account, but don't own different speakers with which Spotify is compatible for music playback on multiple devices, it wouldn't do you any harm to try this app. Remember to connect all your devices to the same network prior to acting.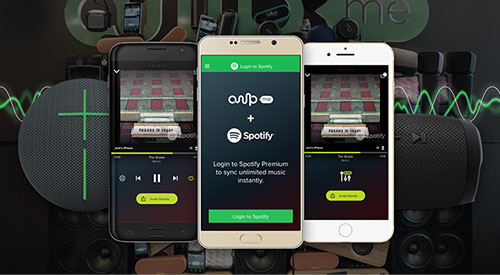 Step 1. Firstly, download the AmpMe app from Google Play Store or App Store and install on your Android device or iOS device;
Step 2. Then, open AmpMe and choose "Spotify" from "Start a new party" to host a party. Whereafter, you will be required to log in to your Spotify premium account;
Step 3. Install AmpMe on your other devices. After running it, join the same party and wait all your devices to sync up;
Step 4. After successful synchronization, choose your favorite Spotify tracks to stream on multiple devices at a time.
Part 6. How to Play Spotify on Multiple Devices at Once without Premium
Each of the approaches above is useful in streaming Spotify music on multiple devices at the same time, but do note that they work perfectly for Spotify premium subscribers only. So, what to do if there is no such subscription? Here, AudFree Spotify Music Converter comes out to address the restrictions in a reasonable manner.
Using AudFree, any Spotify user can download an unlimited number of music tracks from Spotify to MP3, M4A, M4B, AAC, FLAC, WAV, and save them to local computer for offline playback on all players and devices without premium.
It applies state-of-the-art technology, which can make sure that there is zero loss sound quality and original ID3 tags during conversion. Designed with a clean user interface, it is insanely simple to operate, requiring no professional technology skill. If this is your first approach with such a tool, you might do as instructed below.
The stepwise guide shows you how to play Spotify on multiple devices at the same time with premium by use of AudFree Spotify Music Converter.
Step 1

Add Spotify music to AudFree

In the first place, you should download and install the right version of AudFree Spotify Music Converter on your computer. After you launch AudFree tool for Spotify, you can drag and drop any content from Spotify to its main interface for uploading, or copy and paste the URL of Spotify tracks to the search box and touch a "+" icon to load Spotify files.
Step 2

Set output profiles for devices

Secondly, select output format and set parameters for your devices. To do it, please navigate to the "Preferences" from a three-line option > "Convert" section. Then, the format setting window will pop up. Here, you can select any export format as you wish and customize output quality quality by adjusting sample rate, bit rate, etc. Upon completion, hit on "OK" to confirm settings and bring you back to the main window.
Step 3

Download Spotify for multiple devices

In the last place, just simply tap on the "Convert" button at the bottom-right corner, and AudFree Spotify Music Downloader will automatically download and save Spotify files offline on computer for syncing. Transferring these downloaded Spotify tracks to all your devices, you get access to listen to Spotify offline without premium on multiple devices.
Final Verdict: Play Spotify Music on Multiple Devices
Speaking of playing Spotify songs on multiple devices, it depends on what's subscription you have. If you are subscribing Spotify Premium, you can select any method from the first five ones to stream Spotify music on different devices.
If you'd like to get more convenience when listening to Spotify songs on devices, no matter you are using Spotify free or premium account, the ultimate solution is to use AudFree Spotify Music Downloader to locally save Spotify music to computer. And then, you can listen to all Spotify tracks on all devices at the same time for free.