If ever you've wanted to search online for that piece of music that's humming in your head, then there's every chance that you will find it in Apple Music. You can not only play your song, but find more songs, music videos, artists, live radio stations, playlists, and albums in Apple Music. So if you're not familiar with Apple Music, then it's time you've discovered the plethora of features that make Apple Music the preferred music destination for all your music needs.
Apple Music is a subscription-based music streaming service that lets you listen to more than 60 million songs. Listen online (music.apple.com) or listen offline, you will find music in all genres, play on so many devices, and find curated playlists that reflect your listening preferences.
Curious to know more? Then we have given a list of Apple Music FAQs that is sure to furnish you with enough info and answer all queries you might have about Apple Music. Here goes:

#1. What Is Apple Music?
Apple Music is subscription-based music and video streaming service. For the first 3 months, you can hear music tracks and see music videos of all your favorite artists for free. You can listen to any music track you want without downloading it. After the trial period ends, you can purchase from three subscription plans: Individual Plan of Rs 99/month, Student Plan of Rs 49/month, Family Plan of Rs 149/month. All subscription plans support ad-free music streaming, online and offline listening, access to over 60 million songs.
#2. On Which Devices Can I Play Apple Music?
Apple Music supports all ios devices (iPhone, iPad, iPod Touch), Windows/Mac PC, Apple TV, Apple Watch, Android Smartphones, HomePod, Sonos. It is available on all devices running ios 8.4 or later versions. Mac/Windows running iTunes 12.2 or later versions also support Apple Music, and Apple Watch with 1.0.1 or later also runs Apple Music. You will have to log in with your Apple ID on those devices to start using Apple Music.
#3. Can I Play Apple Music with Siri?
Siri can play any music tracks from Apple Music. Siri takes voice commands from you and can play music based on title, artists, albums, playlists, or radio stations. It can add songs to playlists, music library, or albums. It can also let you search for music based on its lyrics, and finds out more about the current song being played. It can play similar songs, search for specific songs, and even control music playback with "Play music", "pause music", "next song", "stop" and "previous song" voice commands.
#4. Is Apple Music the same as iTunes Music?
No. Apple Music streams in an M4P audio format, and when the subscription expires, you no longer have access to Apple Music even if you have downloaded them in advance. On the contrary, you get to own and keep all the music you purchase from the iTunes store. iTunes music purchased and downloaded after 2009 is encoded in M4A format, which could be playable on compatible devices without a problem. M4A is a file extension created by Apple and used in QuickTime audio files, which applies AAC audio coding without DRM protection.
#5. Can I play Apple Music on Alexa?
Yes. You can play Apple Music on Alexa enabled speakers like Amazon Echo, Sonos One, Amazon Echo Dot, and even with Amazon Fire TV. Simply link your Apple device with your Alexa enabled speaker, and Alexa will play your music with your voice commands. You can even set Apple Music as the default music service on Alexa, so that every time you want to play albums, tracks, playlists, it will play from your Apple Music only. You can unlink Apple Music from Alexa after use and reconnect the two whenever you need it.
Bonus Tips: How to Keep Apple Music Forever
Among the Apple Music features is DRM protection. It means that after your Apple Music free trial ends, all the songs you have saved in your library from Apple Music cannot be played. Neither can you play Apple Music on any media player because of the DRM protection. So what's the best way to enjoy Apple Music forever?
Introducing AudFree Apple Music Converter, the best tool to remove the DRM protection from Apple Music and convert it into the most common audio formats!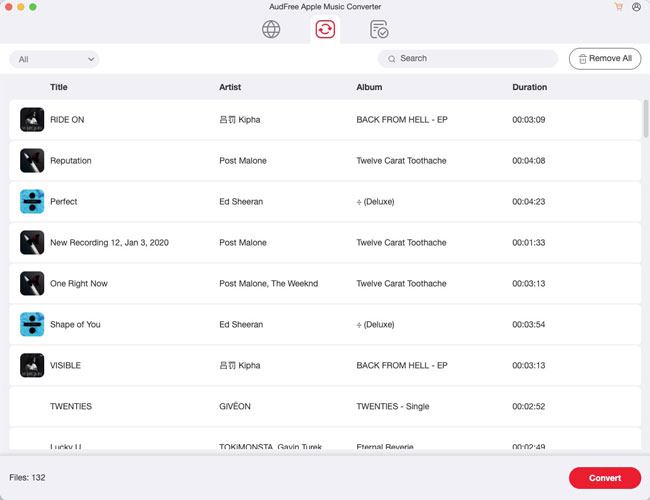 Step 1. Import Apple Music files in AudFree
Download all Apple Music files that you want to keep with you from Apple Music. Launch AudFree Apple Music Converter and import all Apple Music songs by clicking the Add Files button.
Step 2. Customize the audio format
You can do this by clicking on the 'format' icon from the bottom-right corner and select your ideal output format for Apple Music. You can also select Bit Rate and other available pre-set audio parameters.
Step 3. Start the conversion process
Click the 'Convert' button and you will see the files being converted into your selected audio format. It will remove the DRM protection from Apple Music so that you can keep Apple Music with your forever. After the conversion, you can click the Converted button and see all the converted files in the destination folder.
In Conclusion: With the list of the Apple Music FAQs, we hope that you have found your Apple Music guide that answers all your unanswered queries. You can follow the steps if you are looking for an easy way to keep Apple Music with you forever. With a few clicks of your mouse, you will be on your way to enjoy the best music available on Apple Music.