Recently, plenty of Apple Music users start to complain that Apple music won't download songs. Others state that on hitting the download button, the button spin for a while but download nothing. If, in any way, you bumped into the same problem that your Apple Music songs won't download, take it easy. We've examined the error, troubleshoot it, and came out with several ways to solve the error Apple Music won't download songs. Let's break it down now.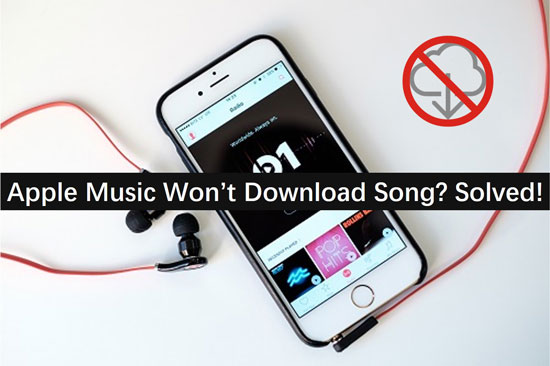 Why Won't My Apple Muisc Download Songs: Solutions
1. Check Your Network
One of the most likely reasons songs won't download on Apple Music is a bad network. So the first fix in diagnosing such errors is to check the quality of your network.
Step 1. Check if your WiFi or Cellular data is on.
Step 2. If using cellular data, on iPhone, head over to Wireless Data to see if Apple Music has access to mobile data.
Step 3. Confirm that Apple Music has permission to download songs. Enabling this function increases data usage.
2. Restart Your Apple Music App
Restarting the Apple Music app has worked for many users, and it might work for you too.
Step 1. Double-click the Home Button.
Step 2. Slid it up the Apple Music App to close it.
Step 3. iii. Start Apple Music again on the Main page.
3. Restart Your Device
This is another solution that has wok great for many iPhone users. Smartphone accumulates junk file over time which prevent apps from running smoothly. This can be a reason enough that makes Apple Music won't download songs. Therefore, restart your iPhone and see if it will fix the problem.
Step 1. Press and hold the Power key of your smartphone for some seconds.
Step 2. Slide to shut it down.
Step 3. Press the power button to turn your phone on again.
4. Re-login Your ID
Apple ID gives access to all Apple Music services. Re-logging in your Apple ID might fix "Apple music won't download error".
Step 1. Head over to the Settings in Apple Music app
Step 2. Navigate your name, and scroll down to hit the Sign Out button.
Step 3. Then sign in back to your ID and try to execute song download again.
5. Turn Off and On "Show Apple Music"
Another method to address the problem of why songs won't download on music is switching "Show Apple Music" utility off and on. This function initiates Apple Music. Turning it off hides Apple Music and presents a chance to relaunch Apple music.
Step 1. Head over to Settings.
Step 2. Select Music.And find "Show Apple Music." Slide to turn it off. Then slide to turn it on again and check if you can execute song download.
6. Update or Reinstall Apple Music App
An outdated Apple Music app has vulnerabilities, which might be the reason why you can't download Apple Music.
Step 1. Head over to the App Store and find the Updates. Slide down to refresh the available updates.
Step 2. If there is an update, hit the Update buttonfunction increases data usage.
If there is no update, you'll see an "Open" button beside the App, meaning the app is in its latest version. In such a case, uninstall the app and reinstall it.
7. Update iOS System
Updating your iOS system is another powerful and smarter way to solve the problem Apple Music won't download. The outdated iOS system might have issues, and executing an update may get rid of errors on Apple Music. Here is how you execute a system update on Apple.
Step 1. Head over to Settings and locate and hit the "General" button to confirm the current system version.
Step 2. If there is an update, you'll see "Software Update." Hit the "Install Now" option to start the update.
Ensure your battery is over 50% before executing a system update.
8. Contact Apple for Help
If all the above methods fail, the remaining viable solution is to contact Apple for further assistance. They might help even replacing your device if the problem persists.
More Tips: Enjoy Apple Music Download Anywhere
Hopefully, you were able to solve the problem Apple Music won't download. Now the next important thing you might be considering is, how do you enjoy Apple Music download everywhere? On any device? Without limitation?
All Apple Music has a DRM. You can't listen to them on non-authorized players. And that's a limitation for a music lover. You'd like to listen to music everywhere. And that's why there is a professional tool that would convert any Apple Music to MP3 or other plain formats to improve the listening experience.
Here, Audfree Audio Converter, the best Apple Music converters, is your first choice. this intelligent software adopts a sophisticated converting tech that allows you to make Apple Music more listenable. Let's check how to utilize its utilities. Now let's check how it works.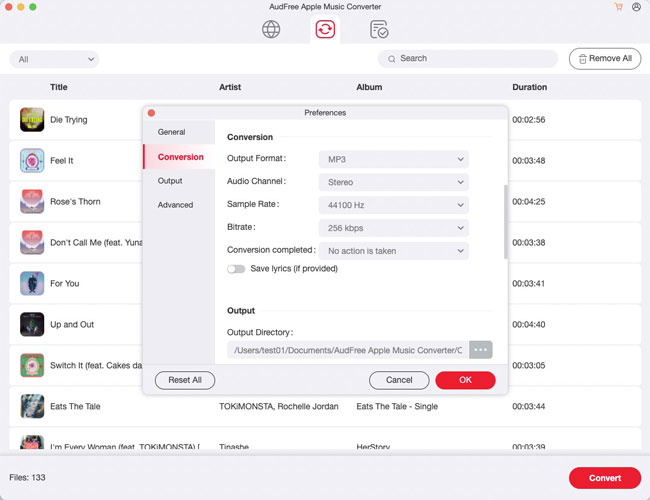 Step 1. Launch and register AudFree Audio Converter. After the installation, hit the software icon to run it. This automatically launches iTunes on Windows computers and Apple Music on Mac devices. On the menu bar, find "Register" to input your license key.
Step 2. Download the tracks you prefer into Apple Music library. Then hit the first "Add" button from the bottom-left corner to select and import your audios into AudFree.
Step 3. Personalize output format and additional preferences. Hit the "Edit" button or the "Format" icon on Audfree to customize the output format. The tool will present several format and editing options, chose that fit you. Click the "Effect" button if you want to edit the ID3 tags or want to split large audios.
Step 4. Initiate the conversion of Apple Music tracks. Then click the "Convert" button to initiate the audio conversion. When the app finishes, go to the history folder, you'll find tracks that you can freely transfer and listen to everywhere.
Conclusion
We have covered many troubleshooting tips to help you out when songs won't download on Apple music. Furthermore, you can engage the trusted software to convert downloaded music to MP3 for offline playback. The steps are simple to the later.