Logic Pro is keenly favored by music producers as a powerful and famous digital audio editing software. It not only edits and produces music, but also provides software instruments, audio effects and recording facilities for music production. In the meantime, Apple Music has become a better source for music editing and production due to its vast and rich music library and superior sound quality.
However, at this point, when someone tried to import Apple Music to Logic Pro, they unexpectedly found it impossible to achieve this goal. So, what's going on here? Is there any other possible way to make it possible? Never mind, this post will discuss these questions in detail and provide an advanced solution to make Logic Pro X and Apple Music integration possible. Please read on to find the answer below.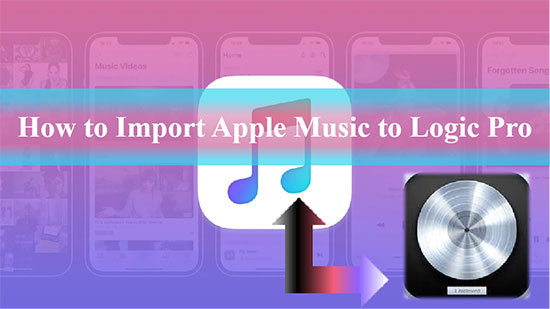 Part 1. Why Can't You Use Apple Music in Logic Pro Officially
Logic Pro is well-known in the market as a fantastic digital audio editor and has been acquired by Apple in early 2011. Because of the connection with Apple, many people instinctively thought that transferring songs from the Apple Music library to the Logic Pro project would be a simple task. But it turns out we all thought wrong.
As a matter of fact, any Apple Music is protected by Apple's digital rights with a unique encoding technology in order to prevent copying and piracy. As a result, Apple Music cannot be extracted to any other media application for mixing or recording, and Logic Pro is certainly among them. Therefore, you don't have the power and ability to get and play Apple Music on Logic Pro officially.
Part 2. What You Need to Make Apple Music & Logic Pro Work Together
Since any audio from Apple Music is protected, if you are eager to import Apple Music to Logic Pro X, converting Apple Music to MP3 or other unprotected audio formats supported by Logic Pro will be a prerequisite. Therefore, you desperately need an Apple Music converter.
Fortunately, AudFree Apple Music Converter will undoubtedly give you a leg up. It is a professional Apple Music converter specially designed to convert Apple Music to common formats, including MP3, WAV, etc. Besides, it also provides conversion services for Audible books, iTunes songs and audiobooks as well as common audio tracks. That's to say, you can also add iTunes songs, Audible and iTunes audiobooks to Logic Pro for editing.
In this way, even though Apple Music files always have a special format that is only compatible with Apple licensed devices, with AudFree Auditior as the best assistant, the task of adding Apple Music to Logic Pro will become quite simple. Then you'll have the freedom to play Apple Music on multiple devices, including Logic Pro, whenever and wherever you want.
How to Convert Apple Music for Logic Pro
Step 1

Launch and Register AudFree Auditior

Make sure you have downloaded AudFree Auditior on your computer. After installation, launch the software. Then click on the menu bar of the interface and tap the Register button. After that enter your license key to activate the full version of AudFree Auditior.
Step 2

Import Apple Music to AudFree Apple Music Converter

You can go to your computer's hard drive and find the Apple Music files, then drag the tracks you need to convert to AudFree Auditior's conversion window. If you like, you can also use the first Add button to import Apple Music files. Remember that the second button is for adding regular audio.
Step 3

Customize Apple Music Output Formats for Logic Pro

Once Apple Music has been added to AudFree Auditior, simply click the Format button. Then you are able to select the Apple Music output format. For example, you can convert Apple Music to MP3 or other formats that are compatible on Logic Pro. After that, you are capable of choosing to define audio properties such as codec, channel, sample rate, etc. for using high-quality Apple Music on Logic Pro X.
Step 4

Convert Apple Music to Logic Pro-supported Tracks

Now click the Convert button in the bottom right corner of the interface and AudFree Auditior will start converting your Apple Music. Once it is done, you can see the converted Apple Music in the History folder. And these audios will be automatically saved to your computer's local files for later viewing. In this way, you can freely transfer Apple Music to Logic Pro and any other music producing software you like.
Part 3. How to Import Apple Music to Logic Pro
Now, after converting Apple Music to standard audio format, all your Apple Music can be used on any application or device. Next, let's try to connect Logic Pro X and Apple Music for getting many wonderful music sources. Just follow the steps below.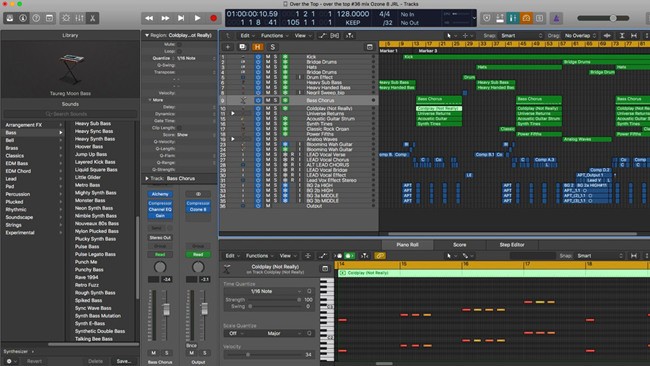 Step 1. Start Logic Pro X software and select or create an audio track from the Tracks area. Then select the File button on the interface, then choose the Import option, and finally click Audio File button.
Step 2. At this point you will launch a new window. Browse and find the default storage location of your Apple Music from the file. In turn, directly select the unprotected Apple Music files you just converted before and tap to Import button. All Apple Music will then be automatically imported into Logic Pro X. Now you can use any Apple Music in your Logic Pro projects without any limiting condition.
Part 4. Summary
Are you keen on importing Apple Music to Logic Pro X and making your music production without any limiting condition? Then never miss this comprehensive AudFree Apple Music Converter. You'll find that using Apple Music on Logic Pro has never been easier. Go ahead and try it out now, connect Logic Pro X and Apple Music, thus explore the endless possibilities of popular streaming music service and the digital audio workstation and MIDI sequencer software application.