Q: As a loyal Apple Music fan, I have subscribed to Apple Music streaming service so that I can download Apple Music songs for offline listening with the 'Make Available Offline' option. But I meet some obstacles when I transfer downloaded Apple Music to MP3 player due to DRM protection. How can I remove DRM from Apple Music so that I'm able to listen to Apple Music tracks anywhere?
Actually, like many other music streaming services, Apple Music uses Digital Rights Management technology to protect its content from piracy. If you want to make Apple Music DRM free and keep your favorite songs forever, you've come to the right place. In this article, we'll explore 4 excellent Apple Music DRM removal solutions to make it possible.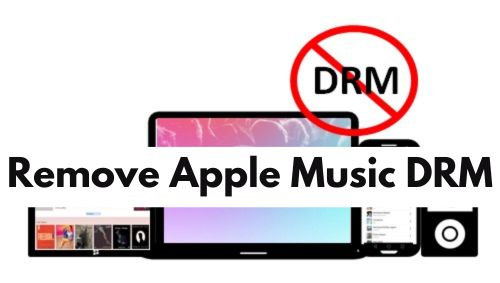 Part 1. FAQs about Apple Music DRM
Q1: What Is Apple's FairPlay DRM Technology?
A: FairPlay is Apple's proprietary DRM (Digital Rights Management) technology that is used to protect digital content, including music, movies, and TV shows, from unauthorized copying and distribution.
Q2: Is Apple Music DRM Protected?
A: Apple Music songs purchased from iTunes after 2009 are DRM free. And all other Apple Music songs are DRM protected, which means you can only play them on Apple-authorized device and software.
See More: How to Remove DRM from iTunes Music
Q3: Why We Need to Remove Apple Music DRM?
A: DRM limits the number of devices on which a user can play Apple Music and also restricts the ability to share or transfer files. Removing Apple Music DRM can bring several benefits, some of which are listed below:
📌 Free to listen to Apple Music on any device.
📌 Listen to downloaded Apple Music without activating your subscription.
📌 Ability to share Apple Music songs with friends and family.
📌 Backup Apple Music files to any device or cloud storage service.
Q4: Is It Legal to Remove DRM Apple Music?
A: The legality of getting rid of DRM on Apple Music is controversial. Generally, it is legal to take DRM off Apple Music for personal use. But it is absolutely illegal to do it for commercial purposes.
Part 2. How to Find Apple Music DRM Protected Songs
Before using Apple Music DRM remover to remove DRM from Apple Music, you need to check if your songs are protected. Follow these few simple steps to find DRM protected songs in your Apple Music library.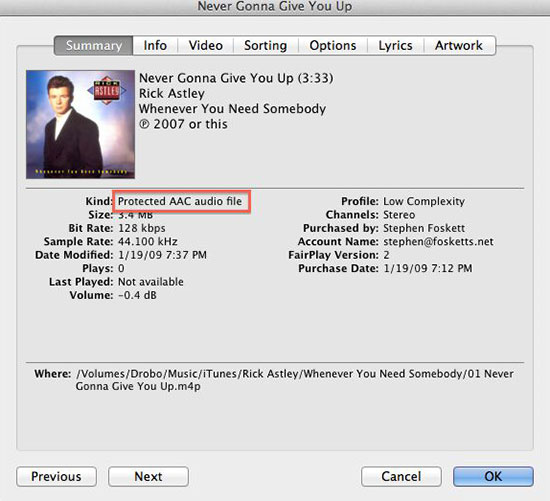 Step 1. Open the Apple Music app on your device and navigate to the song you want to check.
Step 2. Tap on the "..." button next to the song title.
Step 3. Select "Song Info" from the dropdown menu.
Step 4. Look for the "Kind" section in the Song Info window.
Step 5. If the file type is listed as "Protected AAC audio file", then the Apple song is DRM protected.
Part 3. How to Remove DRM from Apple Music - Best Apple Music DRM Removal
Songs downloaded from Apple Music are encrypted by FairPlay DRM copyright technology. When you cancel your subscription, all music streams will automatically disappear from your music library. That is to say, you can't really have the downloaded Apple Music unless you remove DRM from Apple Music songs. To break this limitation, you need a professional Apple Music DRM removal tool - AudFree Apple Music Converter.
It is designed to get rid of DRM from Apple Music while converting music to MP3, AAC, WAV, FLAC, M4A, M4B and so on. As the fastest DRM remover, this smart tool works 30 times faster without touching the original audio files. All ID3 tags can be 100% saved in the converted DRM free audio tracks. After that you can play Apple Music freely on any device and player and keep Apple Music permanently without paying subscription fee.
AudFree Apple Music Converter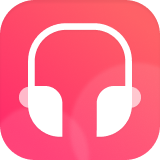 Remove DRM protection from Apple Music losslessly
Convert DRM Apple Music to MP3, WAV, FLAC, AAC, etc.
Play DRM free Apple Music on any device and media player freely
Work at 30X fast speed without touching original audio files
How to Remove DRM Apple Music via Best Apple Music DRM Removal Tool
Step 1

Import Apple Music M4P to AudFree Audio Converter

When you launch AudFree Apple Music Converter from computer desktop, iTunes will be opened automatically. And then, you can click the first 'Add Files' button to choose favorite Apple Music songs from iTunes library. Or you can directly import downloaded Apple Music streams to AudFree conversion window.
Note: Please make sure that you have downloaded Apple Music on your computer. And please authorize them to play on iTunes firstly and share the iTunes library with AudFree Audio Converter.
Step 2

Customize output format and other parameters

Apple Music files are encoded in M4P format, which is not compatible with many popular devices. Please click the 'Format' icon to open a new window, in which you can define output format as MP3, WAV, AAC, M4A, and more. And you can personalize the codec, sample rate, bit rate and audio channel as you like in this window.
Step 3

Remove DRM from Apple Music M4P to MP3

AudFree Apple Music Converter supports batch conversion to get rid of DRM from Apple Music songs. So you can import all music tracks that you'd like to unlock to AudFree. Once all settings are ok, please touch the 'Convert' button at the bottom-right corner of the main interface to start to remove DRM from M4P to MP3 with ease. After conversion, you can locate unprotected Apple Music on destination folder and transfer them to wanted devices for offline playback.
Part 4. How to Remove DRM Apple Music for Free - Requiem 4.1
If you are looking for a free Apple Music DRM removal software, then Requiem 4.1 is suitable. It is a software program designed to remove DRM protection from various types of media files, including music, movies, and eBooks. The program is free and open-source, and it is compatible with both Windows and Mac operating systems. However, it hasn't been updated in a long time. To use it, you need to downgrade the iTunes app to an older version 10.7 or lower.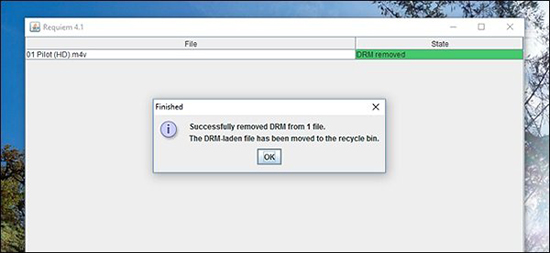 Step 1. Download and install Requiem 4.1 on your computer.
Step 2. Open iTunes and play the Apple Music songs you want to remove DRM from.
Step 3. Close iTunes and open Requiem 4.1.
Step 4. Requiem 4.1 will automatically detect the Apple Music songs you played in iTunes.
Step 5. Click on the "Remove DRM" button to start to remove DRM from Apple Music for free.
Part 5. How to Get Rid of DRM on Apple Music - iTunes Match
Since Apple Music songs purchased before 2009 are DRM protected, you can just use iTunes Match to unprotect Apple songs. iTunes Match is a service provided by Apple that allows you to store your music library in iCloud, making it accessible on all of your Apple devices. It also provides a way to take DRM off the songs that you have downloaded from Apple Music.
Step 1. Sign up for iTunes Match on your computer or iOS device.

Step 2. Wait for iTunes Match to scan your music library and match your songs with its database.
Step 3. Once your music library is matched, you can click the iCloud Download icon to download DRM free versions of your songs from iTunes Match.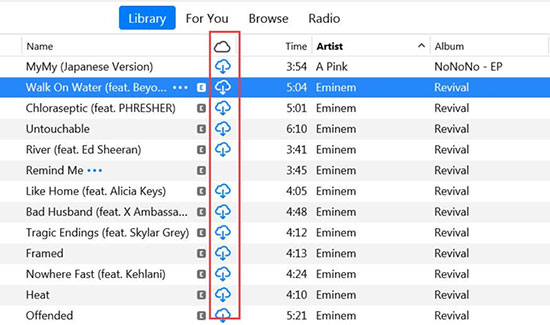 Step 4. You can then cancel your subscription to Apple Music and keep the unprotected songs.
Part 6. How to Make Apple Music DRM Free - Burn CD
The last method to mention is burning Apple Music to CD. When you burn an Apple Music song to a CD, the DRM protection is removed in the process. This allows you to then rip the CD back into your computer as an MP3 file, which can be played on any device that supports MP3 playback.
It's important to note that burning Apple Music songs to a CD and then ripping them back to your computer can result in a loss of audio quality. Additionally, this process can be time-consuming and may not be practical if you have a large music library.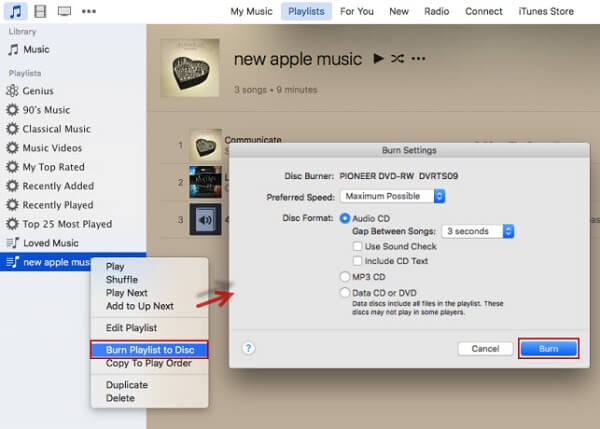 Step 1. Open iTunes on your computer and create a new playlist.
Step 2. Add the Apple Music tracks you want to make DRM free to the playlist.
Step 3. Insert a blank CD into your computer's CD drive.
Step 4. Click on the playlist you just created and select "File" > "Burn Playlist to Disk".
Step 5. In the pop-up window, select "Audio CD" as the disc format and click "Burn".
Step 6. Once the burning process is complete, eject the CD from your computer.
Step 7. Re-insert the CD into your computer's CD drive.
Step 8. Open iTunes and click on the "Import CD" button that appears in the top right corner.
Step 9. iTunes will begin importing the DRM free Apple Music songs from the CD into your library.
Part 7. In Conclusion
While there are several methods to remove DRM from Apple Music, each method has its own pros and cons. AudFree Spotify Music Converter is the best Apple Music DRM removal tool available for backing up unprotected Apple Music forever. Requiem 4.1 is a free DRM remover, but may not work with the latest version of iTunes. iTunes Match and burning a CD are also viable options, but may require additional steps.
Just take action and choose the most suitable method to enjoy DRM free Apple Music. If you have any questions, please feel free to leave them in the comments section.