Q: "I love Apple Music, and I think it's also one of the best streaming services along with Qobuz and Tidal. Also, I love Roon but don't understand why it cannot integrate with Apple Music. Is there any way to use Roon with Apple Music? That would be the best thing ever!"
As stated above, Apple Music doesn't partner with Roon. Thus, we cannot play Apple Music on Roon directly due to copyright protection. However, this post will provide a 100% working way to make Roon Apple Music integration. Let's take a look!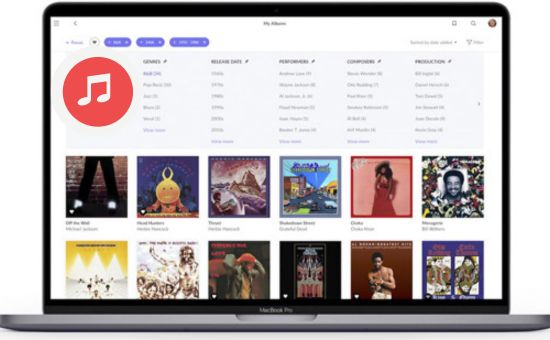 Part 1. Does Roon work with Apple Music
Nope. Currently, Roon doesn't support playing Apple Music. It supports music from the following digital sources: Roon with Tidal, Qobuz, NAS drives, HDDs, USBs, iTunes, and live radio. Although it allows you to upload files from iTunes, it is only limited to the purchased music stored in the Cloud instead of the music file downloaded with Apple Music subscriptions on iTunes. And please noted that Roon supports ALAC, however, unprotected ALAC files, which indicates protected Apple Music Lossless audio is not available on Roon.
Also, Apple Music is compatible with Apple products and several Android devices only. Here are devices that work with Apple Music:
Apple Products: iPhone, iPad, Apple Watch, Apple TV, Mac.
Other Devices: HomePod, CarPlay, PC, Android, Sonos, Amazon Echo, Samsung Smart TV, Google Nest, PlayStation 5, and the web.
Obviously, Roon is not in the compatible device list of Apple Music.
Part 2. How to Make Roon Apple Music Integration
As described above, Roon only works with two main music platforms: Tidal and Qobuz, which means you cannot play music from other services for copyright protection. Fortunately, Roon endows users with the ability to upload and put local audio files to it. In other words, to listen to Apple Music on Roon, a viable method is to download or convert Apple Music encrypted M4P formats to the most commonly used formats that are compatible with Roon with a professional tool.
When it comes to this, please never miss AudFree Apple Music Converter, a multi-faceted gadget designed for Apple Music, Audible, and iTunes users. It is applied to convert the protected Apple Music downloads to a variety of universal formats such as WAV, FLAC, MP3, and more, which are available to Roon and any other devices or players. Beyond that, it serves to convert iTunes M4P songs and Audible books AAX to MP3 files.
Apart from the conversion feature, it boasts various additional features. With zero audio quality and ID3 tags loss, you can play Apple Music resembling the Apple Music app. Since with this multi-purpose tool, Apple Music will be converted to permanent local files, you can play them anywhere and anytime, even though you cancel the Apple Music premium.
How to Play Apple Music on Roon
How to make Apple Music Roon integration with AudFree Apple Music Converter? Here is a tutorial for you. Please take those preparatory works down: Download Apple Music on Windows or Mac with iTunes; install AudFree Apple Music Converter on your computer. Then you can follow the steps:
Step 1

Put Downloaded Apple Music from iTunes to AudFree Audio Converter

First, open the AudFree Apple Music Converter on your computer once installed, and the iTunes app will launch in sync. Then on the converter, please tap on the first 'Load iTunes Library' icon towards the bottom left corner of the interface. You can select your preferred Apple Music tracks to add to the converter. Since it allows batch conversion, you can add multiple to it.
Step 2

Set Apple Music Output Settings for Roon

For compatibility with Roon, please click on the bottom-left first 'Format' icon to open the settings menu. Since Roon is compatible with WAV, and FLAC formats, so from the new window, please customize the Apple Music output audio format as WAV or FLAC. Additionally, you can reset the sample rate, bit rate, channels, and other parameters for lossless high quality. If you wan to play Apple Music on other devices, you can select to convert Apple Music to MP3, AAC, M4A, M4B, etc.
Step 3

Start to Convert Tracks for Roon Apple Music Integration

Look at the bottom right corner of the converter, and hit the second large 'Convert' button. After a while, this powerful gadget will convert encoded Apple Music files to decoded FLAC and WAV files. Press on the bottom 'Converted' to find the Apple Music files. Then you can transfer them to Roon or anywhere else you preferred.
Part 3. How to Make Roon Apple Music Connection
To connect Roon and Apple Music, there are three ways to achieve that:
Method 1. Use Copy-and-Paste Action
The first way is very simple. Head to the folder where converted Apple Music tracks are saved on the computer. Then copy the files from the folder and paste them to Roon.
Method 2. Via Tidal or Qobuz
As described above, Roon works with both Tidal and Qobuz music services. There are specific Tidal and Qobuz sections on Roon. So, you can transfer the local Apple Music files to Tidal or Qobuz first and then play the uploaded Apple Music on Roon from the Tidal or Qubuz section.
Method 3. Via iTunes and Watched Folder on Roon
iTunes has also partnered with Roon, which allows Roon to monitor the iTunes library and upload unprotected local files stored in iTunes to Roon once you add new music to iTunes via the 'Watched Folder' feature. So, you can get the converted Apple Music that is not encrypted to Roon via iTunes. Here are detailed steps to enable this function:
Step 1. Launch the Roon app on your computer and go to 'Settings' from the left panel.
Step 2. Click on 'Storage' and the 'Add Folder' button from the 'Folders' section.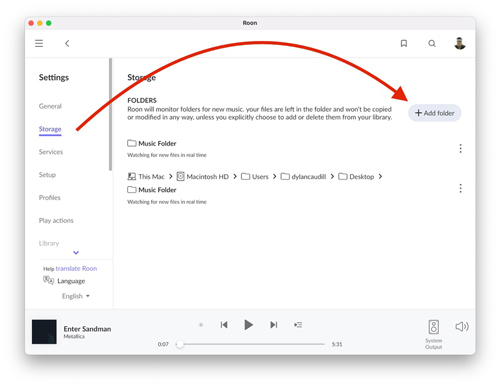 Step 3. Put your insight in the 'Choose Music Storage Folder' dialog.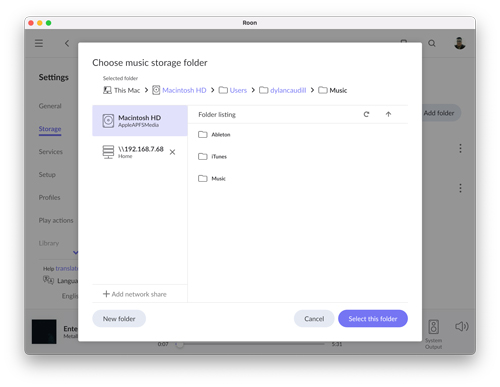 Step 4. Then tap on 'Music' > 'Select This Folder' to open the 'Add Storage Location' dialog. Hit the 'Browse' button, select 'iTunes', and tap the bottom-right 'Add' icon.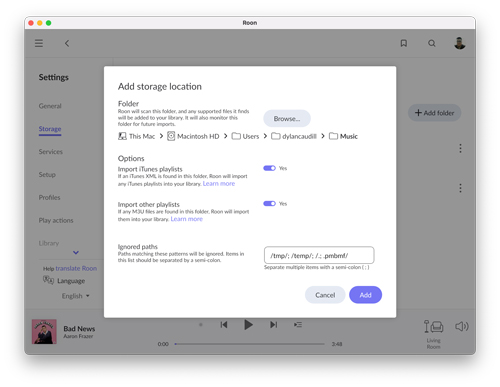 Part 4. More FAQs about Apple Music on Roon
Q1: If I like Apple Music should I also get Roon?
Generally speaking, using Roon with Apple Music is not recommended since Apple Music is not natively integrated with Roon so far. However, with the third-party gadget such as AudFree Apple Music Converter, you can convert Apple Music into compatible formats and play the converted files on Roon forever, which deserves a shot.
Q2: What music services do Roon support except for Apple Music?
Roon mainly partners with Tidal music and Qobuz music playback.
Part 5. In Conclusion
In this post, we have taken you through how to play Apple Music on Roon and three ways to transfer Apple Music on Roon. In brief, it requires a professional program to convert encrypted Apple Music into common Roon-supported formats. Here, we would like to stress the mighty AudFree Apple Music Converter again, which allows you to get Apple Music for free forever and convert Apple Music as permanent local files in multiple formats. So that you are able to play Apple Music on multiple devices and players forever besides Roon.