Is Tidal better than Apple Music? Tidal vs Apple Music has always been a hot topic in the field of streaming music service. Apple Music is able to satisfy the general needs of music listening, updating the most recent and popular songs in time. But for those hi-res music's followers, Tidal is no doubt a better choice.
If you are getting interested in Tidal Music but don't want to give up your precious Apple Music playlists, why not try to move music from Apple Music to Tidal? If you don't know how to get started, well, you come to the right place. In this article, I am going to share 4 useful methods to help you transfer Apple Music playlist to Tidal without effort.

#1. Transfer Apple Music to Tidal via AudFree
It known that most streaming music is protected by digital right management, Apple Music is no exception. This protection prevents users to transfer Apple music to other applications or platforms for use.
Therefore, to move music from Apple Music to Tidal, the key is to remove this digital protection. AudFree Apple Music Converter is the top 1 tool to achieve this target. Dedicated designed for Apple Music, this smart software is proficient in removing digital protection from Apple Music songs, playlists, albums, audiobooks, etc. and download Apple audios to MP3, AAC, M4A, and such common-used formats.
Built-in advanced converting technology, this intelligent program preserves 100% original sound quality and 100% raw metadata, including titles, artists, albums, album arts, and so forth. By using AudFree Apple Music Converter, it is simple for you to download and sync any song from Apple Music to Tidal, including the Apple Music exclusive songs.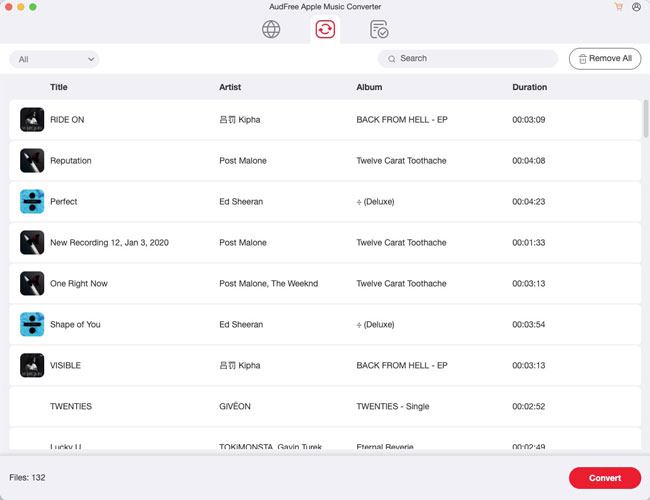 Step 1. Download and open AudFree on the desktop.
Step 2. Click the left 'Load Library' button. Then choose 'Apple Music'.
Step 3. Select all your Apple playlists and hit 'Add'.
Step 4. Open the 'Format' icon. Reset output parameters as you like.
Step 5. Tap the 'Convert' button to start the program.
Step 6. Click the folder icon from the bottom to check the downloaded Apple songs.
Step 7. Open the Tidal app and begin to upload Apple music to Tidal from the local folder.
#2. Move Apple Music to Tidal via Soundiiz
Soundiiz is a great online tool for moving Apple music to Tidal. The only thing that you need to notice is the limited track numbers in once synchronization. Besides, the running speed could be slow if your network condition is not excellent.
Step 1. Enter into Soundiiz website. Log in to your account info.
Step 2. Choose 'Platform to Platform' and select Apple Music as the source.
Step 3. Select Tidal as the destination then starts the transfer.
#3. Transfer Apple Music Playlist to Tidal via FreeYourMusic
FreeYourMusic is an offline software for transferring Apple playlists to Tidal. Its limits is similar to the Soundiiz's so let's skip the repetition and see the tutorial as below.
Step 1. Download and open FreeYourMusic on the computer.
Step 2. Pick Apple Music as the source option and choose Tidal as the destination service.
Step 3. Select all your Apple playlists and start to transfer them to Tidal.
#4. Move Music from Apple Music to Tidal via TuneMyMusic
TuneMyMusic is another web tool for syncing Apple songs to Tidal online. To get started with using it, please view the following simple steps.
Step 1. Go to TuneMyMusic. Hit the obvious 'Let's Start' button.
Step 2. Choose Apple Music as the source service and link to your Apple Music account.
Step 3. Pick Tidal as the destination platform. Confirm the songs you want to move and activate the transition.
Conclusion
In regard to the music catalog, AudFree covers all Apple Music tracks that even can transfer Apple-exclusive songs to the Tidal library. The other 3 tools can only transfer the common-owned songs on both platforms. The downloaded Apple songs by AudFree are not only movable to Tidal but also usable on any other platforms or devices.
In the point of user convenience, AudFree's 30X running speed is well ahead of the rest of the tools. And its batch download function allows users to download unlimited songs from Apple Music in a single operation.
As for the sound quality, you can get the same high-quality music from Tidal regardless of which tool you use. The price is the only factor considered. Paid or free? It depends on your choice. But it's fair to say the price reflects the actual value.
From a comprehensive perspective, the AudFree Apple Music Converter is more functional and professional than the other 3 tools.