Scribd has a vast collection of audiobooks, allowing you to listen to your favorite book. You can listen to it while you are commuting, in the free time in the office, or at home while working on the chores.
You can enjoy the collection and test the quality upon signing with Scribd. You will receive a free trial to go through the books, but you cannot download your favorites to your computer. A possible way to gain access is by paying for the membership. If you are wondering how to download audiobooks from Scribd without membership, then you are in the right place.
The article will provide you information on how you can download from Scribd without paying a penny. The exciting truth is that you can enjoy the downloaded content on any device. Additionally, you can convert the audio file to the required media format that is playable on any media device.

Part 1. Scribd vs Subscription Plans
Scribd is an e-book and audiobook provider from the United States of America. The platform offers over a million books for its subscribers to enjoy. If you are choosing a subscription, it has its benefits. You can download the content to your computer or phone and listen to them anytime you want. For new users, Scribd is offering a free trial to their massive collection.
The following are the available subscription plans: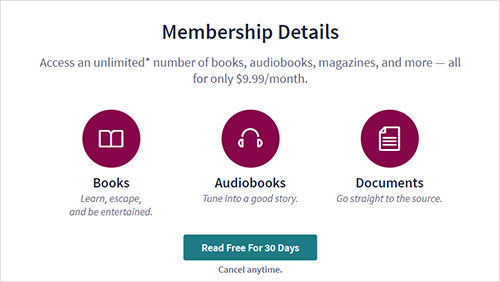 1. Unlimited access to all the content for $8.99/month
2. Unlimited access to all the content for $3.99/month for the annual membership plan
Part 2. AudFree Scribd Downloader to Download Audiobook from Scribd
You cannot download audiobooks from Scribd unless you have a membership. However, if you hate spending money on a few books you like to have on your computer, there is an alternative. 
You can use AudFree Audio Capture. It is an all-round performer, which helps you record any sound that is playing on your computer. You can further use it to record sounds coming from games, streaming music, online radio, background music, and more. What makes it interesting are its settings. You can not only convert the saved file into MP3, WAV, etc. but also customize the output parameters as needed.
AudFree Scribd audiobook downloader is a simple tool, and anybody can start using it with ease. The software is a professional tool, which besides the ability to record and capture, also helps to edit the captured Scribd audiobooks, like trimming the unwanted parts, edit tags, merge recordings into one, etc.
The software uses the latest technologies and innovative recording procedures to grab any sound from any application. You can further use it while playing games or listening to songs on Spotify or Pandora. Additionally, the software helps you record live courses, video meetings, and more.
Part 3. How to Download Audiobooks from Scribd with AudFree
Step 1

Start AudFree Audio Capture

Download, install and launch AudFree Audio Capture. From its first screen, you will be presented with the downloaded programs available on your computer, such as media player, web browser, streaming music services, etc. To record and download Scribd audiobook, you should work with chrome or other broswers on your computer.
Step 2

Output format customization

Before recording, you are required to set output parameters by clicking the "Format" icon at the bottom right corner. On the format panel, select any output format and further adjust codec, channel, sample rate, and bit rate, preset as you require.
Step 3

Play and download Scribd audiobook

Once output settings are done, click "OK" to confirm and return to the main window of AudFree. After that, choose Chrome or any other browser and type www.scribd.com to search. In the official website of Scribd, find audiobook that you want to download and play it. Now, AudFree will pop up a new recording window, in which you can real-time preview the downloading process of Scribd audiobook.
Step 4

Edit and save Scribd audiobook recording

End the recording and downloading process by clicking the "Stop" button located at the "Capture List" window. Whereafter, touch "Edit" icon on the recorded audio track to trim off something undesired and edit tags. You can merge recordings into a single file by clicking "Merge all into one file". Upon completing the settings, press the "Save" button to locally save the downloaded Scribd audiobook. Then, you can be free to listen to Scribd audiobook anytime and anywhere.
Bottom Line
Forget worrying about paying for membership when you can record and listen to your favorite audiobooks using AudFree Scribd downloader. It is an all-in-one recorder that you can use to capture and download any chapter of Scribd audiobook without paid subscription and save it to local for enjoying on any device without limits.