How do I download SoundCloud to WAV online for free? This is a common question that SoundCloud users pose each time they want to share their content online. Being one of the largest online audio streaming platforms, SoundCloud gives you the option to upload, share songs, podcasts, and many more for free.
You can discover and play numerous music playlists and tracks created by both the long-time known and new upcoming artists from any part of the world. SoundCloud is the only platform that lets you upload any sound to share with your fans in real-time.
The only drawback is that SoundCloud doesn't let you download music directly through its server. You must, therefore, use a SoundCloud downloader to effect this. However, most of these downloaders only support saving your SoundCloud audio in MP3 format. So, this article will show some special and powerful tools to help you get SoundCloud to WAV format.

Part 1. Best SoundCloud to WAV Converter - AudFree Audio Capture
How to download WAV from SoundCloud? In this part, you will get the AudFree Audio Capture. This best SoundCloud to WAV downloader for Windows and Mac is all you need to stream your SoundCloud audio in common output formats like WAV. It automatically records any sound that is playing on your computer, while retaining up to 100% original quality. You can extract audio from games, video meetings, live courses, and many others.
AudFree Audio Capture can convert any recorded audio to most formats like WAV, FLAC, MP3, AAC, etc. Afterward, you can play the downloaded tracks on any portable device and media player. Besides, you can customize your recorded audio quality by editing major audio parameters and adjusting your music quality like bit rate, sample rate, channel, etc.
Part 2. How to Convert SoundCloud to WAV High Quality
Here is a simple way to get your audio in WAV format. AudFree Audio Capture is a fearless tool that losslessly records any sound on your PC. It will record all audio tracks from the SoundCloud streaming service and other sources.
Step 1

Launch AudFree Audio Capture

Once you download and install the AudFree app on your computer, double-click the shortcut on the desktop to launch it. You should see a pop-up window with a list of programs. You may need to add SoundCloud to it if you can't find the app.
Step 2

Customize output format and settings for SoundCloud

AudFree Audio Recorder supports several output formats like WAV, FLAC, AAC, M4B, among others. To begin, click on the "Format" button at the bottom-right corner of the AudFree interface and define WAV as the output format. You can also personalize other settings like bit rate, sample rate, and so on.
Step 3

Play and capture SoundCloud to WAV

Now touch the SoundCloud program from the starting window and AudFree Audio Capture will immediately pop up a new recording window. Find and play the SoundCloud tracks that you wish to capture and let the AudFree tool record streaming music.
Step 4

Save and edit your recordings

Once you have captured the audio file, click on the "Stop" button at the bottom of the screen to stop the recording process. You have the option to edit your audio by going to the "Edit" icon. Here, you can split unwanted segments of your audio, merge, or use other editing features available. Finally, click the "Save" button to save your recordings on a destination folder on your computer in WAV format.
Part 3. How to Download SoundCloud to WAV Online Free
You can also opt to download SoundCloud to WAV online for free. Here are three recommended tools to help you get your audio in simple steps.
1. SoundCloud Downloader - Loader.to
Loader.to is an online tool that can help you download SoundCloud to WAV file. It effortlessly downloads SoundCloud in several formats like WAV, MP3, FLAC, among others. Here check the steps on how to use it.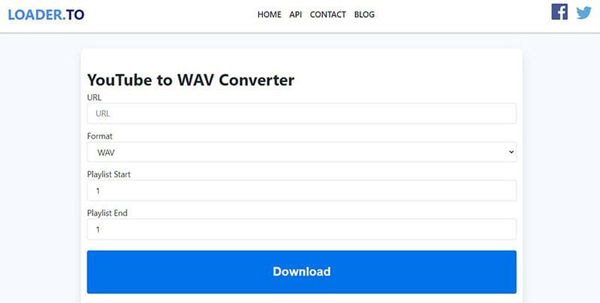 Step 1. Go to Loader.to official website.
Step 2. Copy and paste the URL of the SoundCloud song you wish to download.
Step 3. Select the format to convert your audio to. Choose the WAV option from the drop-down menu under the "Format" section.
Step 4. Finally, click on the "Download" tab and let the program start to download your SoundCloud audio in WAV format. Then save them to the computer and freely share or stream on any other device.
2. Clideo SoundCloud Converter
You can also download SoundCloud to WAV with Clideo. This tool manages up to 500MB files for free and works from any device like a computer or phone. All you need is a stable internet connection. Below are the steps on how does it work.
Step 1. Upload SoundCloud audio to Clideo
First, open the SoundCloud streaming service and find the audio that you wish to download. In the next tab, launch the "Clideo" app and hit the "Choose files" button. Then start to upload the audio tracks from SoundCloud.
Step 2. Edit and save your audio
You have the option to save the entire audio or a portion. If it's the whole song, set the sliders to the "start" and "end" points of the track. If it's a portion of the track, just select the needed snippet and extract the portion you want by clicking on the "Cut" tab. Next, go to the "Menu" option and select the "WAV" format from the list.
Step 3. Download SoundCloud to WAV
Finally, save the audio to your device, Dropbox, or Google Drive.
3. Convertio
The last one it to use Convertio to download WAV from SoundCloud free. It supports over 300 file formats and provides you with the option to set parameters on your audio. The maximum file size you can upload is up to 100MB.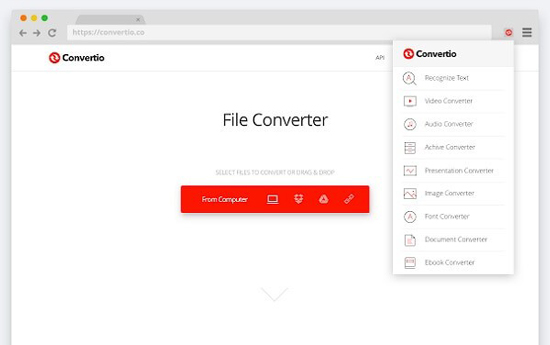 Step 1. Go to the "Convertio" official site on your web browser.
Step 2. Also, launch SoundCloud on your computer. Then copy the "URL" icon of the SoundCloud audio you want to download. Then paste it to the Convertio URL bar.
Step 3. Once loaded, select the "WAV" option as the output format, then click on the "Convert" button.
Step 4. Finally, click the "Download" button to download and save SoundCloud WAV file on your computer.
Part 4. FAQs about Converting SoundCloud to WAV
Are questions running through your mind about SoundCloud to WAV conversion? If yes, then these answers could be of great help!
Q1: What Is WAV File?
WAV, known as Waveform Audio File Format, is a standard digital audio file format meant for storing waveform data. You'll find several sampling rates and bitrates on your WAV audio recordings. Generally, they are saved in a 44.1 kHz, 16-bit stereo format. Also, note that the format does not apply any compression but can be compressed using Audio Compression Manager codec.
Q2: Can You Upload WAV to SoundCloud?
Yes, you can use a SoundCloud downloader like Cakewalk SoundCloud to upload WAV to Soundcloud. To use Cakewalk, go to "Utilities" and click the "Share with SoundCloud" option to open Cakewalk SoundCloud. Then click on the "Browse" button and select the WAV audio file that you want to upload. You can also specify your desired settings in Cakewalk SoundCloud.
Q3: Should I Upload WAV or MP3 to SoundCloud?
WAV files have better quality than MP3. They also provide more accurate audio clips. However, they are substantially larger than MP3 formats. So, for quality output, better upload WAV to SoundCloud.
Q4: What Is the Best SoundCloud to WAV Converter?
You need a converter that offers lossless sound quality and supports parameter settings to your desired options. AudFree Audio Capture offers you excellent results with its innovative and advanced audio recording technology. Settle on AudFree Audio Capture and manage to record music from Deezer, other music streaming services, online radio stations, local media players and much more.
Part 5. Conclusion
You have several SoundCloud to WAV converter options from this article. With them, you can easily get your SoundCloud audio in playable format on any device after converting them to WAV files. By the way, the best audio recording tool, AudFree Audio Capture, is easy to use and supports setting your parameters to desired standards. Also, it supports to capture any sound playing on your computer to plain audio files for use anywhere and anytime.