Deezer has always had a presence in the music streaming market and it supports numerous devices such as laptops, mobile phones, wearables, TV & Gaming. Nowadays, Deezer app is available to Samsung Smart TV in over 120 countries. You can turn your Samsung TV into a jukebox with access to millions of Deezer songs, artists, radio hits and audio channels.
Want to hear your own Deezer music on Samsung TV? This article presents detailed tutorials to play Deezer on Samsung TV with or without premium. If you're having problems with Deezer not working on Samsung Smart TV, here are all the solutions you need.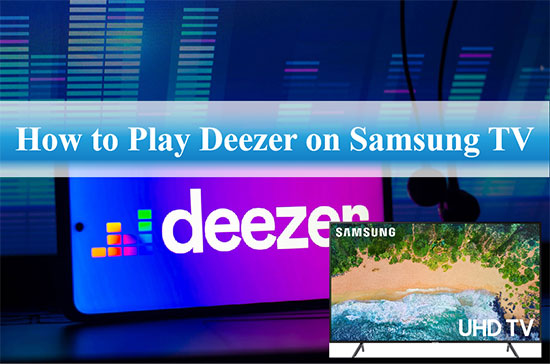 Part 1. How to Install Deezer Samsung TV App with Premium
Deezer app has made its way to Samsung Smart TV to offer you a different kind of music experience. You can access lyrics, playlists and podcasts directly from Deezer on the big screen. However, please note that this feature is only available for Deezer Premium and Deezer HiFi users. Follow the steps below to download and install Deezer Samsung Smart TV app.
Step 1: Launch Samsung TV and press the Home button on the remote control, followed by selecting the Apps section.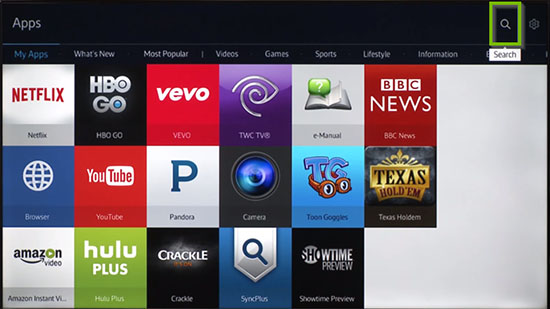 Step 2: Enter Deezer in the search box and click the Install button to install Deezer app on Samsung TV.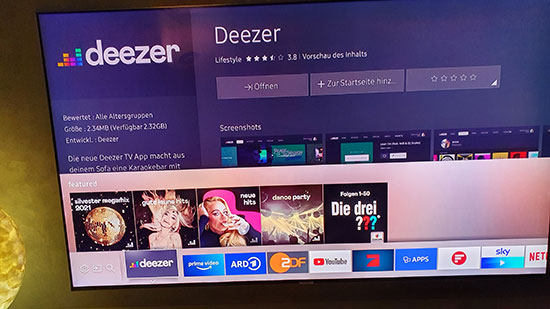 Step 3: Open the Deezer app and log in to your Deezer Premium or HiFi account.
Step 4: Now, you can make Deezer HiFi Samsung TV a reality, then listen to your favorite Deezer music on Samsung TV and enjoy unique features including Flow, smart playlists and podcasts.
Part 2. How to Play Deezer on Samsung TV without Premium
The above method has some obvious disadvantages, such as not being suitable for Deezer free users and Deezer sometimes not playing. In this case, the best way is to download Deezer songs locally and listen to them offline on Samsung TV. All you need is AudFree Deezer Music Downloader, dedicated to downloading all Deezer content, like songs, albums, playlists, etc.
What's more, it is suitable for all Deezer users to download Deezer music in bulk. With it, you have the ability to convert Deezer music to FLAC, MP3, AAC, WAV and other popular formats. After that, you can transfer Deezer music to Samsung Smart TV or other desired devices for offline playback. Plus, it will retain the lossless audio quality and ID3 tags of Deezer music tracks.
AudFree Deezer Music Downloader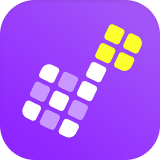 Convert Deezer tracks to FLAC, MP3, AAC, WAV, etc. for Samsung TV
Download Deezer songs and playlists without quality loss
Listen to Deezer on Samsung TV for free forever
Play Deezer Music on Samsung TV and other smart TV
How to Link Samsung TV to Deezer without Premium
Step 1

Upload Deezer Music to AudFree Deezable

Launch AudFree Deezer Music Converter and find the song you like in the Deezer app. You can drag and drop it into the conversion window directly. Or copy and paste the music link into the search bar and press the + button next to it to finish loading the Deezer song.
Step 2

Configure Deezer Music Output Parameters for Samsung TV

Click on the Menu bar and select Preferences, then tap on the Convert field in the pop-up window. At this point, you can set MP3, FLAC, WAV etc. as the output format for Deezer music. In addition, you can adjust the bit rate, sample rate and channels to enhance Deezer audio quality.
Step 3

Download Deezer to Samsung Smart TV

Once the above settings are complete, simply hit the Convert button to start the download process. Just wait a moment and you can get the converted Deezer music saved in a local folder on your computer. You can tap on the Converted icon to view Deezer music downloads.
Step 4

Transfer Deezer Music to Samsung Smart TV

1. Keep Deezer music to USB stick on your computer and insert it inc the USB port of your Samsung TV.

2. Press the Source button on the Samsung TV remote control and then select the "USB device USB" option on the screen.

3. Now, you can browse Deezer tracks on your TV screen. In turn, it's easy to play Deezer music on Samsung TV without any restrictions.
Part 3. How to Fix Deezer Not Working on Samsung Smart TV
Sometimes, you may encounter some Deezer playback issues on Samsung TV. The cause is uncertain and it will have to do with factors such as network conditions, the Deezer app itself and so on. Therefore, we will list some possible solutions to get Deezer working properly on Samsung TV.
Fix 1. Check Network Conditions
If your network is not working properly, Deezer app will show that it cannot connect to Samsung TV. Please check that your network is in good condition. You can turn your WiFi connection off and on to see if the problem is resolved.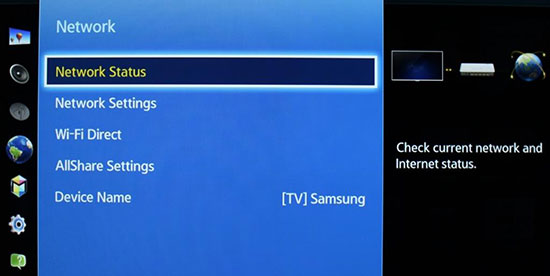 Fix 2. Check Status of Your Deezer Premium Account
Make sure your Deezer Premium or Deezer HiFi account is still active so you can stream Deezer music on Samsung TV. If your subscription has expired, renew it to ensure proper Deezer audio playback on your Smart TV.
Fix 3. Update Deezer App on Samsung TV
If you haven't updated the Deezer app on Samsung TV in a while, you may be running an older version with bugs. You'd better update the Deezer app to crush some bugs and check if the problem of Deezer music not playing is resolved.
Fix 4. Update Samsung Smart TV
It is equally important to update your Samsung Smart TV, you need to go to the menu and select Support > Software Update > Latest Firmware. After that the Samsung TV will automatically update to the latest version. Then you can try to fix this Deezer issue by simply restarting your smart TV.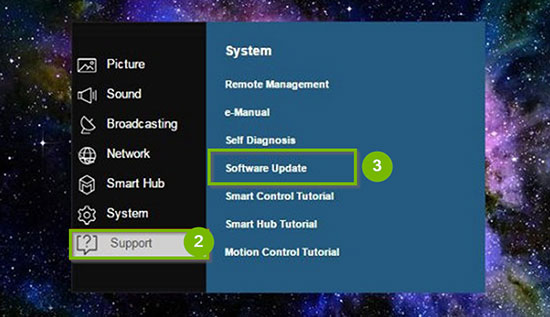 Fix 5. Clear Deezer App Cache
Cached data holds all the information about the Deezer app, such as your listening history and podcast subscriptions. You need to solve the problem of Deezer not working on Samsung TV by clearing the app's cache.
Part 4. In Conclusion
After reading the above, you should understand how to play Deezer on Samsung TV whether you are free user or paid subscriber. By the way, if you want to listen to Deezer music as freely as possible on any smart TV, AudFree Deezer Music Downloader is the best choice. It can download Deezer music locally for offline playback on any device.