AudFree Software is celebrating its 4th anniversary and welcome to the birthday party! To celebrate this milestone, it will launch a long-awaited special promotion 2022 to give back to its loyal customers for the past four years.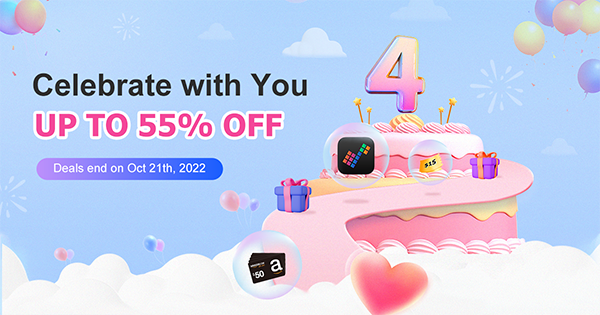 During the promotion held on AudFree 4th anniversary, users have the opportunity to receive free gifts through lucky draws, including benefits such as free licenses, coupons and Amazon gift cards. It also offers users discounts of up to 30% on single AudFree and TunesKit flagship products. In addition, users who purchase custom bundles of these two co-branded products can enjoy discounts of up to 55%. The campaign is valid from September 30 to October 21, 2022, so there's no time to lose.
"AudFree Software has been dedicated to creating top-notch streaming music software since its inception and has been fortunate to have achieved some success in the past four years. In fact, it is because of the strong support of customers and the concerted efforts of entire staff that we have been able to achieve the growth today. Therefore, on AudFree 4th anniversary, we are offering an unprecedented promotion to show our sincere appreciation to our new and loyal customers. We sincerely hope that our customers will have a good time and enjoy the maximum discount.", said Charles Davis, Product Manager of AudFree Software.
AudFree 4th Anniversary Promotion Special Deals
Lucky Draw for Free Gifts
To enter the sweepstakes, users simply click the "Go" button for a chance to win a variety of freebies, like AceMovi free license, Deezable free license, $50 Amazon gift card, $15 coupon, 10% off and more.
Co-branding Single Offers - up to 30% Off
It offers users 30% off to purchase all AudFree Music Converter monthly or lifetime plans, including AudFree Spotify Music Converter, AudFree Amazon Music Converter, AudFree Tidal Music Converter and AudFree Audio Converter. In addition, customers who purchase TunesKit flagship products such as TunesKit iPhone Unlocker, TunesKit iOS System Recovery, TunesKit iPhone Data Recovery and TunesKit Audio Capture can also enjoy 20% off.
Co-branded Custom Bundles - up to 55% Off
Users can customize AudFree lifetime bundles with discounts of up to 55%. The available products are AudFree Spotify Music Converter, AudFree Tidal Music Converter and AudFree Audio Converter, you just need to choose any 2 or 3 products to get the relevant discount. As for TunesKit lifetime bundle, users can purchase any 2 or 3 of Tuneskit Screen Recorder, AceMovi Video Editor and Tuneskit Video Converter accompanied by up to 50% discount.
About AudFree Software
As a well-known multimedia software provider, AudFree Software is dedicated to providing the best audio solutions to its customers all over the world. It frees you from any audio troubles with Spotify Music converter, Tidal Music converter, Amazon Music converter, Deezer Music converter and Audio converter for Windows and Mac. With a professional R&D team, good after-sales service and excellent customer support, AudFree Software aims to continuously improve the multimedia music experience.
Sep 30, 2022 9:30 AM
Posted by Alex Wilson to News