It is well known that Spotify has been focusing on testing a smaller and lighter Spotify Lite since last year. And now this simplified Spotify app is officially available in over 36 markets and everyone who lives in Asia, Latin America, Middle East, and Africa, etc. can download it on Google Play store.
Spotify Lite aims to cater to lower-end devices that don't have enough storage and people are under the underwhelming data plan. Let's see the detailed introduction of this Spotify app, such as what's Spotify Lite, how it works and some troubleshooting you will want to know when using this Spotify Lite.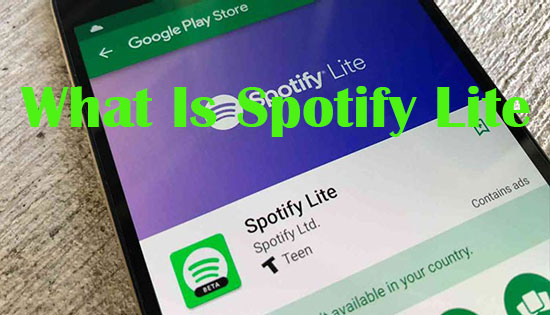 What Is Spotify Lite?
According to the introduction to Spotify Lite on the newsroom Spotify, Lite is a small, fast and simplified version that enables users to explore unparalleled music experience and works much like the main Spotify app.
'The reason to built Spotify Lite is based on the user feedback from all around the world. Spotify Lite allows millions music lovers to enjoy the world's best music experience, especially for the areas with limited bandwidth and mobile storage', said by Kalle Persson, the Spotify Senior Product Manager.
With the assistance of Spotify Lite app, everyone can listen to over 33 million songs no need to worry about the network connectivity, data plan, mobile storage.
How Spotify Lite Works?
It's important to note that Spotify Lite is only compatible with Android operating system, there is no soup for iOS devices. What's more, please make sure your Android is running 4.3 or higher. the Spotify Lite Android app is only 10MB app, which is 10X smaller size than the usual Spotify app.
Featuring with lots of advantages, such as less storage, data and battery, Spotify Lite still enables you to search artist and songs, discover new music, play , save and share Spotify playlists no matter you are using Spotify free or premium account.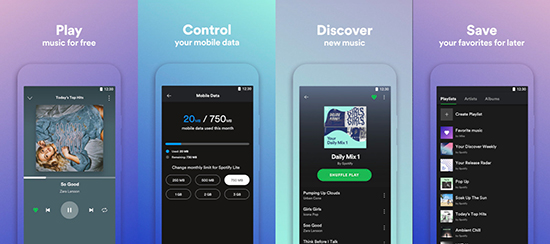 Besides, to avoid extra data cost, this Spotify app supports to set a limit for how much data it can consume. When it reaches the top point, it will send a notification to you automatically. Unlike the main Spotify app, which needs users to clear Spotify cache files by using a complicated way, Lite offers you to take a full control of your cache by simply clicking the single tap. It couldn't be easier to free up space on your Android device.
Spotify Lite FAQ
Based on Google Play Store data, Spotify Lite app has been downloaded over 1 million times. Are you one of them and have downloaded and used this app on your Android phone? No matter the answer is yes or no, there are some common problems you should figure out.
Can I login Spotify Lite with older Spotify account?
Yes! If you have already registered a Spotify account to access the main Spotify app, you can still use the same login details to listen to music on Spotify Lite.
When I made changes on Spotify Lite, will them save in my main Spotify app?
Yes! When you created a new playlist, saved music, and more on Spotify Lite, all changes will synchronize on the main Spotify app. But please note that the 'Your Library' has been replaced by 'Favorites' button.
Can I Use Spotify Lite and the main app at the same time?
Yes! Both of them can run independently on your devices. You can choose the most suitable to play Spotify playlists anytime and anywhere.
How to Listen to Spotify Offline on Android
Speaking of playing music and playlists offline on Spotify Lite, it needs to be divided into two parts depending on your Spotify subscription. If you are subscribing Spotify Premium, you can directly download Spotify tracks offline on Android via Spotify Lite. But as for free user, Spotify Lite doesn't support official way to listen to Spotify music offline on Android.
Fortunately, every problem comes with a possible solution. You can download and install AudFree Spotify Music Converter on your computer and utilize it to download playlists offline from Spotify and then transfer Spotify downloads to Android device for offline playback instead.