On August 22, 2019, Spotify has announced that eligible users will get Spotify Premium for free from previous one month to three months now when they sing up for Spotify Premium on Spotify Newsroom. No matter for Spotify and music lovers, this could be the great news.
Spotify offers two tiers, respectively Spotify Free and Spotify Premium (Individual plan, Family plan and Student plan). Free Spotify users can access to its music library but it comes with lower sound quality, advertisements and when they listen to music and playlists on devices that should be under internet connection. While subscribing to Spotify Premium, Spotify users can get ad-free Spotify music offline. Besides, this plan unlocks the unlimited song skips.
There is no doubt that with Spotify Premium, you can take full control of your streaming music. But why Spotify suddenly extends the Spotify Premium free trial period to three months and who are eligible for this 3-month Spotify Premium free trial. Let's read the following article to find more detailed information.

Why Spotify Extends Spotify Premium Free Trial to 3 Months
"Music and podcasts play an important role in people's lives, so we wanted to give users the first 3 months for free to fully enjoy everything that Spotify Premium has to offer." explained by Alex Norström, the Spotify Chief Premium Business Officer. But when it comes to the reasons why Spotify triples its free Spotify Premium trial period to three months, it could be divided into two parts. One is competitor analysis of Spotify, the other is the benefits that Spotify will get.
In July 2018, Apple Music has surpassed Spotify's paid subscribers and been the 'a hair ahead' on-demand streaming service in the United States. What's more, as of April 2019, it's said that the growth rate of Apple Music could be slightly faster than Spotify (2.4 - 2.8% compared to 2.0 - 2.3%). What's the key different difference between Apple Music and Spotify? It could be that Apple Music offers a 3-month free trial while Spotify a one-month free trial previously. As a result, Spotify extends its free trials of Premium subscription to 3 months to match its rival.
According to the Spotify's official Q1 2019 report, there are 217 million monthly users who sing up for Spotify free or paid plan. And there are totally 117 million were Spotify free subscribers. When this company triples its Spotify Premium free trial period, it could be a huge attraction to switch the free version to 3-month Spotify Premium trial version. Therefore, it also a good chance to get more Spotify Premium subscribers.
Who Can Enjoy Spotify Premium 3-month Free Trial
Is this Spotify Premium feature open to everyone? Unfortunately, the answer is negative. Therefore, who actually can enjoy this charming feature? This offer is the privilege of Spotify users who haven't tried Premium yet. Put it another way, there is also no soup for people who canceled Spotify Premium subscription.
Up to now, you can enjoy Spotify Premium for individual and student plans with a start of the 3-month free trial around the world. But it's also worth mentioning that the Family plan could be available in the coming months worldwide as it is still in testing.
How to Get 3-month Spotify Free Premium Trial
When you navigate to Spotify's official website, you will see 'try Premium free for 3 months. Only $9.99 per month after' under the slogan 'Go Premium. Be Happy. And then you can refer to the following steps to start your free trial on Spotify.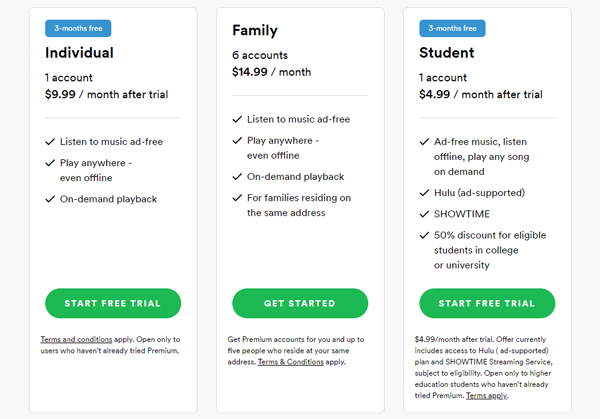 Step 1. Click the 'Start Free Trial' to get starting. In the next page, you can change plan.
Step 2. Alternatively, you can scroll down to pick your Premium, and choose the right plan to get started.
Step 3. Now, please fill with your detailed information, including card number, expiry date, security code, zip code, etc.
Step 4. After all things are set, please simply press the 'Start My Spotify Premium' to enjoy free trial Spotify Premium with 3 months.
How to Get Spotify Premium for Free Forever
No matter you are using one-month or three-month Spotify Premium free plan, it will expire on the exact day. What should you do before it comes? Just do nothing, and turn up to free Spotify account again? It seems not a smart choice.
Why not install and use a professional AudFree Spotify Music Converter on your computer to download ad-free Spotify music and playlists as local files with your Spotify 3-month free trial account. And then no worry about the expired date of Spotify Premium anymore, you can own offline Spotify playlists and transfer them to any device and player for playback just like getting Spotify Premium forever.