There is no gainsaying that Spotify, one of the most popular music streaming services provides music lovers an easy and convenient way to listen to the favorite playlist or album online or offline on all platforms, including Mac, Windows, iPhone, Android, etc. But one troublesome thing for Spotify users is that the storage space of devices is quickly swallowed by Spotify cache file with passing time.
As a Spotify regular user, you should know that Spotify caches your playlist in the local hard disk on your devices so that it can improve the playback speed, since Spotify users can listen to Spotify playlist from the cache rather than stream from Spotify server again. However, these cache files will make your computer or mobile device run slower and slower.
If you are in such condition, Spotify clear cache is the urgent thing you need to do. Although there is no official way to clear the cache provided by Spotify desktop client, here, we'll introduce other possible ways to clear up cache files from Spotify on Windows, Mac, Android and iPhone effortlessly.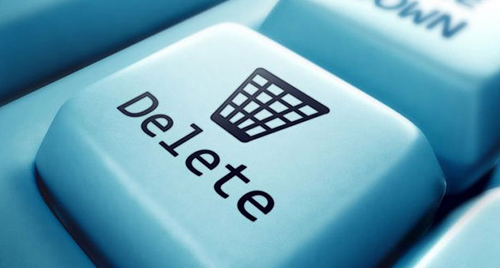 Part 1: How to Clear Spotify Cache Files on Mac
There are two situations for Spotify to use users' device's available memory storage. One is to store temporary or snippets of, music for streaming as we described above. And the other is to get downloaded Spotify playlists for offline listening via the 'Download' option, which is available for Spotify Premium users. Because only Spotify paid subscribers have ability to download Spotify track.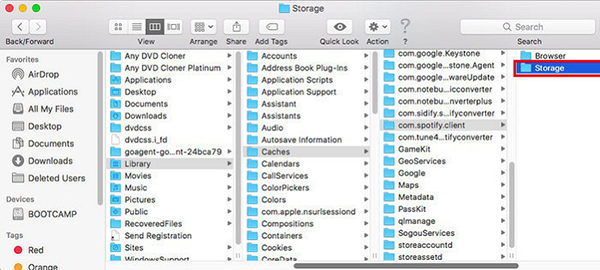 According to different Spotify cache files of music streams, the ways to clear caches are different. To clear up the streaming cache files, you need to go to /Users/*USERNAME*/Library/Caches/com.spotify.client/ and then delete the whole target folder directly. As for offline Spotify caches, you can locate this path: /Library/Application Support/Spotify/ and delete the watch-sources.bnk file.
Part 2: How to Delete Spotify Cache on Windows
Since Spotify app for Windows has two different versions, respectively official web version and Windows Store version, you should confirm which version you are running and then you can follow the right way to free up your space on Windows by clearing your cache files.
If you download and install Spotify app from Spotify official website, the way to remove cache from Spotify on Windows is similar with Mac computer.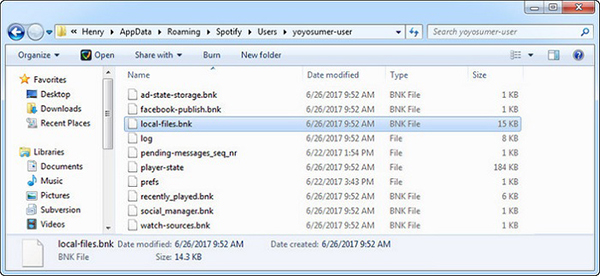 For streaming Spotify cache files, please go to C:\Users\*USERNAME*\AppData\Local\Spotify\ and find the Storage folder, delete it.
For offline Spotify caches, please head to C:\Users\*USERNAME*\AppData\Roaming\Spotify\Users\username-user\ and find the local-files.bnk, delete it.
If you download and install Spotify app from Windows Store, you should type the 'appdata' into the search box of your PC to go to your AppData folder and enter to Packages_SpotifyAB.SpotifyMusic_zpdnekdrzrea0_LocalCache_Spotify_Data. Now, you need to delete any folder under Data folder.
Part 3: How to Clear Cache from Spotify on Mobile Devices
When it comes to clearing up Spotify caches on mobile devices, the good news is that the Spotify app for Android and iOS now lets Spotify users clear the cache files without affecting downloaded songs. Put it another way, Spotify users can let Spotify take up less storage space while listening to songs or playlists from Spotify without Internet connection. Now, let's start to clear your cache without deleting your Spotify downloads.
Remove Caches from Spotify on iPhone
There is no direct way to remove Spotify cache on iPhone yet expect for reinstalling Spotify app.
Step 1. Navigate to Spotify app at the Home page on your iPhone, tap and hold the Spotify icon until it shakes.
Step 2. Please hit on the 'X' symbol on the icon and Spotify app will be removed immediately.
Step 3. Open you App Store to search for Spotify app and then you can install this app on your iPhone again.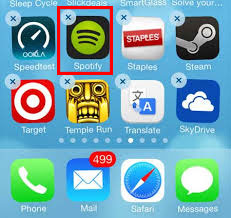 Delete Spotify Cache and Saved Data on Android
Instead of reinstalling Spotify music app, Spotify for Android provides an easy solution to clear Spotify's cache.
Step 1. Open Spotify app on Android and tap the Your Library in the menu to select Setting option.
Step 2. Scroll to Other and select Delete cache and saved data button to start the clearing process.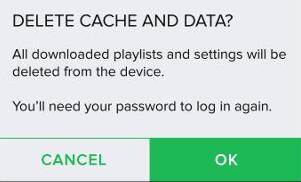 Note: If there is an external SD card, you can download Spotify music to SD card instead of the internal memory, which is an alternative way to free up your storage memory of mobile devices. For detailed information, you can visit this source page: How to Move Spotify Music to SD Card.
More Tips: Download Spotify Music to Local Folder on Computer
From what we discussed above, you might have already known that even you are a Spotify Premium user, you can only get the cache files for offline playback. As a result, you are unable to transfer them to wanted portable music players, like iPod, Apple Watch, etc. So, here, we also would like to show you the professional workaround to download Spotify music to computer's local folder directly.
All you need to equip with is the powerful AudFree Spotify Music Converter, which can download Spotify songs or playlists with zero quality loss with a free or paid Spotify account and convert them to MP3, FLAC, AAC, WAV and other plain audio formats so that you can play Spotify songs on any device without problem. If you are interested in this item, there is a complete tutorial for your reference: How to Download Spotify Songs to Computer.