Released on May 10, 2019, the new song 'I Don't Care' teamed up with Ed Sheeran and Justin Bieber has broken the single-day broadcast record of most-streamed song. Within 24 hours of release, the new single reached 10.97 million streams on Spotify, the world's largest music streaming service, including 3.1 million streams in the United States and 1.138 million streams in the UK.
As the first new music of Sheeran's since 2017's Divide, 'I Don't Care' also surpassed the record created by Maria Kelly's Christmas song "All I Want for Christmas Is You" released on the last December 24th.
It reaches the most-steamed song on Spotify with 1.081 million views. Apart from the amazing performance of streaming filed, Ed Sheeran and Justin Bieber's new song leads at the iTunes chart of instant downloads in many countries.
View also: How to Download All Alan Walker Songs to MP3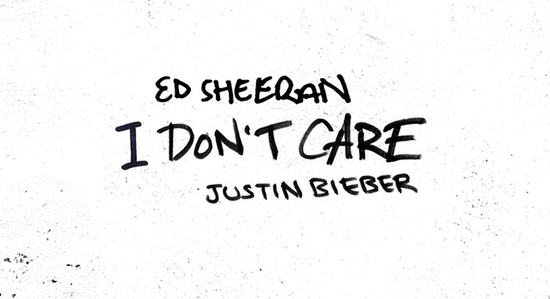 More Details about Ed Sheeran & Justin Bieber and 'I Don't Care'
Is it the first time to make a collaboration relationship between Ed Sheeran and Justin Bieber? Not really! As a matter of fact, they have teamed up for a single called 'Love Yourself' in 2015 and Major Lazer's 2016 song "Cold Water", which featured Bieber and written by Ed Sheeran, etc.
On 5 May, Ed Sheeran has previewed the new song 'I Don't Care' on his Instagram social account. After that, Bieber have continued to share another part of the single. In the following day, they have both released the title of the single and the real release date on May 7. As result, 'I Don't Care' comes to the world on 10 May 2019.
Ed Sheeran & Justin Bieber's New Song Now Available on Spotify, iTunes, etc.
Now, you can listen to this pleasure and popular Justin Bieber and Ed Sheeran's song on almost all streaming music services, such as Spotify, Tidal, Apple Music, and more. With the paid premium subscription of one from these music streaming platforms, you can download and listen to this song on your computer and mobile devices offline.
Here is the 'I Don't Care' tune on Spotify, as you can listen to this song with your free Spotify account:
Ed Sheeran & Justin Bieber 'I Don't Care' Music Video for Collaboration
After the release of this new song, they have worked a preview of the music video for the latest collaboration. On Instagram, Sheeran also wrote this great news saying 'Video coming soon' in following day. It includes a green screen and Sheeran is walking around in public wearing a panda costume.
Under the Instagram post, Bieber commented the following words 'We have a video? Oh yeah we do. I don't care.' Yeah, 'I don't care' is the same with the song title. But we care more about when the video is coming.
Listen to 'I Don't Care' Songs on All Music Player Offline
If you don't subscribe any streaming music service, but would like to play Ed Sheeran and Justin Bieber's song on your MP3 player offline, you can try to download and install AudFree Spotify Music Converter for Mac/Windows on your computer and download 'I Don't Care' song from Spotify as MP3 for offline listening.
As Spotify gives free users free access to listen to songs and playlists, you can use this smart software to transfer downloaded 'I Don't Care' MP3 file to your devices and listen to it offline as you like without problem. As for the detailed tutorial, please visit: How to Download Spotify Music with Free Account.