Q: "Can I use Spotify music on GoPro Quik? These days, I have used my GoPro to shoot many videos and edit them well except for not adding background music. I found very suitable music on Spotify and want to set it as background music for my GoPro video via GoPro Quik app." - Quora
GoPro Quik is an awesome GoPro video editing app, holding true for both mobile and desktop. And it endows you the ability to add music to Quik for setting as background music. But all songs should be stored locally on your device.
In case that you are a die-hard fan of Spotify, you will know clearly that Spotify is streaming music service. It doesn't provide an opportunity to download Spotify music locally. Thus, if you'd like to is to add Spotify music to GoPro Quik, it's necessary to get local Spotify files.

Part 1. Why Can't Add Spotify Music to GoPro Quik Directly
GoPro Quick is a well-designed video editing app to create stunning GoPro videos. It enables users to insert eye-catching visual effects, design text, add beautiful melody as the background music, and so on. There's nothing mysterious about these editing effects of GoPro Quik. But the compatible audio formats with GoPro Quick solely cover MP3, M4A, WAV, AIFF, and CAF.
However, Spotify music is not only a cache file but also encoded in special Ogg Vorbis format. Obviously, even if you get Spotify music downloads locally, you still can't import Spotify music to Quik.
To make Spotify music as BGM of your GoPro video, all you are supposed to do is to convert Spotify music encoded with Ogg Vorbis format to the common audio formats, with which GoPro Quik is compatible.
Part 2. Use Spotify Music on Quik via Spotify to GoPro Quik Converter
Streaming at protected Ogg Vorbis format, Spotify music can't be used on any other apps and devices other than Spotify app, even though you are already a full member of Spotify. Theoretically speaking, adding Spotify music to GoPro Quik seems impossible. However, practice has proven that using Spotify on Quik is feasible with the aid of a professional program - AudFree Spotify Playlist Converter.
Coupled with certified and lossless conversion technology, AudFree Spotify Music Converter has the power to safely convert and download any content from Spotify for offline use on other devices with 1:1 sound quality. It provides MP3, WAV, FLAC, AAC, M4A, and M4B as output formats, which brings much flexibility. You can freely select any audio format that is accepted by GoPro Quik so that you can add a Spotify to Quik desktop.
In addition to the impressive loss-free output quality, other features developed by AudFree are equally appealing, such as conversion speed up to 5X faster, customization of export audio preferences, ID3 tag recognition technology to preserve the original metadata info, and more.
Part 3. Download and Convert Spotify Music for GoPro Quik
Use the above Download button to quickly download and install AudFree Spotify Music Converter on your computer. And then, follow the instructions below to find how to record from Spotify to GoPro Quik. All Spotify music will be downloaded to computer locally.
Step 1

Open AudFree to load Spotify music

Double-click the short-cut icon of AudFree Spotify Music Converter to navigate it, which will start Spotify app automatically. Browse Spotify albums or playlists, locate the target one, copy the corresponding link and paste it in the search section in the first interface of AudFree. Remember to touch the "+" icon known as "Add Files" to let AudFree load up the Spotify music tracks. Or, even more simply, drag and drop any Spotify tracks to AudFree as indicated on the main screen.
Step 2

Customize Spotify output format for Quik

Continue with the Menu button at the top right. From the pull-down list, choose "Preferences" and then to "Convert". Now, set a compatible Spotify output audio format for GoPro Quik and you can then tweak format parameters including channel, sample rate, and bit rate, etc. to match your tastes.
Step 3

Convert Spotify music for GoPro Quik

After confirming output settings, tap on the bottom-right "Convert" button to launch the conversion process. Wait untill the progress bar of conversion comes to an end. Whereafter, click the "Converted" icon to find the converted Spotify music list. You can highlight each of Spotify track and work with a search icon to access the local files of your converted Spotify songs. Now, you can add music from Spotify to Quik app without limits.
Part 4. How to Add Spotify Music to GoPro Quik
At this moment, your Spotify music must have been converted to the audio format that GoPro Quik supports to upload. You can now get down to the task of getting saved Spotify music into the GoPro Quik app.
How to Add Music from Spotify to Quik Mobile App
Step 1. Transfer converted Spotify songs to mobile devices via a USB cable or WiFi network;
Step 2. Install GoPro Quik from Google Play and run GoPro Quik video editing software and choose 'Create a new video' to import your GoPro videos;
Step 3. In the Music screen section, please go to the "Music Library" and click the 'My Music' tab. All Spotify songs stored on your local device will display.
Step 4. Now, you can select and add your favorite Spotify music to GoPro Quik for editing and making as background music.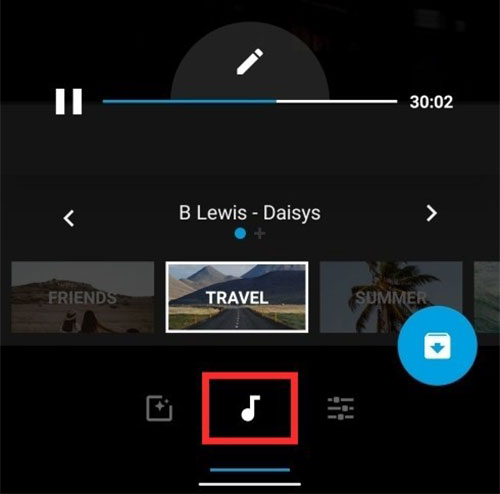 How to Use Spotify Music on Quik Desktop App
There was one caveat: GoPro Quik for desktop only supports importing media files from GoPro. As a result, it is impossible for you to add Spotify music to Quik desktop. Instead, you might as well try GoPro Studio, with which you are allowed to squarely import Spotify music downloads for editing.
Step 1. Install and launch GoPro Studio on computer;
Step 2. Head to "Media" to open local folder;
Step 3. Select and import your converted Spotify music;
Step 4. Edit the imported Spotify tracks in accordance with your request.
Part 5. In Conclusion
A pleasure background music in videos could make digital storytelling more attractive and touching. Now, with the help of AudFree Spotify Music Converter, you can unlock 65 million songs as the background music for GoPro videos. In fact, apart from adding music from Spotify to GoPro Quik for editing, now you have enough for adding and mixing Spotify music in any video editing software, such as iMovie, and more. Inspire your talent to make full use of Spotify music and GoPro Quik here!