Q: The wedding of my best friend is coming soon, so I'd like to use iMovie to make a special wedding video for them as a gift. But when I add music to iMovie from Spotify as background music for wedding theme, I can't do it successfully, which is really confusing. The wonderful background music is the finishing touch to a video. As a Spotify Premium user, why can't I use music from Spotify in iMovie?
As the preinstalled video editing software for macOS, iOS, and iPadOS devices, iMovie is one of the most popular editing tools for newbies who are Apple fans. With charming effects, 4K resolution support, audio editing, etc, iMovie provides a professional yet easy way to create and edit videos. But you can't get Spotify music on iMovie via the official way, whether you subscribe to Spotify Premium or not. Because up to now, Spotify and iMovie are not integrated together.
In this case, this article will introduce the complete tutorial in 2023 to download and import music from Spotify to iMovie on iPhone, Mac, and iPad to help you out. Without further ado, let's move on!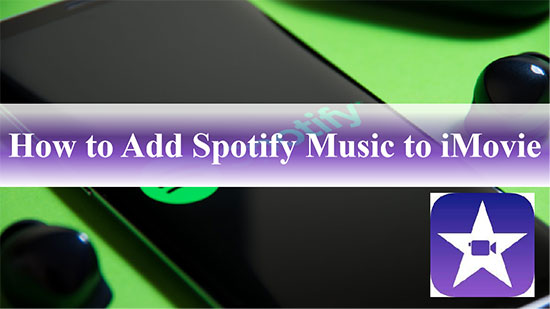 Part 1. Can You Use Music from Spotify to iMovie as BGM
As we mentioned above, Spotify iMovie integration is not available currently. Thus, you can't access Spotify music library directly in iMovie by linking to Spotify account. Fortunately, iMovie has an Upload feature, which enables users to add local files to iMovie and setting them as background music without any hassle. The only prerequisite is that the local files are compatible with iMovie.
iMovie supported audio file formats are MP3, WAV, M4A, AIFF, and AAC. But Spotify music is encoded in Ogg Vorbis format. Besides, you are allowed to download Spotify songs for offline listening only with a Spotify Premium subscription. Downloaded Spotify tracks are cache files and are only available in the Spotify app. Obviously, it's impossible to put and use Spotify music in iMovie directly due to format incompatibility.
However, it doesn't mean that there is no possible workaround to add music from Spotify to iMovie. Only if you have downloaded and converted Spotify songs to iMovie-compatible local audio files with the assistant of some third-party tool, it couldn't be easier to upload a song from Spotify to iMovie video projects as background music.
| | |
| --- | --- |
| iMovie Supported Audio Formats | MP3, M4A, WAV, AIFF, and AAC |
| iMovie Supported Video Formats | MP4, MOV, MPEG-2, AVCHD, DV, HDV, MPEG-4, H.264 |
| Spotify Format | Special Ogg Vorbis |
Part 2. How to Add Music to iMovie from Spotify - Tool Required
Best Spotify to iMovie Converter
The main reason why we can't add music to iMovie from Spotify is the compatibility issue. To solve this dilemma, the only tool you need to use is AudFree Spotify music Converter, which is one of the most excellent Spotify music download and conversion tools.
It allows users to download Spotify music, playlists and albums to the local computer. Importantly, it has the ability to convert Spotify to MP3, M4A, or other iMovie supported audio formats . By using the smart solution, you can make Spotify songs playable by iMovie without any problem.
Besides, it can retain 100% original audio quality when downloading Spotify music for iMovie. After that, you can choose to sort the output tracks by artist or album to organize your Spotify music library better in iMovie. With the help of AudFree Spotify Music Converter, you have the freedom to use Spotify music as background music in your own iMovie Project.
AudFree Spotify to iMovie Converter
How to Download Music from Spotify to iMovie
Before adding songs from Spotify to iMovie on Mac, iPhone, and iPad, the indispensable process is to convert and download Spotify songs to plain audio files recognized by iMovie video editor. Let's get started with AudFree Spotify music Converter.
Step 1

Import Spotify Music to AudFree SpoDable

When you launch AudFree Spotify music Converter from your computer desktop, you will see the Spotify app will be loading automatically. Now, you can start to discover the Spotify music that you'd like to add to iMovie. Drag and drop it to the conversion window directly afterwards. If you have many Spotify songs to download for iMovie, you can copy the URL of Spotify tracks, and then paste it to the text address and click the '+' button to upload music from Spotify.
Step 2

Set Spotify Output Format for iMovie

Go to the top menu, select "Preferences">"Convert" option and the settings window will pop up. In this window, you can choose an audio format supported by iMovie as the output format, like MP3, WAV, AAC. Besides, you can also customize other output parameters as you like, such as bit rate, sample rate, etc. to get high quality of Spotify files and then use them in iMovie.
Step 3

Download Spotify Songs for iMovie on Mac

To start the downloading process, please press the 'Convert' button at the bottom-right corner of the main interface. Just a hint, to make the Spotify to iMovie conversion process stable, you'd better disable your Antivirus or Firewall. When it's done, you can navigate to the target folder of your computer to view the downloaded Spotify songs. All Spotify songs can be uploaded to iMovie without any limit.
Video Demo

Download and Convert Added Spotify Music to iMovie-supported Files
Part 3. How to Get Music from Spotify on iMovie on iPhone and iPad
Congratulation! Now that you've downloaded music from Spotify to computer and saved it as iMovie-compatible music file, it's time to add music to iMovie on iPhone and iPad from Spotify and then set Spotify song as the background music for iMovie video projects.
How to Add Spotify Music to iMovie on iPhone
Step 1. Please transfer Spotify music to your iPhone with the help of iTunes. Open the iMovie Project on your iPhone and go to 'Select New Project' > 'Movie' sections to upload your videos. After that, please click the 'Create Movie' button.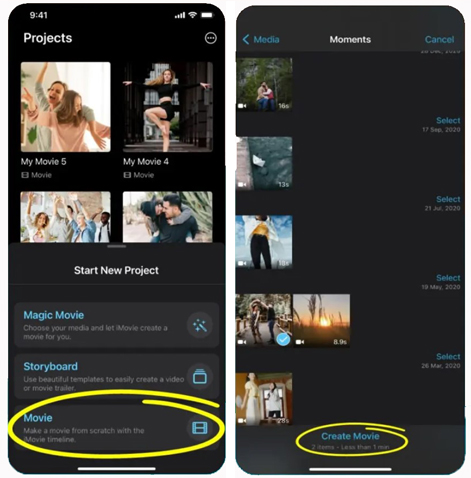 Step 2. There is a '+' button on the left side of your main screen, you need to click it and then tap the "Add Media" button.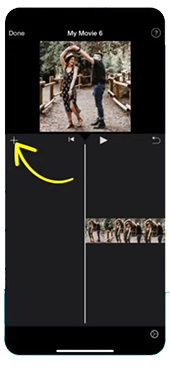 Step 3. Now you can click the 'Audio' > 'My Music' to select the Spotify music you want to add in iMovie to preview it.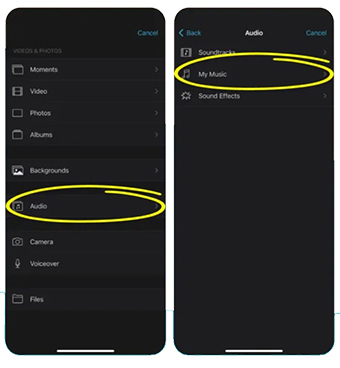 Step 4. Click the "plus" button next to the Spotify song to add it. To get Spotify music on iMovie on iPhone, please tap either 'Soundtracks' or 'Sound Effects' > '+' buttons to upload it. After that feel free to edit the Spotify song in your iMovie project timeline in the way you want.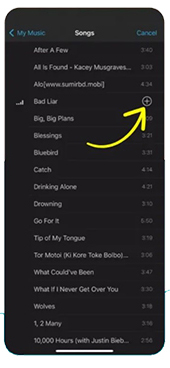 4.2 How to Add Spotify Music to iMovie on iPad
Step 1. Move the Spotify song to your iPad in advance, then open iMovie and launch your video project.
Step 2. Open your project in the timeline and click the Add Media button on the screen.
Step 3. Tap the Audio > My Music option to browse through the Spotify songs stored on your device.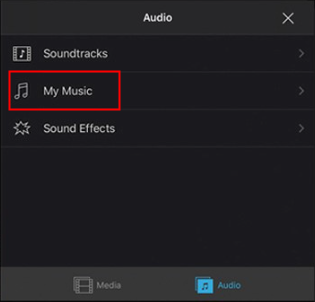 Step 4. Select the Spotify song you'd like to add to your iMovie project, and tap the selected Spotify song to preview it.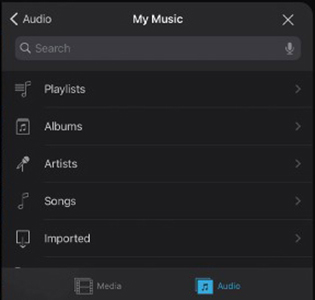 Step 5. Tap on Plus next to a song and the Spotify music will be added to the bottom of the project timeline. Then, you can edit the sound effects as you wish.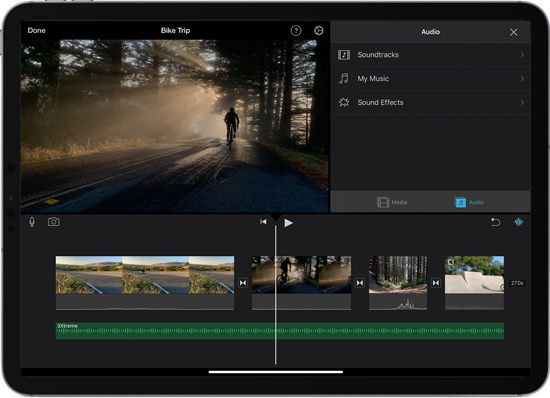 Part 4. How to Add Spotify Music to iMovie on Mac
iMovie not only has the iOS and iPadOS versions but also the Mac version. Since you might use the iMovie for Mac app to create your video and add music, here, we will also show the detailed steps on how to add a song from Spotify to iMovie on Mac. If you are a novice in using iMovie, you can follow the step-by-step guides below.
How to Add Music to iMovie on Mac from Spotify
Step 1. Open iMovie on your Mac and launch your iMovie project. Please make sure you have transferred Spotify converted files to iTunes in advance. For how to do it, please visit: How to Transfer Spotify to iTunes Library.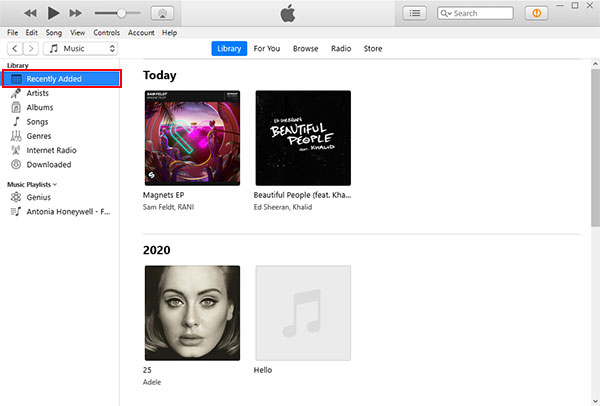 Step 2. To add music from Spotify to iMovie on Mac, please click the 'Audio' option and select 'iTunes' from the sidebar. After that you can browse the target Spotify music downloads that you'd like to add to your project.

Step 3. Now, you can drag and drop the Spotify clip to the background music well. Then it's able to position, trim and edit the added Spotify audio clips independently in the timeline.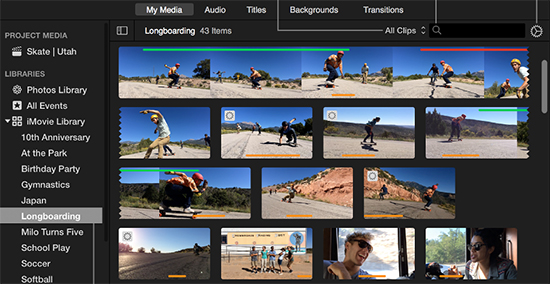 Part 5. FAQs of Putting a Song from Spotify into iMovie
Here are frequently asked questions about adding music to iMovie from Spotify. Master these skills and have fun with iMovie and Spotify.
Q1: What Is iMovie?
iMovie is a video editing software for Macintosh computers. It has thousands of awesome features that allow users to edit videos and photos, music, titles, effects, and more. To put it crudely, iMovie aims to make an exclusive video along with wonderful background music.
Q2: Is There Any Free Music Available in iMovie?
In reality, you can find iMovie has built-in soundtracks and sound effects, which can be used in iMovie project with freedom.
Q3: Can I Use Spotify Music on iMovie?
As long as you use the AudFree Spotify music Converter mentioned above, you can use Spotify songs in iMovie whenever you want.
Q4: How to Add Music from Spotify to iMovie without iTunes?
Only if your Spotify music has been downloaded and converted to iMovie-compatible audio tracks, you can directly drag and add Spotify songs to iMovie from the Finder or computer desktop.
Q5: How to Edit Spotify Music in iMovie?
Please hit on the audio clip in iMovie's timeline, and then it's able to set the start point and the end point to play Spotify music. You can also delete or cut unwanted Spotify audio clips in iMovie by clicking the 'audio overplay' button.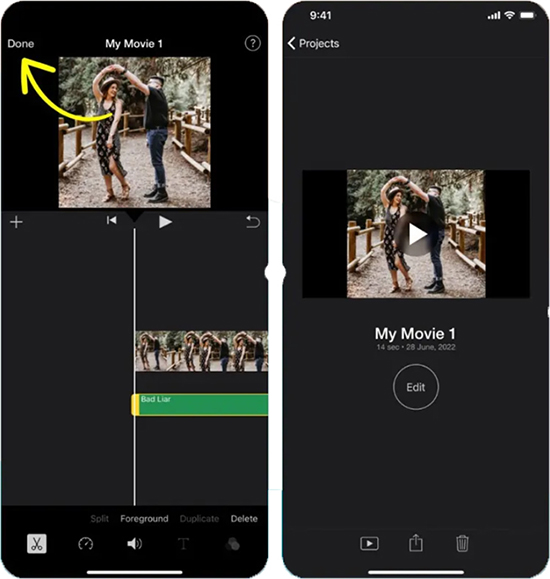 Q6: How to Change Spotify Background Music in iMovie?
Just delete and change the Spotify music in the timeline and click the Media tab to import a new one to the timeline.
Q7: How to Control Spotify Music Volume in iMovie?
After you insert Spotify song into iMovie, please move your pointer over the audio clip. Tap the Volume button and adjust the slider to increase or decrease the volume of Spotify music on iMovie.
Q8: How to Make Spotify Music Soft in iMovie?
When you open the iMovie Project and import music to iMovie from Spotify, please open the Inspector window to choose the Audio > Ducking button. Now you can control the ducking slider to make Spotify music volume softer than before.
Q9: How to Add Sound Effects for Spotify Songs in iMovie?
Launch the iMovie for Mac and select Spotify music in the timeline. Tap the Video > Audio Effects options to customize audio effects for added Spotify music.
Q10: How to Add Music to iMovie from YouTube?
Similar to Spotify, iMovie and YouTube Music integration is not available yet. If you still want to add YouTube Music to iMovie, the only way to use a professional audio capture to record and download YouTube Music as local audio files supported by iMovie.
Part 6. To Sum Up
To add music to to iMovie Project for pleasure soundtrack, Spotify is a nice option due to its rich music catalogue. To add music to iMovie from Spotify, AudFree Spotify music Converter is your best helper because of its unique features. Just use your ingenuity to create unparalleled videos with Spotify music in iMovie.