Spotify has taken the world by storm with its easy access to music and its vast catalogue. It is recognized by a majority of users from all over the world, with its great accessibility and friendly interface. Spotify comes in the form of mobile applications and software on laptops and TVs, making it available in many forms.
When there is such a case, the need to listen to music on speakers becomes a necessity to enjoy it at its full potential. This is why we bring forth an article for you which tells you all about the best Spotify speakers. This will not only give you a picture of how to use them but also tell you how best to get the most out of your Spotify experience.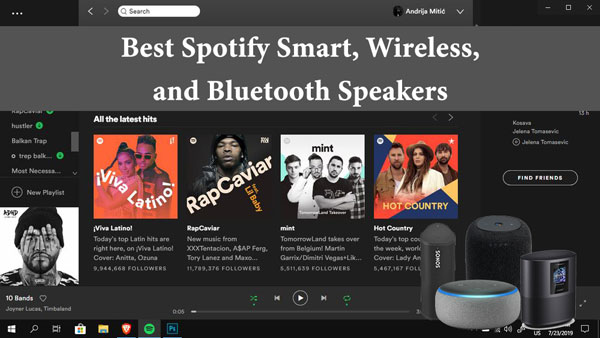 Part 1. Top 8 Best Spotify Speakers That You Can't Miss!
Spotify can be connected with a variety of speakers that have unique characteristics ranging from features like Bluetooth, wireless, and smart. We will explore multiple options available, and you can choose the best Spotify speakers that suit you well.
View also: How to Play Spotify through Bluetooth
1. JBL Link Music
JBL Link Music is versatile with its 360 degree voice feature giving our pro sounds like no other. It is also linked by Google Assistant that plays your desired music through Spotify and other platforms. All you need to do is tell Google Assistant which song you want to hear, and it will do the job for you. It doesn't take much to set up. It can be paired with both iOS and Android through an app, and get started! It comes in 6 different colors that you can choose from.
2. UE Megablast
Ultimate Ears Megablast also comes with a 360 degree rotation providing full coverage of the sounds with intense richness and clarity with up to 12 hours of battery life. In addition, it connects to Alexa and can stream music and sounds from any streaming platform, making it essential as a must-have.
3. Amazon Echo Dot
Amazon Echo Dot has a premium sound that radiates all across your home. It delivers rich, clear, and high dynamic sounds that are a delight to your ears. In addition, you can stream from any music streaming site and have Alexa help you play your favorite song. That's to say, you can play Spotify on Alexa with ease. The 4th generation model also comes with a digital clock that helps you tell time if you are in a time-sensitive environment like your kitchen or when you are about to wake up in the morning. With this, you can also get an assistant in places where you normally can't. How cool is that?
4. Google Nest Hub Max
If you are looking for a Google assist speaker, then look no further because the Google Nest Hub Max brings you the best sound connection. It is compact, has a pillow-like shape and is perfect for home and office use. In addition, it is powered by Google Assistant, which will allow you to play music, set timers, tell you the weather, and have it search anything on the internet.
5. Yamaha YAS - 209
The Yamaha YAS - 209 is one of the best Spotify Connect speakers. It comes with a wireless subwoofer that engulfs the entire room virtually with its sound. It has Alexa onboard and is completely compatible with Spotify Connect. It is an all-rounder with both Bluetooth and Wi-Fi connections making it the perfect device for home use.
6. Sonos Roam
The Sonos Roam offers portability like no other. It connects to all the streaming websites and is perfect for travelling. It even offers wireless charging, which is perfect for when you are on the move. It gives you a total of approximately 10 hours of full charge music and is also waterproof.
7. Bose's Home Speaker 500
This speaker is one of a kind with its wall to wall feature from a stereo connected wirelessly by a single speaker. It has a built-in voice assistant who helps you to choose a song. Not only that, but you can also control it with your voice, through touch or directly from its app. It has both Wi-Fi and Bluetooth connectivity, which makes it much more user friendly and its interface much more accessible.
8. Bang & Olufsen Beosound 2
This powerful piece of equipment is a multiroom speaker with a beautiful look and melodious sound full of finesse. It offers an amazing and powerful sound performance that makes you want more. Its body is a 360 degree conical shape that delivers a stellar voice that radiates across the entire room. It is mainly designed for flexibility. It is not just used for music, but you can connect absolutely anything to it, and it will deliver - whether it's the morning news or the afternoon audiobook, you name it!
Part 2. How to Make All Smart Speakers Work with Spotify
Connecting Spotify with speakers is easy. But enabling all songs to run on Spotify is tricky. This is because not all users are subscribed to the premium version Spotify that allows songs to play offline. For them, it becomes a hassle to find a connection to the Internet just to play Spotify. Not to mention the huge amount of data that it consumes. This makes it difficult to play a majority of songs when you are at a party, at an event, even chilling out with your friends or spending time alone just vibing.
When you are provided with a vast library of songs, you want to make sure that you are able to use them to their full potential. To make sure that you are well equipped with the songs to play on your smart speakers that work with Spotify, we bring forth a way for you to download music from Spotify free and play it. How cool would that be? For this, we present AudFree Spotify Music Converter.
AudFree Spotify Converter is an application that enables you to download and convert a number of music files in your database so that you can save them and listen to them whenever you like. It has various extensions for file format such as MP3, FLAC, AAC, WAV, M4A, M4B and many other audio formats that convert the Spotify Ogg making it compatible with many devices and players.
With this app, you can download songs at a much faster speed, very easy to download Spotify songs to computer and keep supporting the original versions of Spotify. In addition, it can work well with most operating systems and is 100% secure and safe. All you need to do is simply have the Spotify desktop app and AudFree App installed on your computer, and you are good to go! Then you can enjoy Spotify music on the best speakers for Spotify.
Part 3. Moving Forward
With the ever so emerging technology, we are always looking for ways to make our life easier and accessible for our daily life. With applications like AudFree Spotify Music Converter and best Spotify speaker mentioned above, there is no doubt that you can make your life effortless and more enjoyable with a kick of music! So, what are you waiting for?!