Q: "Can I use Spotify on Xbox One while playing games? As far as I known, Spotify is available for the PS5 and other PlayStation consoles, the competitor to Xbox One. However, I prefer to use Xbox One to play games. So here, I wonder to know whether there is a way to cast Spotify to Xbox One as background music instead of the same typical songs on Xbox."
Obviously, the answer must be yes. As a matter of fact, the popular streaming music service, Spotify also comes to Mircrosoft's Xbox One console since August 9th, 2017. Put it another, you can supplement game play with a Spotify-backed soundtrack freely. To make it easier, I summarize top 3 best ways to stream Spotify to Xbox One for listening.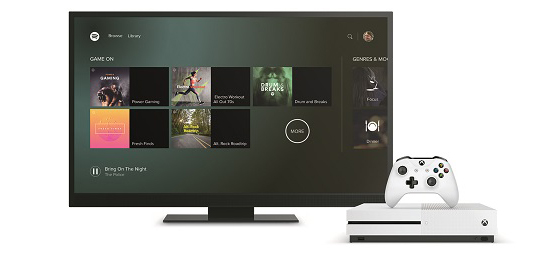 Part 1. Connect Spotify to Xbox One via Spotify Xbox App
From what we mentioned above, you all know that Spotify is fully compatible with Xbox One and you can play Spotify in the background on this smart game console. Is Spotify free on Xbox One? Yes, to listen to Spotify on Xbox One, you just need to download the Xbox Spotify app. If you are looking for a playlist from Spotify, you can go to the Browse option in Spotify to discover the Gaming hub, which features pre-curated gaming playlists, such as 'Epic Gaming' and 'Power Gaming' listings.
How to Install Spotify Xbox App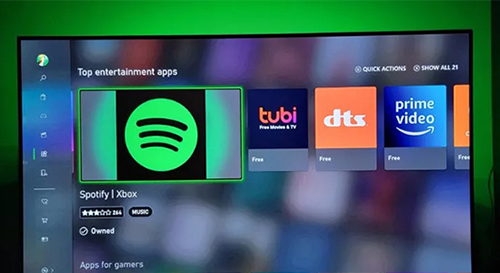 Step 1. Launch your Xbox One and go to the Microsoft Store.
Step 2. Search for "Spotify" in the search bar.
Step 3. Select the Spotify app from the search results.
Step 4. Click "Get" to download and install the Spotify Xbox One app.
How to Control Spotify on Xbox One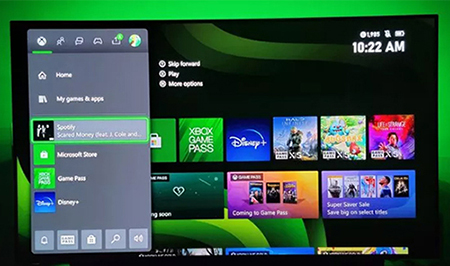 Step 1. Launch the Spotify app on your Xbox One.
Step 2. Log in your Spotify account details. If you don't have an account, please create a new one.
Step 3. Press the "Xbox" button on your controller to open the guide, then select "Spotify" from the list of apps.
Step 4. From there, you can browse and play Spotify music using your controller.
Step 5. Or use a voice command with your Xbox One Kinect sensor or a compatible headset. For example, say "Xbox, play Spotify" to start playing songs.
Part 2. Use Spotify on Xbox One with Spotify Connect
To change Spotify songs or playlists when you are playing game without interruptions, Xbox One owners allows you to control playing tunes by using the Spotify app as a remote from smartphones, tablets and computers with Spotify Connect. You can skip, pause or select new background music as you like. However, it's important to note that Spotify Connect is only available to Spotify Premium subscribers.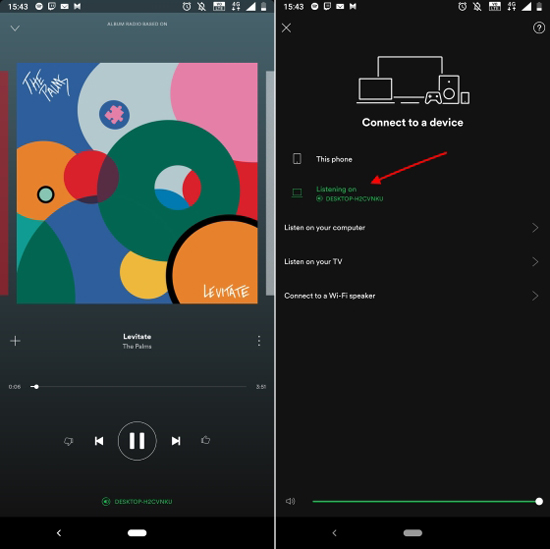 Step 1. Install and open the Spotify app on your iPhone or Android devices.
Step 2. Play a song or playlist.
Step 3. Tap on "Devices Available" to select Xbox One as the playback device.
Step 4. Start to control playback with Spotify Connect without stopping the game.
📌 Note: Please make sure your Xbox One and Spotify app on your devices are on the same Wi-Fi network.
Part 3. Play Spotify on Xbox One via USB Drive
If you are in the area with stable Internet network, it could be an easier task to make Spotify pair Xbox One for online playback. What if a speedy Internet connection isn't available, especially for free users or whom has canceled Premium subscription?
As the Xbox One can play content from USB storage devices using the 'Media Player' app. There will be a perfect way to transfer Spotify music or playlists to a USB drive for getting Spotify to play on Xbox offline. But note that due to digital rights management protections, it's not possible to upload Spotify music to a USB flash drive directly.
Here, we need the assistance of AudFree Spotify Music Converter. It specializes in removing format locks from any Spotify content. What's more, it can download and convert Spotify music to MP3, FLAC, etc. with zero quality loss, no matter you are using free or Premium account. After that it is easy to transfer Spotify songs to USB for offline playback on Xbox One.
How to Play Spotify on Xbox While Playing a Game
Now, let's have a look at how to use AudFree Spotify Music Downloader to download Spotify music or playlists offline and transfer downloaded Spotify songs to Xbox One via USB drive. By the way, once you have gotten Spotify tracks from AudFree software, you can keep those Spotify tracks forever.
Step 1

Add Spotify music/playlists to AudFree SpoDable

You can launch AudFree Music Converter for Spotify from your Mac or Windows computer and discover the favorite Spotify music in the opened Spotify app. And then you can drag and drop Spotify songs or playlists to the main interface of the tool. Or copy and paste the URL of Spotify tracks to the search box and click the Add button.
Step 2

Customize output settings for Xbox One

Please navigate the Menu bar > Preference > Convert to open the setting window, in which you can personalize the output format and output quality according to your needs. There are six audio formats for you to set as output format, including MP3, FLAC, WAV, AAC, M4A and M4B. To keep the high-quality output audio, you are suggested to set 320 kbps as the output quality.
Step 3

Download Spotify playlists for Xbox One

When all settings are ready, please simply click the Convert button to start the downloading and converting process. AudFree software will download and convert Spotify music to unprotected audio files for streaming to Xbox One. You can locate converted Spotify files on destination folder.
Step 4

Transfer converted Spotify tracks to Xbox One

Please connect the USB flash drive to your computer and transfer Spotify songs and playlists to USB it via copying&pasting action. Please plug USB drive including Spotify tracks to Xbox One, and then you can play local Spotify Music on Xbox One S offline via media players like VLC Media Player.
Part 4. How to Fix Spotify Xbox Not Working
Xbox users can enjoy Spotify on their consoles, but sometimes the app may encounter issues that prevent it from working properly. This can be frustrating, especially for avid gamers who prefer to listen to Spotify music while playing. In this case, there are several troubleshooting steps that you can take to fix Spotify not working on Xbox One.
🛠️ Check Your Internet Connection
Poor internet connection can cause issues with Spotify on Xbox One. Make sure your Xbox One is connected to a stable internet connection and try restarting your router or modem.
🛠️ Restart the Xbox One and Spotify App
Sometimes restarting your Xbox One and Spotify app can fix any temporary glitches or issues. To do this, simply close the Spotify app and turn off your Xbox One. Wait for a few minutes, then turn it back on and launch the Spotify app again.
🛠️ Update the Xbox One Software and Spotify App
Make sure you have the latest version of both your Xbox One software and Spotify app installed. To check for updates, go to the settings menu on your Xbox One and select "System" > "Updates & downloads". For Spotify, go to the Microsoft Store and check for any available updates.
🛠️ Clear the Cache on Xbox One
Clearing the cache on your Xbox One can help fix any issues with the system's temporary files. To do this, hold down the power button on your Xbox One until it turns off completely. Unplug the power cord from the back of the console and wait for 10 seconds before plugging it back in and turning it on again.
🛠️ Reinstall the Spotify App on Xbox One
Try uninstalling and reinstalling the Spotify app on your Xbox. To do this, go to "My games & apps" on your Xbox One dashboard, select "See all", find Spotify in the list of apps, and select "Uninstall". Then, go to the Microsoft Store and search for "Spotify" to reinstall the app.
🛠️ Contact Spotify or Xbox Support
If you've tried all of the above fixes and still can't get Spotify to work on your Xbox One, contact either Spotify or Xbox support for further assistance. They may be able to provide additional troubleshooting steps or escalate the issue to their technical team.
Part 5. Sum Up
Playing Spotify music while gaming can add an extra layer of excitement to your gaming experience. With these methods above, you can easily make Spotify Xbox One work. Whether you prefer to stream music or play offline, there is a method that will work for you.
If you don't know how to choose, we recommend you to use AudFree Spotify Music Converter to download Spotify music to USB in order to listen to Spotify offline on Xbox. So, fire up your Xbox One and start playing your favorite tunes!