Bluesound is a manufacturer of high-quality audio products for the home. For example, the hot Bluesound Node, an all-in-one multi-room HI-Res wireless music streamer that allows seamless connection and playback of high-resolution music such as Spotify, Tidal and Amazon Music.
Today, we will meet the needs of Spotify users. This article compiles 2 available methods about how to access and stream millions of Spotify songs on Bluesound. Let's keep reading to get Bluesound Node Spotify connect.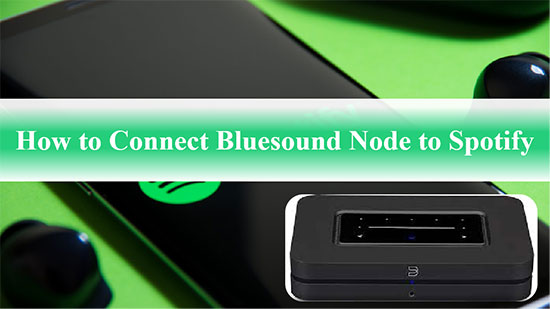 Part 1. Official Way to Get Bluesound Node Spotify Connect
In fact, Spotify free and premium users can use Spotify Connect and Bluesound player from anywhere in the home. You can easily control music playback with the BluOS controller and the Spotify app. As for how to enable Bluesound Node 2i Spotify connect, please perform the following steps.
📝 Tip: Make sure the Spotify app is connected to the same Wi-Fi network as the Bluesound player.
Step 1. Download and install the BluOS app on your device.
Step 2. Run BluOS Controller, tap the Menu icon and select More Music.
Step 3. Select the Spotify service. Click the Open Spotify button and follow the prompts to log in to your account.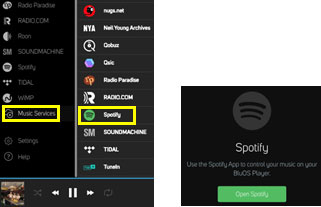 Step 4. Play the desired Spotify track, click the Device icon in the bottom right corner.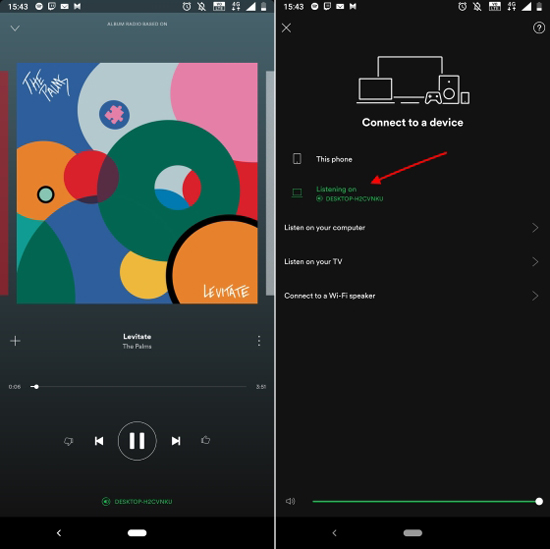 Step 5. Select Bluesound player from all the devices you can connect to, then Spotify music will be automatically streamed to Bluesound for playback.
Part 2. More Comprehensive Way to Play Spotify on Bluesound
Actually, the official method is very dependent on the network condition, which can easily lead to problems with Bluesound Spotify connect. So, here is an offline method to listen to Spotify on Bluesound for your convenience. Since Bluesound Node supports locally stored songs, you may want to download Spotify music and store it to your local USB device for offline playback on Bluesound.
In order to achieve this process, you need the assistance of a program called AudFree Spotify Music Converter. It is dedicated to download songs, albums, playlists, etc. from Spotify to your computer locally. What's more, it implements Spotify output format conversion, like normal MP3, AAC, WAV, FLAC. Then you can transfer Spotify to USB and plug it into Bluesound Node for free playback without worrying about the network.
How to Connect Bluesound Node to Spotify Offline
Step 1. Launch AudFree Spotify Music Converter and select the music you want to listen to in Bluesound Node from the Spotify app. Copy the URL of the song and paste it into the search bar at the top of this converter. Click the "+" button to import the tracks.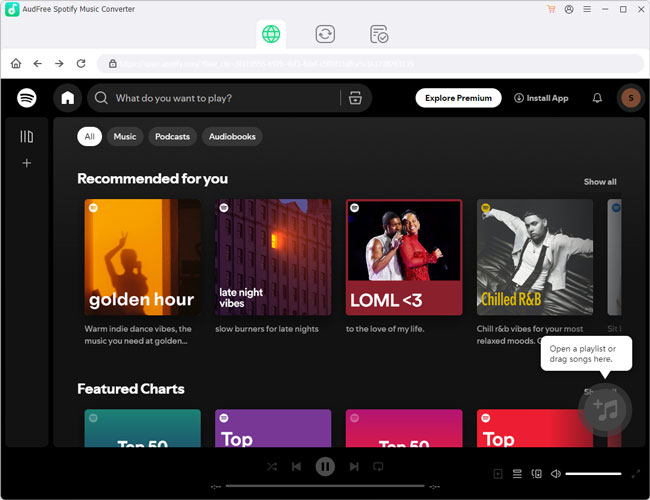 Step 2. To make Spotify songs compatible with Bluesound, you need to set the output format of Spotify. Just click on the "Menu" icon on the top right, select "Preferences" and click on the "Convert" tab. After that you can customize Spotify parameters, like output format, bitrate, sample rate, etc.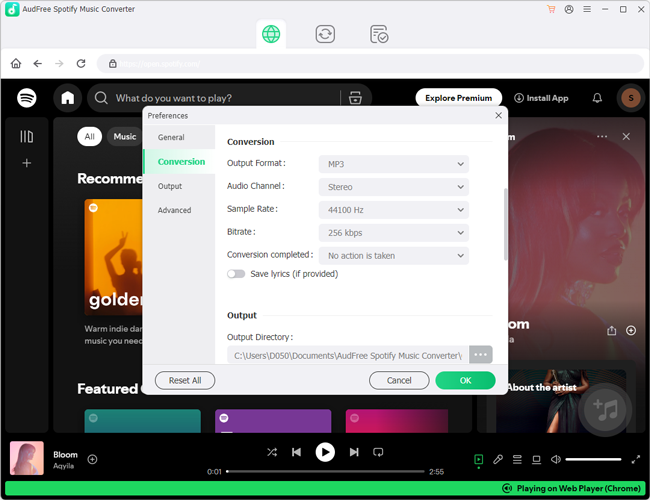 Step 3. Click the "Convert" button at the bottom, all your imported Spotify songs will be converted to common format recognizable by Bluesound. After finishing, you can tap the "Converted" button to find the downloaded songs in the local folder of your computer.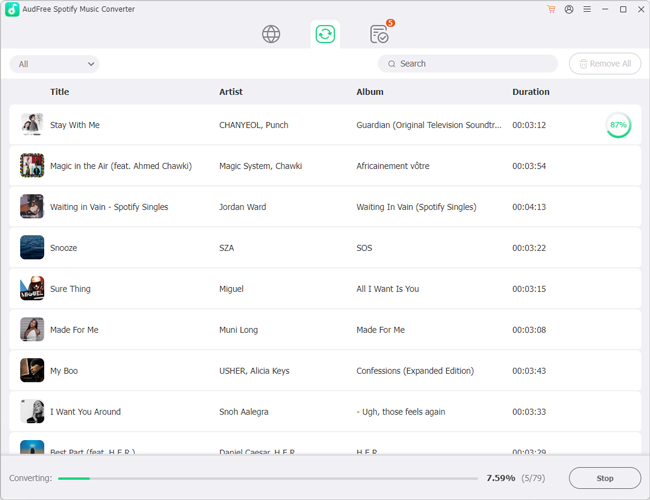 Step 4. Copy Spotify songs to USB from your computer and connect the USB drive to the USB port on the back of your Bluesound player. Then select USB in the BluOS app to play Spotify tracks on Bluesound.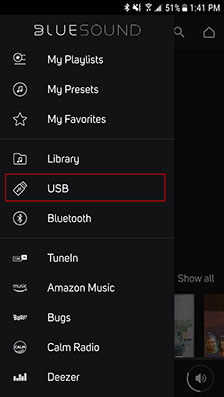 Part 3. Bluesound Spotify Connect Problem - Easy Fixes
Many users in Spotify community have reported Bluesound Node 2i streaming issues with Spotify Connect. If you are one of them, you can refer to the troubleshooting steps listed below to enable Spotify Bluesound smoothly.
✔️ Restart the Spotify app to reset your Spotify Connect with Bluesound Node.
✔️ Log in to your Spotify account and disconnect all your devices from your account page. Then try to connect Spotify to Bluesound player.
✔️ Unplug the power cord from the Bluesound player, wait 10 seconds and plug it back in. After that, see if the Spotify Bluesound connection problem exists.
✔️ Select "Music Service" and "Spotify" in the BluOS app and click "Help" and "Diagnostics Reboot" to troubleshoot.
✔️ If the problem persists, it is recommended that you contact Spotify for professional advice.
Part 4. Bottom Line
Thanks to Bluesound Node Spotify connect, you can play Spotify on Bluesound through the official method. But you must make sure that the Internet connection is good. Also, with AudFree Spotify Music Converter, you can stream Spotify on Bluesound Node 2i offline. Just choose the most suitable method to enjoy music anywhere at home.