Marantz is a stereo brand that is reputed and admired by every music fan because it delivers high-quality sound, has a sophisticated exterior design, the knobs, and sliders function with great smoothness, and most of all is a durable system that will last for years to come. The AV receiver by Marantz could give your ears a pleasant sound giving you a clear idea of what instrument and chorus are being played in the background.
Then, comes "Spotify" a digital music and video streaming service with millions and billions of your favorite songs lined up for you to enjoy.
Marantz Spotify is an integration that lets you listen to Spotify on Marantz. By transferring the high-quality songs on Marantz, you can feel the positive effects of the music without any disturbance. But how to set up Spotify on Marantz receiver? The content will guide you on how to secure a connection between Spotify Marantz.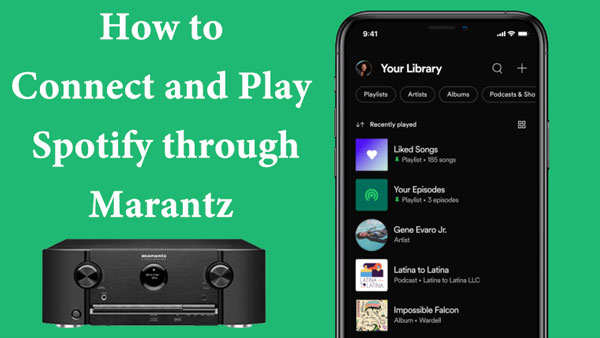 Part 1. How to Connect Marantz Spotify
Spotify announced that the streaming service can now be played through multiple Marantz receivers. So, if you want Marantz nr1504 Spotify Connect to work swiftly for your next big party, you need to go through the following steps.
Step 1. Download the Spotify app to your smartphone and get yourself registered with a premium account. The app is available for both Android and iPhone users.
Step 2. Connect your smartphone and Marantz to the same Wi-Fi connection.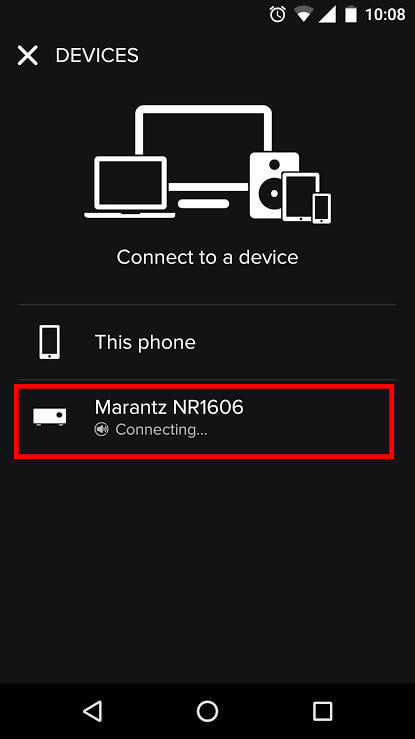 Step 3. Launch the Spotify app on your mobile device.
Step 4. Go to the "Spotify Connect" icon to choose your available Marantz device and start listening to the iconic music on Spotify.
Step 5. Select the song from the list of music on Spotify and you can play Spotify through Marantz.
Part 2. Marantz Spotify Doesn't Work: How to Fix
You may likely face issues while trying to connect Spotify to Marantz receiver. If you are unable to get Spotify on your unit, there might be some minor problems that you can tackle on your own by considering a few helpful tips from our side.
Marantz Not Showing Up on Spotify Connect - Why
1. First, ensure that functions related to a network such as an Internet Radio, DLNA service are working with full capacity.
2. The firmware of your Spotify app, Marantz receiver and router are all up to date.
3. Ensure that your smartphone and your Marantz receiver are connected through the same Wi-Fi.
4. The Spotify Marantz integration works smoothly only for premium Spotify users. So, make sure you are logged in to Spotify with a premium account to build a connection.
5. Double-check the Wi-Fi network. At times Wi-Fi on the available network channel causes disturbance. Change the Wi-Fi channel of your router to get started.
Try to Update The DNS Server - Solution
Most of the time your Marantz unit will be displayed on Spotify Connect, but you won't be able to listen to your favorite song. To resolve these issues, try updating the DNS server by following these quick steps.
Step 1. Go to the Wi-Fi option on your phone.
Step 2. Open Settings.
Step 3. Go down to the "Network" option and tap on the "Modify Network" option.
Step 4. Select the "IP" settings and change the DNS server to Public DNS Server.
Step 5. You can use two addresses as your DNS server including:
DNS Server: 8.8.8.8.
Secondary DNS Server: 8.8.4.4.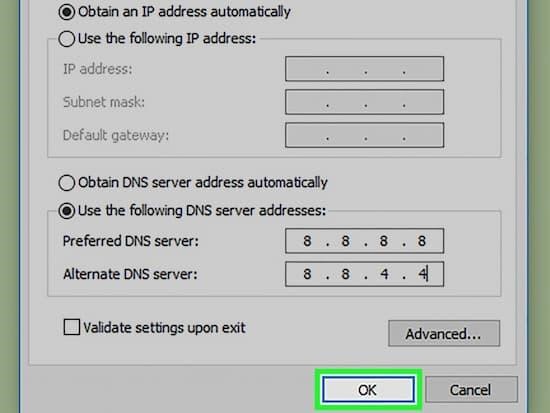 Note: A dual-frequency router (2.4/5) may also restrict your unit from playing Spotify music. To resolve this issue, change the frequency to 2.4. This way you get a better range and seamless connection.
Part 3. How to Play Spotify on Marantz Offline
If you are a premium user, getting Marantz 1506 Spotify working won't be a big problem. But at times due to weak internet connection, Spotify subscribers might not be able to play Spotify music on Marantz. Besides, not every Spotify user has a paid account. So, how to get Spotify on Marantz when the internet is not available or when you are a free user?
To still enjoy world-class music on an outstanding Marantz unit, install AudFree Spotify Music Converter. It is an effective third-party tool that enables you to download Spotify songs, podcasts, and audio by surpassing the DRM protection on Spotify songs. With a simple click and convert option, the converter allows you to save music as local files that can be played on Marantz even when Marantz Spotify doesn't work.
Key Features of AudFree Spotify Music Converter
1. Enjoy Spotify Offline
Spotify gives paid subscribers full access to its music library. But with AudFree Spotify Music Converter, there is no need for a premium account. You can convert as many songs as you like and listen to them on your Marantz unit.
2. Super-Fast Speed
While looking for a converter, many users give speed top priority and this is what you get with AudFree. This tool offers you a five times faster rate of conversion, but you can also opt for a 1X for a reliable conversion process.
3. Multiple File Formats
This Spotify audio converter supports a wide range of file formats including MP3, M4A, FLAC, WAV and so on.
How to Download Spotify Songs using AudFree Spotify Music Converter
Use the guide below to start converting Spotify music using AudFree Spotify Music Converter.
Step 1

Download and install AudFree

AudFree is fully compatible with Windows and Mac PCs. Go to the official website of the app and click on "Download". Download the version best suited to your device. Then launch AudFree on your computer.
Step 2

Import your favorite songs from Spotify

To get Spotify songs as local files, you need to convert Spotify to MP3 format. But first, you need to copy-paste the URL of all your favorite songs. Right-click on the songs you prefer and paste the link in the search box in AudFree. Another simpler way is to just drag and drop the songs to the AudFree converter.
Step 3

Adjust conversion settings for Marantz Spotify

You need to adjust the output setting to get the quality of files you are looking for. Open Menu and select the "Preference" option. It will open up a dialogue box where you can choose the output format of your choice. You can also customize the bitrate, channel, codec, and sample rate.
Step 4

Start the conversion of Spotify Marantz

Once you have customized the output settings, click on the "Convert" button. The converter will automatically convert all your selected songs into an MP3 file format. Now, you can enjoy top music on your Marantz unit without facing connection issues.
Part 4. Final Words
To use Spotify with Marantz, all you need is a reliable and effective tool that can help you admire the famous artist even without an internet connection. AudFree Spotify Music Converter is designed to act both as a downloader and a converter. Keep yourself entertained without the need to get a subscription plan for Spotify.