"Quite often when I stream Spotify music from my Android phone to my Onkyo receiver, the sound is on-and-off, or the sound is gone completely for minutes. Meanwhile, on my phone in the Spotify app, the Onkyo app as well as in the receiver's display it says the song is still playing." – Problems reported in the Spotify Community.
Spotify firstly announced its integration with Onkyo early in 2011. However, in 2017 Onkyo users received an email addressing that Spotify was no longer supported for Onkyo speakers. Though users nowadays can still play Spotify on Onkyo with some workaround, problems with Onkyo receiver streaming pop up every now and then. Therefore, we are here to provide you an ultimate solution – get Spotify on Onkyo receiver for offline playback.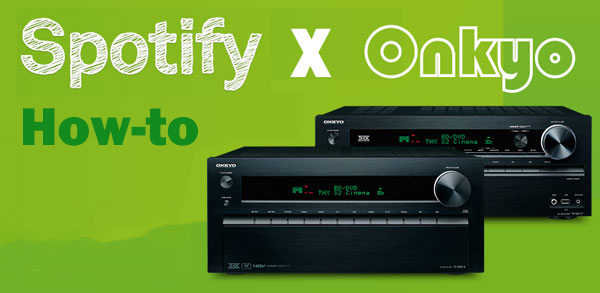 Part 1. Tool Required to Get Spotify on Onkyo Receiver
Two years ago, Spotify removed itself from numbers of audio speakers and receivers including Onkyo, Denon, and Yamaha, etc. Some devices even lost Spotify integration completely, leading to Spotify receiving loads of complaints. For Onkyo users who don't want to give up streaming Spotify music on their devices, a workaround to do it is via the Onkyo remote app, but the Onkyo Spotify Connect is not available for most Onkyo receivers anymore.
Though we may not have the Onkyo receiver Spotify integration back in a short future, there is a solution to get Spotify on Onkyo receiver easily. Here we meet AudFree Spotify Music Converter which is specially designed to solve Spotify streaming problems. For example, it helps numerous users to play Spotify on Denon receiver.
AudFree Spotify Music Converter enables both Spotify free and premium users to download Spotify tracks/albums/playlists at 5X speed with zero sound quality loss. This professional tool can also convert Spotify music from Ogg Vorbis format to common audio formats compatible with the Onkyo receiver. It is also smart enough to detect all metadata such as album art, title, year, genre, etc. and keep them in the downloaded Spotify music files.
Part 2. Tutorial on How to Play Spotify on Onkyo
AudFree Spotify Music Converter offers a free trial on both Mac and Windows versions. After installing AudFree Spotify Music Converter and the Spotify app on your computer, let's see how to play Spotify on Onkyo receiver step by step.
Step 1

Drag and add songs from Spotify to AudFree

Open AudFree Spotify Music Converter and the Spotify app will be auto-launched. Drag the Spotify music from the Spotify app and drop to the main pane of AudFree. Alternatively, you can copy the URL of the Spotify music and paste it to the search bar in the AudFree software. Please tap on the '+' button to load Spotify music into AudFree.
Step 2

Define output parameters for Spotify on Onkyo

Windows users can navigate to the 'menu' from the top-right corner of the AudFree interface. Then go to Preferences > Convert section. Mac users have to go to the top-left corner of the screen> menu tab > AudFree Spotify Music Converter. In the pop-up settings window, you can define the output parameters like output format, bit rate, sample rate, channel, etc. For your reference, most Onkyo receivers support digital audio formats in AAC, FLAC, MP3, WAV, WMA, etc.
Step 3

Convert Spotify music as local files for Onkyo receiver

After the settings are done, just tap on the 'Convert' button to start the converting process. Once the conversion is completed, you can tap on the on-screen prompts to visit the destinated folder where you choose to save all the converted Spotify songs.
Step 4

Play Spotify on Onkyo receiver offline

You now have the downloaded Spotify music files at hand, ready to play them on Onkyo receiver. Option one is to connect your laptop with your Onkyo receiver and you'll be able to enjoy Spotify music right away. Most Onkyo receivers come with a USB port for users to play videos/audios directly. This means you can transfer Spotify music to USB and plug it in Onkyo receiver for offline listening. A third option is to put Spotify music onto your phone and play Spotify through Bluetooth on your Onkyo receiver, which might sacrifice a bit of sound quality.
More: Onkyo Receiver Recommendations
Onkyo is a Japanese company that specializes in home cinema and audio equipment manufacturing. Their products range from speakers and receivers to portable devices. The word Onkyo means "sound resonance" if translated. Over the years, Onkyo has gained popularity from many audiophiles.
For your better experience of enjoying Spotify on Onkyo receiver, we have 3 recommendations for you.
Onkyo TX-NR696
Onkyo Tx-NR696 is listed as one of the best AV receivers of 2020 by CNET. Released in 2019, it is many people's favorite pick for a home theater system with its easy speaker setup, various features for a receiver, and an affordable price at $579.
Onkyo TX-NR585
Onkyo TX-NR585 released in 2018, is a great streaming option. If paired with a set of balanced-sounding speakers, TX-NR585 can deliver Spotify music without sacrificing sound quality.
Onkyo TX-NR646
This receiver is also a popular choice for many Onkyo customers and it is now the only Onkyo receiver that is listed officially on the supported Spotify Connect devices. With the built-in 384 kHz/32-bit DAC, TX-NR646 brings life to Hi-Res and streamed music.