Q: Can I download music from Spotify to USB directly ? - I would like to play Spotify through USB in car while long-distance driving, but to my disappointment, there is no such built-in feature in the Spotify app. I want to know know if there is any solution to transfer songs from Spotify to USB for listening?
In reality, downloading from Spotify to USB is a great choice to get Spotify Music playback on more devices offline. Without further ado, here is the best tool to make Spotify USB possible, so let's dive right into downloading Spotify Music to USB free with ease.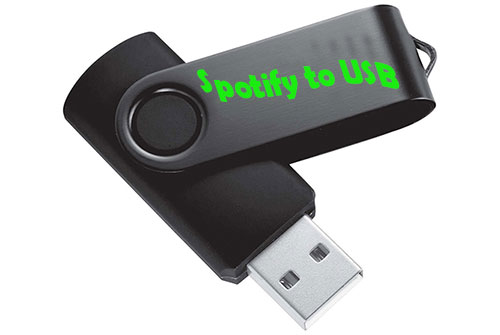 Part 1. Why Can't You Download Spotify Playlist to USB Directly
As you may know, Spotify free users are only allowed to listen to Spotify songs, playlists or albums with network connection, as the available download options doesn't belong to the feature of the free tier. That's to say, it's no official way to download Spotify to USB free.
In fact, even if you can download music from Spotify with a Premium subscription, you are unable to move music from Spotify to flash drive due to the fact that Spotify songs are protected by the special OGG Vorbis format. In this case, all Spotify downloaded files are restricted to use in the official Spotify app.
What's more, compatible audio formats via USB connection are MP3, WMA, AAC, M4A, and M4B, while Spotify's unique audio format is not compatible with USB flash drives. In other words, it is impossible to put Spotify Music on a USB stick directly unless you seek the help of a free Spotify to USB converter, which can help you download Spotify Music to USB supported format for cars and other USB-enabled devices.
Part 2. Download Spotify Music to USB Free - Best Tool
As we mentioned above, Spotify songs are encoded in a special OGG Vorbis format, which is not compatible with many popular devices, like MP3 players, Apple Watch, Sony Walkman, etc., and USB flash drives are no exception. So, to download from Spotify to USB, it is necessary to do Spotify Music format conversion.
Here, we can meet AudFree Spotify to USB Converter, one of the most professional Spotify music converters, which is specialized in unlocking unlocking the limitations of Spotify songs and playlists. As the name suggests, it can convert Spotify to MP3, AAC, M4A and M4B as USB supported audio formats with lossless ID3 tags retained.
It is worth mentioning that it works for both Spotify free and Premium users to download Spotify songs to USB at 5X faster speed without any problem. With this smart Spotify to USB converter, you can easily copy songs from Spotify to USB. After that, you're able to play Spotify Music in the car or other devices that support the USB port without any limitation, such as DVD player, smart TV, etc.
Part 3. How to Download Spotify to USB Free
AudFree Spotify to USB Converter offers the opportunity to download Spotify songs for free and quickly transfer songs from Spotify to USB by just doing a few clicks. Let's take a look at the step-by-step tutorial below.
Step 1

Import Spotify Songs to AudFree SpoDable

Please launch the AudFree SpoDable from your computer desktop, and then you will see that the Spotify app will be opened automatically. Now, you can find out your favorite Spotify playlist in the launched Spotify app. To import them to AudFree Spotify converting tool, you can drag and drop them to the conversion window on the home page.
Step 2

Personalize Spotify Output Format for US

You can open the settings window by clicking the Menu icon and selecting Preferences > Convert Options. You have the freedom to set the target Spotify output format that can be compatible with USB flash drives. In general, MP3 format is set as the output format of this Spotify to USB converter by default. In this new window, you can also change other audio settings such as sample rate, bit rate, channels, etc.
Step 3

Download Spotify Music to USB Free

When all settings are ready, you can start to launch the converting process by touching the 'Convert' button. It will convert Spotify to unprotected audio files that can be recognized by USB sticks. Generally speaking, it works at 5X faster speed while doing the conversion.
Step 4

Transfer Songs from Spotify to USB

You can locate unprotected Spotify playlists on the destination folder. All converted Spotify songs are compatible with a USB flash drive now. Let's start to save Spotify songs to USB without hassle.
1. Connect the USB drive to your computer via USB port.
2. Navigate to the local Spotify Music downloads and transfer them to the inserted USB folder by copying and pasting.
3. Wait for the ending of the copying process. It depends on how many Spotify files that you'd like to transfer.
Note: You can also insert the USB stick to your computer in advance, and set the destination folder as USB. By doing this, AudFree Spotify Music Converter can download music to USB from Spotify directly.
Part 4. How to Play Spotify through USB in Car
Now that you've downloaded Spotify Music to USB free, it's time to play Spotify in the car via USB. You can plug your USB into your car's USB port, but the premise is that your car has a USB port. Follow the complete tutorial below to get started.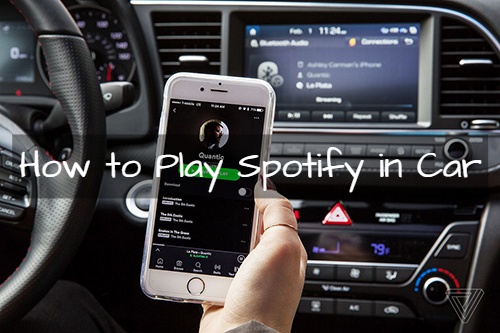 Step 1. Insert your USB drive with Spotify Music downloads into the car's USB port.
Step 2. Select the USB folder on the car's main interface, browse and find your favorite Spotify music you want to play in the car.
Step 3. Click it and the built-in media player will be launched to play Spotify Music from your USB in the car one after another.
Part 5. Spotify Not Playing through USB - How to Fix
Sometimes you may encounter the problem that the Spotify Music downloaded to USB still doesn't play properly on the device you want. Don't worry, the following solution can solve your confusion.
1. Make sure your device is connected to the USB smoothly.
2. Check that your USB drive contains the downloaded Spotify Music and that the Spotify Music is intact.
3. Please confirm that the Spotify Music files on your USB are compatible with the connected device.
4. Test the media player on the device to see if it works properly.
5. If none of the above solutions work, you can try plugging the USB into another USB port or getting a new USB drive to save Spotify Music.
Part 6. Sum Up
From the detailed guide listed above, you can get a powerful AudFree Spotify to USB Converter to download Spotify Music to USB free without effort, in turn, it's able to play Spotify Music on any preferred device as you like. Just take action to make Spotify USB a reality and start a free journey with Spotify Music.