Q: I am an avid fan of Spotify and the perfect gift I have received so far is a Spotify gift card. Its most distinctive feature is the enjoyment of free Spotify Premium service for months. However, I'm having trouble redeeming my Spotify gift card, any suggestions?
Actually, redeeming Spotify gift card is usually a piece of cake. To answer your confusion, this article will present tutorials on how to redeem Spotify gift card, as well as some basic information about Spotify gift card. Without further ado, read on for details.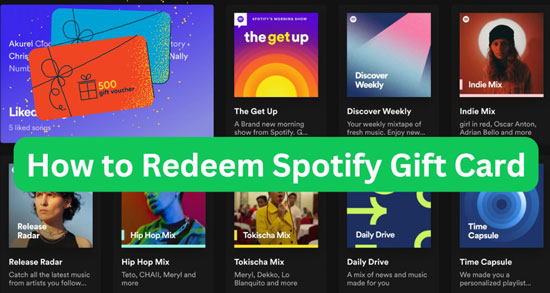 Part 1. What is Spotify Gift Card
As you may know, Spotify is known for its extensive music collection, making it a haven for music lovers. If you want to unlock the advanced features on Spotify, the first and most important thing is to subscribe Spotify Premium. But to be honest, the subscription fee for Spotify Premium is really burdensome.
In this case, the introduction of Spotify gift card is a boon for Spotify fans, which is specifically designed to activate and redeem Spotify Premium, allowing you to enjoy Spotify Premium membership features at a great discount, such as unlimited access to ad-free Spotify Music, playlists, albums and offline downloads. Moreover, you're capable of getting free Spotify Premium if you receive a Spotify gift card from your friend.
Part 2. How to Get a Spotify Gift Card
Now that you have a better understanding of Spotify gift card, it's time to learn the effective ways to get a Spotify gift card.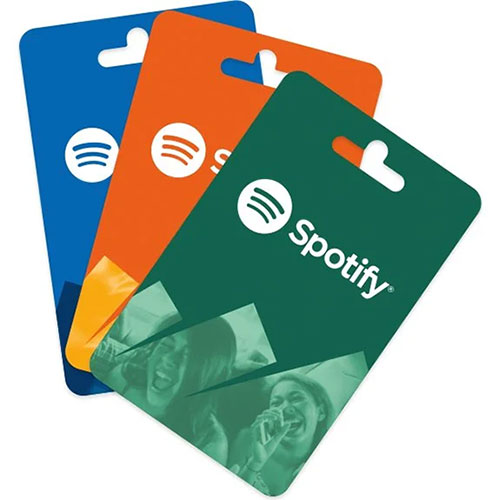 1. Customize Spotify gift card on Spotify's official store online
Visit the Spotify online gift card page and log in to your Spotify account. Choose the value of the card, customize all the required details including the desired color theme. After that enter your order information and select your payment method, then click on "Buy Premium Gift Card".
2. Spotify authorized e-gift card resellers
Currently, many Spotify authorized online stores offer Spotify gift card at discounted prices, such as PayPal, eBay, Amazon and other online sites. These websites are a reliable way to purchase Spotify gift card, just go to the website and search for Spotify gift card. By the way, it will help you save a lot, why not give it a try?
3. Get free Spotify gift card from Giveaway sites
You can follow sites like spotifycoupon.blogspot.com, onlinespotifycode.com and spotifyfreeaccount.co, which claim to offer Spotify gift cards at no charge. Just check them out and maybe you'll have a surprise.
4. Purchase Spotify gift card in offline stores
In fact, offline brick and mortar stores such as Walmart, Staples and Target in the U.S. are authorized to sell Spotify gift card. More importantly, the value of these cards is the same as digital cards purchased online.
Part 3. How to Redeem Spotify Gift Card
It's time to make Spotify Premium gift card redeem a reality, and it's really not as hard as you might think. Whether you buy Spotify gift card online or offline, they have the same redemption process. Follow the steps below.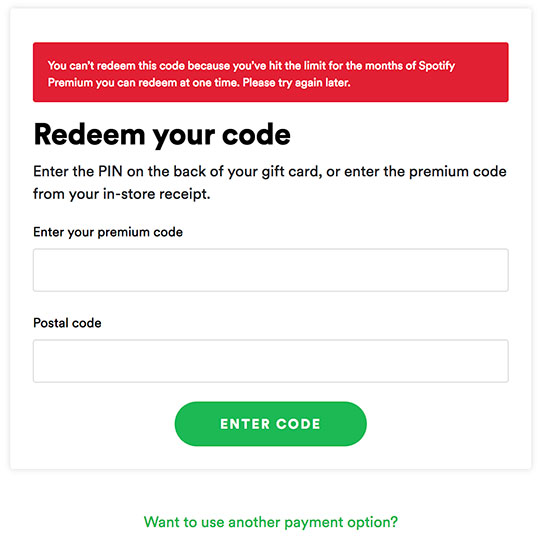 Step 1. Visit the official Spotify website and sign in to your personal Spotify account. If you are a new user, create an account.
Step 2. Once you have finished logging in, click on your profile picture in the top right corner of the screen and select "Account". Scroll down the page and select "Redeem" in the left panel.
Step 3. Enter the code on the back of your Spotify gift card. After that, click the "Enter Code" button and your Spotify gift card will be activated, then start enjoying your free Spotify Premium.
Note: The above tutorials are keyed to physical Spotify gift card, for e-gift card, click on the link in the email sent to you and it will guide you step by step through the process of redeeming your Spotify e-gift card.
Part 4. Useful Tips for Spotify Gift Card
Before purchasing and redeeming a Spotify gift card, you'd better remember the following items.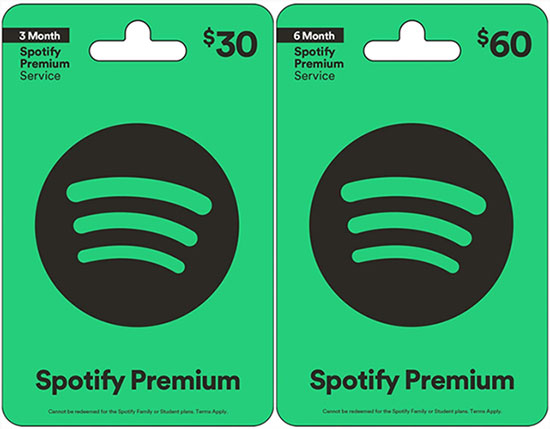 1. Spotify gift cards are usually valid for exactly 12 months from the date of purchase, which means they expire after one year, so please remember to activate them within the expiration date.
2. Spotify gift cards can only be used to pay for the Spotify Premium Plan and cannot be redeemed with other Spotify subscription services, such as Spotify Premium Family, Premium Duo or Premium Student.
3. Spotify gift cards can only be activated on a Spotify account registered in the same country as the purchase.
4. Once Spotify redeem gift card, the Spotify gift card balance will be immediately applied to your next Spotify Premium bill. Once you have used up your gift card subscription, your payments will continue as normal.
Spotify Gift Card Redeem not Working - How to Fix
- Verify that the country where your Spotify account is registered is the same as the country where you purchased your Spotify gift card.
- Make sure the correct code is entered.
- Check on the account page to confirm that the gift card has been redeemed.
- If the physical card was purchased from a store, contact the seller or after-sales team to activate it.
- Check if the card is used in conjunction with other Spotify offers.
Part 5. Bonus Time: Best Alternative to Spotify Gift Card
Spotify gift card gives you the privilege to enjoy Spotify Premium for a short period of time, once its balance runs out, you are forced to continue your Spotify Premium subscription for a monthly fee, which is still a hefty price to pay. In order to get free Spotify Premium subscriptions forever, after searching and trying various options, we finally found the perfect alternative to Spotify gift card - AudFree Spotify Music Downloader.
In reality, it is a well-designed Spotify downloader that can download and convert Spotify Music to MP3, FLAC, WAV, AAC to PC locally. Normally, only Spotify Premium users can enjoy the offline playback feature, but now, with this powerful tool, you can easily listen to Spotify Music offline on all devices and players without Premium. In this instance, it enables Spotify Premium free forever without limit.
How to Get Spotify Premium without Spotify Gift Card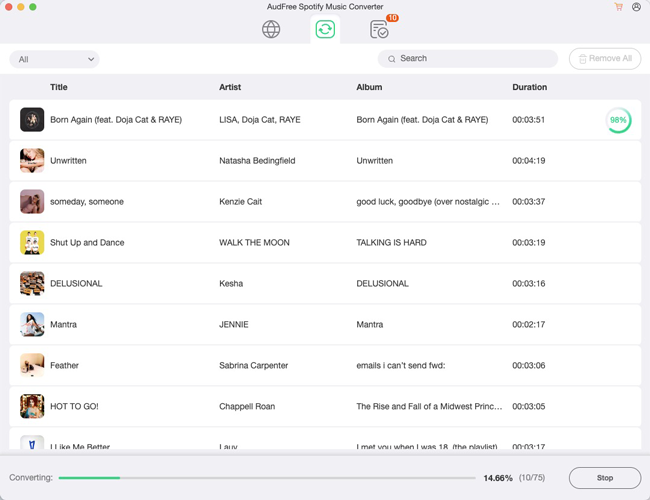 Step 1. Download and run AudFree SpoDable on your computer. Drag and drop your favorite Spotify songs/playlists/albums to the conversion window of AudFree SpoDable directly.
Step 2. Click Menu Bar > Preferences to customize Spotify Music output format and parameters in the Settings window.
Step 3. Click "Convert" button to start the download and conversion process. In turn, you're capable of listening to Spotify Music offline without Premium as you like.
Part 6. Conclusion
Spotify gift cards are the perfect gift for everyone. Whether you'd like to purchase or redeem a Spotify gift card, the above tutorial is your best guide. Please keep in mind the precautions for redemption, then make good use of Spotify gift card and let Spotify Music add a splash of color to your life.