The music industry is continuously evolving with the emergence of different platforms. Spotify is known for high-quality streaming of audio tracks for a large number of music lovers. Perks of playing online Spotify music cannot be denied.
However, online connectivity to Spotify is not always possible. So, you may have to look for methods that allow you to listen to Spotify music offline. Converting Spotify URI to MP3 is one of these methods. Several applications and web-based platforms are available for.
You must be thinking about what is a Spotify URI and how it is useful. The following article will discuss Spotify URI in detail. And it also includes a step-by-step guide that will help you getting Spotify URI. Plus, you will also learn about Spotify URI to MP3 converters that are professional and reliable. In short, the guide will let you access your favorite Spotify songs offline anywhere.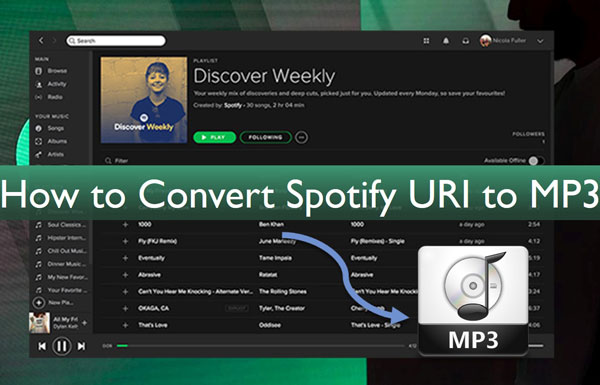 Part 1. What Is a Spotify URI - Detailed Introduction
Uniform Resource Identifier, commonly known as URI, provides a mechanism to identify the object. It exists for all web objects. Spotify tracks, albums, and playlists are no exception. So, they are also assigned Spotify URI code.
It is accessible in the share menu of the track, playlist, or album. The link containing URI will direct you to the Spotify application. However, if the link consists of an HTTP address, you will likely be directed to the web page.
Part 2. How to Get and Use Spotify URI
Spotting a Spotify URI is pretty simple. However, it is not obvious for everyone to know the process. Plus, the process is slightly different for desktop users. This means you need to follow different steps when using the Spotify app on desktop rather than on smartphones. If you want to know the process, we have summarized it in simple steps for both desktop and mobile. Let's take a look.
Get Spotify URI on Mobile
Here's how you can get the Spotify URI on mobile in just a single step.
Step 1. Copy URI
Select the ellipsis dots and press share. Click on copy Spotify URI from the list in the share menu.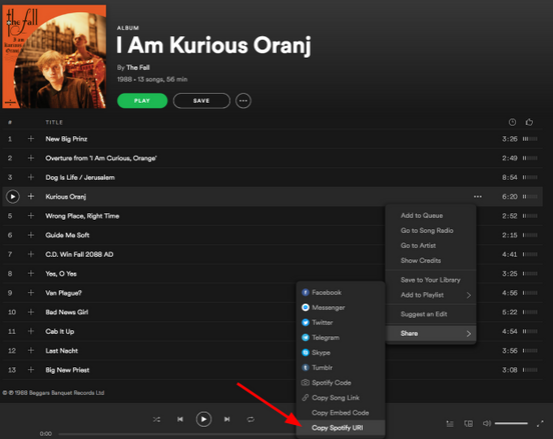 Note: Three dots will be visible next to desired song, album, or playlist.
How to Use Spotify URI on Desktop App
Spotify is not limited to smartphone users. Its web version is also available for desktop users. Plus, you can also copy Spotify URI when using the application on the desktop. Want to know more about it? If yes, we have covered everything you need to know. It's just a one-step process.
Step 1. Select song and copy URI
Navigate the cursor to the track, album, or playlist of your choice and right-click on the chosen option. Click on the share button and select copy Spotify URI.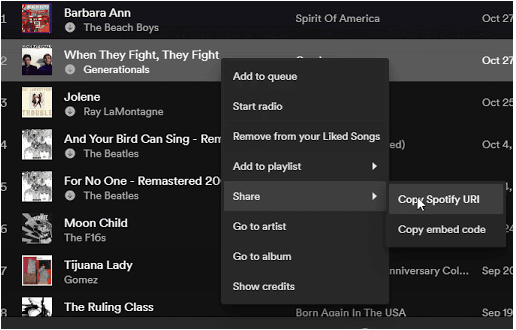 Part 3. How to Convert Spotify URI to MP3 at Faster Speed
Spotify helps you to take your music obsession to the next level. It has approximately 70 million songs to fascinate music lovers. However, the default format of the tracks on Spotify is not playable on all music players. On the contrary, MP3 files are playable in all music and media players.
So, if you get the Spotify URI to MP3 converter, the problem is solved. AudFree Spotify Music Converter is an efficient tool that enables you to convert Spotify to MP3 seamlessly. In addition to MP3, you may also get the Spotify music converted to WAV, AAC, and FLAC.
Last but not least, AudFree Spotify Music Converter is compatible with Mac and Windows operating systems. Its key features and method to convert Spotify URI to MP3 are given below.
Step 1

Copy Spotify URI in the Spotify app

Download the AudFree Spotify Music Converter and click on its icon to launch it. Place the cursor on the song, album, or playlist of your choice and right-click on the chosen option. Click on the share button and select copy Spotify URI.
Step 2

Paste the Spotify link to add Spotify music

Paste the link in the bar in the AudFree Spotify URI to MP3 conversion window. Press the + button to load Spotify songs and playlists.
Step 3

Convert Spotify URI to MP3 at 5X speed

You can choose to customize the output audio parameters by clicking the Preferences > Convert button. Alternatively, you can keep the default settings to export Spotify songs to MP3 tracks. And then, please select the Convert option at the corner to start the process.
Part 4. How to Convert Spotify URI to MP3 Free Online
If you want to download Spotify songs for offline activity without undergoing any complex process, all you need is a Spotify URI to MP3 converter online free. A web-based downloader allows you to convert Spotify files to MP3 online in a quick and easy process. If you are looking for an online MP3 converter, MusicLand is second to none.
You are likely to enjoy lossless conversion in this efficient online downloader. In addition to conversion, you can also download the files to your local space on your device. Moreover, MusicLand offers multiple output formats, such as MP3 HQ and FLAC. In addition, it takes both Spotify tracks and albums as input. So, all your favorite albums and tracks are easily downloadable in MP3 format in this fantastic online tool.
Do you want to learn how to convert Spotify URI to MP3 for free using Musicland? If yes, it's a simple two-step process.
Step 1. Get Spotify link
Take the mouse cursor to the desired track or album and right-click on the chosen option. Select the share option and click on the copy song link.
Step 2. Search and download
Paste the Spotify URI in the search bar and click on the search button. Press the convert button once you are directed to a Spotify track or album in the search results.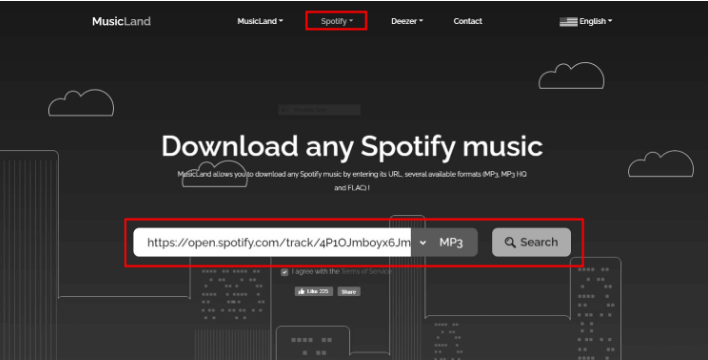 Part 5. In Conclusion
Converting Spotify URI to MP3 is beneficial in a number of ways. The converted Spotify files can be used to access Spotify songs offline without the premium Spotify membership. Plus, you can also save your favorite songs to your device. However, this is only possible when you get the Spotify URI. So, we have mentioned easily exercisable methods to get Spotify links in both the mobile and desktop Spotify applications.
In addition to this, the article also provides you insight into trusted platforms, such as AudFree Spotify Music Converter, to convert Spotify URI to MP3. To conclude, all aspects that could help you enjoy Spotify music without limits have been discussed in detail.