The music industry is booming with the emergence of different streaming platforms. Among them, Spotify is favored by a large number of music lovers for its high quality tracks and rich music library. Users can play Spotify Music online or offline for entertainment. Since connecting to Spotify online is not always possible, people prefer to find ways to listen to Spotify Music offline.
In fact, converting Spotify URI to MP3 is one of the offline methods. Maybe you don't know much about what Spotify URI is yet, never mind, the following article will discuss Spotify URI and its usage guide in detail. What's more, you will learn about the best Spotify link downloader to convert Spotify URI to MP3 with ease.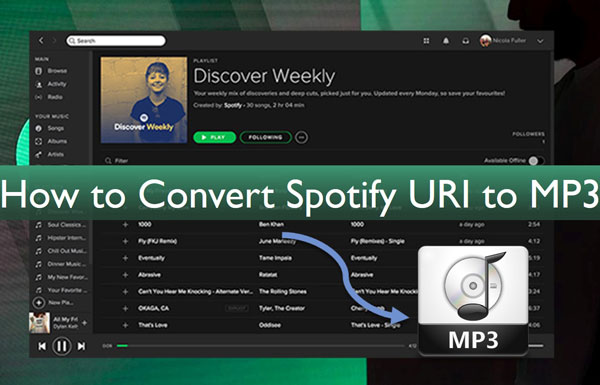 Part 1. What Is Spotify URI
In fact, the full name of URI is Uniform Resource Identifier, which provides a mechanism to identify unique resources. URI exists for all web objects, distinguishing them from other resources by the use of address, location or both. Therefore, Spotify tracks, albums and playlists are no exception, and they are also assigned Spotify URI codes.
Moreover, you can easily access Spotify URI in the Share menu of Spotify Music, playlists or albums. On the one hand, the link containing URI will lead you to the Spotify application directly. On the other hand, if the link consists of an HTTP address, you will likely be directed to the web page.
Part 2. How to Get Spotify URI
In general, the process of discovering Spotify URI is fairly simple, but the procedure is slightly different on desktop and mobile. We've summarized the easy ways on how to find Spotify link on your computer and mobile, so let's take a look at the details.
How to Find Spotify URI on Computer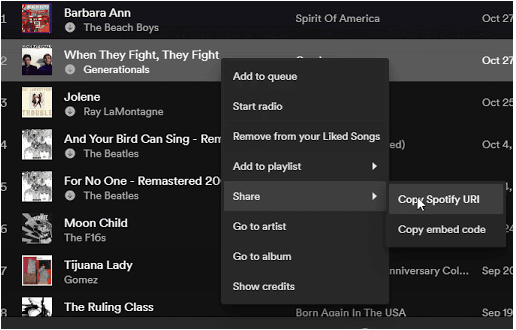 Step 1. Go to the Spotify software, then log in to your Spotify account and browse your library.
Step 2. Navigate your cursor to the track, album or playlist of your choice and right-click on the selected option.
Step 3. Click the Share button and select the Copy Spotify URI option in the menu list to get the target Spotify link.
How to Find Spotify Link on Mobile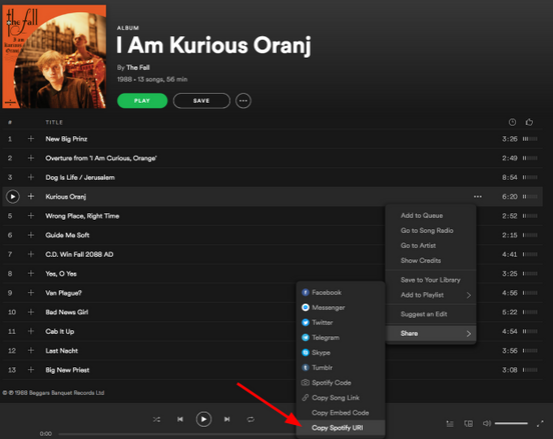 Step 1. Go to your phone's Spotify app and select the desired song, album, or playlist.
Step 2. Click on the three dots section next to it and hit on Copy Spotify URI from the list in the Share menu to get the Spotify URI code.
Part 3. How to Use Spotify URI
Now that you've gotten your Spotify URI from the tutorials above, it's time to learn what it can be used for. Simply put, by sharing a Spotify URI with a friend or family member, they will recognize the link on their Spotify app and learn about your favorite Spotify tracks. Alternatively, you can share tracks with Spotify URI code on platforms like Instagram or Snapchat, so that anyone who sees the post can scan it with the Spotify app to find the music shared.
If you receive a Spotify URI that someone sends you, you simply paste it into your web browser's search box. Then you will be directed to a window to open the Spotify app, after which you can simply click on the 'Open Spotify' option to get the target source. Or copy and paste the Spotify URI into the Spotify software's search box to go to the source directly.
Part 4. Convert Spotify URL to MP3 - Best Spotify Link Downloader
Spotify provides music lovers with a convenient place to approach millions of carefully crafted songs. But what's disappointing is that the default format of music on Spotify is not playable on all music players. Instead, MP3 files are effectively recognized by all music and media players.
In this case, it is the best choice to get Spotify URI MP3. In order to achieve this goal, you need a professional AudFree Spotify URI to MP3 Converter to assist you. Actually, this effective tool for Mac and Windows operating systems enables you to convert Spotify to MP3 seamlessly. Besides MP3, it also has the ability to convert Spotify Music to WAV, AAC, FLAC, etc. for offline playback. Without further ado, let's check out the detailed tutorial below.
How to Convert and Download Spotify Link to MP3
Step 1

Import Spotify URI to AudFree SpoDable

Download AudFree Spotify Music Converter and click its icon to launch it. Select songs, albums or playlists from Spotify software and right-click to select the Share and Copy Spotify URI options. Paste the link in the search bar of the conversion window of AudFree Spotify Link Downloader and press the Add button to load Spotify songs afterwards.
Step 2

Set Spotify URI Output Parameters

You can customize the output audio parameters by clicking the Preference > Convert button. In this setting window, you can set the export format of Spotify songs to MP3. Additionally, it is able to customize other parameters such as audio channels, bit rate, etc. if you need.
Step 3

Convert Spotify Link to MP3

After the above settings are done, you need to simply press the Convert button at the bottom right corner, after that you can obviously see the exact conversion process. Once it's done, just tap the Converted icon to view all your Spotify URI MP3 downloads. In turn, you have the freedom to listen to preferred Spotify Music offline without Premium whenever you want.
Part 5. How to Convert Spotify URI to MP3 Online Free
Best Spotify URL to MP3 Converter Online Free
Want to download Spotify songs for offline activity without having to go through any complicated process? All you need is a Spotify URI converter online free, and MusicLand has just what you need. It is an efficient web-based tool that allows you to convert Spotify link to MP3 online in a quick and easy process.
Moreover, MusicLand offers multiple output formats to convert Spotify tracks and albums, such as MP3 HQ, FLAC, etc. Besides format conversion, you can also download music files to your local space on your device. In short, with this amazing online tool, all your favorite Spotify tracks can be easily downloaded to MP3 format for offline use.
How to Download Spotify Link to MP3 Online Free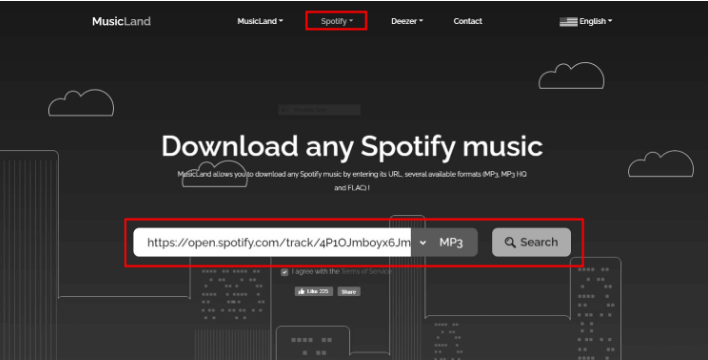 Step 1. Go to the official MusicLand website and click on the "Spotify" option in the top bar to access the Spotify app.
Step 2. Move the mouse cursor to the desired track or album and right click on the selected option. Select the Share option and click on Copy song link.
Step 3. Paste the Spotify URI in the MusicLand search bar and click the Search button. Once you are directed to the Spotify track or album in the search results, press the Convert button to get the Spotify URI MP3.
Part 6. In Conclusion
This article describes simple and actionable ways to get Spotify link in mobile and desktop Spotify applications. Since converting Spotify URI to MP3 brings obvious benefits like free offline access, here are the highlights of the best Spotify link downloaders like AudFree Spotify Music Converter to convert Spotify link to MP3. Hope you can enjoy Spotify Music without any limitation from now on.