"I'd like to play a Spotify playlist on my CD player. Yet, Spotify tracks are encoded in Ogg Vorbis format. They are not fully compatible with CD players. And I know that WAV is a standard and recommended audio format used for creating Audio CDs, with accurate and lossless features. So, I wonder know if there is any effective way to convert Spotify to WAV.
In fact, you can find many tutorials and tricks for converting Spotify to MP3 on the web. But there are rare solutions focus on how to get WAV files. According to incomplete statistics, getting Spotify songs to WAV may have a great demand among the general public. Fortunately, it's not a difficult task if you have a Spotify music converter. Here, we will introduce the best tools to you and show detailed guides to export Spotify OGG Vorbis files to WAV losslessly, online, and for free.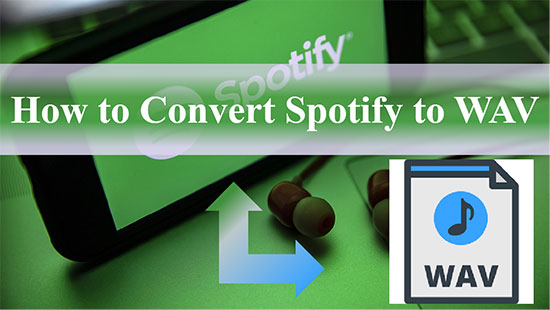 Part 1. Complete Introduction to WAV Files and Spotify
Before we present how to download WAV from Spotify, let's get a further understanding of WAV files.
What Is WAV File Format?
WAV stands for Waveform Audio File Format. It was developed by Microsoft and IBM as a lossless audio file format standard. And it is known as the standard PC audio file format, such as system and game sounds to CD quality audio. Due to the familiarity and simple structure of WAV, it is gradually becoming the primary format. Some popular media players like VLC Media Player, iTunes, Windows Media Player, and Winamp all support WAV files, as well as applications like DJ software and video editors.
Benefits of WAV for Preserving Audio Quality
WAV boasts outstanding benefits that attract a lot of users. Here, we have listed some of its benefits below.
✔ Lossless audio file standard;
✔ Produce high-quality audio;
✔ High compatibility and universality;
✔ Available as a suitable source audio file.
What Device Can Play WAV Files
There are a variety of devices that support WAV audio. They include:
✍Online audio players: Windows Media Player, Winamp Media Player, Musicbee Audio Player, etc.
✍Computer: You can use media player software such as Windows Media Player or iTunes to play WAV audio files on your computer.
✍Smartphone or tablet: Most smartphones and tablets have built-in media players to play WAV audio files. You can also use third-party media player apps from app store.
✍MP3 player: Many MP3 players, such as the iPod, support WAV audio files.
✍Car audio system: Some car audio systems support WAV audio files, although this can vary depending on the make and model of your car.
Why We Need to Download and Convert Spotify Songs or Playlists to WAV?
Spotify tracks come with a special Ogg Vorbis format. And due to copyright protection, you can't get songs and playlists out of the Spotify app even if you are a Spotify Premium user. To make Spotify music available for many devices without losing audio quality, getting WAV from Spotify is a necessary way.
Why Convert Spotify to WAV Instead of MP3?
Although WAV is not open-source and comes with a very large file size, it has more advantages compared with the lossy audio format, like MP3. For example, you can record audio as WAV files at different bit rates and sample rates. And these Spotify files can be saved in CD-quality audio (44.1 kHz, 16-bit stereo) for burning Spotify music to CD.
| | | |
| --- | --- | --- |
| | WAV | MP3 |
| Expands to | Waveform Audio File Format | MPEG layer 3 |
| Sound Quality | Lossless | Lossy |
| File Size | Larger | Smaller |
| Need Compression | ❌ | ✔ |
| File Extension | .wav | .mp3 |
Part 2. How to Convert Spotify to WAV Losslessly - Best Way
When it comes to the best Spotify to WAV converter, AudFree Spotify Music Converter should be given priority. Working as a smart tool designed for Spotify, it adopts innovative encoding technology to export Spotify content to WAV, MP3, and other widely used output formats with one click. What's more, it endows you to convert all types of Spotify music like Spotify playlists to WAV without any audio quality loss. By the way, it can keep original ID3 tags and metadata information.
Besides, this all-around converter empowers you to download Spotify songs, podcasts, playlists, and more as local files even if you're using a Spotify free account. Also, you can freely customize the output parameters for the WAV files of Spotify music such as sample rate, audio channels, etc. After that, you can play Spotify playlists on multiple devices and music players as well as burn Spotify WAV to CD, etc. without any difficulty.
Download WAV from Spotify via AudFree Spotify Converter
To output Spotify WAV files, please install this smart third-party tool on your Mac or Windows computer. Besides, please make sure the Spotify app is well-installed on your computer. You'd better buy the full version of this tool to convert Spotify music to WAV with free accounts. Otherwise, you can export a one-minute WAV file of each Spotify song. Now, let's see how to download WAV from Spotify step by step.
Step 1

Import Spotify Music to AudFree SpoDable

Double-click the shortcut of this Spotify link to WAV downloader to launch it from a computer desktop once you installed it. It will detect the Spotify app automatically and launch it. You can add Spotify files to this tool by dragging and dropping them into the main interface. Alternatively, you can copy and paste the URL of Spotify music to the search box. Then press the '+' button. Please be well noted that there is no real-time preview in the Spotify app.
Step 2

Define Spotify Output Format to WAV

As we described above, AudFree Spotify Music Converter can support many output audio formats. It includes MP3, WAV, FLAC, AAC, M4A, and M4B. To select the WAV as the output format, please click on the menu icon > 'Preference' > 'Convert' option. Besides, if you want to play the WAV audio on CD players, you'd better customize audio parameters. You can set the output audio quality as

48,000Hz

and 32-bit stereo. Later, touch the big 'OK' button in the window to apply.
Step 3

Start to Convert Spotify to WAV

After settings are OK, hit on the 'Convert' button at the bottom-right corner of the main interface. This tool will automatically convert added Spotify to lossless WAV files. Generally, it could work at up to 5X faster speed during the conversion process. After that, you can go to the 'converted' section to check Spotify WAV files on your computer. Then you can play them offline on your computer or move them to other devices for offline listening.
✨ Recommend: ⭐⭐⭐⭐⭐
Part 3. How to Download and Convert Spotify to WAV Online
If you don't want to install any extra tool to get Spotify files to WAV format, then you may try online tool. Yet, after doing some research, we didn't find any direct Spotify to WAV converter online. If you are still looking for an online conversion method, it is also a nice alternative to download Spotify to MP3 online at first. And then, you can convert the local MP3 Spotify files to WAV with the Audio Online Converter later. Here, we would like to introduce Soundloaders Spotify Downloader to you. It is an easy-to-use Spotify downloader online free. It serves to download all genres of songs from multiple music streaming services including Spotify.
How to Download WAV Spotify Files with Soundloaders
Step 1. On the Spotify app or web player, locate your cursor on the Spotify songs you want later. Then right-click the songs or tap the 'three-dot' icon to copy the song's URL links.
Step 2. Go to the Soundloaders Spotify Downloader webpage. Then paste the links to the search box and hit on 'Search'.

Step 3. When the download button and the Spotify songs art cover appear, hit the 'Download' button. Then the Spotify songs will be saved in your local folders.

Step 4. Now, visit Audio Online Converter and click 'Choose File' > 'From Device' to import the Spotify downloads. And hit the green 'Start' button to save Spotify WAV audio after initializing and uploading them with this converter online.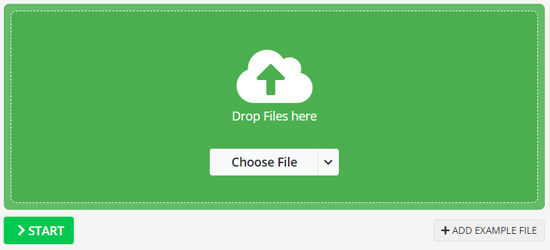 👍🏻 Pros:
✔ Free to download Spotify songs;
✔ With an ads-free and intuitive interface;
✔ Work with Spotify web player without installing any extra software;
✔ Can output music from other music services.
👎🏻 Cons:
❌ With the loss of sound quality;
❌ Can only support Spotify songs;
❌ Only support MP3 output format;
❌ Not Supporting batch download.
📢Note: Soundloaders Spotify Downloader is not working online anymore. But you can try other alternative online tools like SpotifyMate, SpotifyDown, etc.
✨ Recommend: ⭐⭐⭐
Part 4. How to Record Spotify to WAV Free
If you are looking for a free way to download Spotify songs to WAV, you can check out the tools in this part.
It is a full-featured and powerful free Spotify music recorder to record music from Spotify and download WAV files from Spotify. It is actually known to the public as a versatile multi-track audio editor and recorder. Besides, it is a free and open-source audio recording tool. So, you can capture any music that is playing on the Spotify music app. And it's equally compatible with Windows, Mac, GNU, Linux, and other operating systems.
How to Use Audacity Spotify Songs to WAV Downloader for Free
Step 1. Open Audacity, click the 'Edit' button on the toolbar, and go to the 'Preferences' page. Select the 'Host' in the 'Audio Host box', as using 'Windows WASAPI' is the recommended method for recording the sounds played on your computer.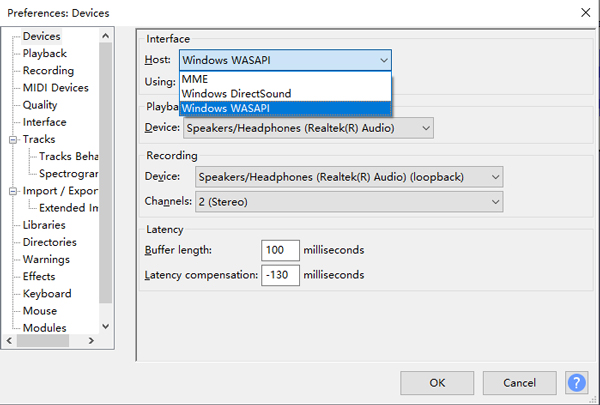 Step 2. Click the 'Recording' option on the 'Preferences' to go to the recording options page. Then turn off the 'Software Playthrough of input' to avoid the re-recording process when recording tracks, which can damage your computer due to the series of echoes. Next, remember to click the 'Options' button and select the audio output format as WAV. On the 'Quality' section, you can change the bit rate and sample rate for exporting Spotify playlists to lossless WAV files.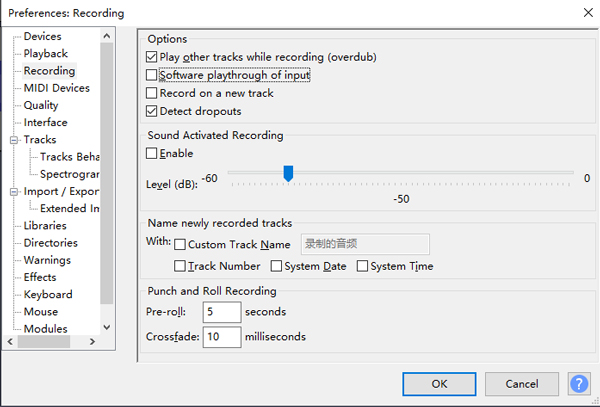 Step 3. Click the red 'Record' button, then you can start playing any music you like on the Spotify software. After that, Audacity will start recording Spotify music automatically. When the recording is finished, click the black 'Stop' button, and it will convert WAV to 16-bit 44.1kHz online and the Spotify WAV files will be saved on your computer.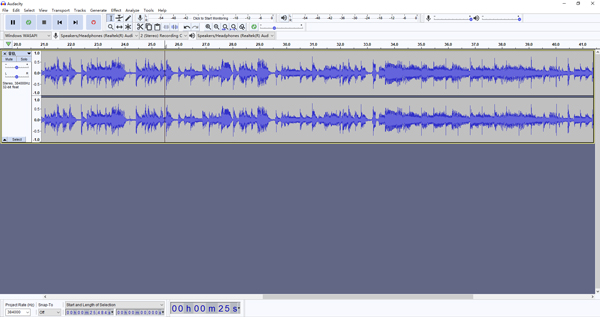 👍🏻 Pro:
✔ Totally free;
✔ Record and edit all sounds playing on desktops;
✔ Support recording and playing Spotify on Linux, Mac, and Windows;
✔ Support various formats such as MP3/WAV/AIFF/AU/FLAC/OGG;
✔ A lot of options and features for trimming music tracks, dialogue, and sound effects;
✔ Support batch recording;
✔ Support multiple using languages.
👎🏻 Cons:
❌ Complicated design and functionality;
❌ With audio quality loss;
❌ Programs and files always collapse and hang up the desktop;
❌ Require to record music manually.
✨ Recommend: ⭐⭐⭐
2. Spytify
Spytify is a recorder designed for Spotify and it can only work with Windows OS. It can record Spotify audio files without ads and split soundtracks into several tracks automatically. And it supports to output Spotify to WAV or MP3 with ID3 tags. Besides, it outputs music quality at 160kbps with a Spotify Free account. Yet, Spotify Premium account will get a 320kbps Spotify output audio quality.
How to Record Spotify as WAV via Spotify to WAV Converter Free
Step 1. Download Spytify from the GitHub website. Then follow the guide to install it on your Windows computer.
Step 2. Start Spytify and go to the 'Settings' section to alter output audio parameters like audio format as WAV, etc.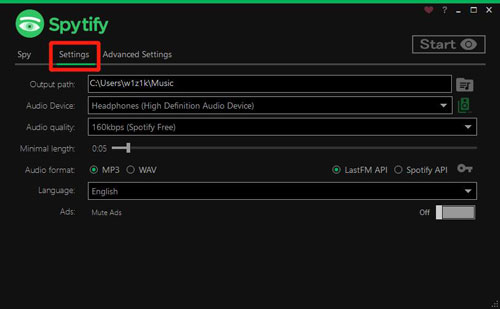 Step 3. Touch 'Start' on the tool and it will load the Spotify app.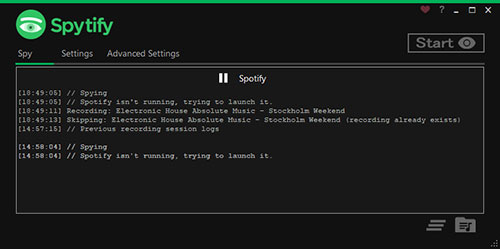 Step 4. Find and play a song you like in the Spotify app. Then Spytify will begin to detect and record Spotify music to WAV.
Step 5. Once recorded, click on the 'Stop' button to finish.
Step 6. At last, hit on the 'Open output directory' option to locate the local Spotify audio files on your computer.
👍🏻 Pro:
✔ Open-source;
✔ Support to output Spotify in 320kbps quality;
✔ Support to split Spotify audio tracks;
✔ Support to save full ID3 tags of Spotify tracks;
✔ Support to block ads from Spotify.
👎🏻 Cons:
❌ Low recording and conversion speed;
❌ No edit function;
❌ Only works for Windows;
❌ Only support MP3 and WAV output formats.
✨ Recommend: ⭐⭐⭐
Part 5. Comparison 4 Ways for Downloading Spotify Songs to WAV
In order to have a clear overview of the 4 Spotify music to WAV methods, please look into the following chart and make a decision.
| | AudFree SpoDable | Soundloaders | Audacity | Spytify |
| --- | --- | --- | --- | --- |
| Audio Source | Spotify app installation | Spotify web player | Spotify web player | Spotify app |
| Supported Output Formats | MP3, FLAC, AAC, WAV, M4A, M4B | MP3 (Need an Audio Converter) | MP3, WAV, AIFF, AU, FLAC, OGG | MP3 and WAV |
| Supported Input Format | Spotify songs, playlists, podcasts, audiobooks, artists, albums | Only Spotify songs | Any audio playing on computers | Only Spotify content |
| Conversion Speed | 5X or 1X | 1X | 1X | 1X |
| Audio Channel | Yes | ❌ | ❌ | ❌ |
| Keep ID3 Tags | ✔ | ❌ | ❌ | ✔ |
| Sound Quality | Lossless Quality | Lossy Quality | Lossy Quality | Lossy Quality |
| Bit Depth (bit) | 16 bit-32 bit | Less than 320kbps | 16 bit-32 bit | 160kbps & 320kbps |
| Sample Rate (Hz) | 8000-48000Hz | / | 44100Hz | / |
| Batch Conversion | ✔ | ❌ | ❌ | ❌ |
| Recommends | ⭐⭐⭐⭐⭐ | ⭐⭐⭐ | ⭐⭐⭐ | ⭐⭐⭐ |
From the chart, it is no doubt that AudFree Spotify Music Converter gets an edge in all aspects compared with the other three tools online or free. Apart from directly outputting Spotify music to WAV, AudFree Spotify Music Converter can also download Spotify to MP3 and other common-used formats, be it Spotify Free or Spotify Premium. So please give it a shot now.
Part 6. How to Upload WAV to Spotify on PC/Mobile
You have successfully downloaded WAV from Spotify by the above methods. Now, we will show you how to add WAV files to Spotify on your computer or mobile for listening on the Spotify app anytime and anywhere. Follow the steps below to start uploading your WAV files to Spotify.
How to Add WAV Files to Spotify on PC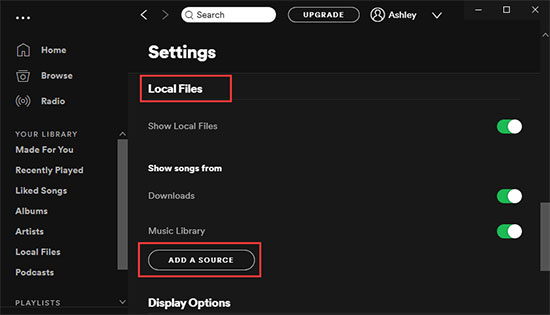 Step 1. Open the Spotify software on your computer and click on your profile picture in the top right corner. At this point, you can select the 'Settings' option from the drop-down menu to access the settings window.
Step 2. Navigate all the way to the bottom of the settings window and tap on the 'Local Files' option. Click on the 'Add A Source' option, and you can add any audio files from your computer, including WAV Files.
How to Add WAV Files to Spotify on Mobile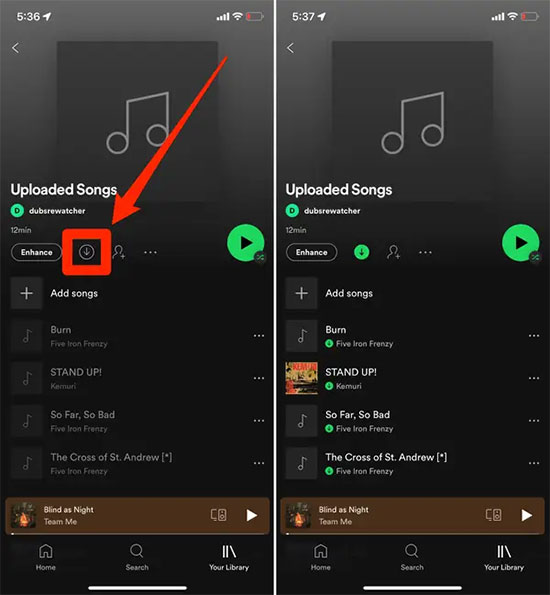 Step 1. Connect your iPhone or Android to the same Wi-Fi network as the computer where you uploaded the WAV songs.
Step 2. Launch the Spotify app on your phone and tap the gear-shaped 'Settings' icon in the upper-right corner. In the settings window, scroll down and select 'Local Files', then turn it on.
Step 3. Tap the 'Your Library' option to go back to your music library and select the playlist that has your local audio files. Under the name of the playlist, click on the 'Download' icon that looks like a down arrow, thus the WAV songs in the playlist will be saved to your phone.
Part 7. In Conclusion
There are 4 suitable Spotify to WAV gadgets above. You can select the one that suits you according to your situation. In fact, we recommend using AudFree Spotify Music Converter. This one-stop software is more convenient to convert Spotify OGG Vorbis to MP3, WAV, FLAC, and other formats at will and play Spotify music wherever and whenever. Try to install it and start your Spotify WAV music journey from now on.