With fierce competition from various music streaming platforms on the web, users may be faced with a more complex decision when choosing which streaming service to subscribe to. In this case, the lossless audio offered by Apple Music, namely Apple Music HiFi, has attracted attention as it brings CD-quality high fidelity music.
Since most streaming music is 'lossy', Apple Music HiFi has definitely become the preferred choice for most people. Here, this article will show specific tutorials for listening to Apple HiFi Music on your iPhone, Android or Mac. In addition, you will learn about an alternative way to get Apple HiFi lossless music with ease.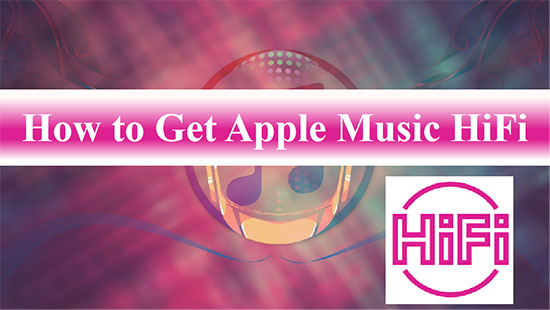 Part 1. What Is Apple Music HiFi
In reality, Apple Music announced last year that it would be launching a HiFi music streaming option and the Apple Music HiFi release date was also on 7 June of the same year. Apple Music HiFi audio means lossless audio, which allows listeners to get the perfect, high-quality original audio by using compression techniques that preserve as much detail of the original music as possible.
What's more, Apple HiFi Music is available to all its users at no extra charge. Generally speaking, there are two levels of Apple Music HiFi quality, one level being 24-bit/48 kHz 'Lossless', i.e. CD quality, and the other, higher level being 24-bit/192 kHz 'Hi-Res Lossless', which retains more detail.
Part 2. How to Listen to Apple HiFi Music
To tell you the truth, getting Apple HiFi Music depends on what device you're using to transfer lossless music. Most devices with a headphone output support CD quality audio, but phones that lack a headphone jack, whether Apple or Android, require an external digital to analogue converter (or DAC) to get HiFi Apple Music, and Apple devices can also get lossless sound with headphones using the Lightning connector.
In consequence, prepare the equipment you need in advance according to your situation, and then follow the tutorial below to listen to Apple Music HiFi on your iPhone, Android or Mac.
How to Listen to Apple Music HiFi on iPhone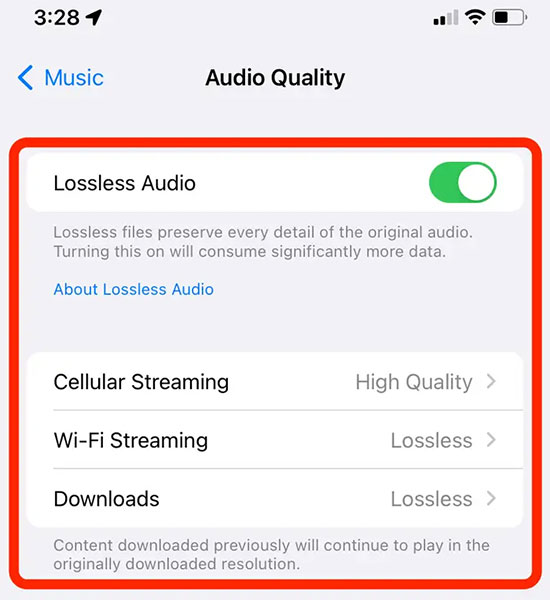 Step 1. Open the Settings icon on your iPhone, scroll down and tap on the Music option.
Step 2. Under the Audio option, tap on Audio Quality and in turn select Lossless Audio.
Step 3. You'll see three options below - Cellular Streaming, Wi-Fi Streaming and Downloads - to choose whether you want lossless music all the time, or only lossless when using Wi-Fi or downloading music. You are also allowed to use these options to enable Hi-Res Lossless.
How to Listen to Apple HiFi Music on Android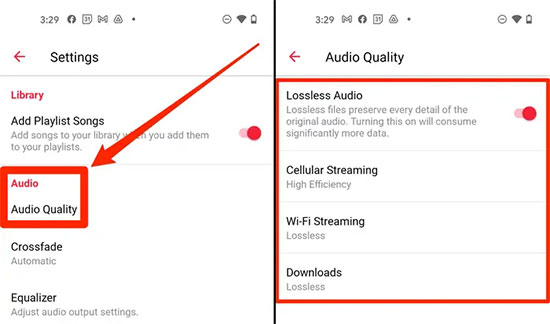 Step 1. Open the Apple Music app on your Android device and tap the three-dot icon in the top right corner of the screen, then select the Settings option.
Step 2. Tap on Audio Quality and then switch to the Lossless Audio option. Whether you want to stream Apple HiFi Music on cellular data or Wi-Fi, or you want your Apple Music downloads to be lossless, you can do so by tapping on the option that appears.
Step 3. If you want to access Hi-Res Lossless quality, just click on one of the three options.
How to Listen to Apple HiFi Audio on Mac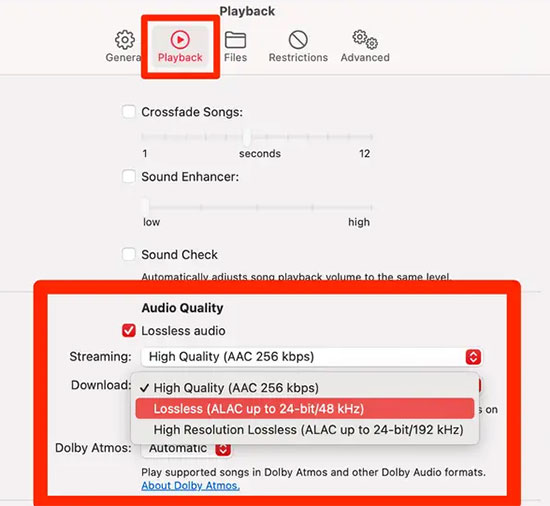 Step 1. Open the Apple Music app on your Mac, click on Music in the menu bar at the top of the screen and select Preferences.
Step 2. In the new window that appears, click on the Playback button at the top and then check Lossless Audio under the Audio Quality option.
Step 3. Tap on the 'Streaming' or 'Download' options, then pick the lossless or high resolution lossless music you want from the drop down menu.
Step 4. Once the above settings are complete, tap the "OK" button at the bottom of the page.
Part 3. How to Get Apple HiFi Lossless Music for Any Device
As you may know, Apple HiFi Music can only be played on specific Apple licensed device, but what if users want to play it on some popular media player or device? Here is an effective alternative for you to make it a reality, and that is to use the professional AudFree Apple Music Converter to losslessly convert Apple Music to FLAC and WAV formats.
Actually, protected Apple Music is encrypted, whereas FLAC and WAV files are not, you can play the converted Apple Music files in your favourite player without problems. It's worth noting that the converted format is losslessly compressed, which means you can enjoy lossless CD-quality Apple Music for a better listening experience. As a result, you're free to get Apple HiFi Lossless music for offline playback whenever and wherever you like.
How to Get Apple HiFi Lossless Music for Any Device
Step 1

Import Apple Music to AudFree Auditior

Make sure you have downloaded the Apple Music files on your computer. Run AudFree Auditior and click the first "Add" button to load Apple Music tracks into AudFree Auditior. Or simply select your preferred Apple Music, then drag and drop it onto the main screen.
Step 2

Set Apple Music Output Format to FLAC

Click on the "Format" icon in the bottom right corner and select the audio output format you need to convert. In general, you can set the Apple Music output format to lossless FLAC format. In this window, you can also customise parameters such as bit rate, sample rate, audio channels and codecs.
Step 3

Get Apple HiFi Lossless Music

Once you have completed the above steps, simply press the "Convert" button on the main screen and AudFree Auditior will automatically convert your Apple Music to FLAC with no quality loss. Once the conversion is over, you're able to navigate to the destination folder on your computer to view all your Apple HiFi lossless music.
Part 4. In Conclusion
If you desire to enjoy CD quality music, then choose Apple Music HiFi. If you'd like to listen to Apple HiFi Music with freedom, then look no further than the AudFree Apple Music Converter, as it will be your perfect helper. It's time to kick off your Apple Music HiFi journey.